Rediff reader Krishna Kumar went from 99.9 kg to 79.7 kg in ten months. He tells us how he did it.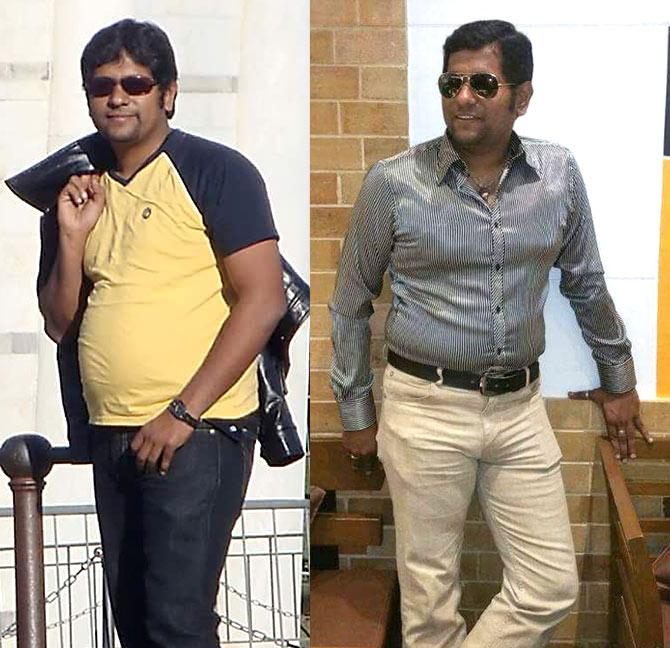 I am 35. I have been working in the IT industry for 15 years now.
Just like the most of them, I joined the firm thin. Thanks to free tasty food in office and unlimited access to fast foods, my taste buds took over my brain.
I started gaining weight. Drinking, smoking and long working hours added more fuel to the fire.
Motivation to lose weight
My wife and I had gone for a casual outing. We met my wife's friend there. When my wife introduced me to her friend, she started taking selfies.
My wife told me later that her friend thought I was my wife's father.
We went a store to choose a readymade trouser for me. The salesman said they don't have trousers for sizes exceeding 40.
I weighed 99.7 kg.
My weightloss journey
I realised that I am not a Bollywood hero to turn my weight around in one night.
I did not get emotionally disturbed and worked out a regime that would suit me.
I set up a realistic goal. It had taken me 10 plus years to ruin my physique. I decided to give myself at least 10 months to regain my shape.
In the first month, I set up a goal to walk 8,000 steps a day. I did not use any smart watches, just the Google Fit app to guide me.
For at least 15 days, I avoided heavy, oily and junk foods for dinner.
By the end of the month I saw my stamina improve, but there was no loss in weight.
I wasn't demotivated. I believed the seed was spreading its roots before popping out.
The app would show a victory flag every day indicating that I was improving. That was emotionally motivating.
I slowly increased 1,000 steps every month.
I also stopped having food after 8 pm in the subsequent months.
From the second month I started doing cardio for 20 to 30 minutes in the office gym. I did this for 15 days a month.
The remaining 15 days I took the steps instead of the elevator, replaced rice with millets and consumed sprouts every day.
Every alternate day, I'd skip my dinner, but I never skipped breakfast.
If I achieved the goal on a particular week, I rewarded myself with a favorite dish.
I went oil-free and experimented with diets involving fruits, vegetables and tried fasting once in a while.
I believed in myself and became deaf to other people's tips.
Things worked out slowly. At the end of second month, I'd lost 2.5 kg.
At the end of third and fourth month, I'd lost 4 kg and 8 kg respectively.
All these months, I never missed celebrating my success. I visited the men's parlour, gifted myself a earphone, designer shirts, etc.
Overall, I made my weight loss journey like a reality show.
I came down to 79.9 kg.
Now I am waiting for an opportunity to meet the same friend on a lighter note.
Earlier in this series: How I lost 42 kg in six months
---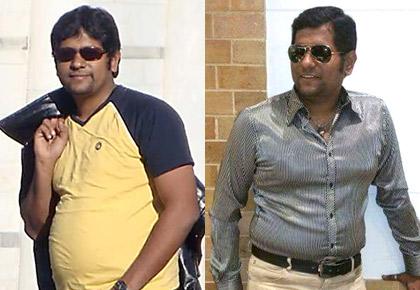 Reader Invite
Have you recently lost weight? We want you to share your weight loss story with us.
Share your detailed diet plan, tips and advice with our readers.
Write in to getahead@rediff.co.in (subject line: 'Fat to Fit'), with a before and after photograph, if possible, and we'll feature the best entries right here!