Aarushi Agarwal makes a (very, very) strong case for you to go back to the two-wheeler!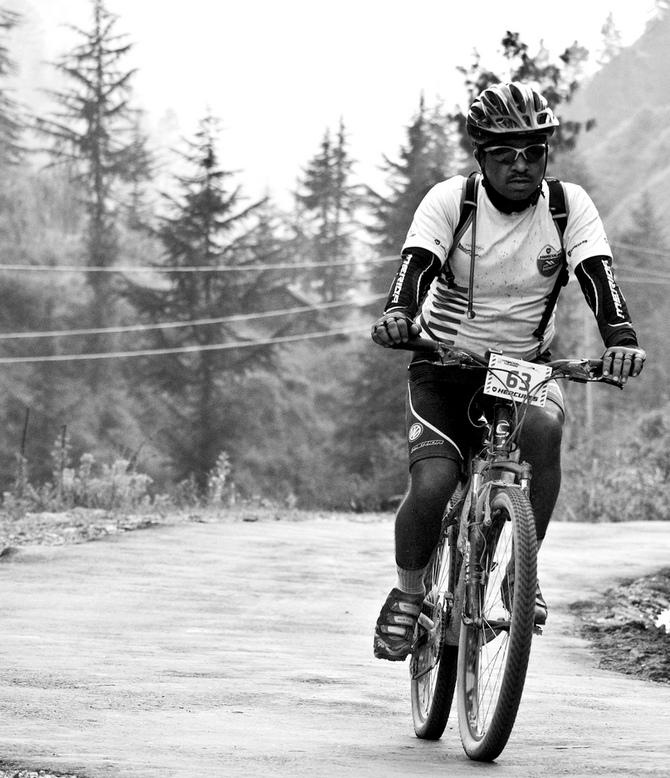 Cycling is good for health, the environment and your body.
Due to this, it is fast gaining popularity in the country not only as recreation, but also as a sport and a career.
Cycling is great form of exercise, an innovative idea for a date or even just as training to build stamina.
It is the act itself and not the reason that offers the liberation.
So invest in a bike a see its benefits for yourself.
Advantages of biking
Physical well-being:
Cycling helps beat traffic and get to places faster.
Simply put, it saves time and money.
A study has revealed that cyclists spend 20 times lesser on commuting than people with cars. However, cycling has more important benefits.
For starters, it has humongous health benefits.
As a form of exercise it helps sleep deeper and look younger.
It also helps with weight loss while also improving stamina greatly.
Biking is rewarding when aiming to lose a few kilos.
So good is biking that most gyms today have stationary cycles.
Mental well-being:
Cycling also leaves an impact on your brain and its functioning.
Getting on a bike causes the brain to release endorphins that make you a generally happier and positive person.
It also helps build new brain cells in the hippocampus leading to better memory.
This results in stress reduction and fosters creative thinking.
The next time you feel lethargic just get on your bike.
Cycling releases the neurotransmitter dopamine in your brain which increases energy levels.
It also makes your cells more active thus increasing immunity and reducing your susceptibility to sicknesses.
Biking also reduces the risk of cancer by 33 per cent and heart disease by 50 per cent.
It lowers blood pressure, balances blood sugar and manages cholesterol levels.
Benefits to the environment
Biking is great for the environment as well.
Not only is it a good idea because you're avoiding the use of precious fuel, but its use also reduces pollution.
Parking it is never a problem as it doesn't need as much space as a car.
Cyclists are also known to take in lesser quantities of environmental toxins than passengers in taxis or buses.
Cars and cycles will make the same journey, but cycles will only use one fiftieth of the oxygen as a car.
That said, one of best benefits cycles have on the environment is the lack of noise of pollution; there is no loud, annoying honking; instead there is a subtle bell that is no comparison to the noise-makers on cars and motorbikes. No engine noises too!
The urban awakening
Cycling is slowly gaining momentum in India, mainly because it's pure fun.
You can spot more and more cycles on the road today; at any given time of the day there are people of all age groups, religiously cycling, bending over their two-wheelers.
The milkmen and dabbawallas have lost their monopoly over the vehicle.
The question of where one can cycle is not of relevance anymore.
Your street is a great place to start.
There are also a large number of cycling tracks and clubs sprouting up all over the country.
These clubs organise races and encourage beginners and riders of all ages to take up cycling.
An extreme form, mountain biking is another aspect that's filled with adrenaline and excitement
MTB Himachal organises an annual mountain bike race in the thrilling valleys of the Himalaya.
The annual cycling calendar is full.
Besides these, luxury brands have also noticed the spurt in biking across the world.
Brands like Hermes and even Gucci have come out with their line of high-end cycles.
Of course these high-end bikes retail for lakhs of rupees but for those starting off, basic bikes are ideal, prices for which start from two thousand rupees.
Along with the bike, there is also a need for other equipment like helmets, knee and ankle pads, shoes and gloves for a safer ride.
You're not alone
There are plenty of cycling groups in India today.
These groups organise trips and day outings on a regular basis.
From the serene views and soothing climate to firsthand location experience, travelling with a bike is an exhilarating and enriching experience.
You get to really travel and meet people who enjoy cycling.
Some of the groups that offer you this experience include Art of Bicycle Trips, Cycling in India and Spice Roads Cycle Tours.
As the Australian prime minister John Howard so wonderfully put it: The bicycle is a curious vehicle. Its passenger is its engine.
Photograph: Parth Joshi/Creative Commons
Courtesy:YouthIncMag.com