Your sunscreen should contain mineral sun blocks like zinc oxide, titanium dioxide and iron oxide, says cosmetologist Dr Rinky Kapoor
With sun at its peak, the summer brings in with it all kinds of pesky problems such as prickly heat, acne, oily and sticky skin, uneven skin tone, sun allergies, tanning, sunburn, folliculitis and fungal infections.
You should never ignore the summer skin care; if not treated on time, the effects of summer will stay with you a long time.
Acne breakouts if not treated in time can lead to scars on the face and body. Hyper-pigmentation can make the skin appear dark.
Sunburn and exposure to sun without protection can cause skin cancers and permanent damage to the skin.
Here are some tips to help you sail through summer.
Drink water
First and more, hydrate your body and skin.
Drink lots of water. Juices and soft drinks don't compensate for water.
Carry a bottle of mineral water with you wherever you go and take a sip every few minutes.
Drinking water also helps in case of sunburns because it cools the body from inside.
Sunscreen
Do not step out of the house without applying sunscreen all over your body.
Apply sunscreen at least 20 minutes before stepping out in the sun.
Choose a sunscreen that is best suitable for your skin.
The minimum SPF should be 30 and it should have UV protection.
Your sunscreen should contain mineral sun blocks like zinc oxide, titanium dioxide and iron oxide.
Reapply sunscreen after four hours or if you have been swimming or sweating too much.
If you have to apply makeup, first apply sunscreen followed by sun protection makeup.
The right clothes
Clothes become the first shield of the body against sun.
Wear a hat or a cap when you go out so that the harmful rays don't reach your scalp and ears.
Wear clothes made of unbleached cotton and silk as they absorb UV radiation and damaging rays won't be able to reach the skin.
Wear light coloured clothes that have tight weaves.
Lip care
Don't ignore your lips.
The lip is a common site for skin cancer.
Cracked, dry lips should not be ignored as they can indicate serious skin problems. Use lip balms of SPF 15 or higher and reapply every two hours.
Avoid high shine lip gloss. If you have to use a lipstick use one with SPF and antioxidants for extra moisture.
Facials
Summer facials are very important.
They will relax your skin; remove clogged pores, blackheads and pigmentation too.
Your skin will be hydrated and feel fresher.
Go for power facials, which include and exfoliating peel, micro-dermabrasion infused with antioxidants and vitamin C, and intense pulsed light to remove brown spots.
Hat and sunglasses
Do not look directly in the sun. A broad brimmed hat will protect your eyes too.
Wear sunglasses when you step out.
Your sunglasses should have a UV protect coating. Select sunglasses with bigger glasses.
Add serums like Vitamin C serums to your skin care routine to keep dryness away from your skin.
Home remedies to keep your skin healthy and glowing
Make a paste of chickpea flour and rosewater and apply on skin. Leave for 15 minutes and wash with cold water to cool the skin.
Apply yogurt on rashes.
Multani mitti or Fullers earth is excellent to absorb oil and remove impurities from face. Mix with apple cider vinegar and apply on face.
Add a few drops of lavender oil in your bathing water to ease the heat rashes.
Do not buy products that contain alcohol in them.
Apply cool milk and cucumber to the skin to treat sunburn.
Common skin problems and how to treat them
1. Prickly heat (Ghamori)
Itchy rash in covered body parts is a common summer problem. This happens due to blockage of sweat glands.
Prevention and treatment
If you are indoors, stay cool with a fan or air-conditioning.
Wear loose cotton clothing.
Apply calamine lotion, prickly heat powders for relief.
Multani mitti, sandalwood or neem paste helps too.
Drink enough water and avoid cold drinks.
2. Pimples and oily skin
Sebum and dirt block the pores of your skin causing pimples.
Prevention and treatment
Wash your face using an anti-acne face wash with salicylic acid, tea tree oil or neem.
Remove make up thoroughly before bedtime.
Cut down on sugared and processed dairy food.
Oil blotting sheets and anti acne masks like black mud face packs help.
3. Sun tan, sunburn and pigmentation
Strong sun exposure can cause redness, peeling, sunburn, and pigmentation.
Prevention and treatment
Apply a broad spectrum UVA/B and C blocking water and sweat resistant sunscreen SPF 30 +.
Use umbrellas, long sleeved cotton clothing etc for sun protection.
Oral antioxidants like Vitamin C will help.
4. Bacterial and fungal skin infections
Bacterial infections like boils and fungal infections are common during summer months.
Prevention and treatment
Use loose clothes.
Take a shower with antibacterial soap.
Use anti fungal powders in the body folds.
Treat all infected contacts.
5. Unmanageable hair
In heat, hair becomes static, dry, brittle and frizzy as the humidity and heat damages the cuticle (outer layer) of your hair.
Your scalp tends to get more sticky because of excessive sweating.
Prevention and treatment
Wash your hair 2-3 times a week.
Use a mild shampoo and conditioner.
Use anti-dandruff shampoo once a week if you are prone to dandruff.
Leave in conditioners seal in the moisture and protect the hair from the damaging effects of the sun and pollution.
Diluted apple cider vinegar after shampooing can restore the shine.
Tie up the hair to avoid greasiness and make it manageable.
Follow the simple tips given above and you will be able to enjoy a summer friendly skin for a long time.
Remember to see your dermatologist on time, if your problems do not resolve.
Dr Rinky Kapoor is cosmetic dermatologist and dermato-surgeon, The Esthetic Clinic, Mumbai.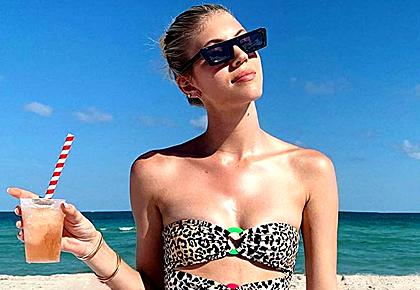 *Image published for representational purposes only.