It is not such a bad idea to introduce yoga stretches, lean vegetarian meals, 30-minute walks on grass, and Ayurvedic massages into your lifestyle, says Gitanjali Gurbaxani after her recent sojourn at Naturoville Vedic Retreat, Rishikesh.
Photograph: Philipp Zieger/Creative Commons
When I embarked on a journey to visit the Naturoville Vedic Retreat in Rishikesh, I did so just to see how my friends who have suffered a bypass surgery, are diabetic and overweight would live here without consuming alcohol and non-vegetarian food for 11 days. This was a challenge for them given the affluent lifestyle that they all lead in Mumbai. With many of us being gourmands who believe in eating to live, this was likely to be a difficult task.
The busier our schedules get, the lesser time we have to take care of ourselves. Following a healthy diet every day seems impossible, as nowadays eating out has become a necessity; it is no longer considered a novelty. Also, the consumption of alcohol on a daily basis adds to our woes given its high calorie content.
"Every second person is battling obesity and diabetes and they're often disappointed after various unsuccessful methods to shed off excess weight. However, Ayurveda has several massages that help you reduce fat; speed up the process of burning accumulated fat, and remove the cellulite under your skin." These were the words of Dr Thomas Varghese, naturopath and vice president of Naturoville Vedic Retreat, when we first spoke to him for our telephonic bookings.
Convinced, I along with a few friends boarded a flight to Dehradun via New Delhi, and set out on a journey of self-discovery.
On landing at Jolly Grant airport, we received a royal welcome. The 22 km drive to the retreat revealed that it is nestled in lush greenery. The property has 30 luxury rooms, sprawling across several acres of land. It served as the ideal stress buster; just a few minutes spent in the lush green property was enough to de-stress us and prepare us for the rigours that lay ahead.
As a part of the treatment plan, we set chalking out our small yet achievable goals. Some of us enrolled for the weight loss treatment, and few others enrolled for the diabetes management programme, as their sugar levels had shot up considerably in the last few days.
After settling down, we paid a visit to the doctor, who was to medically examine each one of us and decide the course of our treatment during our stay.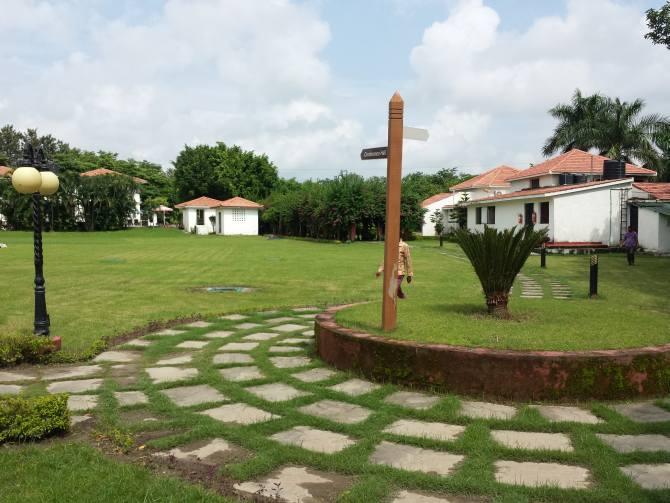 Image: Inside the Naturoville Vedic Retreat; Photograph: Gitanjali Gurbaxani
Day One at the retreat began with a welcome massage, followed with a lean vegetarian dinner.
The next morning some of us, including me, were assigned the task of walking barefoot on green grass for 30 minutes. Our body has many reflexology zones that correspond to various organs. So, when we walk barefoot, maximum pressure is put on the main reflexology points of our body, which are the first, second and third toes. This helps strengthen and stretch the muscles, ankles, calves, tendons and ligaments in our feet, apart from keeping our posture upright. It also rejuvenates the senses and calms the mind.
Prior to this, we had to undergo an hour-long yoga session. Yoga has an important role to play in the treatment of obesity and diabetes, in conjunction with a healthy balanced diet. It helps balance the endocrine system, tone the abdominal organs, reduce stress, and stimulate both the nervous and circulatory systems.
Standing yoga poses are beneficial in increasing our body's strength and flexibility. It also makes us aware of our posture. However, it's important to know our limits as this is a competitive activity, and therefore we should not go overboard with it. Besides, what may initially seem to be a relaxing exercise may actually strain the body later.
We then settled for a healthy breakfast, custom-made for everyone. Breads, butter, jam, cheese, parathas and puri and bhaji were not permitted. We had small portions of sprouts, some fruits and a glass of freshly squeezed vegetable juice.
On certain days, bonus points were awarded to us, and we were allowed to have a portion of vegetable upma or a plate of idli with sambhar in addition to the fruit plate and a cup of tea/coffee.
After the healthy breakfast, we went over to meet Dr Thomas Varghese to figure out what was in store for us during the day.
"We incorporate diets for every individual, based on their ailments, along with therapies and yoga asanas. It is highly recommended that people with diabetes have juices of freshly squeezed citrus fruits and vegetables like bitter gourd, spinach, cucumber, carrot and bottle gourd, twice a day.
"The generous amounts of easily assimilable organic minerals, especially calcium, potassium and silicon, present in these juices help in restoring the biochemical and mineral balance in the tissues and cells. This in turn helps in preventing premature ageing of cells.
"Raw juices contain certain natural medicines, vegetal hormones and antibiotics. Also there are certain hormones, which are present in cucumber juice, that are needed by the pancreas to produce insulin," he explained.
We then underwent a series of different Ayurvedic body massages, twice a day.
There were two therapists working on me for 60-90 minutes at any given time, twice a day. According to them, it is good if we feel a sense of heaviness in our body as it improves blood circulation and increases the blood flow to the muscles.
"While herbal powder massages help breaking the cellulite tissue and reducing fat, it works wonders for people who are obese. They enhance the glow of your skin, help in improving digestion and revitalise your sense of touch," pointed out Dr Meenakshi Chauhan, an Ayurvedic doctor at the retreat.
Image: Inside the Naturoville Vedic Retreat; Photograph: Gitanjali Gurbaxani
The lunch menu differed every day for each one of us. The chefs custom-made our food based on our ailments and allergies. My meals comprised ragi and barley roti with vegetables like pumpkin, bitter gourd, lady finger, spinach and a bowl of dal.
Lunch was simple yet sumptuous. It had to be light as it was followed by a therapeutic body massage.
On Day Two, I felt like a piece of steak that the masseur was trying to hammer really thin with a herb-filled potla, soaking in the warm oil infused with Ayurvedic herbal extracts. Their focus was to work on the energy flow through my body, and then concentrate on the mobility of the joints, as the stimulating energy flow relaxes the body and mind, thus improving the natural healing process.
Every night, we were given a glass of lukewarm fenugreek water that was to be consumed immediately. Fenugreek is an excellent source of electrolyte potassium that helps in controlling the heart rate as well as the blood pressure by counteracting the sodium action.
After a rigorous routine for four days, one of my friend's insulin intake dropped from 76 units to 39 units, while another friend's fell from 78 units to 40 units, which was quite remarkable. It has stayed at this level for a month thereafter.
At tea time, a plate of freshly sliced fruit was served. Fruits help in keeping the sugar levels steady, and made us energetic enough to head for the evening yoga session.
Our yoga teacher made sure that we did yoga stretches twice a day, and reasoned out with us the importance of doing each asana.
Dinner compromised a plate of salad, a bowl of dal, and clear vegetable soup.
As the days went by, we underwent various methods of detoxification including shirodhara, hot oil bath, hydrotherapy, nasya, udwarthanam, body mud pack, herbal hair pack, abhyanga along with steam, sauna, ozone therapy, jacuzzi and swimming.
There was a lot of walking to do while on the premises; from getting out of one's room to going to the dining area situated in another block; from there to treatment rooms, yoga room, meditation room or the swimming pool was another milestone to achieve.
"Since all the treatments in Ayurveda are prescribed only after careful diagnosis of the body's constitution, family history, age, sex, stage of the disease, etc, the treatments differs for every individual, even if people have the same characteristics in their disease," informed Dr Thomas Varghese.
By the end of our stay, we were 2-5 kg lighter. The Ayurvedic massages helped us with our weight loss. Our appetite shrunk after the limited portions of meals served. For my friends with diabetes, their insulin intake dropped by almost 50 per cent. Their bodies became more flexible thanks to the yoga stretches they did, coupled with a balanced vegetarian diet and massages, making them feel lighter than before.
At the end of our stay, after being treated like 'kings' and 'queens', we realised that a truly well-rested body feels vibrant and energetic throughout the day. The fantastic experience has given us everything we need to face the world with zeal and vitality.
Gitanjali Gurbaxani is a well-known author and food consultant. You can email her at gitanjaligurbaxani@gmail.com or visit her website at www.gitanjaligurbaxani.com.
For further details, visit Naturoville Vedic Retreat's website at www.naturovillespa.com. You can also write to Dr Thomas Varghese at vp@naturovillespa.com.