While treatment takes it course, having your loved ones by your side helps reassure that everything is fine and would work out.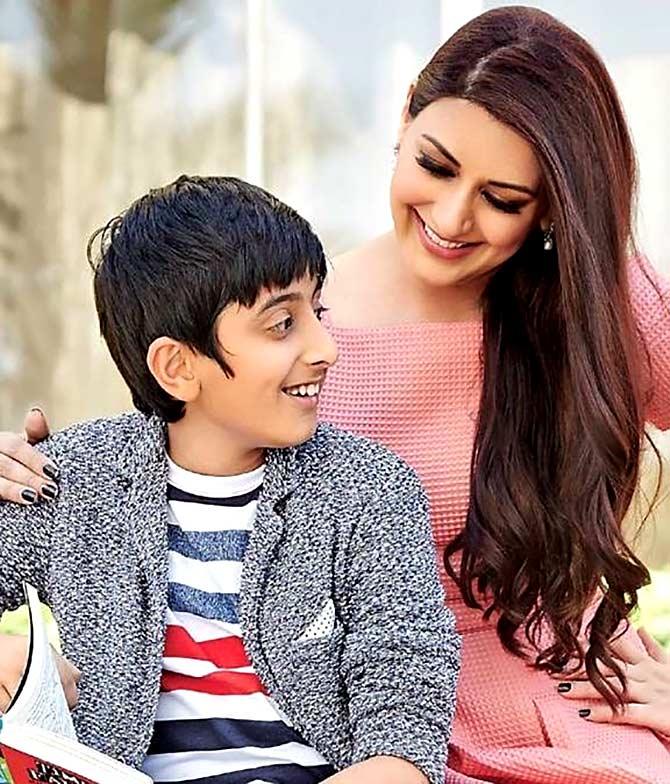 Photograph: Kind courtesy Sonali Bendre/Instagram
Over the years, incidences of cancer have spiked considerably, affecting millions of people worldwide.
Out of the various types of cancers, high-grade cancers are those that are considered aggressive, as they spread rapidly.
Metastasis is defined as the spread of cancer cells to other parts of the body, away from the primary area of formation (where it started).
This occurs through the lymph system or through blood, which then forms tumours in other parts. These newly-formed tumours are called secondary tumours.
"A metastasis often occurs in stage IV of different forms of Cancer and is regarded as a serious or advanced stage, due to it being strong enough to spread to different parts of the body," said Dr Anil Heroor, Fortis Hospital, Mulund and Kalyan.
"The most common areas where metastasis develops are the liver, lungs, lymph nodes and bones. A person with lung cancer that has spread to the bones is said to have lung cancer with bone metastasis. In cases where the cancer has spread widely throughout the body even before it is diagnosed, on diagnosis if the area of origin remains unknown, it is known as cancer of unknown primary origin," added Dr Anil Heroor.
Treatment for metastatic cancer depends on the type of cancer, its place of origin of metastasis, the size of the tumour and other factors.
Treatment typically aims at slowing down the growth and the spread.
Treatment for these cancers requires systemic therapy that aims at reaching cancer cells at affected parts of the body through chemotherapy, hormonal therapy and immunotherapy.
Other types of therapies include radiation, biological therapy and surgery.
"Serious illnesses that occur, especially suddenly, have the gravest effect on the mental health of the person diagnosed with the disease, as well as their family members. Dealing with the disease is the epitome of survival as it can weigh the strongest minds down," said Dr Parul Tank, Fortis Hospital, Mulund.
Individual therapy helps a person address personal issues, talk to the therapist and identify the links between the illnesses.
This therapy helps the person to change their self-depreciating thoughts and adapt and replace ways to evaluate their world.
Trauma therapy like Eye Movement Desensitisation and Reprocessing (EMDR) can also help in reducing anxiety associated with the illness.
Therapies and psychiatric medication help in dealing with depression and anxiety that comes with the cancer. They don't reduce the spread of cancer though.
Family therapy is very important too.
When in a self-depreciating zone, they require family and loved ones besides them to support and reassure them that everything is fine and would work out.
Family could help them get better by speaking about the progress they show and how they are improving in terms of dealing with the illness when the patient themselves can't see it.
"It is important that caregivers and family members also seek support as soon as diagnosis is drawn. Family members need to watch out for early signs or symptoms of emotional distress, anxiety and depression which may have a negative impact on the welfare of the patient. Support from family, friends and peers can permit the patient to adjust better and instill a sense of hope. Meditation may be an appropriate solution to help soothe the nerves of both the patient and family members," concluded Dr Parul Tank.