Rediff reader Sidharth Jain, 28 from New Delhi tells us how he lost weight.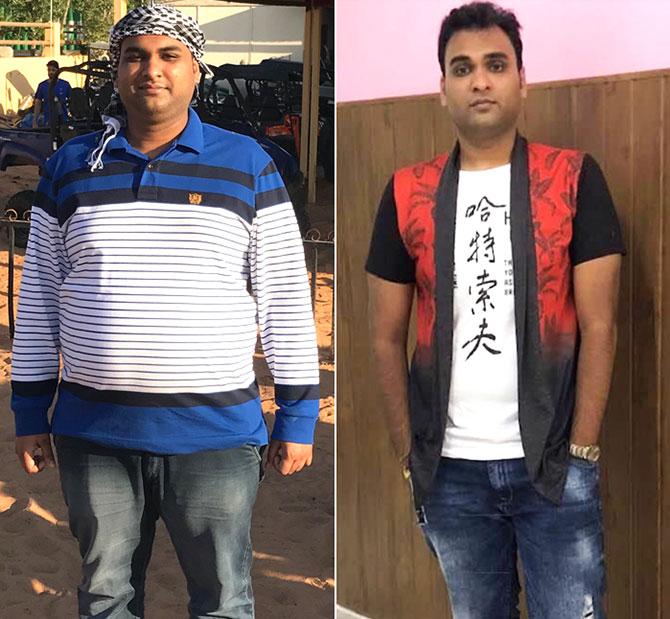 Since my college days, I liked eating fast food.
I was a true foodie due to which my weight increased gradually.
At one point, I weighed 111 kg.
Motivation to lose weight
Whenever I went to a relative's house or met my friends at parties, they would always say that I have became fatter than before.
They'd tell me about the health hazards related to weight gain and ask me to control my weight.
One day, I went to buy some ready-made clothes.
I wanted something stylish. But the salesman told me that they don't have stylish ones for my size.
I felt embarrassed and decided to lose weight so that I could wear anything I wanted to.
My weight loss journey
I joined a gym with a personal trainer.
On the first day, my trainer told me to remain motivated and control my diet.
In the first week I spent 45 minutes in the gym.
My entire body started paining. But I did not lose hope and continued to go to the gym.
After about 20 to 25 days, my body got used to the schedule. I started enjoying it too.
I increased my gym schedule to 1 hour 30 minutes per day.
I lost 2 kg in first month.
In subsequent months, with continue gym and diet control, I lost an average of 3 kg per month.
I lost 21 kg in 7 months.
How I stayed motivated
My personal trainer always kept me motivated.
After three months of joining the gym, I started getting good comments from my friends and family.
My clothes started fitting me, which made me feel good.
My diet plan
Morning: A glass of warm water with honey and lemon.
Breakfast: A glass of coconut water, 3-4 brown bread slices with raw cucumber/tomato. After 4 months, I started eating peanut butter with brown bread.
Lunch: Brown rice with dal and a plate of green salad with buttermilk for 2 months.
After two months, I eliminated brown rice from my diet and started eating chapatis with dal/ paneer. I avoided white rice.
An hour after lunch, I drink green tea.
Evening: Fresh vegetable/fruit juice
Dinner: One scoop isolate protein, 5-6 egg white (without yolk) or papaya. On Tuesdays, only papaya.
Sundays were always cheat days, but only during dinner. I followed my diet for breakfast and lunch.
I also want to tell you that I don't eat chicken/non veg, but I had eggs.
Workout
I do 30 minutes cardio, 15 minutes sides/abs and 50 minutes weight lifting concentrating one muscle part per day, 6 days a week.

Lessons learned
For weight loss, 80 per cent is diet and 20 per cent workout.

I noticed that sugar is the enemy to weight loss. To lose weight, one has to stay away from sweet bakery items, pastries and aerated drinks which contain a lot of calories.

Weight loss is a journey in which one learns a lot and changes his lifestyle to lead a healthy life.
Earlier in this series: How I lost 20 kg in 10 months
---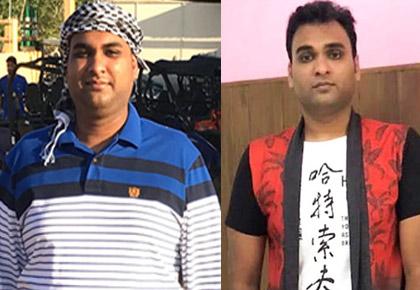 Reader Invite
Have you recently lost weight? We want you to share your weight loss story with us.
Share your detailed diet plan, tips and advice with our readers.
Write in to getahead@rediff.co.in (subject line: 'Fat to Fit'), with a before and after photograph, if possible, and we'll feature the best entries right here!