Devansh Sharma who weighed about 125 kilos in June last year has successfully lost about 34 kilos with a combination of healthy diet and exercise.
"Today, I still can't believe what I have accomplished so far, all because of that one motivation that has kept me going on and on."
This is Devansh's story. You can share yours too!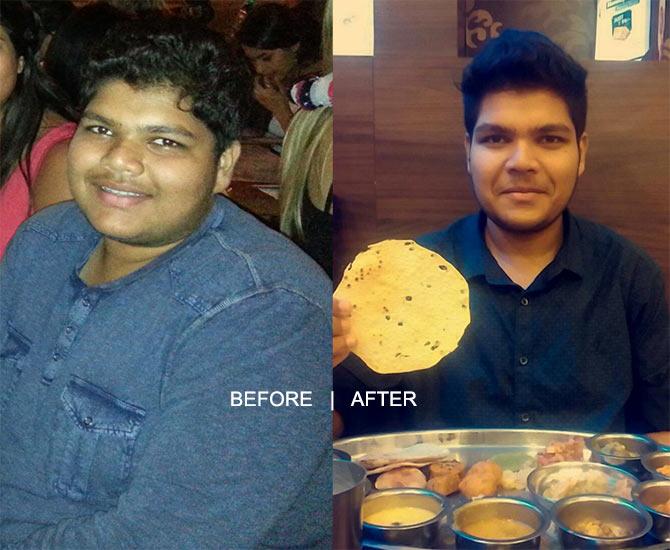 Being obese is daunting and can be a nightmare for people.
But believe me, losing weight isn't that difficult at all if you're motivated to see yourself look smarter.
It does include a bit of sacrifice of food and exercise, but you don't give up food altogether.
If you eat the right foods in the right proportion, you're all set to begin your weight loss journey.
I'd like to mention here that I'm a hardcore foodie.
Losing weight had almost become impossible for me by the end of schooling.
Until then, I kept putting on fat pads all over my body by eating anything and everything that came in front of me, be it a snack or a full meal.
Since birth, I have had the tendency to gain weight, but I could have controlled it.
Unfortunately, I couldn't resist myself from hogging all the time.
The maximum I weighed was in June 2014 -- 275 lbs (approx 125 kg).
I made little efforts to lose weight each time I felt how hazardous it was -- both physically and psychologically.
I joined 4 gyms and 3 weight loss programmes over a period of four years of high school but I couldn't see any change.
Every time I lost a few pounds, I'd gain more than that later due to my habit of binge eating.
Even at the gym, I'd eat unnecessarily every day at the snack bar.
When I was in the 12th grade, I sat all day doing just two activities -- reading and eating, more of the latter one.
My way of taking a break from studying was to get out of the house and eat 3-4 heavy cupcakes and a few other items daily after lunch.
I lost control over myself and had almost given up on making any more effort to lose weight.
I would feel bad sometimes looking how disproportionate my body looked.
But no! I just couldn't reach a point of solution to change my life.
I had reached a point where I couldn't fit into clothes at regular stores.
I'd have to get them tailored and more such problems came up.
Argh! All of it had been very bothersome and frustrating. Believe me, no one would like to live that way.
In June 2014, I happened to visit the USA, and that is when the turning point came.
I visited the Six Flags over Texas Amusement Park in Dallas to have fun on rides. But that day, an incident made me feel dejected like never before.
I was very excited to sit on the most gigantic and thrilling roller coaster -- The Texas Giant -- but the safety lap bar couldn't get fastened to the seat belt because of my plus size.
Hence, I was asked to disembark the roller coaster. The worst embarrassing feeling ever!
That was the day I decided that I have to become fit by losing weight.
Also, I set an accomplishment goal for myself that once I'll be fit, I'll make sure I do visit the park again and ride that roller coaster as many times I can.
Since then, for 10 months now, I've been exercising daily and I have lost 75 lbs (approx 34 kg).
I don't go to the gym, but workout by jumping rope (1500 counts), doing abdominal crunches and yoga.
Talking about food, I haven't sacrificed all of it. I eat everything, but in the correct quantity.
I try to avoid fattening foods like refined flour and cheese as much as possible and replace them with healthier, fibrous food like grains, fruits, etc.
You shouldn't stop at all.
I'd say you should set short goals and treat yourself with cakes and desserts once a while whenever you clear a level in your journey.
Today, I still can't believe myself with what I have accomplished so far, all because of that one motivation that has kept me going on and on.
Currently, I'm in college, far from home.
Whenever I visit home, friends and family praise me, which keeps me motivated.
I'm more confident and look smarter, which makes me happy.
I feel so light now. I can do things I couldn't do earlier and the best part is, I can buy clothes I like.
I'm extremely proud of myself. It just feels so great!
When I think of myself a year ago, I feel great about my achievement.
Reader Invite
Have you recently lost weight? We want you to share your weight loss story with us.
Write in to getahead@rediff.co.in (subject line: 'Fat to Fit'), with a before and after photograph, if possible and we'll feature the best entries right here!