We'd asked you, dear readers, to tell us how you went from fat to fit.
Here, Rediff reader Aarathi Ganesh from Mumbai shares her weight loss journey.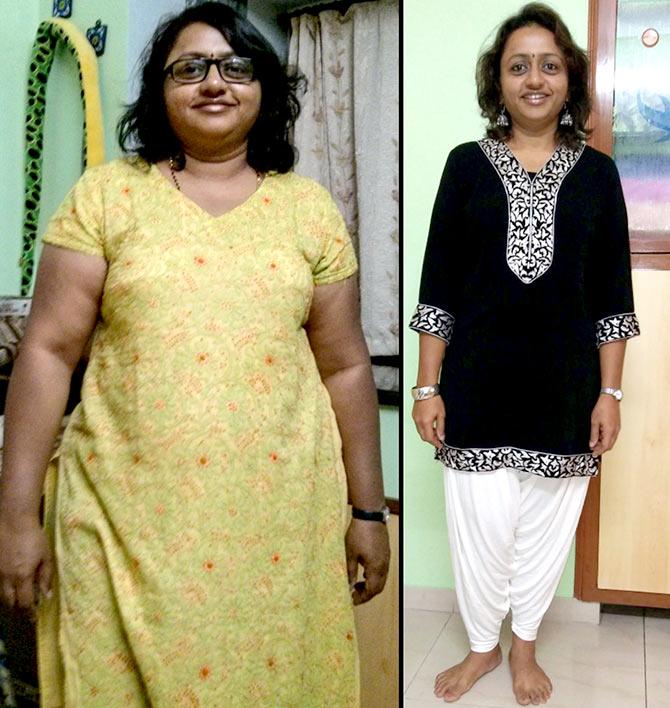 I am 41 years old. I weighed 103 kg in 2016.
I had hypertension, sleep apnea, carpal tunnel syndrome and was borderline diabetic.
I had tried different ways to lose weight ranging from walking with intermittent diet control to joining clinics with weight loss formulae like lipolysis etc.
Everything proved to be temporary. I would lose around 10 to 12 kg then bounce back to my original weight.
My weight loss journey
In September 2016, I connected with a personal trainer.
I asked him if I could reach my goal of 70 kg. He told me it was possible. I wasn't sure.
Under his guidance, I started working out. I did not follow any diet plan immediately as I was finding it difficult to work out and also follow a diet.
My progress in the first three months were slow. I lost only 2 to 3 kg and felt defeated.
My trainer told me that without any diet plan, it was useless to exercise and expect to lose weight.
I was put on the Ketogenic diet under his guidance.

I have never turned back since.
With Keto diet and exercise, I started losing up to 3 kg every month.
By December 2017, I reached my goal weight of 70 kg.

I regained my confidence and vitality.
I thank my trainer and family members for their support along the way.
Earlier in this series: This lawyer lost 23 kilos in 6 months
---
Reader Invite
Have you recently lost weight? We want you to share your weight loss story with us.
Share your detailed diet plan, tips and advice with our readers.
Write in to getahead@rediff.co.in (subject line: 'Fat to Fit'), with a before and after photograph, if possible, and we'll feature the best entries right here!