We'd asked you, dear readers, to share your fitness stories and learnings with us.
Rediff reader Narayanan, 33 from Chennai tells us how he fought fatty liver and lost weight in less than three months.

My life took a turn for the worse when I was diagnosed with Fatty Liver (Grade 2, NASH via ultrasound).
I take master health check up every year. In January 2018 my ultrasound revealed Fatty liver Grade 1 with Hepatomegaly (17.3 cm).
Your body uses ALT (alanine aminotransferase) to break down food into energy. AST (aspartate aminotransferase) is an enzyme your liver makes.
Normally, ALT and AST levels in the blood are low.
If your liver is damaged, it will release more ALT and AST into your blood and the levels will rise.
My ALT was 120 and AST was 80.
I was told by the doctor that having fatty liver was normal and I just needed to take care of my diet.
Her opinion was that everybody has it so I need not worry.
I trusted her and really stopped worrying.
A year later, on January 22, 2019, I went for my annual check up.
My report listed Hepatomegaly (17 cm) with Grade 2 fatty liver. My AST was 53 and ALT was 115.
I still remember the morning of January 23.
I woke up at 2 am and started crying for nearly 30 minutes.
I had read that fatty liver could lead to cirrhosis/liver cancer (HCC).
I was imagining the worst. That if I got cirrhosis, I will need a liver transplant.
I thought about my child and my mind was racing so badly.
I just wanted this misery to end.
My thoughts and fear may seem silly to many people, but those who are personally undergoing these things will know the extent of my worries.
This time, I took it seriously and met Dr Joy Varghese, the head of hepatology, Global Hospital, Perumbakkam, Chennai.
He told me just one thing -- lose weight and meet me in three months.
He prescribed me Vitamin E (400 mg per day, tocofil) and Urodosoxelic acid (UDCA, 300 mg).
Clinically NASH (Non Alcoholic Fatty Liver) can be confirmed only via liver biopsy. I personally feel the diagnosis of NASH by the doctor was blessing in disguise as it made me mentally stronger to beat this so called disease.
I did so in exactly 2 months and 15 days.
Took an ultrasound and LFTs on April 9, 2019. My AST was 20 and ALT was 17. The doctor was not able to find any fat in my liver.
Tears flew down my eyes. I had cured this condition in two months, where it takes anything between 9 months to 1 year to reverse.
In some unfortunate cases, it has even led to cirrhosis leading to liver failure.
What I learned
First and foremost thing is to fix is our diet.
Our Indian food is so rich in carbohydrates -- be it rice or chapathi -- it converts into sugar. This sugar built up over a period of time leads to Fatty Liver.
We need to control our carb intake and increase healthy fat and proteins in our diet.
Yes you heard it right. Eating FAT is not wrong, but the FAT source has to come from fresh paneer, peanut butter and goat cheese, not from junk food.
Even vegetarian-only restaurants and eateries use a lot of vegetable oil in their food so that the food tastes better.
I am not saying that we shouldn't eat outside, but we should restrict ourselves from eating out and do it may be once in 3 months.
For vegetarians, proteins can come from tofu, dal and sundal.
How I lost weight
I was not grossly overweight to start with.
My height is 189 cm (6.2 feet) and I weighed around 96.4 kg and had too much visceral fat.
The first week (January 22 to 29) was really challenging. I was surfing what to eat and what not to. I was confused whether to eat carbohydrates or skip it.
Then I came across Dr Eric Berg's videos on Youtube where he talks about Ketogenic diet to reverse fatty liver.
But living in India, being a vegetarian, having a Keto diet was practically ruled out.
I just took note of the things that I could eat and formulated a plan for my diet.
Details about my diet a bit later.
I drastically changed my diet and joined a gym only for weight training. I ran or walked 10 km a day and climbed 20 floors daily.
I checked my weight daily.
In 2 months and a half, my weight dropped to 80.3 kg.
Thanks to a combination of diet, gym, walking, running and medicines given by the doctor, I was able to overcome the situation.
I tracked my weight daily in excel sheet and that was a major motivation to see my weight constantly reducing.
My diet
These are some of the things I ate
Black rice (200 gms cooked)
Cauliflower, cabbage, brocolli, spinach or eggs (4 with yolks daily).
Black gram, ragi dosa with sambar; sprouts; salad (Onion, tomato, cucumber with black pepper); dahi; peanut butter, kiwi fruit, strawberry and papaya.
My sample diet for past 2 months is as follows:
I get up around 4:30 am and have 30 ml of apple cider vinegar mixed in hot water (200 ml).
I hit the gym for an hour. Post workout, I have 28 to 40 gm of plain peanut butter.
At 10 am, I would have cauliflower or brocolli followed by black rice with sambar or tamarind rasam.
Between 12.30 and 1 pm, again brocolli or cauliflower.
At 4 pm, a bowl of nuts, mainly pista, badam and walnuts.
At 6.30 pm, ragi dosa with onion and tomato chutney (or) 4 eggs with 100 gm of raw paneer or tofu.
Cruciferous vegtables are good for liver. I made sure to eat only brocolli, cauliflower or cabbage for two months continuously.
The thing that I followed religiously is to have my dinner between 6 and 6:30 pm and fasting for 15 hours, which means I would have my breakfast the following day around 9 am.
Foods that I loved but I skipped completely
I skipped sugar (white sugar, jaggery, honey), potato, white rice, fried items and junk food.
We have sugar in almost everything we eat.
White rice has tremendous amount of sugar. Carbohydrates is nothing but sugar.
I ate relatively a lot of fat with less carbohydrates, unlike in a Keto diet which has only 20 mg of carbo intake.
Exercise
Weight training in the gym for an hour in the morning (chest, shoulders, biceps, squats etc) and running/walking in the park for 10 km (60 to 90 minutes).
I couldn't have done this without the help and support of my family, especially my mom and wife.
They made sure that I got what I wanted when it came to food, especially at the time that I wanted it -- be it morning 4 am or at midnight.
Remember, eating healthy is not easy and not cheap too!
But I have learned that if I can succeed, you guys can too. I wish you all the best.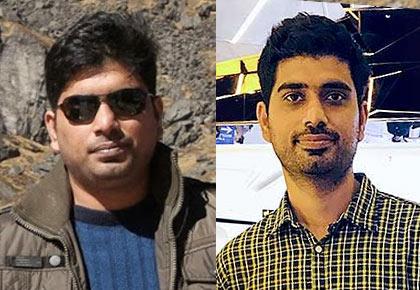 ---
Invite
Have you recently lost weight or survived a serious health condition?
We want you to share your story with us. Tell us how you lost weight.
Share your diet plan, exercise tips, learnings and more.
Simply write to getahead@rediff.co.in (My Fitness Story) along with your NAME, AGE, LOCATION, along with a before and after photograph of your fitness journey. We'll feature the best responses right here on Rediff.com.