"For acne you need to keep your skin free of debris by following a thorough cleansing routine and using a gentle cream based exfoliant which is good for both acne and pigmentation."
"Always use a moisturiser with an SPF of at least 30 to prevent sun damage."
International skincare evangelist Avni Amlani offers tips on how to get a flawless skin.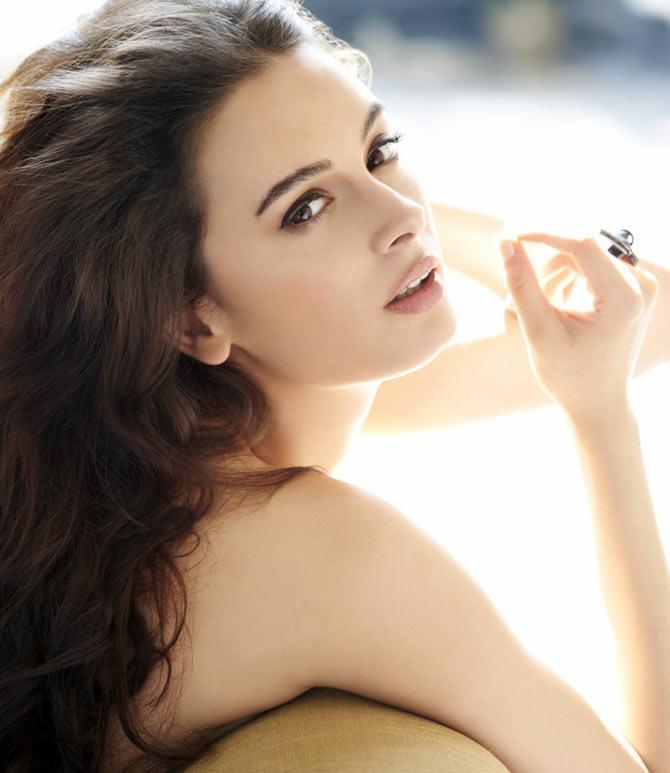 In an online chat with readers, skincare evangelist Avni Amlani of Dermalogica India addressed queries on how to keep skin problems at bay.
For those who missed the chat on September 9, here's the unedited transcript:
---
Siddhartha Daulatabadkar: Hello, I have sun burn spots. my skin is oily. please advise to home remedy to remove these spots. Also any remedies to remove black heads?
Avni Amlani: Siddhartha, use a paste of besan flour, milk and a little turmeric powder, leave on for 10 mins and wash off.
This will help in reducing the sunburn spots. Get your blackhead removed by a skin therapist in a salon.
Avoid removing them yourself as you could scar your skin.
---
Sanyukta: How safe is retinol for wrinkles and dark skin and dark circles and pimples and acnepits?
Avni Amlani: Sanyukta, if prescribed by a skin therapist or dermatologist retinols are great for treating many skin conditions especially ageing and pigmentation.
Choose a retinol cream which has hydrating and nourishing ingredients.
---
SOMA SAHA: I am 35 years I want to also fair looking skin.
Avni Amlani: Soma you should be happy with your natural skin tone, there is beauty in all skin colours
---
ameet Shirodkar: I am little dark, is there any fairness cream?
Avni Amlani: Ameet - there are no creams which can change your natural skin colour.
If it does, I would be careful as there can be long term disadvantages to these.
Use creams/serums which offer brightening benefits, which brings luminosity and give a healthy skin.
---
sakshi sharma: Remedy for pigmentation and acnes, my age is 30 years, also prominent dark circles
Avni Amlani: Sakshi - for acne you need to keep your skin free of debris by following a thorough cleansing routine and using a gentle cream based exfoliant which is good for both acne and pigmentation.
Always use a moisturiser with an SPF of at least 30 to prevent sun damage, which leads to pigmentation.
---
sathish kumar: Do we have to use facewash or normal traditional soap will do for cleansing face?
Avni Amlani: Sathish - general soaps dry the skin. I would always say you should use face wash or cleansers for the face.
---
Diamond Fernandes: How often can I use face scrub for dry skin? Can you advice any face scrub for dry skin?
Avni Amlani: Diamond, there are numerous face scrubs available, you need to use them as prescribed on the packaging or by the skin therapist.
There are exfoliants which can be used daily, that have gentle microfoliating ingredients which are great for dry skin.
---
akriti jain: What is the Best Treatment for acne pores on face?
Avni Amlani: Akriti, you need to receive facial treatments to manage future acne and help reduce the acne pores.
Regularly exfloiate your skin which will unclog the pores but will also help remove the dead skin cells.
---
suprada construction company SCC: Just suggest me home remedies to over come anti wrinkles, also suggest me some good face cream for daily use.
Avni Amlani: Suprada, try applying a paste of papaya and yoghurt two times a week on the skin will help to give exfoliation, it will help smoothen uneven texture. Use moisturisers from age smart lines of any brand with built-in SPF.
---
rashmi gawade: Could you recommend a nice face pack for dry skin.
Avni Amlani: Rashmi - a multivitamin enriched power recovery pack(masque) is great for dry skin as it will nourish and brighten the skin.
---
anil: I have combination skin -- oily and dry. How to pick the best skincare product for me?
Avni Amlani: Anil - there are plenty of options available for combination skin like yours. Products for combination skin should have hydrating and oil balancing ingredients.
---
hitansh: Does excessive facial or massage cause your skin to wrinkle?
Avni Amlani: Hitansh - excessive facials or massage if done by an expert in skincare will not your skin to wrinkle.
However general thumb rule, all things should be done in moderation or as recommended by a professional skin therapist.
---
Gurshan Gurmeet: How to choose the best moisturiser for face?
Avni Amlani: Gurshan - it is best to get a thorough face mapping skin analysis, so you understand your skin condition/type. Accordingly you would select a moisturiser for best results.
---
hanock james: Hi Avni..Can you suggest any solution for under eye dark circle, I tried lot of thing its not working
Avni Amlani: Hi Hancock - drink plenty of water, get sufficient sleep - this should hep reduce the dark circles.
You can try applying some potato juice at night, this helps give a refreshed look.
---
chirag Cheran: My skin is too oily and pimples prone. what can I do to keep it pimple free?
Avni Amlani: Chirag - for oily and pimple or acne prone skin, the best thing is to keep it thoroughly cleansed followed with lightweight lotion suitable for oily skin.
Exfoliate regularly to keep the skin free from build up of oil and debris.
I advice you should visit a salon and receive skin treatments from a skin therapist once a month for deep cleansing and exfoliation.
---
Kartik Dhadda: How many times should you wash your face in a day?
Avni Amlani: Kartik - ideally you should double cleanse your face twice a day, ie morning and evening. However if you feel need to cleanse inbetwen then always follow up with a moisturiser.
---
rizwan ali: Hi, My hand skin rough and dry like old man. Pls. suggest what can i do.
Avni Amlani: Rizwan, keep your hands moisturised at all times, especially after you have washed them.
Massage slightly warm nourishing oils like olive or coconut at night and wear cotton socks, this will nourish your dry skin.
---
Simon Xavier: I've read somewhere that we should drink water on time, for eg. half an hour before lunch and dinner, two glasses of water early morning for the skin. Is it true?
Avni Amlani: Simon - It is true that one should drink water at least half an hour before any meals, as drinking water or soft drinks with your meals dilutes the digestive juices which is required to breakdown the food you eat.
Drinking at least one glass of water in the morning helps to kick start the digestive activities in the body.
---
manisha satpute: According to you what is the true secret of flawless skin?
Avni Amlani: Hi Manisha for flawless skin you need to ensure that you follow a good skincare regime of cleansing, exfoliating with a gentle scrub, moisturising.
Don't forget the SPF for UV protection.
Along with this you need to follow a reasonably balanced lifestyle of healthy diet and drinking plenty of water.
---