Prashant Rawalia, 24, will now compete with 80 contestants from across the world to win the prestigious MONIN Cup 2016.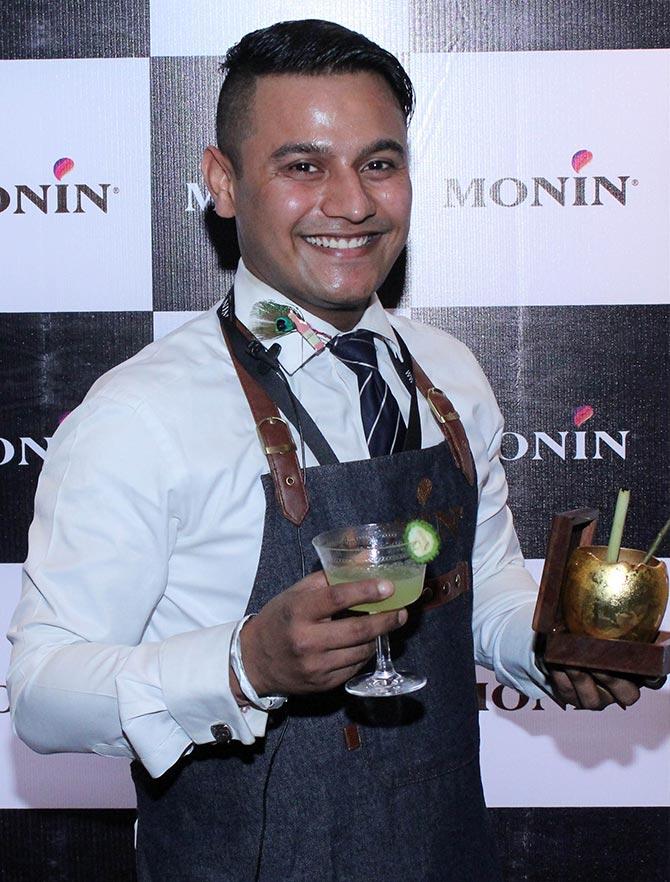 IMAGE: Prashant Rawalia with his winning cocktail. Photograph: Kind courtesy Actimedia Communications
MONIN -- a global leader in gourmet syrups headquartered in France recently announced the India champion of the MONIN CUP 2016.
The biannual contest which entered its fourth year, celebrated young talent in the field of bartending.
After a nationwide search to find top bartenders across India, Prashant Rawalia won the MONIN CUP 2016 from India.
Prashant Rawalia, 24 who works at Trident, Gurgaon will now get a chance to showcase his talent and represent India in International bartending challenge scheduled Monday, December 5 in Paris, France. He will compete with 80 other national champions, drawn after a thorough search for young talent in each of these countries.
In a nail-biting finale, 12 finalists from 4 cities (3 from Delhi-NCR, Bangalore, Mumbai and Pune each) competed neck to neck at Hard Rock Cafe in Gurgaon on October 7 for the winner title.
The cocktails prepared by finalist bartenders were put through both technical and sensory evaluations.
The event was judged by a panel of the industry's elite experts including Master Mixologist, Andrea Fidora, Yandup Lama, Food Critic, Sourish Bhattacharya,Shalini Kumar and Pawan Soni.
The finalists were challenged on their full range of skills as hospitality professionals. Prashant Rawalia prevailed throughout the competition with his outstanding showmanship and innovative cocktail creation, technique and performance under pressure.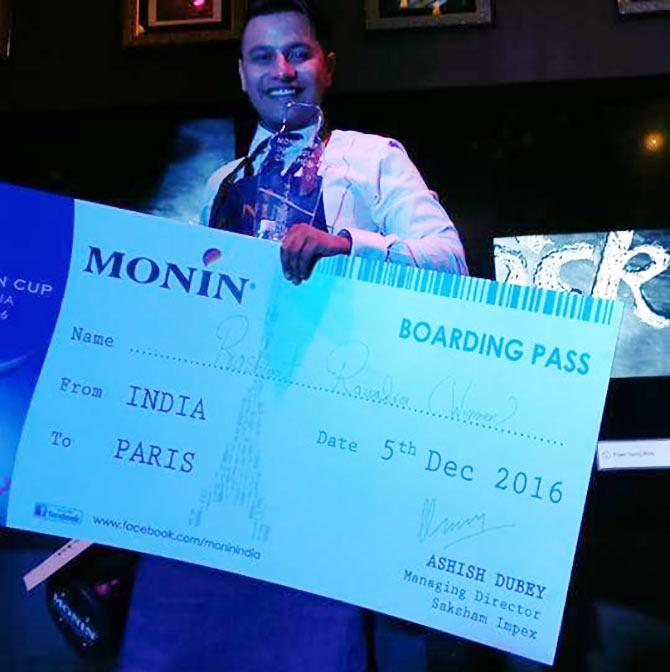 IMAGE: Prashant will compete with global finalists on December 5 in Paris. Photograph: Kind courtesy Prashant Rawalia/Facebook
Ravi Kathuria, director business development SAARC countries said, "MONIN CUP 2016 is one of the top international competitions in India and provides a prestigious platform to the young upcoming bartending talent in our country to showcase their prowess at the global scale. The MONIN cup is part of the strategy to train, encourage and groom young talent which MONIN as a leader in beverage innovation is adopting in India and the 144 countries we operate in."
Commenting on the occasion Ashish Dubey, managing director, Saksham Impex said, "We are happy and proud be associated with MONIN, and organizing this cup . In past few weeks, we have witnessed the most exquisite display of first class mixology. We believe it's a huge opportunity for the next generation who are the future of bartending. The final 12 were exceptional and judges had a tough time to select the winner, however Prashant Rawaliacut the chase with his/her bartending skills. We also want to thank all our judges, especially Andrea who gave our guests some useful tips on creating fine drinks at home."
The event also showcased a master class on professional and home bartending from the master of cocktails, Andrea Fidora. He enlightened guests with some quick tips on how to prepare awesome drinks at home using MONIN products. World-class, flare champions Pankaj and Sachin rocked the highly charged crowd with their wizardry and supreme flair to bring the house down!