Host Seth Meyers kicked off the awards night with a crisp, funny monologue.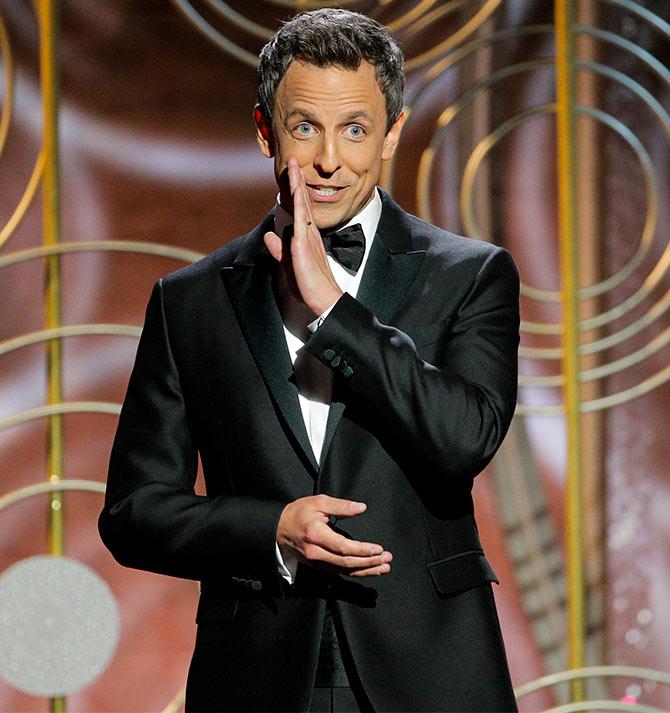 Seth Meyers speaks at the 75th Golden Globes.

Photograph: Paul Drinkwater/Getty Images
Television host Seth Meyers probably had the most difficult job last evening. And the Golden Globes' host did not disappoint.
From calling out to Harvey Weinstein to talking of sexual misconduct and inclusivity at the workplace, Meyer's speech covered it all.
"Happy new year, Hollywood. It's 2018, marijuana is finally allowed and sexual harassment finally isn't. It's gonna be a good year," he began his monologue on Sunday, January 7 at Beverly Hills.
"There's a new era underway, and I can tell because it's been years since a white man was this nervous in Hollywood," he declared to the audience, majority of who wore black to express solidarity against sexual harassment at the workplace.
Seth gradually broached upon the topic with a pinch of humour.
"For the male nominees in the room tonight, this is the first time in three months it won't be terrifying to hear your name read out loud.
Were they considering a female host? Seth explained why that couldn't have happened.
"Considering what has been going on this year with powerful men and their terrible behavior in Hollywood, a lot of people thought it would be more appropriate for a women to host these awards. And they may be right, but if it's any consolation, I am a man with absolutely no power in Hollywood.
They tried to get a woman to host this show, they really did. They said, "Hey, how would you like to come and be judged by some of the most powerful people in Hollywood?" And women were like, "Hmm...well, where is it?" They said, "It's at a hotel." And long story short, I'm your host tonight.
And then he called out the name, loud and clear.
"Well, I think it's time to address the elephant not in the room. Harvey Weinstein isn't here tonight because well, I've heard rumors that he's crazy and difficult to work with. But don't worry, he'll be back in 20 years when he becomes the first person ever booed during the in memoriam."
When the crowd booed him, Meyers added,"It'll sound like that."
Meyers ended his speech by acknowledging the hard work of every crew member who is part of the industry and the activists, particularly, women.
"People in this room worked really hard to get here. But, it's clearer now than ever before that the women had to work even harder. So, thank you for all the amazing work that you've all done and continue to do. I look forward to you leading us into whatever comes next so thank you so much for letting me say that."