First you look at Zendaya's OH-SO-SENSUOUS pose and then you spot where her hands are!
Wonderland's latest summer issue is making news for all the wrong reasons.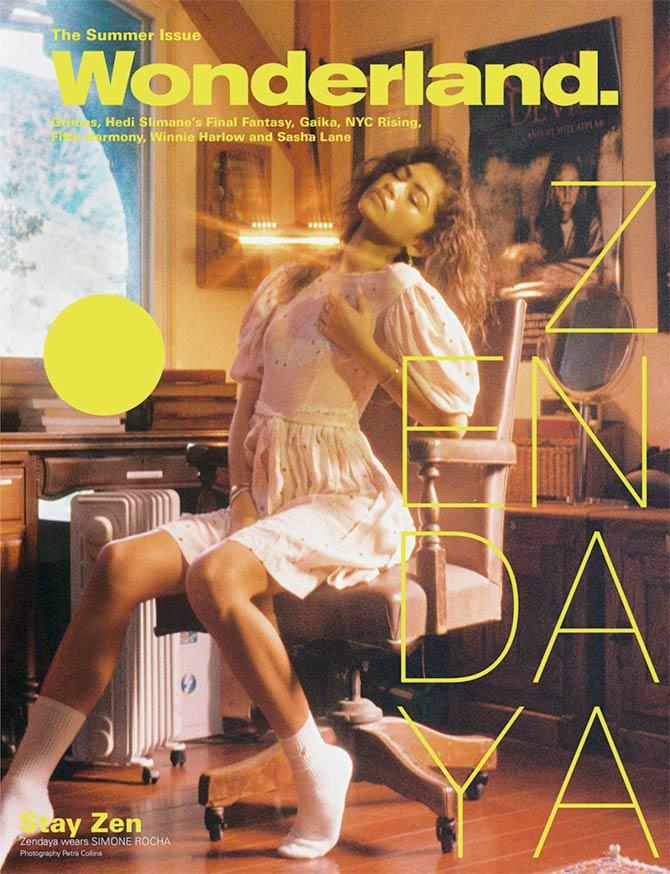 IMAGE: Actor Zendaya strikes a sizzling pose on the cover of Wonderland's summer issue. Photograph: Kind courtesy Petra Collins/Wonderland magazine
UK based fashion and entertainment magazine Wonderland's latest issue features actor Zendaya seated on a desk chair in a white Simone Rocha dress striking a sensuous pose.
But that's not why the cover is being discussed by people, including her fans and the media.
Apparently, it is the strategic placement of Zendaya's hands that appear "overtly sexual" and looked like she was "masturbating" or "pleasuring herself".
The 19-year-old is seen cupping her left breast with one hand and has the other one placed between her legs.
The internet is divided between terming the picture sexy and sleazy.
See it the way you want, but we particularly liked the way the actor shut down her critics in her inimitable style. "I see what y'all saying by the hand placement lmao but that was not intentional you little pervs," she posted on Instagram.
We are asking you, dear readers, to decide what you think of Zendaya's cover.
ALSO SEE
Who wore it better: Kim or Natasha?
Three hotties. One cover. Like it?