The traditional Indian drape may be the garment of choice on an auspicious occasion but it is time to revive it for everyday use say experts.
Saris have become first choice for most Indian women during auspicious occasions but designers and experts suggest doing away with the 'traditional only' tag for the exquisite garment and urge wearers to don them more.
"Youngsters have a perception about the sari that you wear it on special occasions to look traditional, we need to kill this kind of tagging.
"Sari is just another garment," says Sanjay Garg, Designer and Founder-Raw Mango, a brand of contemporary handloom textiles.
Garg was delivering a talk on the 'Revival and re-fashioning of Indian handloom saris and weaves' here recently.
He was joined by textile expert and author, Rita Kapur Chishti and traditional weave revivalist, Gitanjali Shah Mandawa.
The evening also included live demonstration on unique sari tying techniques by Rita Kapur Chishti.
"I think blouses need to take a backseat for the sari to come in the forefront again, because if the blouses don't fit well, one will avoid wearing a sari.
"Earlier the sari was prominent and you could wear anything with it, now the blouses have become prominent," says Mandawa.
Generations of women have affirmed the sari to be an elegant and stylish garment.
"When I wore my first sari for college people told me I have come of age but today if you wear it to college youngsters say "Woh to Bhenji Agayi Hai Dekho" (An aunty has come to college) that's the difference between the '70s and today," says Chisti.
She urges the young to adorn sari as she believes that Indian body types are perfect to wear them and show off their assets.
"We are looking at ourselves through the mirror of television or the media or some visual reference.
"We have this big bust line, we have beautiful shoulders, we have great waist.
"We have assets but unfortunately we are showing all our shortcomings starting from the horrible pair of knees and legs," says Chisti
At the other end of the spectrum, a lot of designers and experts are designing saris in a more contemporary way and also imparting knowledge as to how to drape saris in various styles.
"Rita also teaches people about saris and how to wear them as an everyday wear which is really good.
"Sanjay on the other hand is making young people wear his contemporary saris.
"A lot of young girls are wearing his saris as they are hip and happening for them. So saris are making a come back," says Mandawa.
Young celebrities like actor Sonam Kapoor made a splash at Cannes Film festival with white lace sari with a long embroidered jacket and designer Rohit Bal teaming up a cape with a sari at the recent Fashion Week.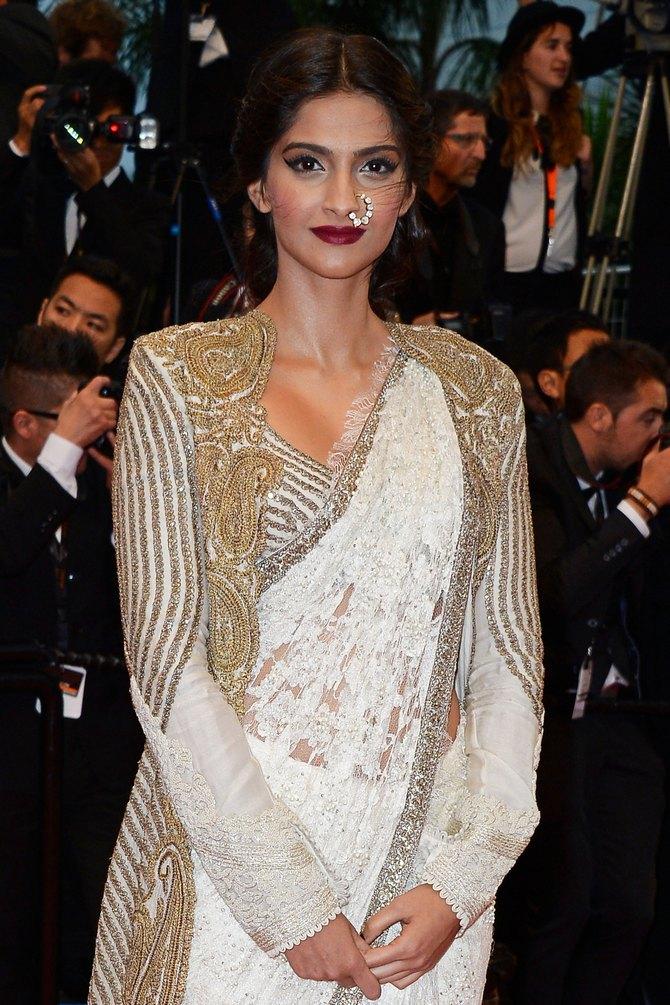 Experts say that these reveal changing trends.
"I think we are all working towards this. I am personally doing a lot of photo shoot with celebrities and youngsters wearing saris," says Garg.
ALSO SEE
Images:
Surily Joseph for Payal Singhal at Wills Lifestyle India Fashion Week: Rediff Archives
Sonam Kapoor at Cannes 2013: Pascal Le Segretain/Getty Images