She was interviewed by none other than Oprah Winfrey for Elle's December 2018 edition.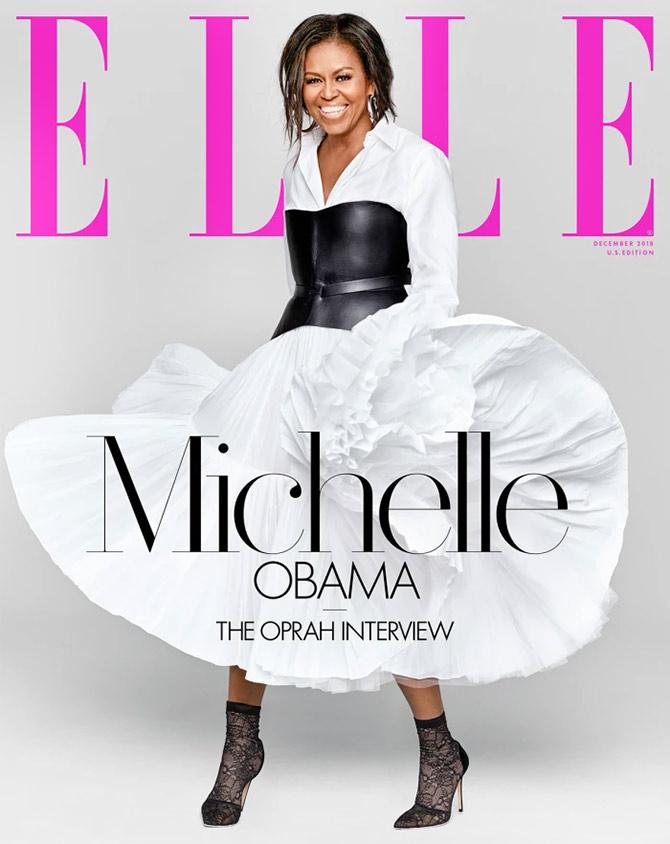 Looking radiant in Dior, Michelle Obama wows on the cover of Elle's December 2018 edition.
A fashion icon in her own right, the former First Lady stuns in a Poplin shirt, pleated-voile skirt and a leather corset.
She finished off the look with silver hoop earrings and lace sock heels by Gianvito Rossia. The white stands for hope and the silver for modernity.
But this could be one of Michelle's most expensive looks on the cover. The white shirt cost $1,350 (around ₹97,316), pleated skirt cost $4,900 (around ₹3,53,223) while the leather bustier costs $2,400 (around ₹1,73,007). The entire outfit costs $8,640 (around ₹6,22,827).
In an interview with Oprah Winfrey, Michelle has revealed candid details about her life, being married to Obama and her struggles.
'We have to feel that optimism. For the kids. We're setting the table for them, and we can't hand them crap.
'We have to hand them hope. Progress isn't made through fear.
'We're experiencing that right now. Fear is the coward's way of leadership.
'But kids are born into this world with a sense of hope and optimism. No matter where they're from. Or how tough their stories are.
'They think they can be anything because we tell them that. So we have a responsibility to be optimistic. And to operate in the world in that way.'