10 things you need to know about the life of Liliane Bettencourt.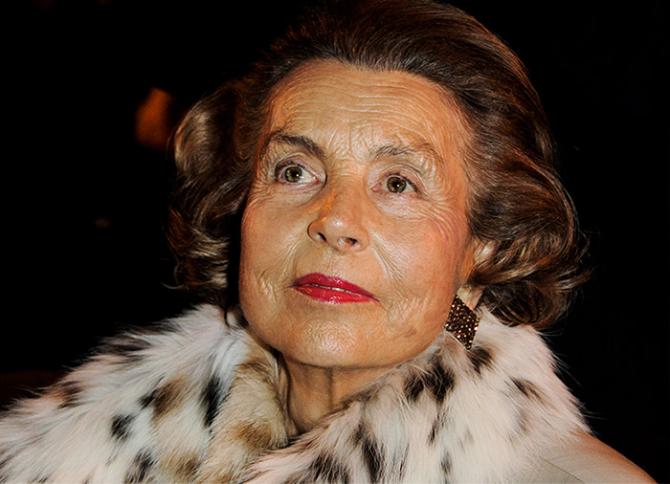 Liliane Bettencourt: October 21, 1922, to September 21, 2017.
Photograph: Francois Durand/Getty Images.
'When you meet Liliane Bettencourt for the first time, you shake the hand of Madame L'Oreal,' Arnaud Bizot, one of the rare journalist who had the chance to interview the L'Oreal heiress for Paris Match, had said.
Liliane Bettencourt, the world's richest woman, died at her home in a chic suburb of Paris on September 21. She was 94.
Her daughter, Francoise Bettencourt-Meyers, confirmed the news in a statement, noting that her mother 'left peacefully'.
CNN noted, 'The Bettencourt family currently owns 33 per cent of the L'Oreal Group, which is home to brands like Lancome, Garnier and La Roche-Posay. Both Forbes and the Bloomberg Billionaire Index considered Bettencourt the world's richest woman.'
At last count, her net worth was estimated at around $39.5 billion!
As the world's leading beauty company, L'Oreal generated sales amounting to 25.8 billion euros in 2016, also making the L'Oreal heiress -- according to latest lists -- the world's 14th richest person.
We revisit the fascinating life of Liliane Bettencourt.
1
Liliane Bettencourt was born in Paris in 1922.
She was the only child of Louise Madeleine Berthe and Eugène Schueller, the founder of L'Oreal, one of the world's largest cosmetics and beauty companies.
Liliane lost her mother when she was only 5 years old. She shared a close bond with her father, who went on to marry Liliane's governess.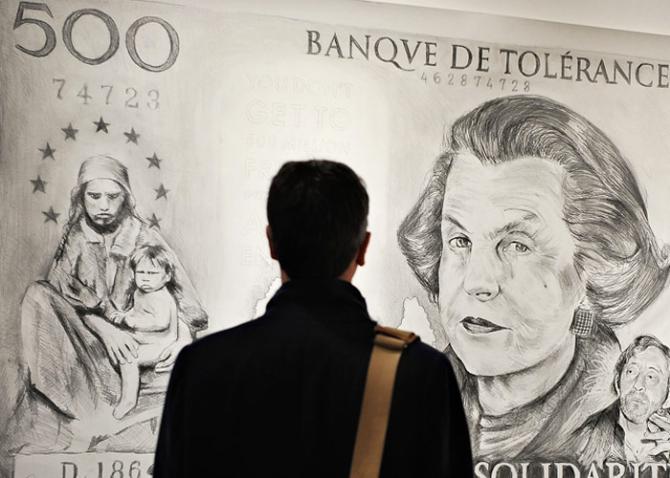 A visitor looks at a painting representing Liliane Bettencourt at Cour Carree du Louvre in Paris

.
Photograph:

Pascal Le Segretain/Getty Images

.
2
Liliane began working at L'Oreal at the age of 15. She joined the company as an apprentice, mixing cosmetics and labelling bottles of shampoo.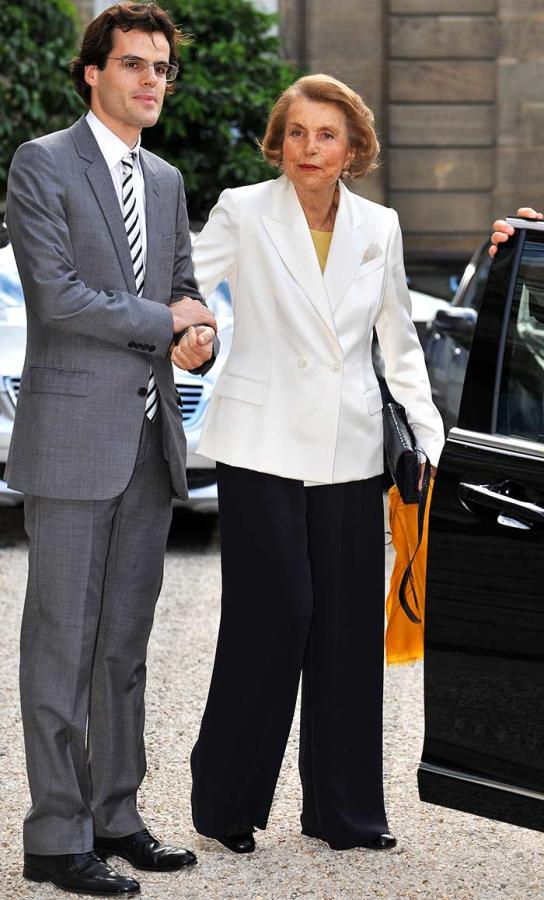 Liliane Bettencourt attends a ceremony for recipients of France's most prestigious Legion D'Honneur award at the French president's official residence in Paris in 2008.
Photograph: Pascal Le Segretain/Getty Images.
3
At age 27, Liliane married André Bettencourt, a man who belonged to a violent French fascist pro-Nazi group called La Cagoule. André Bettencourt, who later apologised for ever having associated with a fascist group, served as a cabinet minister in French governments of the 1960s and 1970s.
Bettencourt eventually became the deputy chairman of L'Oreal.
He died in 2007.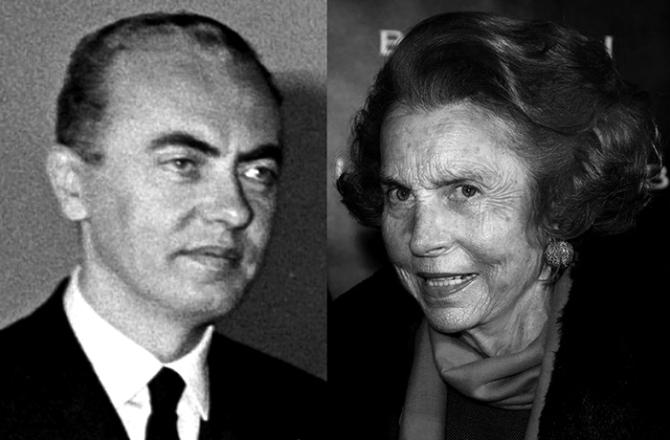 Liliane and André Bettencourt.
Photograph:

Marc Piasecki/Getty Images and Wikimedia Commons

.
4
Liliane's father was a Nazi sympathizer.
Forbes reported, 'In France it is commonly believed that Schueller had close ties to the Nazi regime. During the 1930s, he is said to have hosted meetings of La Cagoule... at L'Oreal's headquarters on rue Royale in Paris.'
Reports suggest that after World War II, L'Oréal gave Bettencourt and other members of La Cagoule refuge.
Much has been written about L'Oreal's murky history of fascist leanings.
Photograph:

Charles Platiau/Reuters

.
5
Liliane and her husband had one daughter, Françoise, who was born in 1953. They lived in an Art Moderne mansion built in 1951 in Neuilly-sur-Seine, France.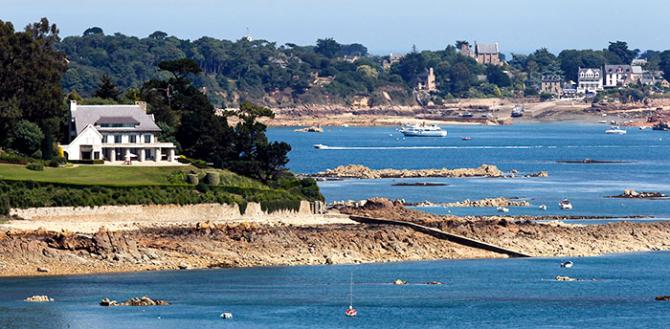 View of a residence of Liliane Bettencourt in Arcouest near Ploubazlanec, northern Brittany, France.
Photograph: Stephane Mahe/Reuters.
6
Liliane inherited the L'Oreal fortune, becoming the principal shareholder, in 1957 after her father's death.
L'Oreal went public in 1963, but Liliane continued to own a majority stake.
In 1974, amid fears that the company would get nationalised, she swapped almost half of her stake for a 3 per cent stake in Nestle SA. The Bettencourt family and Nestlé act in concert pursuant to a shareholders' agreement.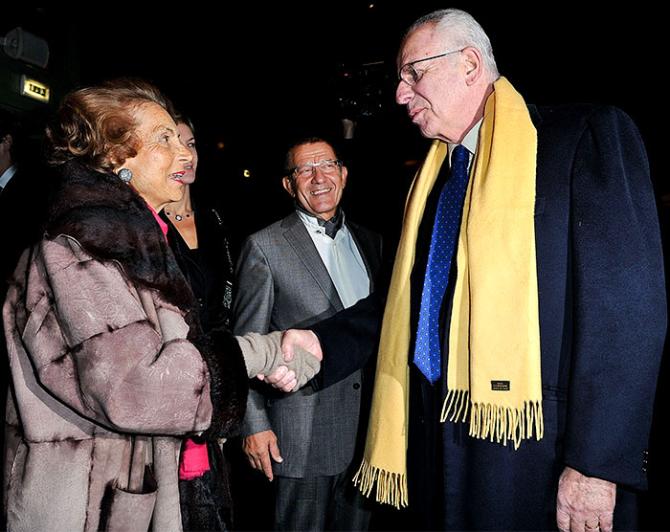 Liliane Bettencourt with Bulgari Chairman Paolo Bulgari at the launch of Bulgari's 125th anniversary celebration in Paris in 2010.
Photograph: Pascal Le Segretain/Getty Images.
7
According to CNN, 'She was actively involved in running the cosmetics giant, and served on the company's board until 2012. She stepped down at the age of 89 and was replaced by her grandson amid a bitter legal dispute with her daughter, who argued Bettencourt was not mentally competent to handle her own affairs.'
Following Liliane's death, L'Oreal Chairman and CEO Jean-Paul Agon expressed 'great admiration' for her, and said she 'always looked' after the company and its employees and 'she has personally contributed greatly to its success for many years.'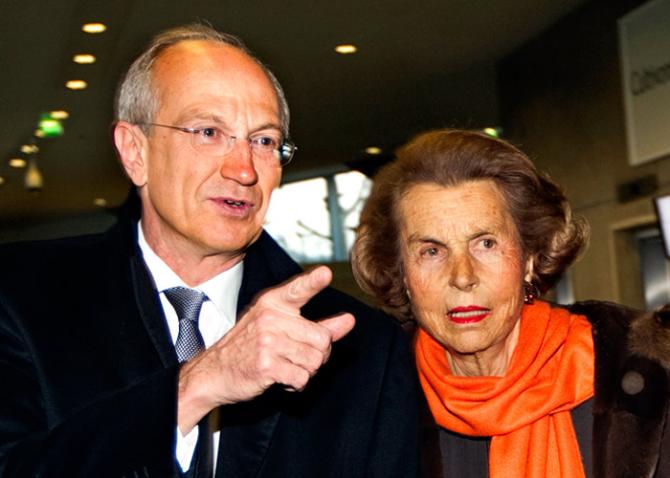 L'Oreal chief executive Jean-Paul Agon and Liliane Bettencourt at the L'Oreal-UNESCO prize for women in Paris in 2011

.
Photograph:

Charles Platiau/Reuters

.
8
Liliane Bettencourt generally shunned media attention and granted few interviews. But since 2007 she had faced intense publicity over her relationship with photographer and artist François-Marie Banier, which earned the 'Bettencourt Affair' moniker.
The Guardian noted, 'Françoise Bettencourt Meyers, decided to take legal action against her mother's eccentric best friend, François-Marie Banier. The dandy photographer, artist and one-time society golden boy was accused of taking advantage of Bettencourt's frailty to accept almost €1bn worth of gifts, including paintings, life insurance policies and a salary from L'Oreal.
The British newspaper added, 'The saga resulted in not only a public family feud, but a major political scandal and courtroom drama when the investigation was extended to look at whether (then French president Nicolas) Sarkozy and other figures in his party had also taken advantage of the elderly Bettencourt, asking for money from her after it was declared that she had dementia.'
While the charges against Sarkozy were dropped due to lack of evidence, Banier was convicted of taking advantage of Liliane Bettencourt's weak mental state and sentenced to prison.
These were just two of the cases that Lilane Bettencourt was simultaneously dragged into.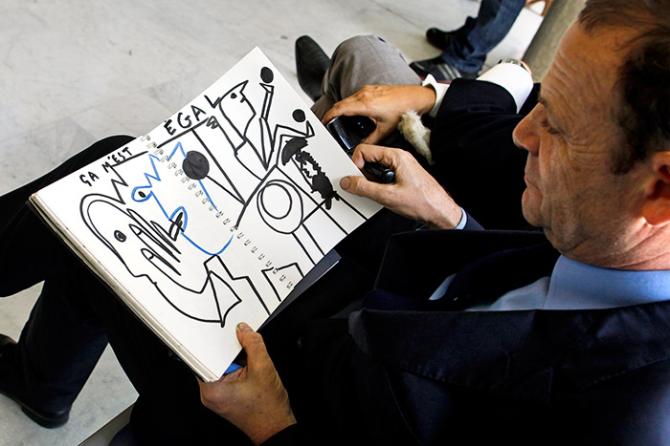 French photographer Francois-Marie Banier draws during a break in hearing at a court near Paris.
Photograph: Benoit Tessier/Reuters.
9
In 2011, a judge declared that Liliane Bettencourt was unfit to run her own. A medical report had showed that she had suffered from 'mixed dementia' and 'moderately severe' Alzheimer's disease since 2006.
The court placed her under the personal guardianship of her grandson Jean-Victor Meyers; the judge determined he was the only person able to 'ward off all conflict between Liliane Bettencourt and Françoise Bettencourt-Meyers.'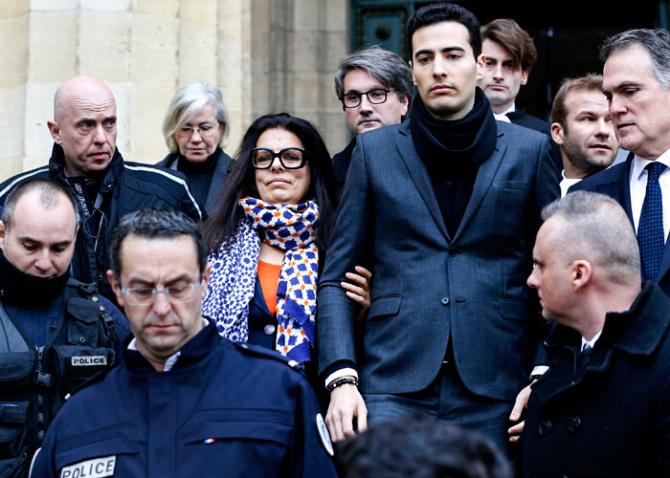 Francoise Bettencourt-Meyers and her son Jean-Victor on the opening day of the Bettencourt trial in Bordeaux in 2015. Ten people stand trial for 'abuse of weakness' between 2006 and 2010 in the case involving elderly Liliane Bettencourt.


Photograph:

Regis Duvignau/Reuters

.
10
Liliane Bettencourt was rarely seen in public after leaving the L'Oreal board in 2012.
Her daughter Francoise is guardian of the fortune, while grandson Jean-Victor was appointed as board director.
Just days before her death Time magazine ran an excerpt from author Tom Sancton's The Bettencourt Affair with the headline 'Never envy the richest woman in the world.'
The excerpt opened with the lines: 'She is the world's richest woman, worth $39.5 billion at last count, but no one could envy her. Liliane Bettencourt vegetates in an armchair in her Art Deco mansion near Paris, surrounded by her servants, dogs, and caregivers. She is deaf and lost in the fog of senility.'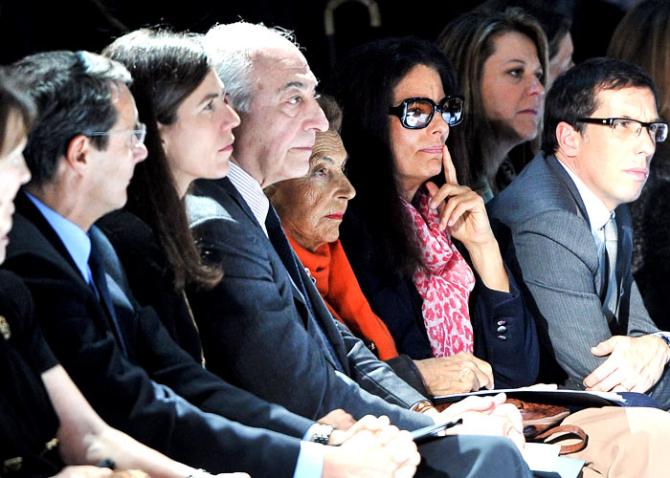 Liliane Bettencourt (fourth from left) and her daughter Francoise (third from left) at the Giorgio Armani Prive Haute-Couture Spring/Summer 2012 show in Paris in 2012 -- one of her last public appearances.


Photograph: Pascal Le Segretain/Getty Images.