The actor turns up the heat on Femina's April 2019 cover.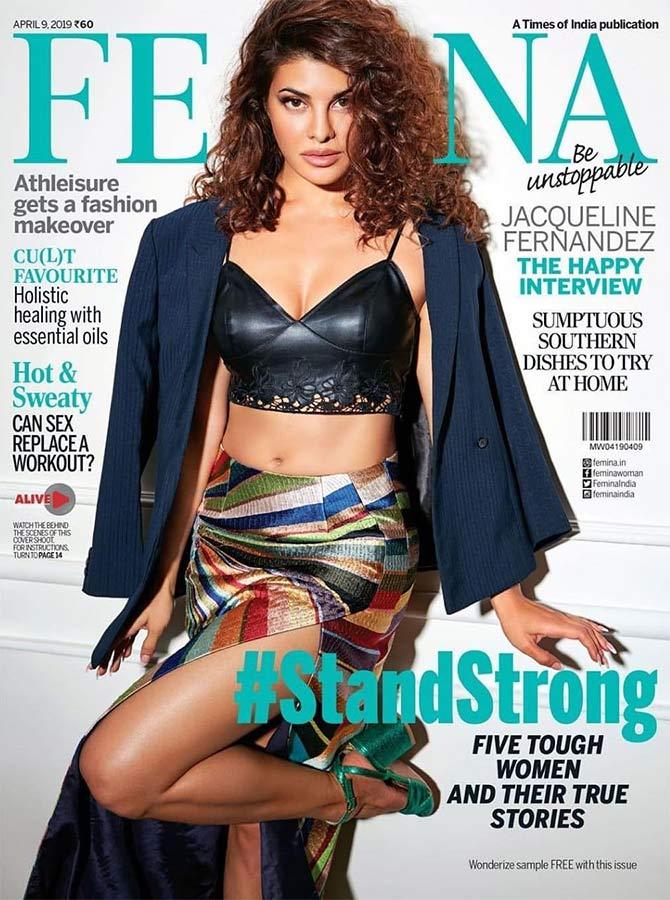 Summer has just set in and Jacqueline Fernandez has already set the temperature soaring with her super-hot cover.
Dressed in a bralette, paired with a thigh-high slit embroidered dress, the actor bares her abs.
She completed the look with green heels, a pinstripe navy blue blazer, soft curls and nude make up.
In the 'happy interview' with the mag, Jacqueline speaks about what keeps her motivated.
'I never do things for money. I have always done them for the beauty of what I do.
'If it's about performing, it's because I love being on-stage, if it's endorsement, it's because I believe in the product,' she said.
When quizzed about her fitness routine, she added, 'I think I have a split personality when it comes to my fitness routine.
'Sometimes, I am working out three to four hours a day, and on a few days, I am sitting at home in my pyjamas, watching Netflix, and eating pizza,' she added.
'It's really about what motivates and inspires me, and for me it's important to be motivated.
'I find myself to be most fit during those times. However, I manage to get four to five days of workout in a week, which is a mix of lots of things such as yoga, Pilates, and dancing.'
Styled by Prachiti Parakh, the cover has been shot by Taras Taraporvala.