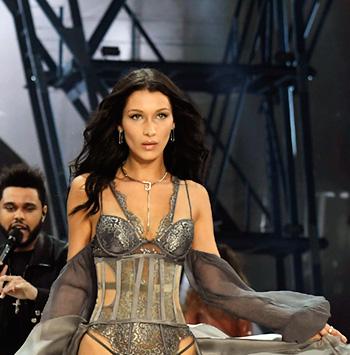 The weekly fashion round-up, where we bring you the latest on supermodels, style, designers and everything in between.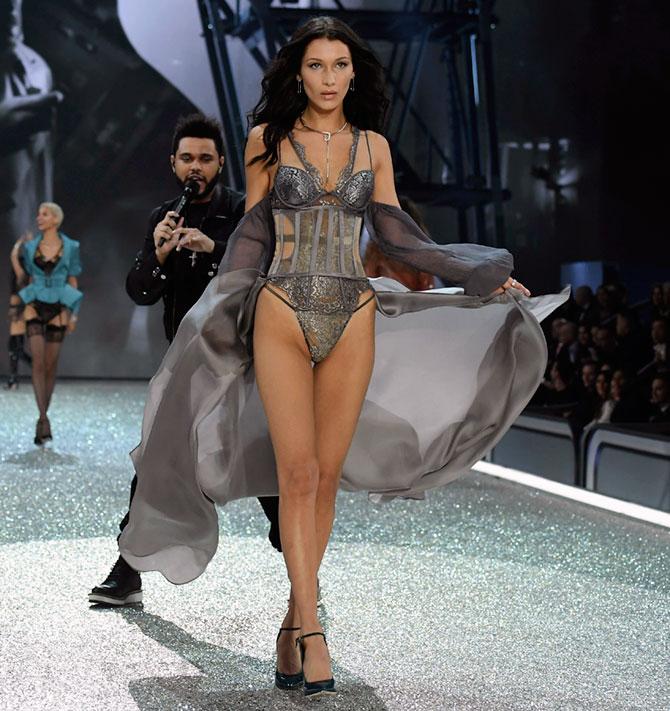 Image: Abel Tesfaye checks out Bella Hadid at the Victoria Secret's annual show in Paris.
Photograph: Pascal Le Segretain/Getty Images

Looks like The Weeknd (real name Abel Tesfaye) found it difficult to take his eyes off former girlfriend Bella Hadid, who recently made her debut at the Victoria's Secret Fashion Show, 2016.
During his featured performance, the singer was elated to see the brunette beauty onstage at Paris Grand Palais. But he was also caught checking out her bottom, reported the Daily Mail.
The 20-year-old supermodel flaunted her endless curves in a show-stopping metallic grey cut-out bodysuit.
Her intimate ensemble featured a figure-hugging sheer mesh corset with silver boning that highlighted her trim torso, while an eye-catching silver necklace framed her bust.
However, it appeared that staying focussed amidst dozens of models proved to be tough for The Weeknd as he was also spotted eyeing Alessandra Ambrosio's bosom when she strode by.
Hadid continued her skintight boudoir appearance as she paraded her endless lithe limbs down the never-ending runway, teasing at her tiny undergarment as she adorned her feet with a pair of sky-high pointed pumps.
Completing her daring display, she stylishly draped her silk grey bathrobe inspired wardrobe staple over her arms as she made her way loving towards her former flame as he performed.
****
Kendall Jenner's indulgent food treat will make you drool!
IMAGE: Kendall Jenner backstage at Victoria Secret's show in Paris.
Photograph:

Dominique Charriau/Getty Images
The Victoria's Secret model hosted an after-party post the annual fashion show, which was held at Paris.
Wondering what was the menu at the party? No! Not healthy food.
Instead the complete with burgers and macaroni cheese.
The 21-year-old star, who walked the runway at the Fashion Show in Paris, decided to have a splurge to celebrate another successful show by having their own unofficial bash at Ferdi where they enjoyed some fast food, reported Femalefirst.
Bella Hadid, who took part in her very first Victoria's Secret Fashion Show this year, shared videos on Snapchat, in which her sister Gigi and Kendall were seen enjoying the food.
"She set up all of this so we could eat burgers tonight after the show," said Gigi in the video.
Meanwhile, Kendall took to Instagram after the show to share a snap of herself wearing a leopard print coat as she waited for her food to arrive. The picture was simply captioned: "Burger please."
*****
How Lady Gaga surprised Victoria's Secret models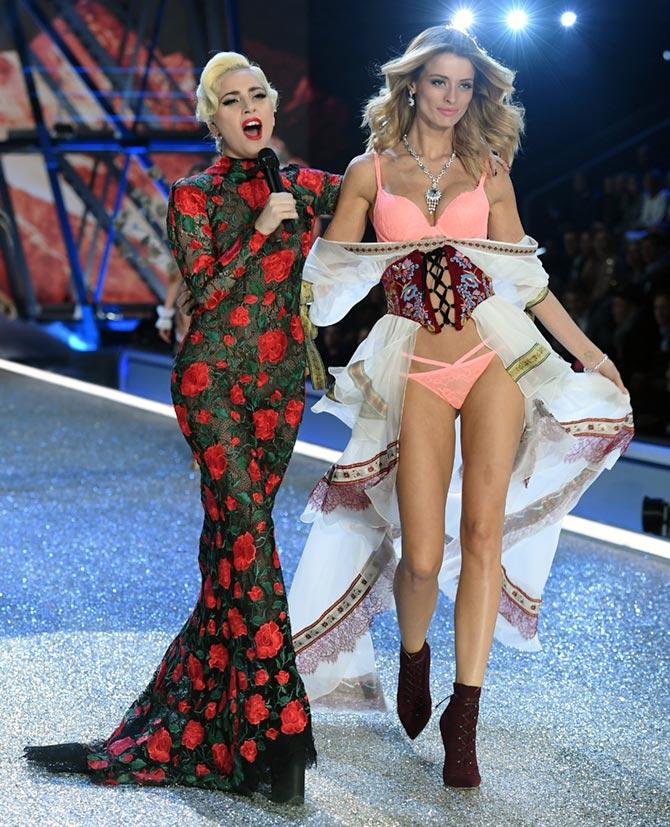 IMAGE: Lady Gaga performs in Paris as Flavia Lucini walks by. Photograph: Dimitrios Kambouris/Getty Images
With roses :)
Not with that hideous rose dress she wore at the recently concluded Victoria's Secret Fashion Show. But actual roses!
Lady Gaga, who recently performed for the 2016 Victoria's Secret Angels on the runway, had a surprise waiting for all the VS models post the show.
In an interview with E! Online, supermodel Lily Aldridge revealed that the 30-year-old songstress "waited" to gift "a personal rose" to each of the models after they walked the runway, which took place in Paris.
The Weeknd and Bruno Mars also joined the models on stage as the show's musical performers.
The 2016 Victoria's Secret Fashion Show was also graced by Gigi Hadid, Kendall Jenner, Adriana Lima, Alessandra Ambrosio and more.
****
What embarrasses Khloe Kardashian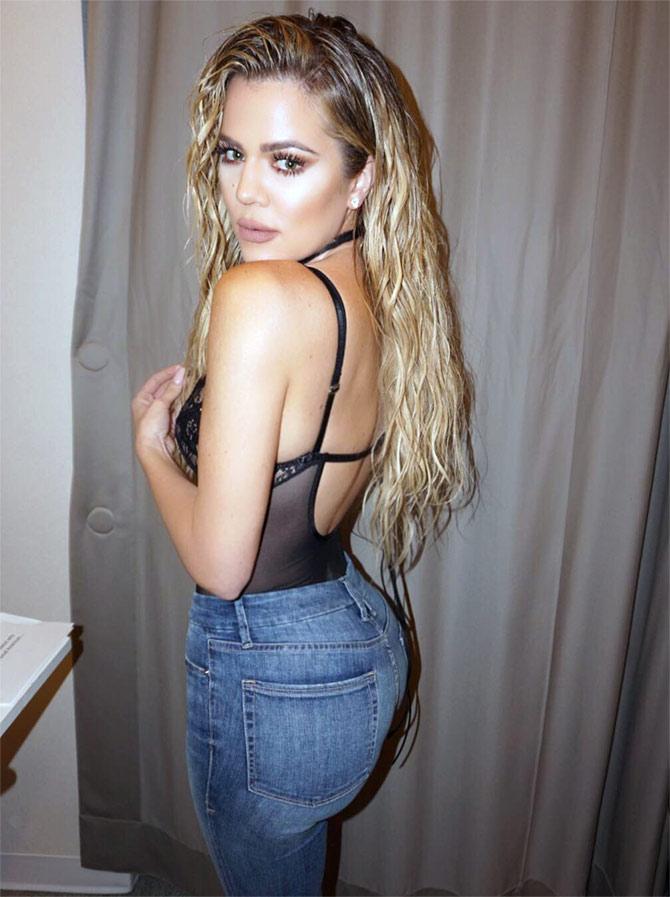 IMAGE: Khloe Kardashian had to struggle with her clothes. Photograph: Kind Courtesy Khole Kardashian/Instagram
Television personality Khloe Kardashian says she used to feel "embarrassed" to go out on shopping with sisters Kim and Kourtney Kardashians.
The 32-year-old Keeping Up with the Kardashians star has revealed that her sisters were so thin that they could easily get fit into any attire.
Whereas she had to struggle for her clothes as she was a chubby girl, reported Hollywood Life.
"It would always make me feel super embarrassed to go shopping with my sisters who are petite and they could go shopping and in any department store and it was just hard for me.
"I remember the chubby girl in me and I'm fighting for my chubby self. I felt so shamed when I would go into boutiques or go denim shopping. It was super hard for me," she said.
The star said she hates being called "plus size" and would rather be known as a "woman with curves".
"I'm all for women empowerment and I used to be someone they used to label plus size. I don't want to be called that - I'm a woman with curves."
*****
This star kid to release photography book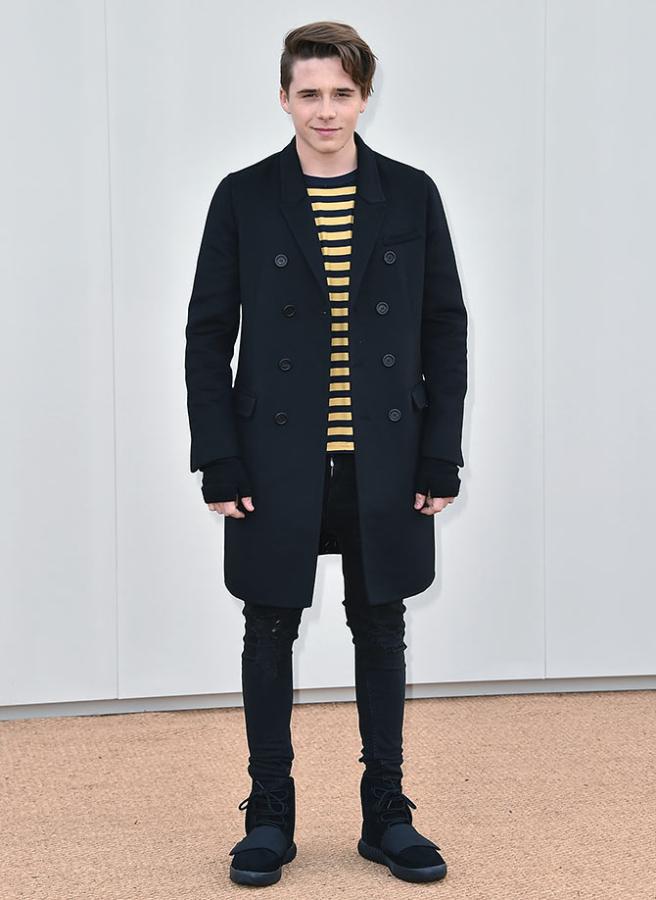 IMAGE: Brooklyn will release a photography book in May next year. Photograph: Gareth Cattermole/ Getty Images
Brooklyn Beckham, 16, is set to release a 'unique, authentic and stylish' photography book.
The eldest son of Victoria and David Beckham took to Instagram to share the image the cover along with its May 2017 release date.
"The full cover of my book What I See, hope you like it," Brooklyn captioned the picture.
According to publisher Penguin, the book will feature 300 photographs offering fans a series of snapshots of (Brooklyn's) life, reported ET online.
"Each chapter will tell a different story through pictures by and of Brooklyn, accompanied by captions and passages of text in his own words.
"Unique, authentic and stylish, What I See is a glimpse behind the lens," the publisher said.
****
Rihanna and Prince Harry's unlikely alliance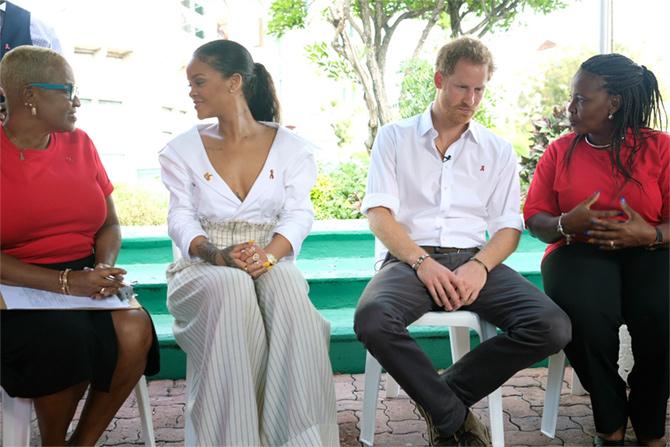 IMAGE: Rihanna and Prince Harry contributed in a special way.
Photograph: Kind Courtesy Kensington Palace/Twitter
When Prince Harry was in Barbados, he did something special.
He convinced Rihanna to help his campaign to destigmatise HIV.
The duo tested at a drop-in centre in the capital, Bridgetown, with the hope of setting an example for Caribbean men who are often reluctant to do so.
"The earlier you get tested the quicker you get on the medication. It's the stigma surrounding this that we have to break," Harry reportedly told the media.
"There are a lot of issues around family dynamics and generational gaps that we have to get over, especially with men. We have a huge part to play in this. It's just that -- normalising and destigmatising of the testing," he added.
The official Twitter handle of the Kensington Palace shared the news posting a picture of the duo shaking hands and greeting each other while attending the 'Toast to the Nation', celebrating 50 years of independence of Barbados, where the singer grew up.
"Prince Harry meets @rihanna at today's Toast to the Nation marking 50 years of Independence for Barbados," read the caption.
The 28-year-old pop star wore a knee-length pale blue dress and sat at the same table as Guyana's President David Granger, just across from the prince's table.
Reportedly, Harry walked over to say hello to the president before he turned and shook hands with Rihanna, saying, "Hello, it's very nice to meet you."
Earlier this week in Barbados, the 32-year-old heir to the British throne visited a children's home and the next day he met patients at 'Queen Elizabeth Hospital'.
While visiting Grenada, he met stilt walkers and planted a Mangrove in Grand Anse Beach and toured Mangrove and coral restoration projects.
*****