Fresh from his Bengaluru reception with wife Deepika Padukone, Ranveer Singh shares his first post-wedding mag cover.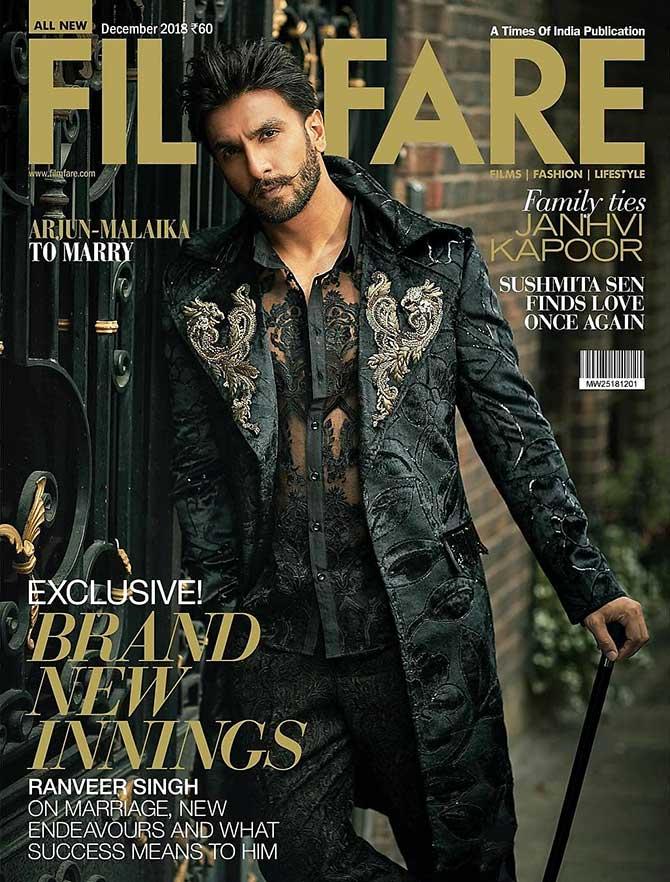 Ranveer Singh made a dashing groom, and Filmfare have decided to end 2018 in style, by featuring the man who owned the year.
'Presenting the enigmatic @ranveersingh on our December cover,' the mag wrote on Instagram as they unveiled their latest cover.
When it comes to (quirky) fashion, no one can beat Ranveer, who is known for his extraordinary taste.
Styled by Nitasha Gaurav, and photographed by Rohan Shrestha, this cover is special for many reasons.
It is Ranveer's first cover post his wedding. Second, it showcases the actor's 'brand new innings'.
In an interview with the mag, Ranveer has spoken about marriage, new endeavours and what success means to him.
'I've been ready for a while. I was just waiting for Deepika to be ready. It would happen whenever she had decided. I was fully ready and raring to go,' he revealed in the interview.
'Six months into the relationship, I knew she was the one.
'I nurtured the relationship accordingly. It's been six years now.
'She's too good, too lovely. She's a force of nature. I understood that almost immediately,' he said.
'I'm lucky to have her. I knew all too well that this is the woman I'm going to marry.
'This is the woman who would become the mother of my children.
'I've been thinking about marriage seriously for almost three years now. I was just waiting, I told her the minute you say so, we'll do it.'

According to designer Mohsin Naveed Ranjha, 'Ranveer makes the perfect style statement in this complete bespoke look that we #TeamMNR created keeping his personality in mind.' We dare not disagree!