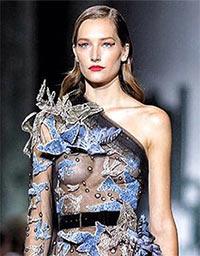 The recently concluded Haute Couture Fall/Winter 2016-2017 has plenty of inspiration for India.
Your search for the holy grail of high street fashion ends here.
The Haute Couture Fall/Winter 2016-2017 held in Paris showcased an array of luxe styles that will keep you a step ahead in the fashion game.
From flowy silhouettes and jazzy prints to cool colour tones, it had all.
Presenting 10 eye-catching styles that dominated the runway this season.
Take a look.
1. Dramatic drapes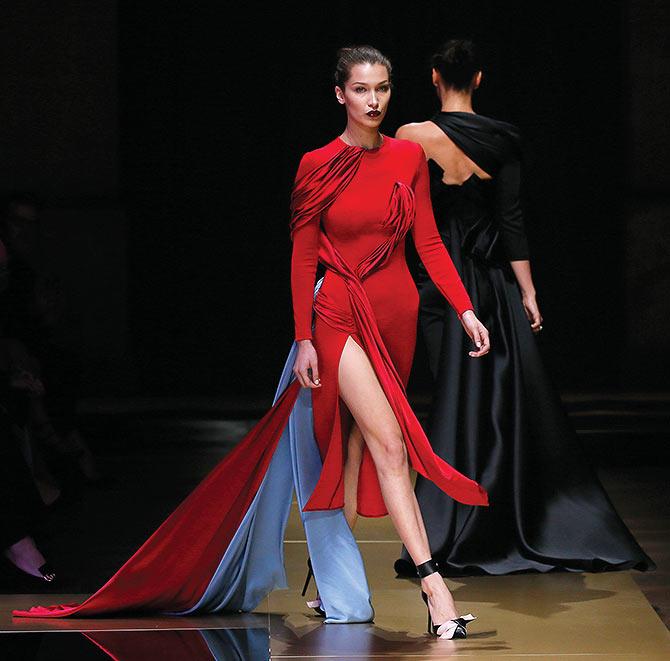 IMAGE: Victoria's Secret model Bella Hadid -- who went commando at Cannes -- flaunted her curves in a red form-fitting thigh high slit gown by Atelier Versace. Don't miss the silky embellishments running through the ensemble and the silky purple train that added more oomph to her look. Photograph: Gonzalo Fuentes/Reuters
2. Volume sleeves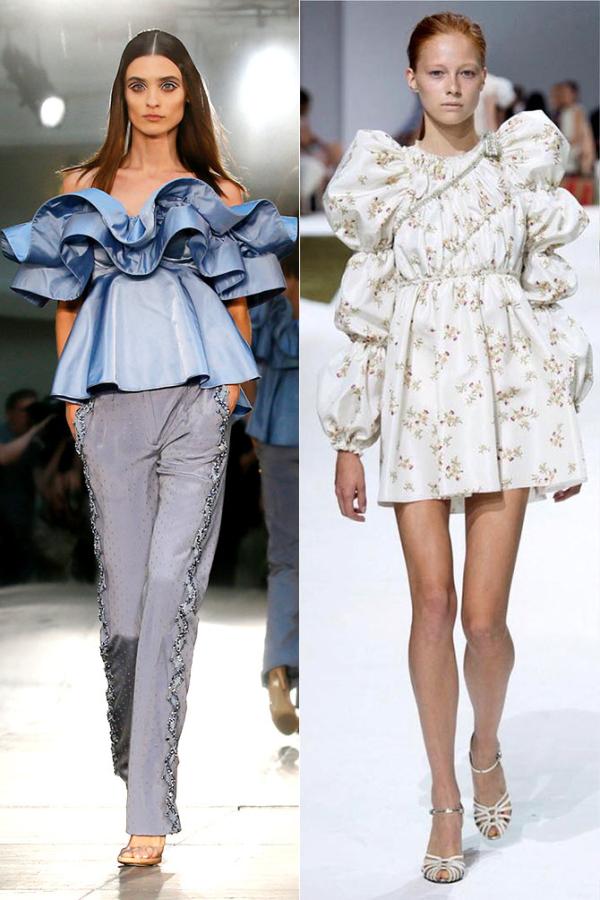 IMAGE: Want to enrich the look of your outfit with simple lines? Opt for volume sleeves! You can either go for a flared off-shoulder top over embroidered trousers by Alexis Mabille (on the left) or dress up in a puffed sleeve printed mini by Giambattista Valli. Photograph: (left) Gonzalo Fuentes/Reuters (right) Kind Courtesy

Giambattista Valli/Instagram
3. Motif magic
IMAGE: More power to flowers! This model in a floral embroidered ball gown by Elie Saab looked nothing less than a princess strolling in the garden of paradise. Photograph Kind Courtesy

Elie Saab/Instagram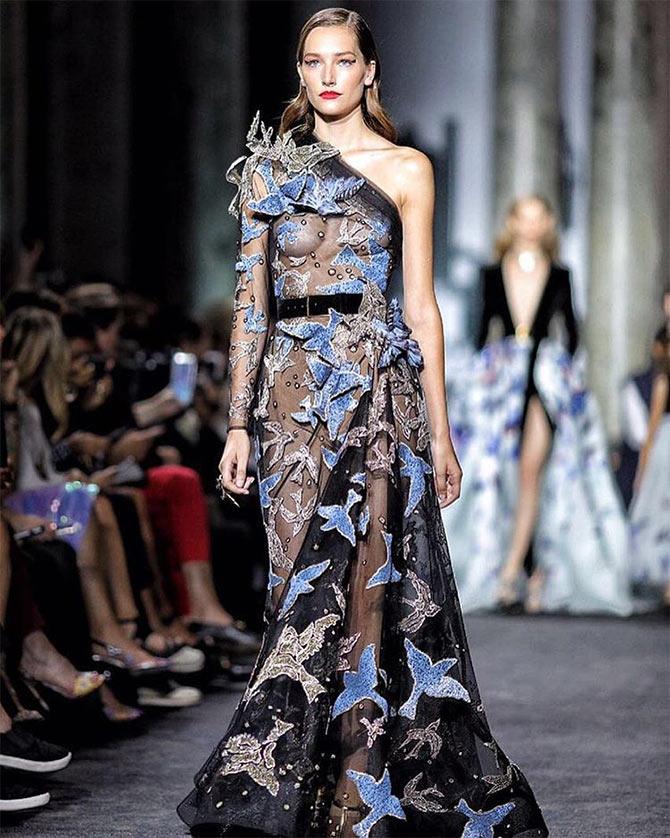 IMAGE: You can also ditch florals for more heavy-duty motifs like the one above. Apt for an evening party, this bold, beautiful one-shoulder sheer gown by Elie Saab with embroidered bird motifs is sure to turn heads. Photograph Kind Courtesy

Elie Saab/Instagram
4. Metallic mania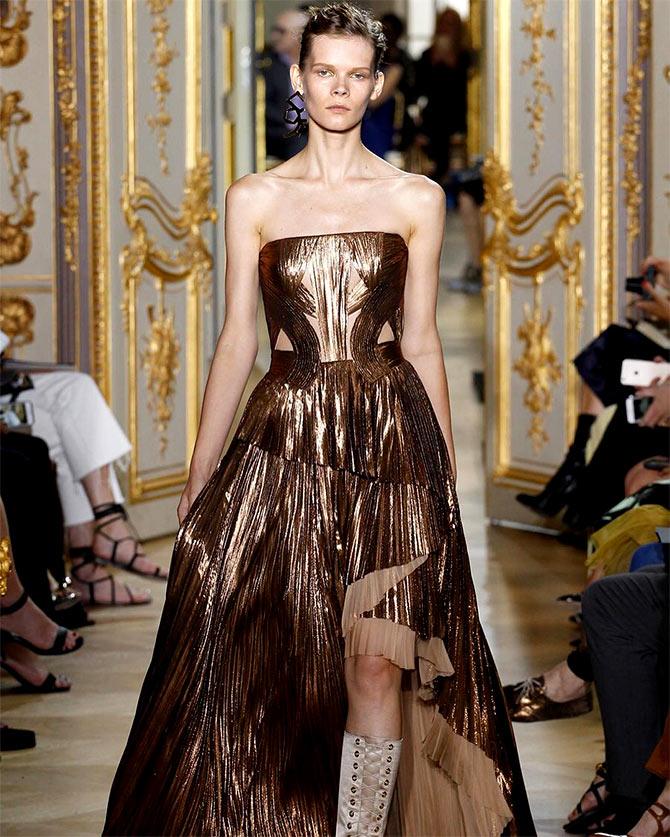 IMAGE: Designers also channeled the value of precious metals through their creations. The outfits shone and shimmered as models sashayed down the ramp. In the one above, a model wowed the audience in a rose gold cut-out layered gown by J Mendel paired with Roman boots. Photograph: Kind Courtesy

J. Mendel/Instagram
5. Sexy sheer
IMAGE: Sheer isn't a trend anymore. It's a wardrobe staple for many fashionistas. We liked how Valentino teamed a sheer maxi with a square jacquard coat (left) and Giambattista Valli added cute little prints and lace to his creation. Which one appeals you the most? Photograph: Kind Courtesy (left) Valentino/Instagram (right) Giambattista Valli/Instagram
6. Velvet... voila!
IMAGE: Nothing looks more royal than velvet. We spotted so many designers using this fabric, but the one above stunned us the most. Donned by one of the best dressed Victoria's Secret models Cindy Bruna, this purple hue one-shoulder gown with a waist belt by Elie Saab was most impressive. Photograph: Kind Courtesy Elie Saab/Instagram
7. Print power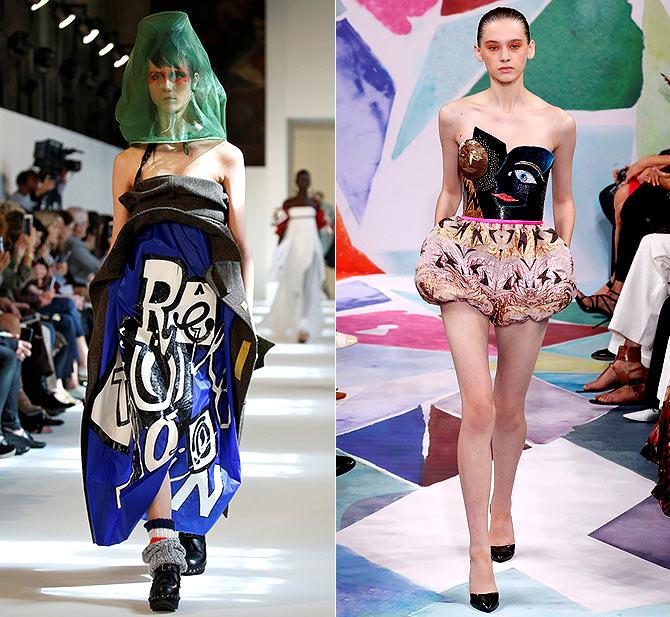 IMAGE: Playful graphics were the highlight of this season. Be it John Galliano's alphabet print baggy dress or Bertrand Guyon's quirky art print on a mini with bubble hem, they were fun and fashionable. Which one would you choose? Photograph:

Benoit Tessier/Reuters
8. Stay structured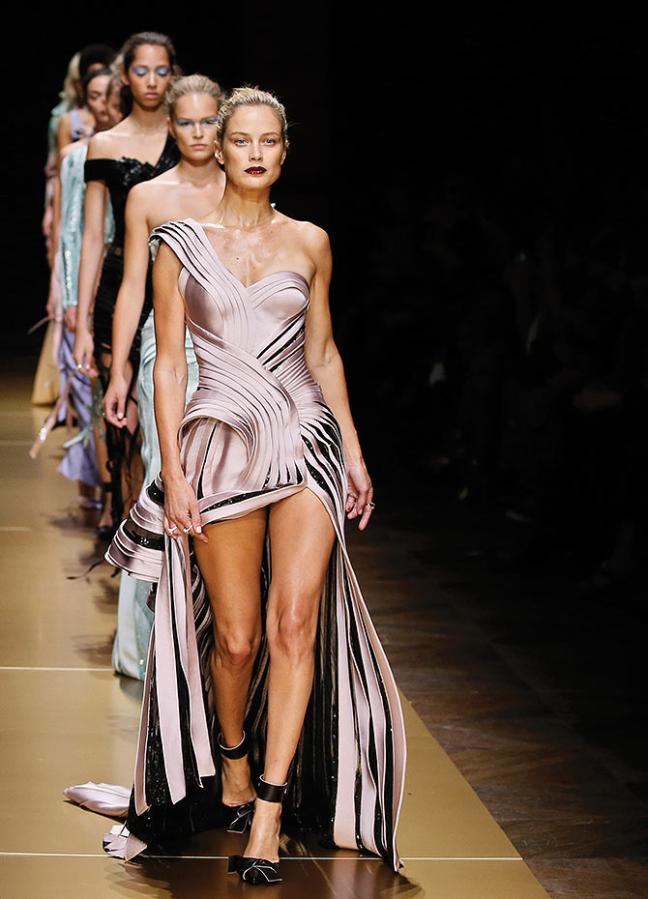 IMAGE: We even found that designers pushed boundaries one step further and how. They created structured outfits that accentuate opulence. In the one above a model is seen wearing Atelier Versace, and we think, it's sensational and quite a masterpiece. Photograph: Gonzalo Fuentes/Reuters
9. Shine bright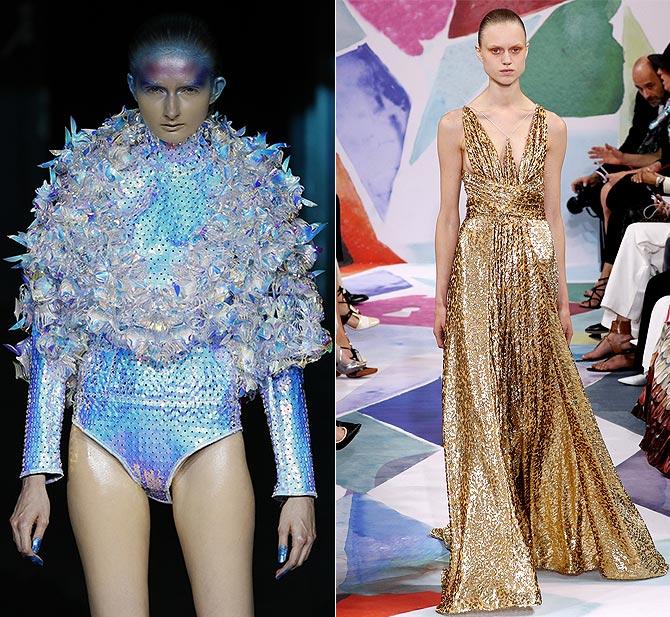 IMAGE: Ensembles that will make you glow in the dark. What's your choice -- Japanese designer Yuima Nakazato's outfit that used innovative craftsmanship or Bertrand Guyon's shimmery floor-scraping gown with a plunging neckline? Photograph: Benoit Tessier/Reuters
10. Hats on!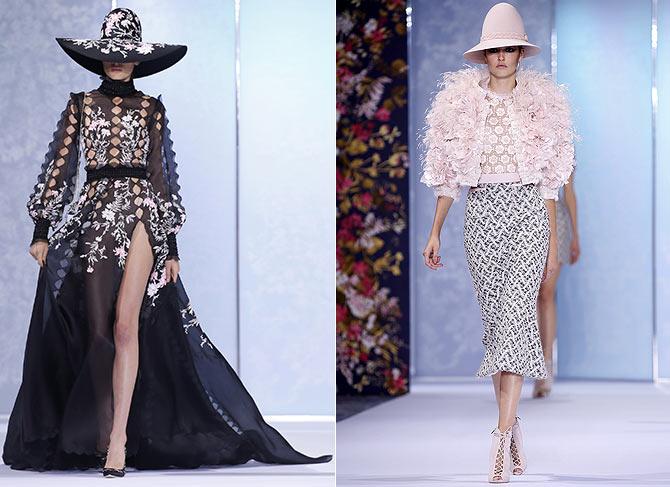 IMAGE: Australian designers Tamara Ralph and Michael Russo showed us how to nail the classy look with embroidered hats. We love both, what about you? Photograph: Gonzalo Fuentes/Reuters
ALSO SEE
Style Diaries: Does this cute bikini make the cut?