The Goa-based designer gets candid.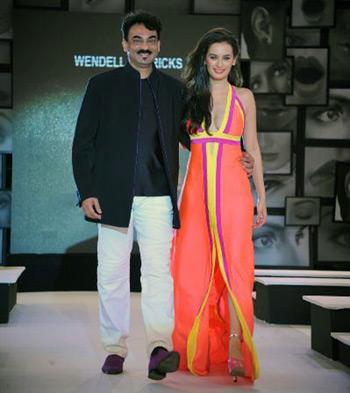 He is one of the most popular fashion designers in India today.
In a career spanning more than a decade, the Padma Shri recipient has gained popularity both on the national and International front with his minimalist style that makes him a cut above the rest.
Here, the talented designer shares interesting tidbits from his personal life and career. Read on...
Best work moment
Everything inspires me at random times. I keep a sketch book near me always. But what I truly enjoy is creating new clothes.
Books on your bedside
Like always, two books. Wine and War by Don and Petie Kladstrup and Fashion Icons with Fern Mallis by Fern Mallis.
Massage or workout to de-stress
A walk on the Goan hills.
Favourite accessory
My Santos de Cartier watch. It has been on my wrist for 32 years through rain, shine, pools and showers.
Designs that have caught your eye recently
I love the new Berlutti men's shoes!
Your IT tools
My iPad is now a part of my anatomy.
Favourite wine
Domaine de la Romanee-Conti. But since it is so rare and unaffordable, I go with a full bodied Italian Sassicaia red or a white Pouilly Fume.
Your sleeping ritual
Sugar free Vicco Vajradanti toothpaste, SKII Men Facial Treatment Essence and L'Oreal's Revitalift Face, Contours and Neck. And yes! I do a Goan siesta.
Favourite TV show
The French TV show Questions for a Champion. I learn so much and keep my fluency in French.
Best gift given
I gave my partner a one-page love letter telling him what a great person, support and influence he has been in my life. He said it was the best 60th birthday gift he received.
Favourite cuisine
French, Chinese, Japanese, Ottoman. The rest are just food. The word cuisine demands variety.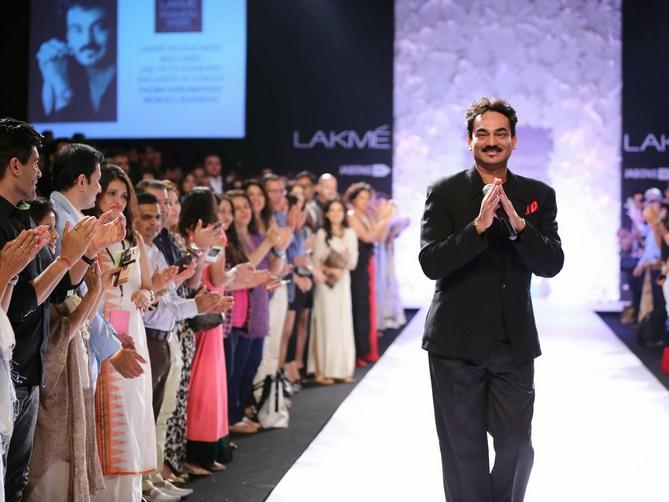 Image: Wendell received a standing ovation at the Lakme Fashion Week Summer Resort 2014 for being awarded the Padma Shri. Image Courtesy: Lakme Fashion Week
Where do you like to sit when being driven? Upfront with driver or back seat like sahib?
Back. I have a pillow to doze on. It is impossible to sit up front and not get a panic attack with the chaotic traffic.
Fancy coffee or masala tea?
Sencha Green Tea. Nothing else. Once in a way a dark, sugarless hot chocolate.
Are you a beach or mountain person?
Mountains and more mountains. I trek.
Your favourite city?
Toss-up between Paris and Istanbul.
What's your fragrance?
Terre by Hermes.
You get your work clothes from...
Wendell Rodricks
The gels and oils and lotions you swear by
Oil of Olay, Clarins Mens moisturiser and Sunscreen, Parachute coconut hair oil.
Your favourite evening wear
I like the Wendell Rodricks' bandhgala, kurta, churidar, Joy shoes (from Taj, Mumbai) mojaris (they did woven leather before Bottega), a giant size shawl from Maharani in Jaipur, fat royal ring from Amrapali or Ganjam, note clip by LV.
Your current set of wheels
A BMW Z4 and a BMW sedan. I like BMWs. I wish they added a champagne bar for the back seat.
God for you is…
The positive happy energy in the world and in people.
Favourite restaurant
Alain Chapel in Lyon or Duck and Waffle in London. The former for the food and the latter for the food and the youthful buzz (we were the oldest people in the room)
Your ideal dance music
I love any music that takes me on the dance floor, from a waltz to hip hop.
A few of your Goddesses are...
Catherine Deneuve, Audrey Hepburn, Nandita Das, Kalyani Chawla, Shobhaa De... any good looking lady with brains!
Alpha males you know
We have a Great Dane at home. His name is Zeus.
Your favourite motto
Live the moment to the fullest.
Lead image courtesy: Wendell Rodricks' Facebook page