Goan beauty Gail Nicole Da Silva was recently crowned first runner up at the Miss United Continent 2014, in Ecuador.
She tells us how her personal success has inspired several others to believe in their dreams.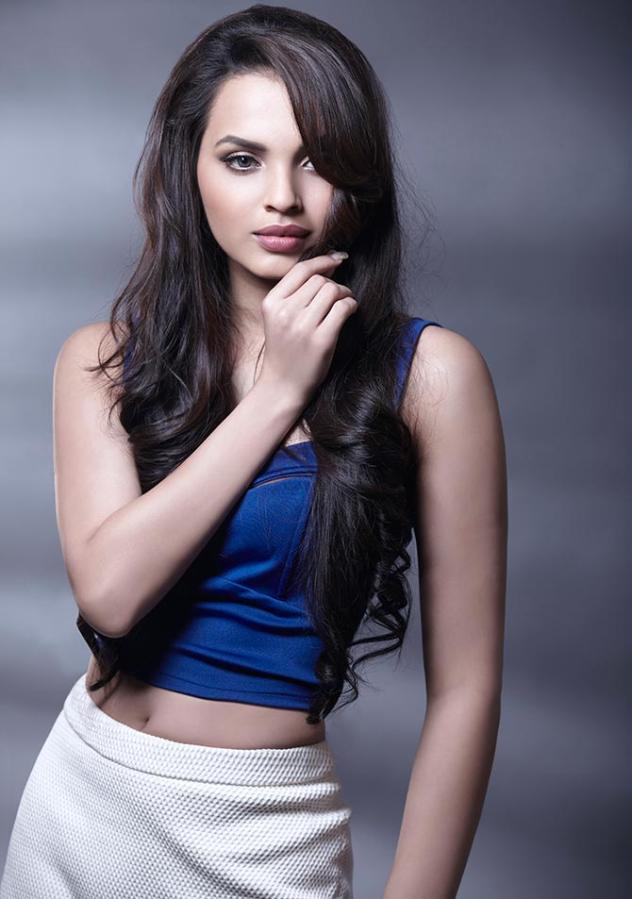 Gail Nicole Da Silva nurtured a childhood dream to make her country proud. But she didn't expect to do it by becoming a beauty queen.
The 21-year-old from Goa became the first Indian to be crowned first runner-up at a Miss United Continent pageant.
The American pageant that went international only this year was held in Guayaquil, Ecuador, on September 13, 2014.
There were 32 contestants from different countries.
Gail Da Silva also bagged the titles of Best National Costume and Miss Photogenic at the event.
The second year student of business administration from Dempo College of Commerce and Economics in Goa is the first in her family to pursue a career in the entertainment and glamour industry.
Her mother is a homemaker and her father is a marine engineer.
In a free-wheeling chat with Rediff.com, the beauty queen tells us about her modelling journey and how it transformed her from a shy, reclusive girl to a confident international figure.
Did you always want to be a model?
I don't know about modelling, but I always wanted to represent my country in some way and make her proud.
I participated in college fashion shows, but never really thought I'd come this far.
After winning Miss India Goa in 2013, I realised I should pursue it more seriously.
I think I have done my country proud.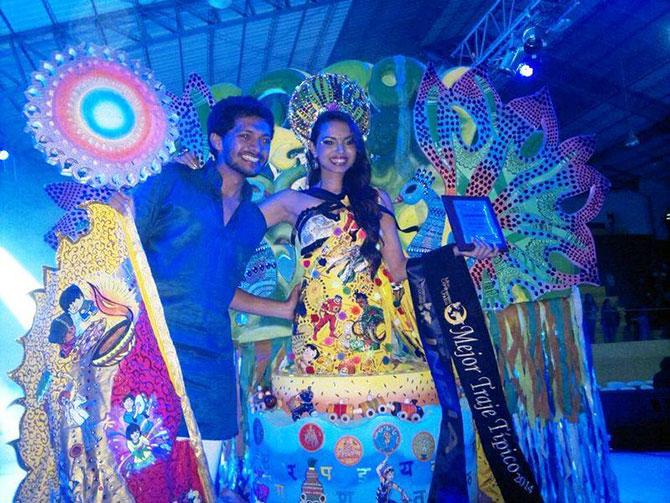 How did you prepare for the competition?
I was among the top three at the Femina Miss India contest. The organisers decided that I should represent India at the Miss United Continent 2014. It was the first time the pageant was going international.
I trained regularly under various experts and professionals.
I had two-hour pilates training with Sameer Purohit, and a strict diet regimen – I had to eat every two hours to improve my metabolism.
I received ramp walk training under Alesia Raut, diction training from Sabira Merchant, and smiling tips from Sandesh Mayekar, among a host of other things.
A national pageant requires you to primarily perfect your walk and speech, but an international pageant is a lot more demanding. International contestants are far more confident and competent.
Fortunately, I had no weight or body issues, but I still had to work on my diction, gait, and brush up my communication skills.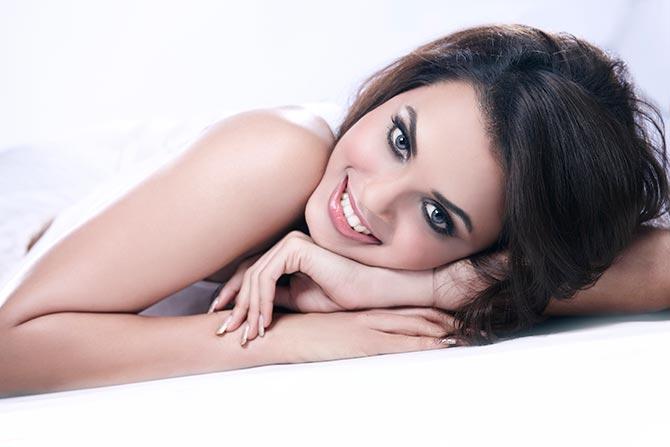 What were the most trying moments?
When I auditioned for Femina Miss India, I was extremely nervous. Without any professional training, I could only make it to the top 10.
However, for this international pageant, which took place in South America, I had to compete with Latino girls who mostly spoke in Spanish. I had to take Spanish lessons so that I could converse with them locally.
Among the 32 girls, who did you get along with the best?
I was friends with almost everyone. I particularly got along with the girls from Kazakhstan–Uzbekistan and Venezuela.
A lot of these girls were stepping out of their homes and travelling alone for the first time. In their home country, they were not allowed to wear a bikini. So, their participation was a huge inspiration for me.
Each one represented their country and culture. We had a great time exchanging ideas.
I would teach them Bollywood moves and they would tell me a thing or two about their culture. It was a liberating experience.
What do you think were the qualities that made you a winner?
I think the judges were looking for someone with a flamboyant personality, someone who was positive, and someone who could confidently represent her country at the international level.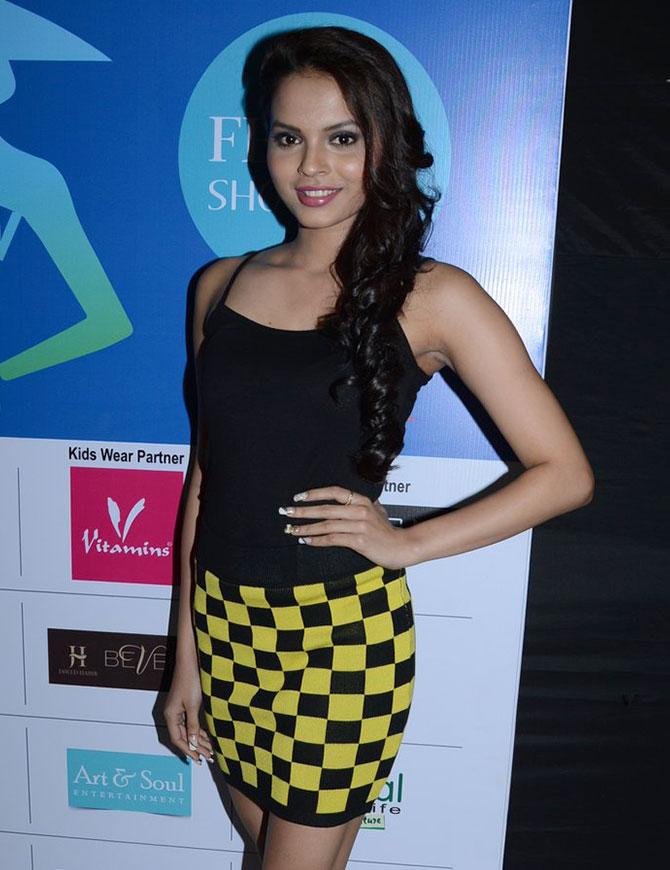 You also won the national costume round. What did you wear?
My childhood friend Melvin Noronha suggested the idea of 'a girl with memories'.
So I had to step inside a box, draped in a saree gown and emerge on the stage in an amazing ensemble featuring colourful things like the national bird, toys, festivals, musicians, famous people and things that interested me. You have to see it to believe it.
It was definitely not perfect, but the judges knew it was 'hand-made' and it reflected who I was and the rich culture of the country I come from.
What's your take on feminism?
Feminism is important; it's the need of the hour. During the pageant I realised that there are lots of professions where women are yet to leave a mark.
In my home state Goa, not many young girls are encouraged to pursue modelling.
Some of them have personally thanked me for being an example and inspiring them.
You are a model. What is your take on the Deepika cleavage issue?
People have completely missed the point. No one can tell a woman what to wear and what not to.
Even if someone is a public figure, what s/he wears is a personal choice.
We are a free country and everyone must be entitled to do what they want with dignity and peace.
What's the flipside of being a model?
Once you achieve fame, irrespective of what profession you are in, you become a public figure.
Everything you do and say is in the public eye.
You don't get to have your old life -- you will have limitations -- that's the price you pay for the stardom and success.
Three issues about India that affects you the most…
I don't want to compare our country with any other in the world, but there's a lot we can do to make our country better.
Two days ago, I was in Mumbai stuck in traffic on the way to attend an event, and I saw an ambulance carrying someone seriously ill trying its best to find a way out of the traffic.
I could see that no one was willing to budge to make way for the ambulance, which really disturbed me.
Whatever happened to humanity? There is no value for a human life.
Also, the whole negative attitude towards rape victims bothers me. Why do we want to know what the victim was wearing or who she was with? Can't we look at the inhuman act instead and try and find a solution?
No one dresses in a certain way to get raped. A low skirt or bright lipstick is not an invitation to be raped.
I really wish we could speed up the judgement for these cases.

How has the pageant helped you?
I have changed a lot since I participated in the pageant. I used to be a really shy person.

During the pageant I realised how important it was to talk and express your opinions, particularly when you represent a country.
Initially, I wasn't comfortable speaking in front of the camera or to the media.
Also, I would get nervous when I'd see a huge crowd of people in the audience. Thanks to all the grooming lessons, my self confidence has improved.
Who inspires you?
I'm in awe of Michelle Obama -- she's an international figure, yet she's so grounded.
Back home in India, I admire Kangna Ranaut and Vidya Balan. They have really struggled their way to fame through hard work and patience.
Among the models, Alesia Raut inspires me. I've spent so much time with her, and not once have I seen her lose her cool or throw her weight around.
What's your success mantra?
Never underestimate your talent. Believe in yourself and stay positive all the time.
What is your advice to aspiring beauty queens?
Do not participate in a beauty pageant because you want to work in films and television.
Treat it as a platform where you get to represent your country and exchange your culture with the world.
What are your future plans?
I want to first try and finish my degree. I have been busy and have a lot of catching up to do.
Alongside I want to learn kathak and take acting lessons.
I'm hoping to get modelling and film assignments. I'd like to work in the entertainment industry.
I'm also involved with a group of people who are educating street children.
I want to take it up on a bigger scale and involve more people in the cause.
Photographs: Perfect Profile