The original 90s supermodels -- Carla Bruni, Claudia Schiffer, Naomi Campbell, Cindy Crawford and Helena Christensen -- showstopped together for Versace!
And no fashion week will EVER be the same.
That Donatella Versace planned to pay tribute to her brother Gianni Versace -- 20 years after he was shot to death -- at Milan Fashion Week Spring/Summer 2018 was known. What not everyone knew was how she would do it.
She left the world stunned by reuniting some of her brother's favourite models -- also the original 90s supermodels -- to close the show.
The final tableau, The New York Times, reminded stunned watchers, 'mimicked a 1994 ad campaign shot by Richard Avedon of many of the same models in gowns of gold chain mail.'
The NYT added, 'In the original, they were draped over or dominating the prone figures of naked men but Ms Versace thought she would skip that part of the re-creation. It's 2017, after all. Besides, as an affirmation of the continued relevance of Mr Versace to the fashion world, the grouping would be pretty convincing. How many brands could get the former first lady of France to return to their runways, after all?'
Yes, joining Claudia Schiffer, Naomi Campbell, Cindy Crawford and Helena Christensen on stage was former French president Nicolas Sarkozy's supermodel wife Carla Bruni.
Scroll down to see how THE fashion moment of 2017 unfolded.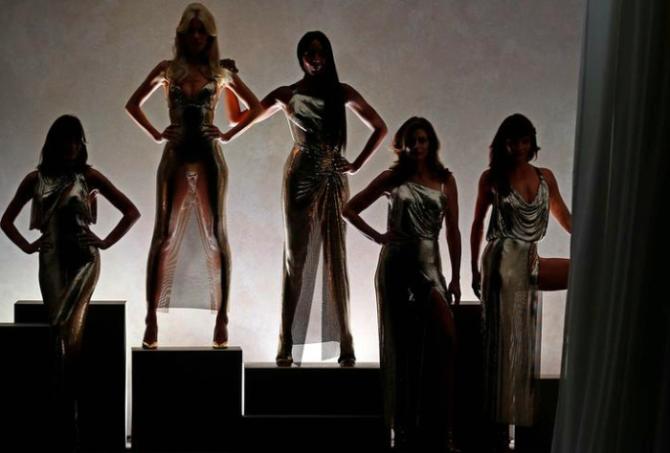 Unveiling the surprise at the Versace Spring/Summer 2018 show at the Milan Fashion Week on September 22.
All photographs: Stefano Rellandini/Reuters.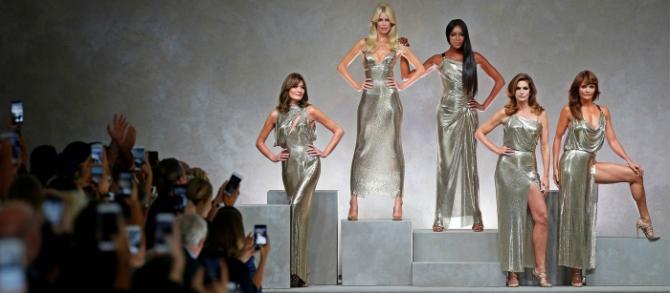 From left, Carla Bruni, Claudia Schiffer, Naomi Campbell, Cindy Crawford and Helena Christensen display iconic creations of late Italian designer Gianni Versace.

The show also reportedly recreated an iconic moment from 1991, when four supermodels walked the catwalk as George Michael sat in the front row.
Donatella Versace also paid tribute to the late singer by having the supermodels walk down the ramp to Michael's Freedom.
Interestingly,

Campbell and Crawford had also starred in the music video for Michael's song.
Speaking at a press conference at the show, Donatella said, '

They have a green room each, but they are running in and out of each other's rooms all day. And because they walk the runway together they are arguing about who gets to go in the middle, just like the old days.'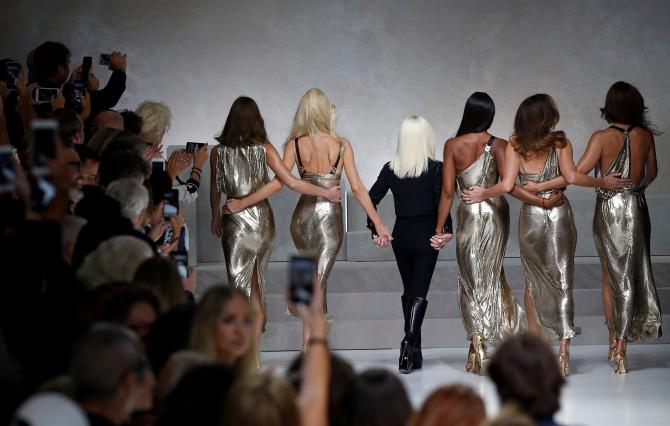 Donatella told the NYT, 'I'll never get over what happened, it was too brutal, but this helped me get through it some more.'
Many wondered if this would be her farewell, but Donatella made it clear that she was not ready to be completely replaced yet.