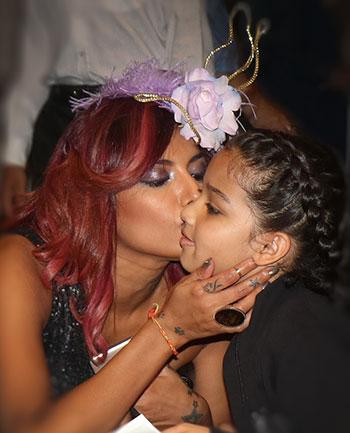 Rediff.com photographer-cum-correspondent Rajesh Karkera was the ultimate fly on the wall throughout the five days at Lakme Fashion Week Winter/Festive 2016.
While models and off ramp fashionistas obviously attracted his attention, he also focussed on security guards, make up artistes, servers, who too, are an inseparable part of this glamorous event.
We bring you the result of his five-day effort :-)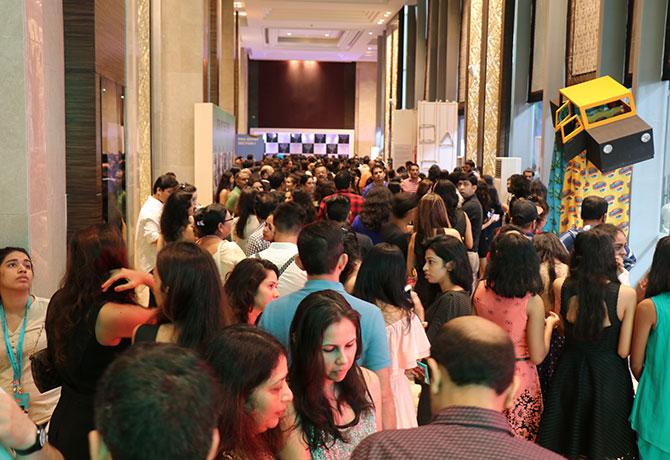 IMAGE: Let's start with the entrance to the shows.
A calm chaos descends here even when there is utterly no place to walk around. Just the ambience gets your adrenaline jogging.
Everybody -- from the media to the visitors to the artistes -- who is part of the event, gather here before the show and enter from three different gates that open into the Main Stage Area (MSA).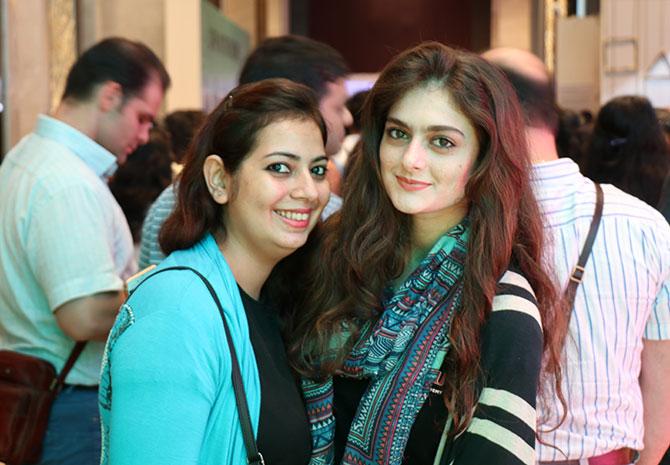 IMAGE: In this disciplined chaos, we see make-up artistes from Fat MU Sneha Rodricks (L) and Misbah Sayed (R). Sayed, with her Barbie-like face, could easily be mistaken for a ramp model.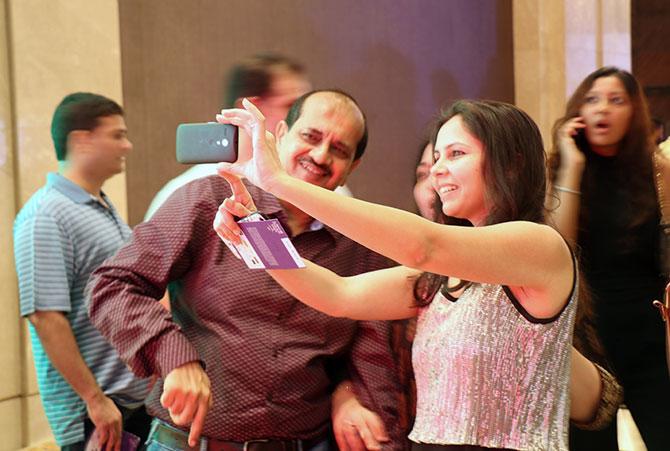 IMAGE: Here is a family who is taking some time out for a selfie.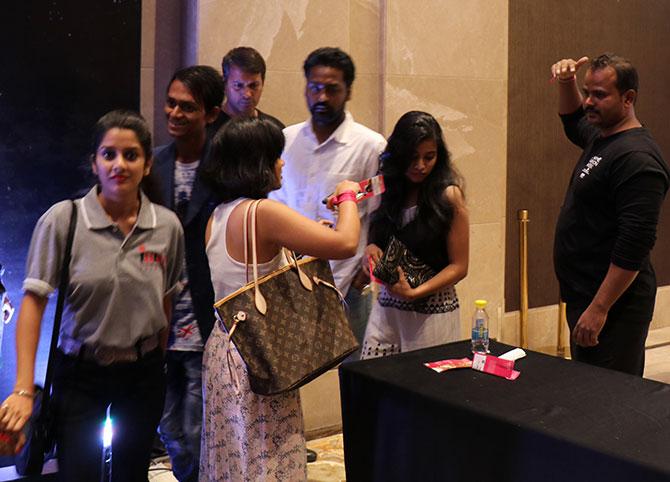 IMAGE: Security is tight and everyone had to go through the keen eyes of the security guards. Nilesh Ahire (in black tee) screened every guest who walked past the gate under his charge.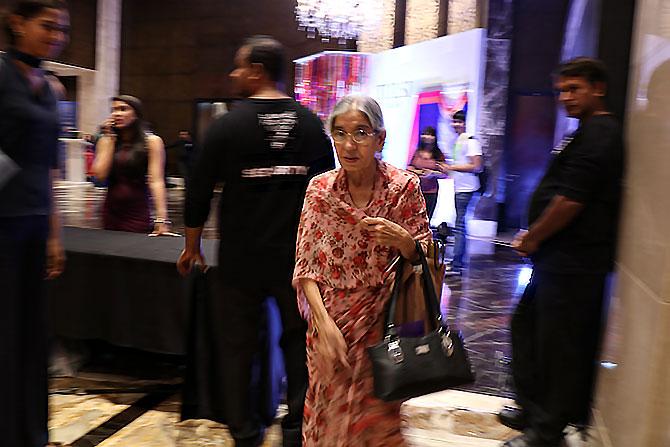 IMAGE: Move over GenNext. Senior citizens too can tell their Sabyasachis from Wendells. Spotted this old lady, who zipped past Nilesh gracefully, after displaying her entry pass.
Model Mitali Rannorey, who stopped in her tracks to let her pass, could not help but say "that's so cute. I wish more elderly citizens would come to support us."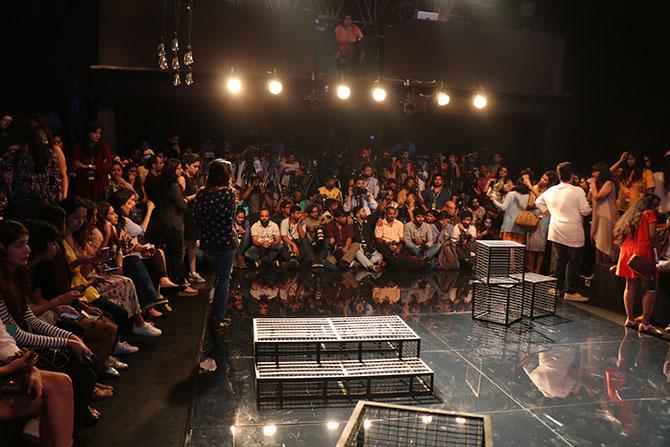 IMAGE: Enter the MSA and this is what you get to see... Photographers, all piled up on each other, patiently waiting for everybody to settle down and the show to start.
It's not an easy job sitting through for five days in these pits.
If only the organisers would make them a little bigger! :-(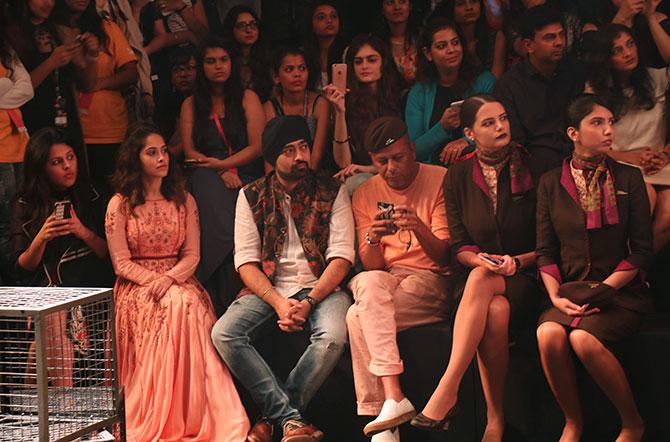 IMAGE: Inside, it is only after one is seated, do you realise that you are seated amid celebrities.
Here we see actor Nusrat Bharucha (of Pyaar Ka Panchnama fame) and designer Narendra Kumar seated next to each other. The designer had flicked an Etihad cap from Jennifer -- seated to his left -- of Etihad Airlines, one of the sponsors of the event.
Seated to her left is Ann Hendriques from Mumbai, another Etihad employee.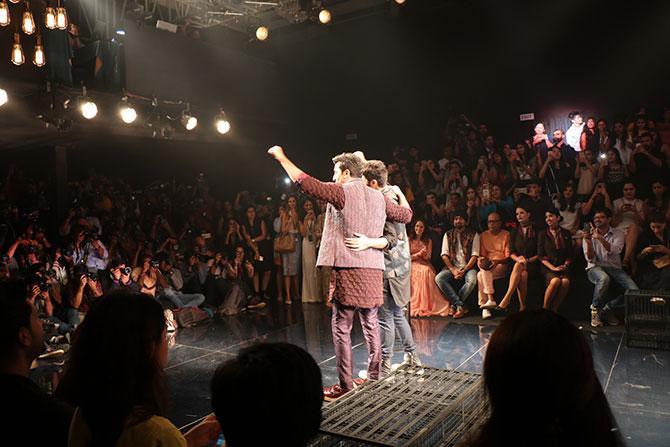 IMAGE: The show starts and it's not just the photographers who click. This is mobile age and everybody wants to capture the action, so they position their phones to get their best shots, sometimes missing the extravaganza unfolding right in front of their eyes.
Watch the video below to know the goings-on before and during a fashion show.
The show progresses with the audience seated on both sides of the ramp. The models walk towards the blinding lights confidently, without twitching their eyes a bit.
I tried it once. Couldn't see a thing for the next 30 seconds!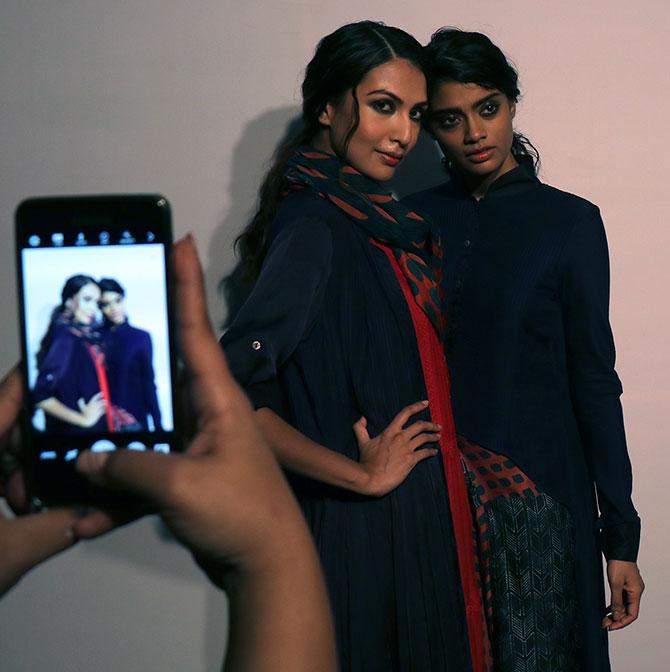 IMAGE: After a show is over, some at the backstage get the privilege to shoot the models exclusively.
Even after a hectic ramp walk, these beauties pose with a smile; like Sanea Sheikh and Archana Akhil Kumar are doing here.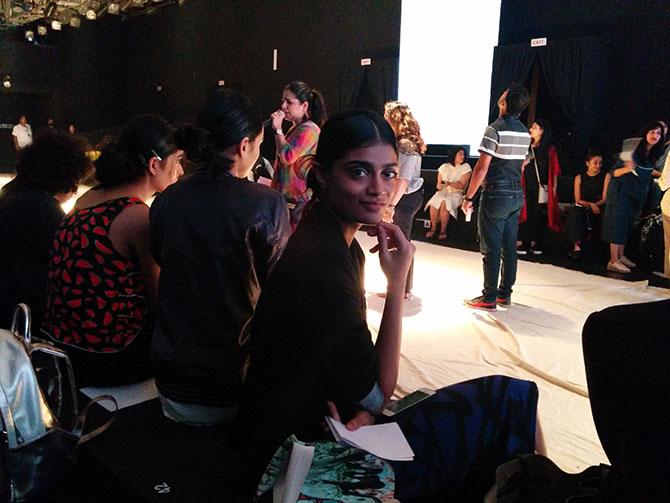 IMAGE: And since Archana is my favourite, I surely can accompany her to the practice area and ask her for a smile :)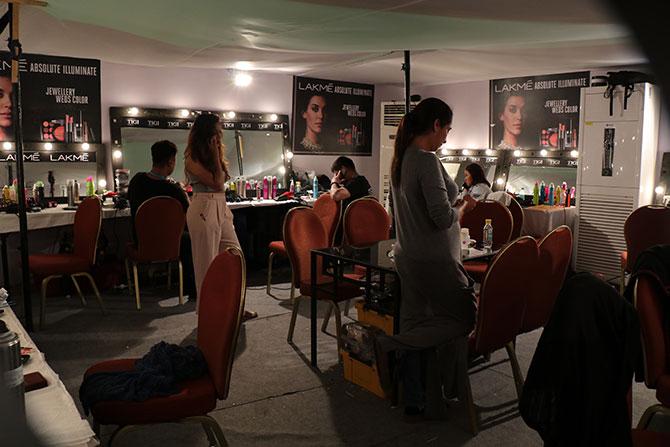 IMAGE: It is only when the show goes on that the make up rooms look a bit relaxed.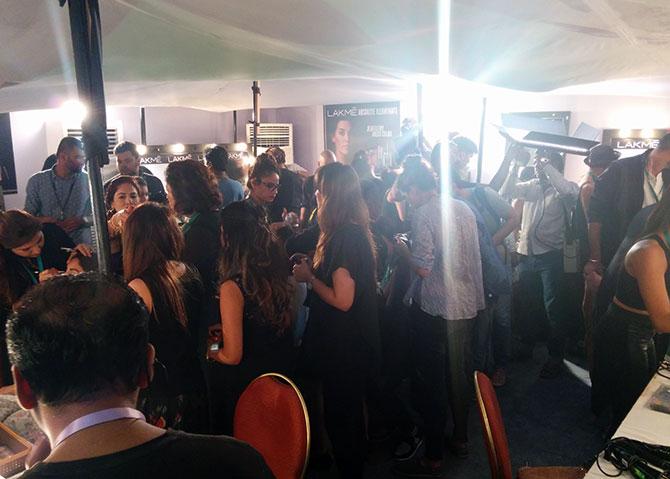 IMAGE: Otherwise, this is how these spaces look. And believe me, this is an empty room!
When it's completely packed, one can barely open the door to enter the hair and make up area.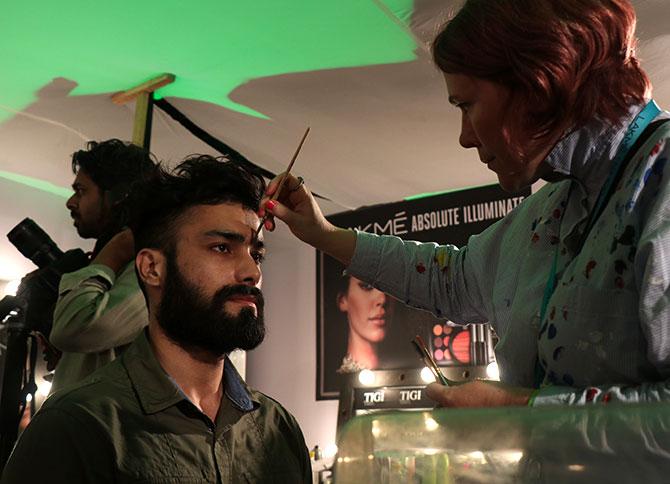 IMAGE: It's not just the female models who get their make up and hair done. Here is Virginia from Fat Mu, a professional make-up academy working on a male model.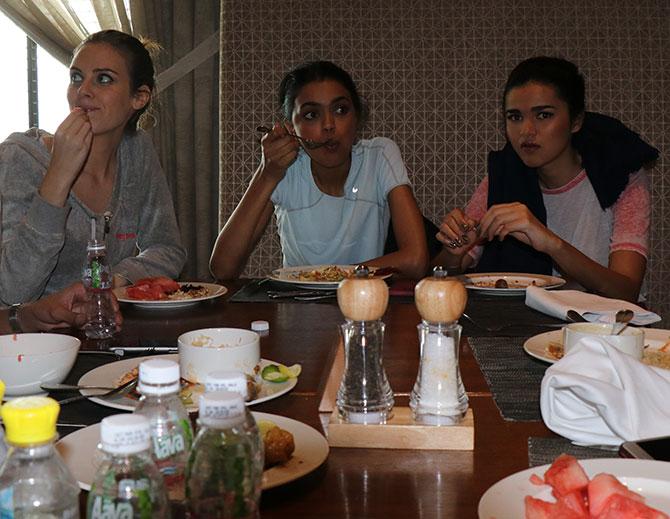 IMAGE: Lunch is an integral part of Lakme. Yes the models eat too!
Although there is a lavish spread at the venue, there isn't enough time to grab a bite at leisure. Eat-and-run-back regime it is.
Seen here, from left, are models Pheobe, Monica Tomas and Shweta Dolli.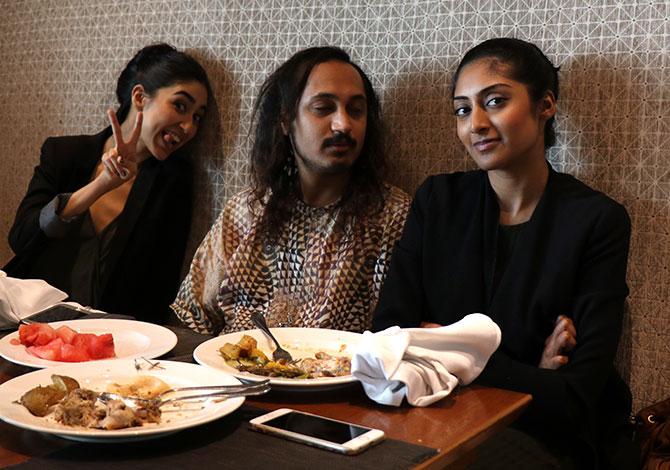 IMAGE: This is one of the rare moments where we see the models relaxed. Even if it was just for a picture.
Edna Abigail is sweetness personified (She also shot exclusively for Rediff.com); Krithika Babu is always calm and composed.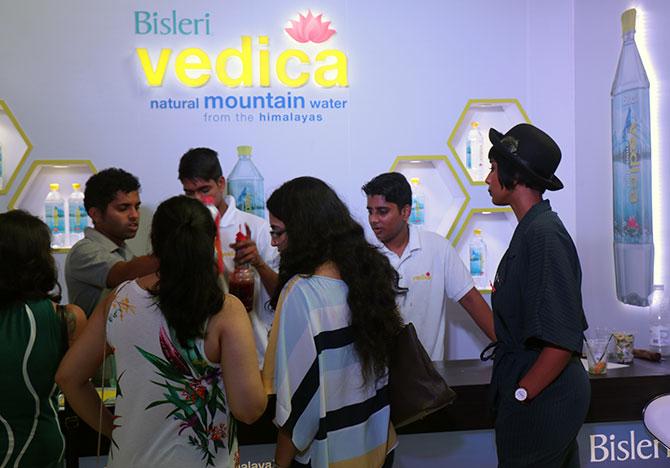 IMAGE: Free coolers and mocktails for visitors from the Vedica counter kept thirst and the heat that the hotties off and on the ramp generated, away from parched throats .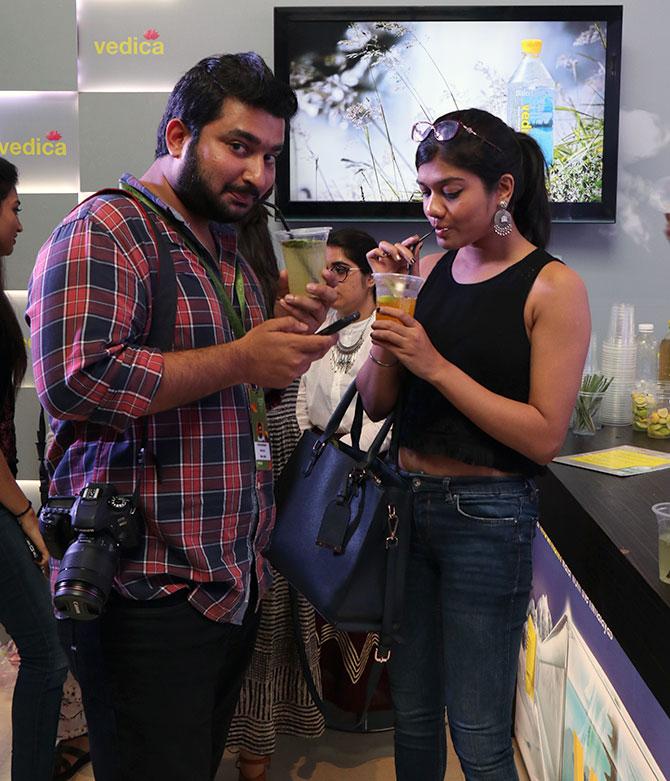 IMAGE: Rediff.com photographer Hitesh Harisinghani and correspondent Tista Sengupta enjoy the nectar from Vedica. How, we missed those ice cubes!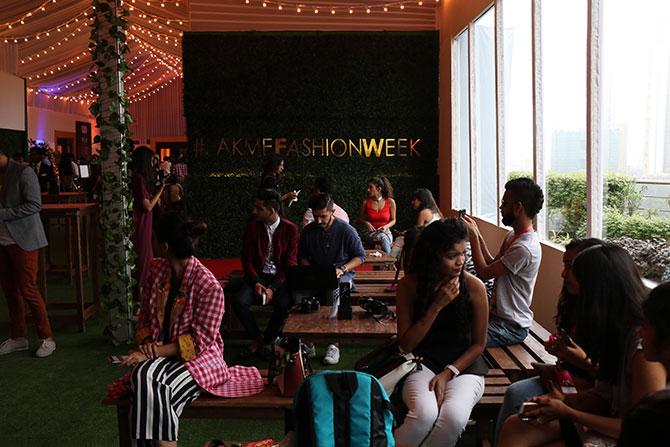 IMAGE: There is a food and drink lounge for the visitors as well. This one was airy and well laid out this year, although the menu was quite pricey!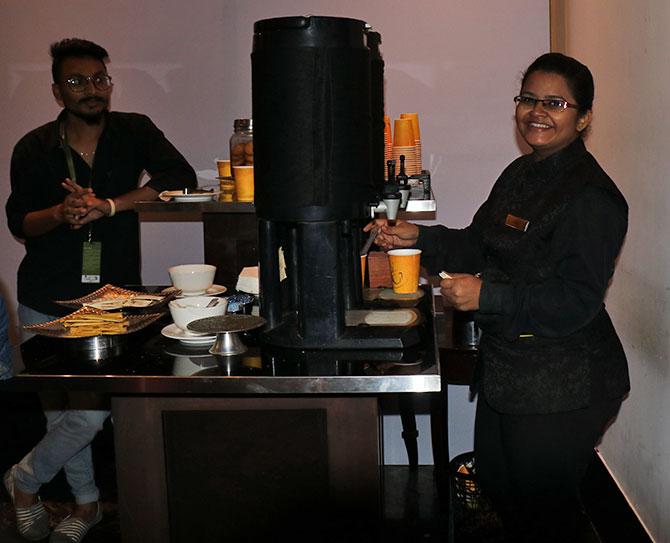 IMAGE: Sanika, a hotel management student, was serving mediapersons tea, coffee and biscuits, all through the Lakme Fashion Week.
MANY THANKS, SANIKA!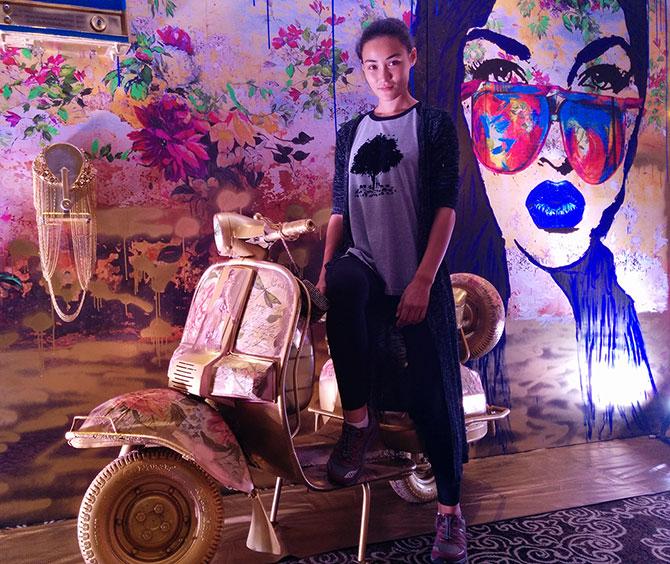 IMAGE: There were models who gracefully posed for us when they were not walking. Yes, even when they had no make up.
Tiffany Hirth, who famously said, 'My father said I can't do Playboy' to us in an interview, walked five shows at Lakme. But sadly, the promoters refused to give her a food pass at the venue.
She had to go all the way, out of the venue to the Palladium Mall nearby, to have her meal.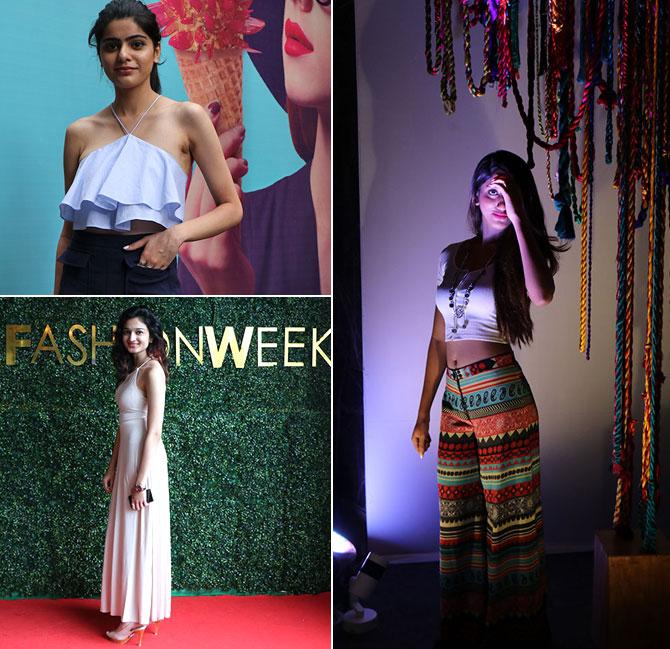 IMAGE: And there were the fashionable people -- like these girls -- off the ramp, who agreed to pose for our Lakme fashion Week coverage across the venue.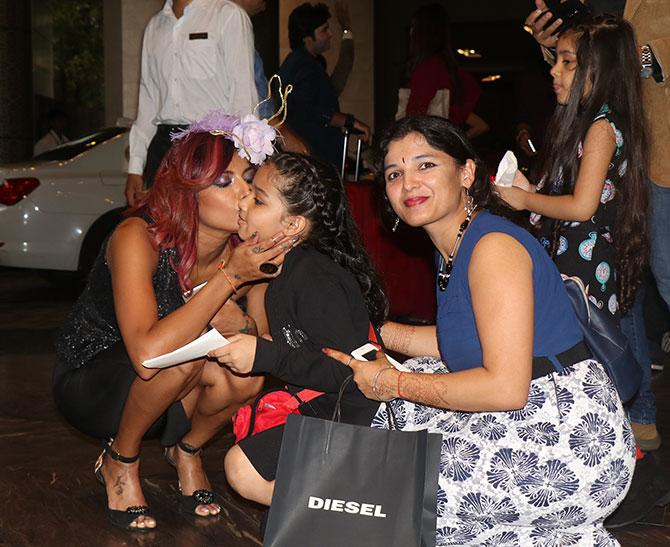 IMAGE: As the Lakme Fashion Week Winter Festive 2016 was drawing to an end at St Regis Hotel in downtown Mumbai, Bhavika Rathi from Chandigarh, who walked for the Hamley's show caught hold of Diandra Soares and asked her for an autograph.
Diandra, no doubt, obliged her with more :)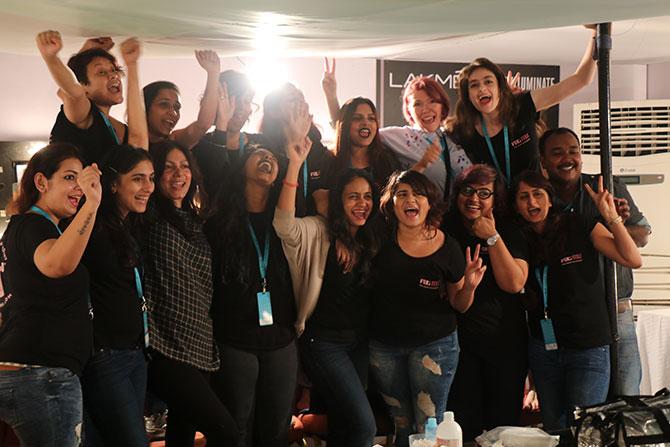 IMAGE: And finally it's a WRAP for the Fat Mu team backstage!
Lakme Fashion Week Winter/Festive 2016: Full Coverage
Check out trendy outfits and accessories on Rediff Shopping!