Susan Mantosh, head of an international school of design in Kolkata, who wears her heart on her sleeve, proved that the rules of fashion are meant to be broken.
Reportage: Anita Aikara/Rediff.com; Video by Afsar Dayatar/Rediff.com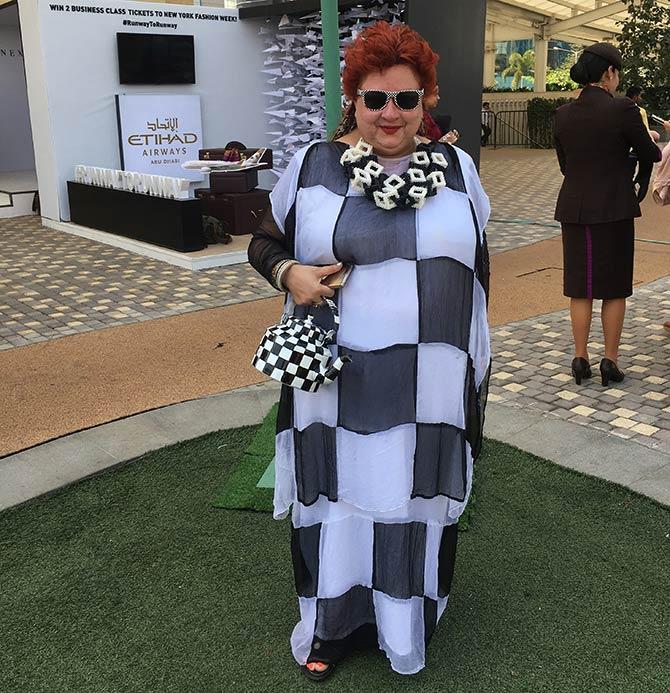 What's special about your outfit for LFW?
I created this outfit from scratch. I dyed it into checks, so that people can 'check it out'!
The kettle has been handpainted and the necklace is handmade by the artisans of Bengal.
I dislike being ordinary and love something avant garde.
I didn't want to blend in with everyone and carry a handbag, so I carried a kettle instead. I have designed 20 kettles, so they all match my outfits.
Have you even been criticised for your fashion choices? How do you deal with it?
I once came across a phrase on Facebook which read, 'People laugh at me because I'm different, but I laugh at everyone because you are all the same!'
Indians are so worried about what the society thinks of them, so they dress accordingly. They want to please society.
I haven't really bothered about pleasing everybody. I just please myself and try to set a trend for others.
Once I went to the New Market in Kolkata and someone looked at me and laughed. I thought to myself, 'It is okay, you can laugh today.'
How easy it is for you to get the right outfit in the right size?
I don't even bother looking! I create my own outfits. I don't buy ready-made stuff because it is so boring. Everything I wear is made-to-order.
I think there should be fashion for the oversize and the older people too.
The only mantra people should follow is 'Be yourself and wear what you want'.
I maybe look bizarre, but I'm enjoying it.
Fashion advice
Always accessorise! Without these accessories, I would have just been just another person walking around at the fashion week.
All my accessories have a story behind it and that makes my look special.
Watch Susan Mantosh talk about her outfit at the Lakme Fashion Week.