While he walked for Shantanu and Nikhil, she walked for Anamika Khanna.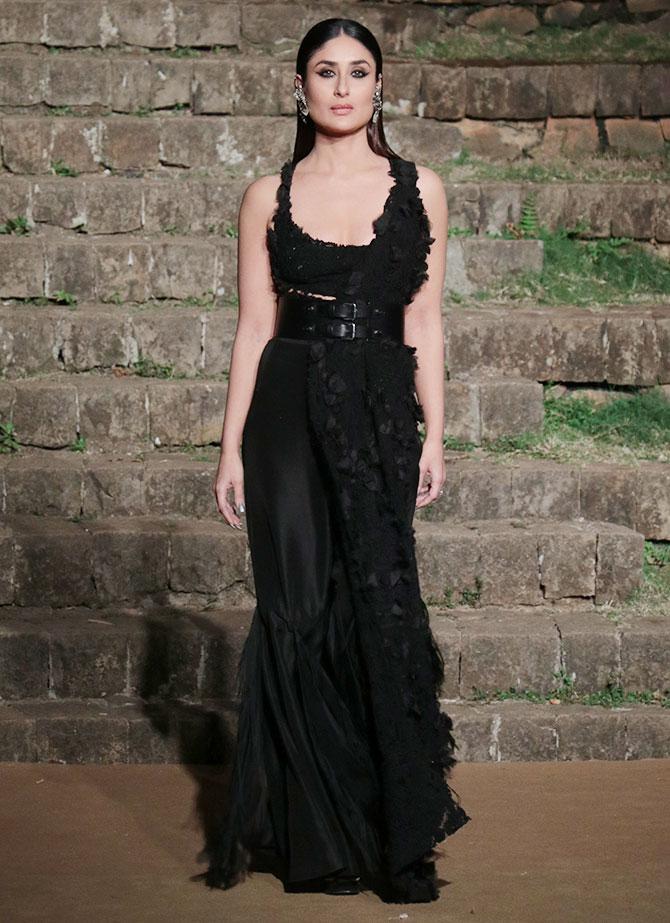 Photograph: Hitesh Harisinghani/Rediff.com
Bollywood star Kareena Kapoor was excited to return to the ramp as the showstopper for designer Anamika Khanna at the Lakme Fashion Week Summer/Resort 2018 grand finale on February 4.
The actor had last catwalked at LFW for designer Sabyasachi Mukherjee, when she was expecting her now one-year-old son, Taimur Ali Khan. She took a break last year, when the Manish Malhotra grand finale was showstopped by Jacqueline Fernandez and Aditya Roy Kapoor.
Kareena, who will next be seen in Veere Di Wedding, said, "This collection is rockeshy, glamorous ready to wear. Anamika is herself so stylish that she has truly outdone herself."
Khanna, whose collection was titled 'Reinventing Nudes', added, "When the forces of fashion and Bollywood team up, they bring out the best in each other. This is a nation of Bollywood. The stars largely define what the nation wears."
Reinventing Nudes: The Anamika Khanna Collection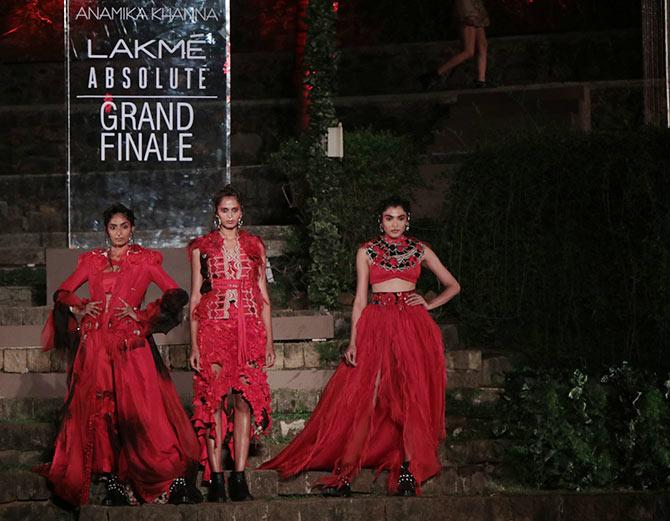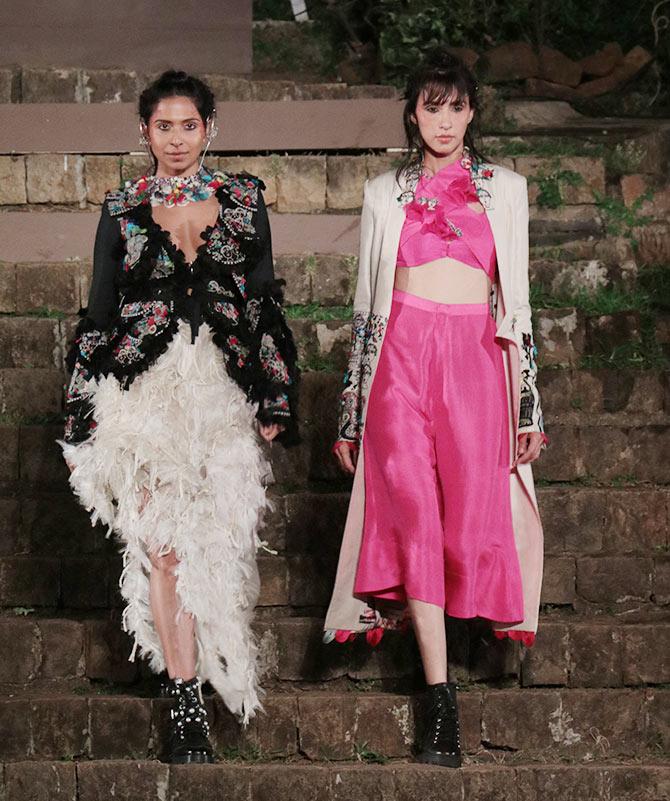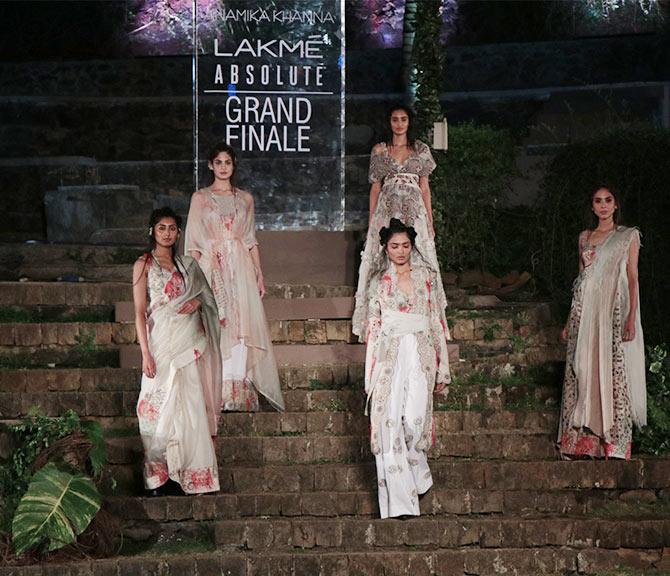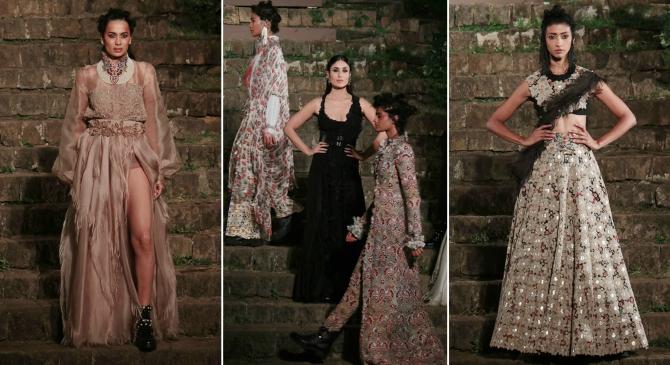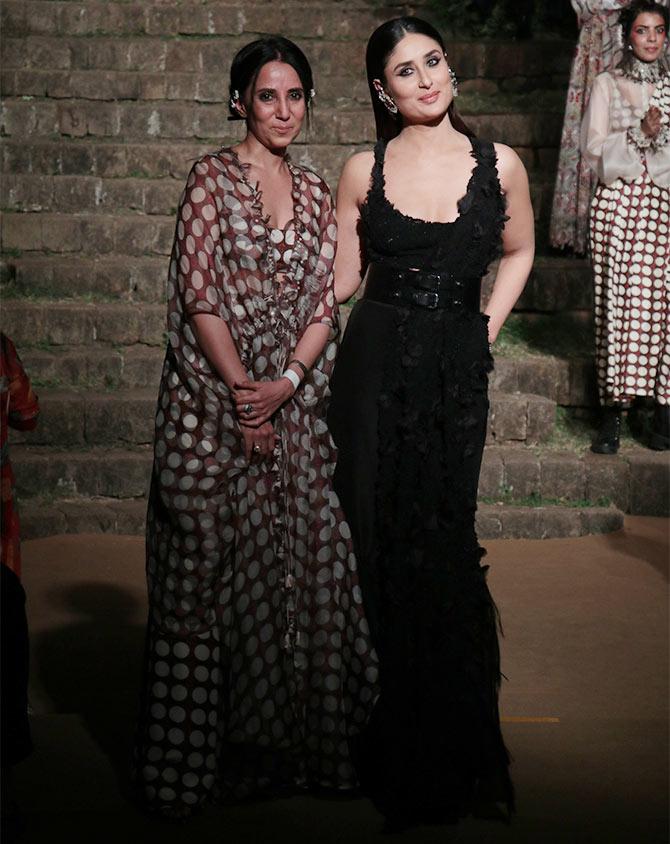 ---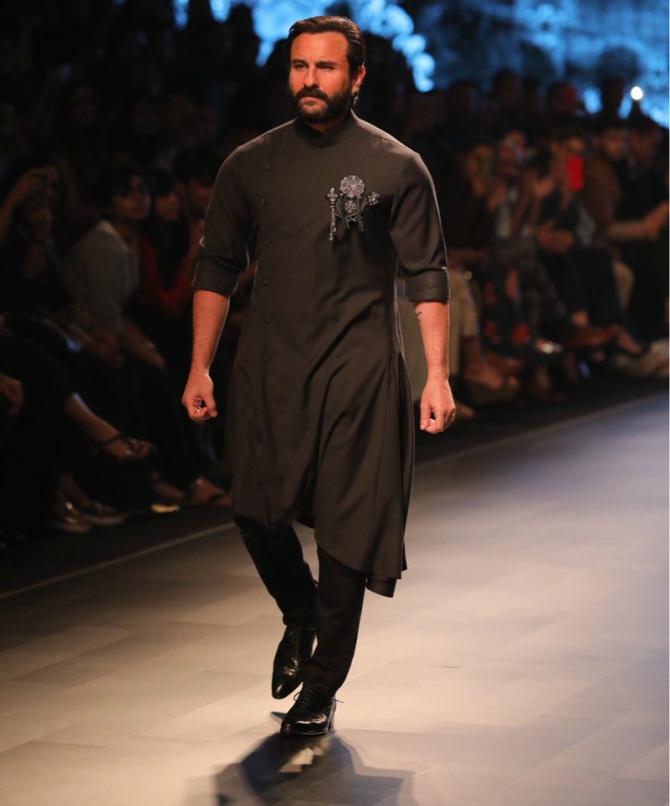 Sailf Ali Khan, the showstopper we rarely see.
Photograph: @LakmeFashionWk/Twitter.
Exactly 24 hours before Kareena took to the ramp, it was Saif Ali Khan's turn.
The actor closed Day 4 of LFW SR18 for designer duo Shantanu-Nikhil.
The designers said they tried to dress up Saif in a way where he gets to travel back to the days of his film Dil Chahta Hai. Shantanu said they tried to show the new India from the eyes of a millennial, quite like Saif's character, Sameer, from the cult coming-of-age film.
After the show, Saif said, 'This was a last-minute thing, but I was so excited.'
He added, 'I don't think of myself as a showstopper, I get really conscious. But I had great fun. I thought it was really cool.'
Shantanu and Nikhil's 'Tribe: The India Story' caters to both women and men, and Shantanu said the collection was a narration of the Indian philosophy of 'valour and egalitarianism'.
Saif said, 'It's a look in the past and also a look into the future. A good thing about our lives, heritage, clothes. They are simple clothes. Ostentatiousness is out, austerity is in.'
Tribe: The Shantanu & Nikhil Collection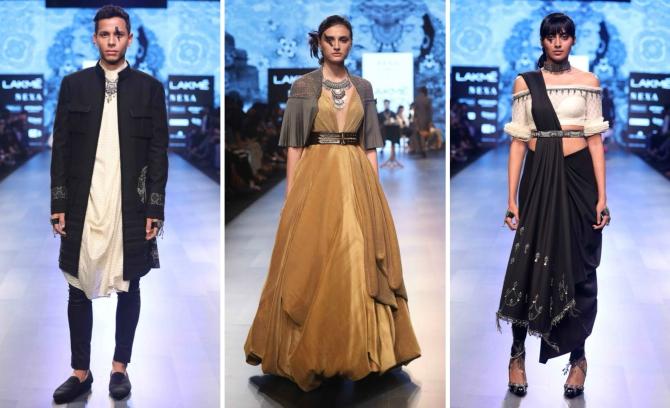 The show was spread across the black and white hues with sharp tailoring and dramatic accents. The jewellery was incorporated in the clothes rather than serve as just another accessory.
Photograph: @LakmeFashionWk/Twitter.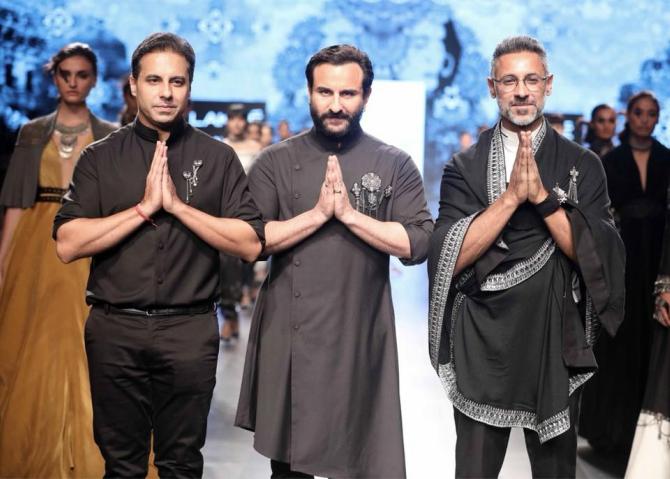 Towards the end, Saif tacked a medal-like silver accessory to the female model's shirt, which appeared to symbolise the transfer of command from one head to another. 'What you saw was "he is she" and "she is she", the equal importance of male and female forms," Shantanu said.
Photograph: @LakmeFashionWk/Twitter.
Photograph: @LakmeFashionWk/Twitter.
-- With inputs from PTI
FULL COVERAGE: Lakme Fashion Week Summer/Resort 2018