The former Miss India and actor talks about her love for sustainable clothing with Rediff.com's Anita Aikara.
Neha Dhupia has the knack to make any outfit look splendid.

During her pregnancy she gave to-be moms some serious style inspiration with her maternity dressing.

The yummy mummy embraced her baby bump beautifully, making us rethink maternity style.

It's been a little over two months since she gave birth to a beautiful baby girl, Mehr -- Angad and Neha welcomed their first child on November 18, 2018.

But the actress, who doesn't seem to be in the mood for a maternity leave, was spotted at Lakme Fashion Week Summer/Resort 2019.

She was there to judge LFW's Circular Design Challenge. Dressed in an all-white silhouette, Neha look stunning as always.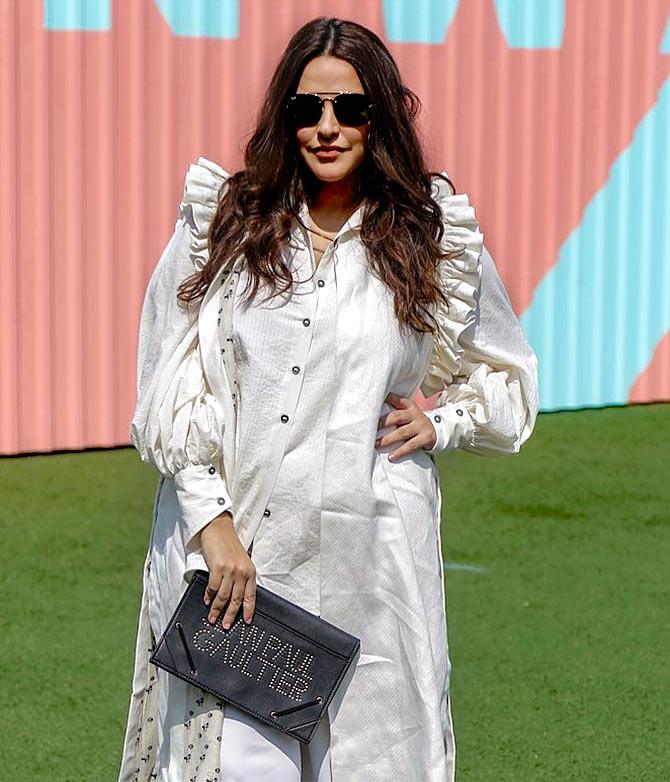 Talking about her love for sustainable fashion, she said: "I am really alarmed by the numbers and the amount of waste generated by the fashion industry. It is a wake up call.

"I have been somebody who has endorsed sustainable fashion for many years."

"It is really nice to see the GenNext designers at LFW to take up the cause of sustainable fashion for something like the design challenge. It is a start and sets the ball rolling. It is onward and upward from here."

Neha also had a question for designers of sustainable fashion
"Where is the muse? Who is the muse?" she asked.
"As far as the 'muse' is concerned, it is a word that needs to be spread through amazing looking styles and silhouettes that are well priced and fabrics that are comfortable. It is growing and in the future, it will continue to grow. We all just need to be conscious about it."

Earlier in an interview with DNA, Neha has revealed that 'she is a huge fan of sustainable fabrics'.

'Give me a gorgeous georgette or the best cotton in the world and I'd pick the latter,' she shared in the interview.