What makes Lakme model Merrylin Boro so popular on Instagram? Find out.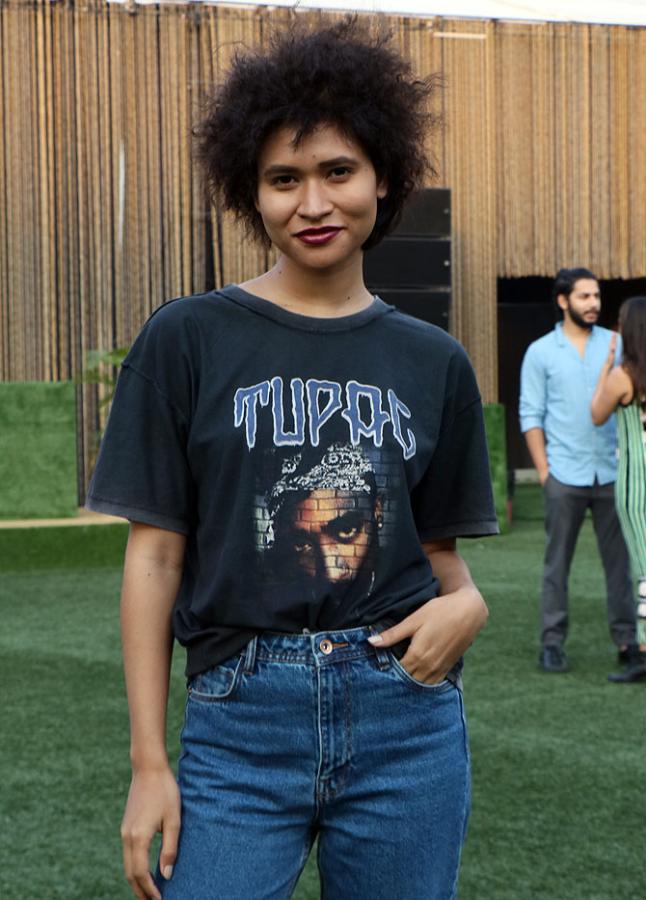 IMAGE: Merrylin Boro started modelling at 18.
Photograph: Rajesh Karkera/Rediff.com
Merrylin Boro, 23 is among the hottest new faces to feature at the ongoing Lakme Fashion Week this season.
She's born to parents with mixed origin: "My father is an Anglo Indian from the North East and my mother belongs to the Bodo tribe from Assam" she told Rediff.com.
With no mentors to guide her, she started her modelling career in Delhi at 18.
She's shot for magazines like Grazia, Elle India and Vogue and brands like Adidas and Jabong to name a few.
Five years later, she's bagged her first big fashion show -- the LFW -- and she's clearly excited.
Much before she bagged the show, the Indian beauty has been a star on Instagram (external link) -- she has about 1.3 lakh followers on the photo sharing site.
In this interview to Divya Nair/Rediff.com, the 5 ft 8" beauty reveals how she found her true calling living away from home and kept at it despite the challenges.
How did you bag a show with Lakme? How did you apply?
Lakme is a great, well respected platform for the industry. I was fortunate that I did not have to apply.
The Lakme team reached out and asked me to be a part of it.
You had no mentors. How did you groom yourself and prepare to be a model?
Modelling is a 'learn on the job' kind of profession.
No matter what modelling schools teach you in a crash course, it does not prepare you for what's to come.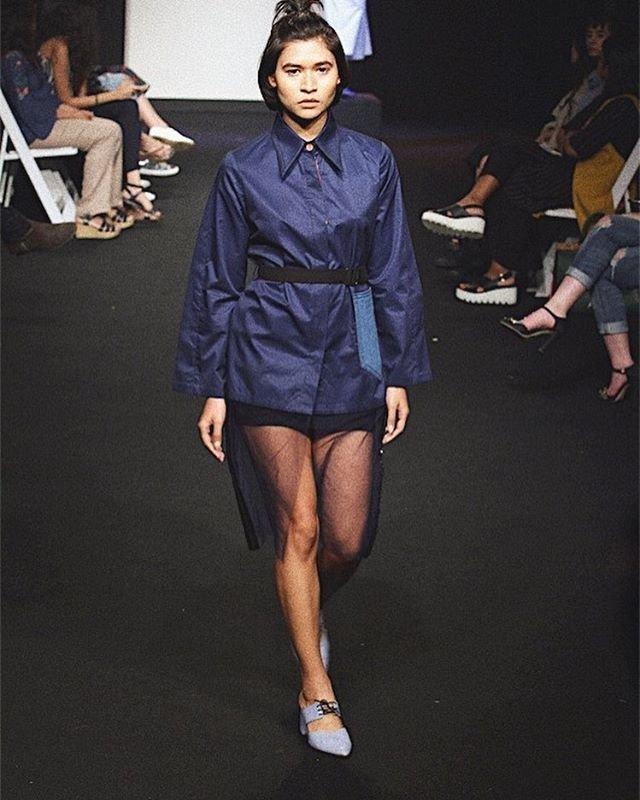 IMAGE: Walking for Quo India at the Lakme Fashion Week Summer/Resort 2017 in Mumbai.
Photograph: Kind courtesy Merrylin Boro/Instagram

Why modelling?

I never had any early inspiration. After completing class 12, my friends urged me to try modelling because I was tall.
I sent my pictures and bagged a photoshoot for Marie Claire magazine. I was 18 at the time.
After the shoot, I felt I should pursue it further.
As I got more exposed to the industry, I couldn't see myself doing anything else.
Now looking back at it I realise I was always inspired by fashion and art even as a kid. I was meant to be a part of this industry.
Was it easy to get projects after your first break?
Not really. I had to struggle for a while and started using all possible networks. I had signed up for a fashion designing course too in Delhi, but later, I decided to quit so I could focus more on modelling.
It took some time, but gradually, I started getting more work.
Who helped you, supported you?
My parents have always supported me, and it helps that I have had an upbringing that always encouraged me to do what I believed in and have a passion for.
Have you signed up with a modelling agency?
I was signed with an agency but currently I am not.
When did you move to Mumbai?

I travel to Mumbai frequently but I am based in Delhi at the moment.
IMAGE: The beauty loves beaches and bikinis.
Photograph: Kind courtesy Merrylin Boro/Instagram

Tell us about your work.
All the designers I got to walk for have been a pleasure to work with.
A show, like the Lakme is a team effort -- a collective result of a gruelling process of 6 months or more.
I loved how easy and feminine the clothes were for the Maku textiles show, and it was the complete opposite in the Dev R Nil live installation where we were to embody delicate but ghostly looking creations.
I am looking forward to walking for Savio Jon over the weekend.
Your most exciting project so far
Lakme is an amazing platform for the industry and myself.
It's hectic yes but great fun too!
Every assignment I do is exciting because no two days are the same. There are different people, different locations.
What is the toughest part of being a model?
Adjusting yourself everyday with different sets of people, all with different personalities in different environments is not easy.
You can't let your personal style or personality get in the way or distract from the job.
A lot of models and students from the North East complain about discrimination when they travel for studies, work etc. Have you ever faced discrimination in India?
I don't see myself as anything other than Indian. In fact, I have grown up in Delhi, that is where I consider myself from.
India's diverse regions is what makes it unique. My DNA is mixed.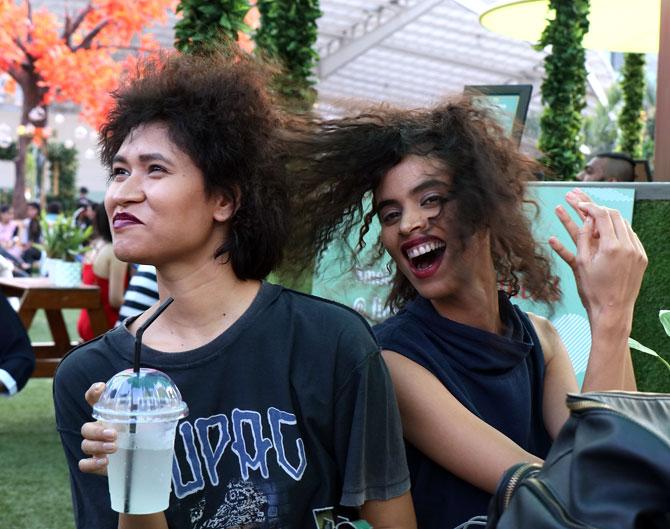 IMAGE: Merrylin, left, lets her guard down at the Lakme Fashion Week.
Photograph: Rajesh Karkera/Rediff.com
In this age of social media, a lot of trollers post nasty, insulting stuff on models and actors. How do you react to it?
Ever so often I do yes, I would generally ignore it.
However, at times I try to educate people in a proper way but sadly, this type of education needs to happen from the parents when a child is growing up, because bullying is not acceptable.
Your Instagram posts have a lot of racy photos too. Have you ever faced any nasty comments?
Of course, I get some nasty comments.
I don't reply to every single one but every now and then, I do reply and let them know it's wrong to judge others solely based on a social media post.
The images I post are an outlet for me artistically.
You travel a lot for work. In your opinion, how can women ensure safety when travelling alone?
No matter where in the world you are traveling to, you have to keep your eyes and ears open and be a good judge of character.
Where do young girls generally go wrong in the fashion industry?
I wouldn't say the modelling or fashion industry is any different to any other profession.
It is filled with majority of hard working people who work, go home and have a definite career path.
From the outsider's point of view it is viewed very differently, but it's like any other job.
How can one be careful?
There are very credible agencies in India. Make sure you are represented with one of them.
If you are under 18, always ensure you have a family member or guardian go with you.
Your advice to aspiring models.
Be true to yourself, don't follow everyone else.
Your values define your personality.
Don't take anything personally and keep going even when you want to give up!