GenNext designer Sumiran Sharma, 30, of ANAAM talks about his collection, design inspiration and why he wants to style Kangana Ranaut.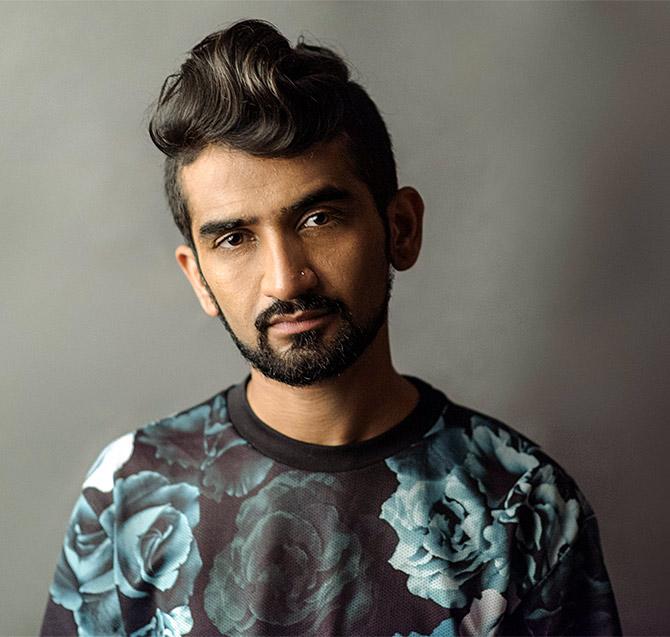 Photograph: Kind courtesy Lakme Fashion Week
Design school: Pearl Academy, Delhi
Your inspiration
A lot of my inspiration comes from life itself -- the philosophy of life and its process.
I was a very sensitive kid. I still have a lot of memories of characters from my childhood.
I travel back in those times to get inspired and try to work around that mood. I like to observe a lot.
Most of my inspirations have been from mythology, history, culture, literature, traditions and cultures and observing incidents happening in my day-to-day life.
For example, I travel in the metro (train) and observe different kinds of people.
I also observe how maids in India drape their sarees, according to their ease to work in them comfortably.
I take inspiration from rickshaw pullers by observing how they drape the lungi and ride a rickshaw.
I try to understand functionality with identity -- for me fashion is identity.
During the design process, I don't sketch.
I am not a good illustrator. I'm breaking the myth that fashion is for people who can sketch.
If that was true, I would have not been able to complete my fashion degree. I work with fabrics directly. I feel they speak to me -- how they want to fall.
I drape them directly on myself, a friend or a mannequin.
In fact, it is like playing a character and dressing that character.
Hence, I feel performing art is a major part of my design process.
I work backwards. Once the look is fixed, then I start the process of pattern-making and fabric selection.
So, in a nutshell, I work as a form generation or silhouette generation artist.
At Anaam, we work on silhouettes and these have names and characters.
Once the silhouettes are fixed, I change the fabrics according to the season, countries, inspiration board, mood board or the story board.
Designer you admire
I grew up getting inspired a lot from some cult international designers like Vivienne Westwood, John Galliano and Jean Paul Gaultier.
Currently, I also appreciate the work of Rick Owens and Haider Ackerman.
Rather than just looking at their work, I prefer reading about their personal stories/autobiographies. That really inspires me.
Coco Chanel has been an all-time favorite. Her vision and her story is outstanding.
Among Indian designers, currently, I like the work of Rajesh Pratap Singh, Abraham & Thakore, and Anamika Khanna.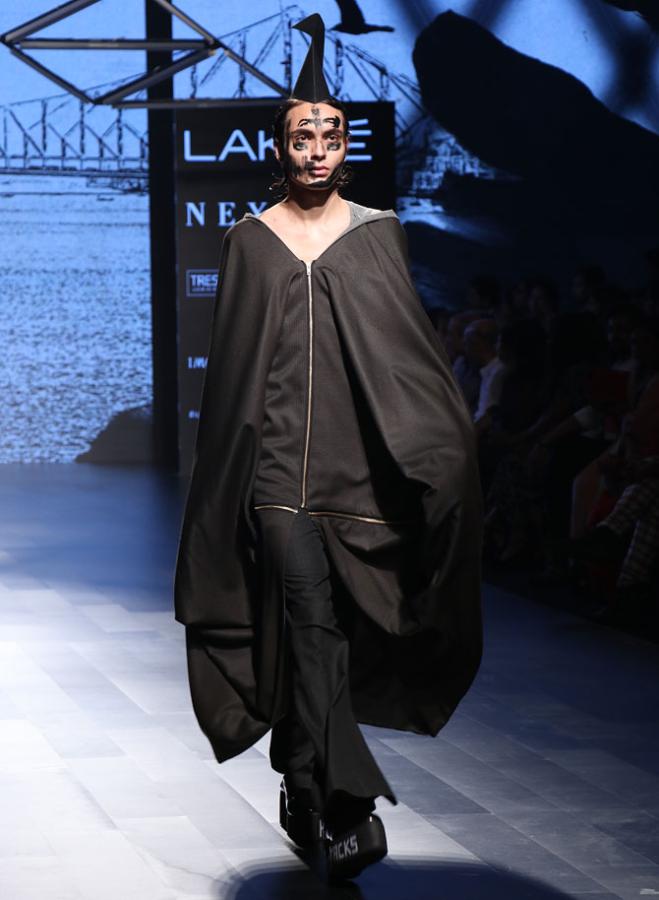 Sharma creatively used silhouette generation techniques that involve a mix of draping and pattern making. Photograph: Hitesh Harisinghani/Rediff.com
LFW collection
It's called Sonagachi.
On a cab ride to Sonagachi, a red-light district in Kolkata, all I saw was these strong soldiers standing as an army fighting for their lives, families, kids, lovers, fighting from hunger, society, racism, stereotypes, patriarchy and communalism.
My collection Sonagachi represents an unstoppable, unbeatable army of warriors from the infamous district, who march headfirst in flowy uniforms.
These strong, fierce, nameless, ageless, genderless silhouettes represent the collective strength and a call for identity, respect and recognition.
Top trends in fashion this year
Handloom. No gender clothing and sustainable fashion.
Your style mantra
Being effortless.
The most stylish Indian celebrity
Kangana Ranaut has amazing style and a daring fashion sense.
Worst dressed celebrity
According to me, everyone has their own style and identity.
Common fashion mistakes Indians make
They often forget that their body type and colour is different from the ones they are aping. Also the environment conditions are different.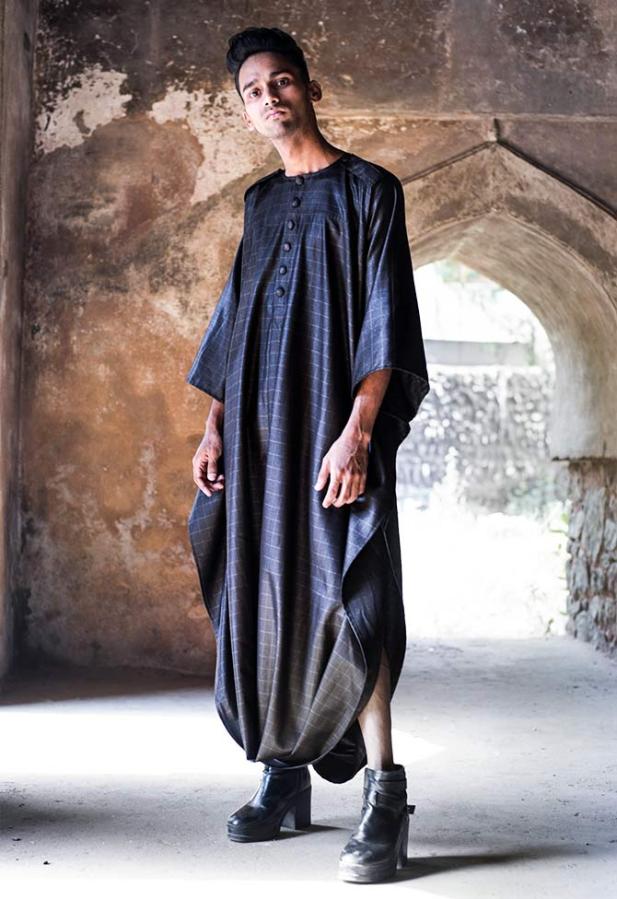 The designer predicts that handloom will be trending in 2017.
Photograph: Kind courtesy Lakme Fashion Week
Future of fashion in India
Ethical fashion.
Fabrics Indians should never use
Polyester and synthetic. These fabrics are not only harmful for the environment, but also not suitable for the weather conditions we have in India.
Men's fashion in India
It's on its way to blooming to a bigger horizon.