Gyaltsen has been modelling since the last six years, but he terribly misses the good old days when male models were taken more seriously, way back in 2010!
Gyaltsen Chodar, 27, is one of the more seasoned male models on the ramp.
This year at Lakme Fashion Week Summer/Resort 2017, he walked the ramp for some top designers like Narendra Kumar, Kunal Rawal and Urvashi Kaur.
But he feels that the present day male-female ratio is pretty skewed, with far more female models than men.
Here he talks to Anita Aikara/Rediff.com about the changes he wishes to see in the industry and why newcomers in the industry should not work for free!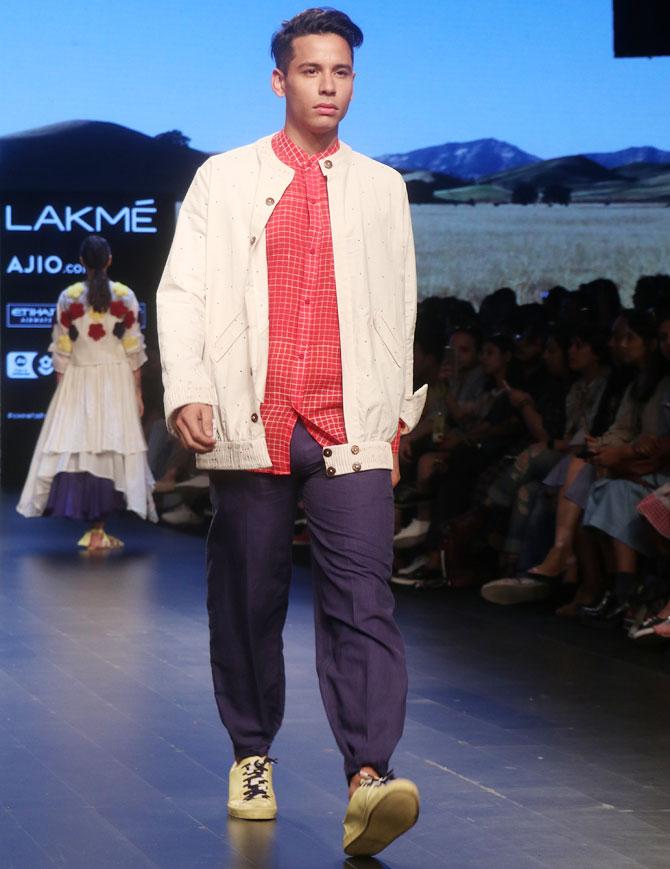 IMAGE: THe model seen walking the ramp for Eleven Eleven at the Lakme Fashion Week Summer/Resort 2017. Photograph: Hitesh Harisinghani/Rediff.com
How has the LFW 2017 experience been?
This is my fourth time at Lakme Fashion Week. I started modelling in 2010.
But I didn't do it continuously; it was on and off. Over the last four years, I have been working very regularly.
I moved to Mumbai from Delhi, so that I could concentrate on my modelling career solely.
This year at Lakme, I walked for Kunal Rawal, Kasha, Urvashi Kaur and Narendra Kumar.
I loved walking for Kunal Rawal because it was an amazing show and he always infuses so much energy into the show.
How did you get into modelling?
I always liked fashion and dressing up since school days. Those days hip-hop used to be the trend.
I did my first men's wear show for Narendra Kumar in 2010.
Men's fashion shows were so different back then. We used to have the Van Heusen show, which was a dream come true for every male model.
I miss those days.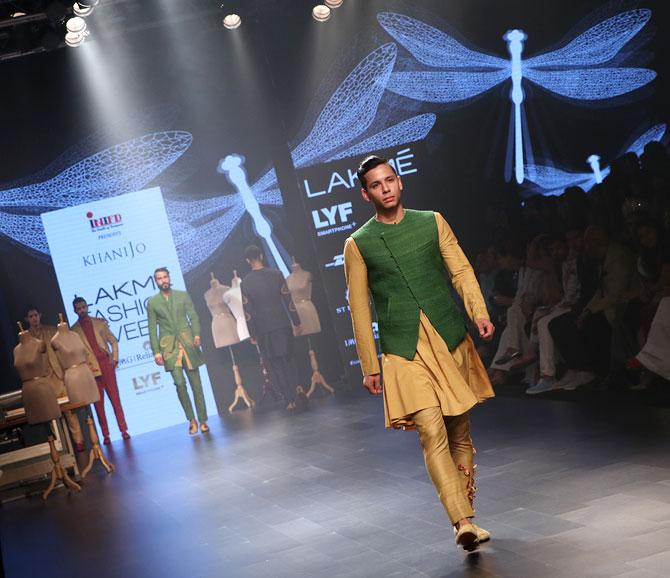 IMAGE: Gyaltsen walks the ramp at LFW 2016.

Photograph: Hitesh Harisinghani/Rediff.com
What do you miss about modelling back in 2010?
Back then, there used to be greater respect for male models. Right now, to be honest, it is way lesser than what it was at that time.
I think that the male-female model ratio in the present day shows is not balanced. In a show there may be 10 female models but only four male models.
Of course, women's wear does sell more.
But there are a lot of fashionable men out there too!
I notice that Indian men are so fashion conscious now, compared to what they were around five years ago. Men want to dress well and look stylish. The demand for men's wear on the rise.
I think designers should start making more men's wear so that male models to get a fair chance.
Two years ago, it was really bad for male models. Now days things are picking up for the male models with the GQ Fashion Week.
Does modelling come with an expiry date?
I feel that the older you get, the easier it gets for models. But that doesn't take away from the fact that modelling does come with an expiry date.
After a certain age, I have seen so many models becoming actors.
That's because modelling doesn't last you as long as acting. So that becomes the natural progression for several models.
What changes do you think are required in the fashion industry?
Most importantly, I think the focus should be on men's fashion as much as it is on women's wear.
Designers should be willing to experiment more with men's fashion.
Also there are plenty of unprofessional people out here, who are willing to take advantage of you. The attitude is that men have it easy as opposed to female models, but that's not true.
There are so many newcomer male models who are really good, but are ready to work for free because they want to get some work. That makes it difficult for the established models.
They should not do that; they should be more professional. If you start for free, you will always end up working for free.
They need to be patient and understand that if it is yours, no one can steal it from you.
There are grooming schools for models, but no full-fledged school for modelling, which I think is necessary.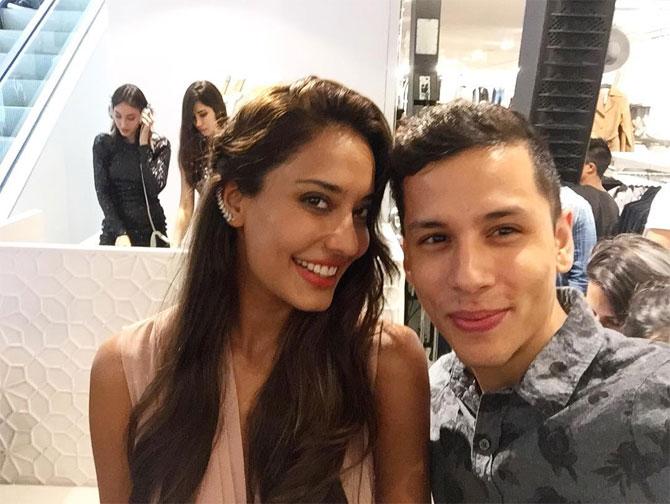 IMAGE: Lisa Haydon and Gyaltsen.
Photograph: Kind courtesy Gyaltsen/Instagram
What's good about your job?
When I am doing fashion weeks, I don't feel that I am working.
That's the best thing. It is so chilled out and relaxed.
Style statement
I am more into street-style. I love to buy clothes for the brand called Off White.
I love fashion designer Antar Agni's clothes.
Sadly, this year I was doing a show before Antar Agni's, so there was a quick change of clothes and I didn't get to walk for him.
But I would love to walk for the designer in the next season.
Indian designers you would love to walk for!
Sabyasachi of course! He doesn't design clothes, he designs dreams.
I really admire his clothes.
Advice for aspiring models
You need to have the basic qualities like good looks, height and you should be able to carry yourself well.
Be prepared to work hard and try to meet the right people.