There' so much happening in the lives of your favourite models, designers and actors.
If you haven't read about it yet, take a look at our weekly round up that brings you the latest news from the world of glamour and fashion.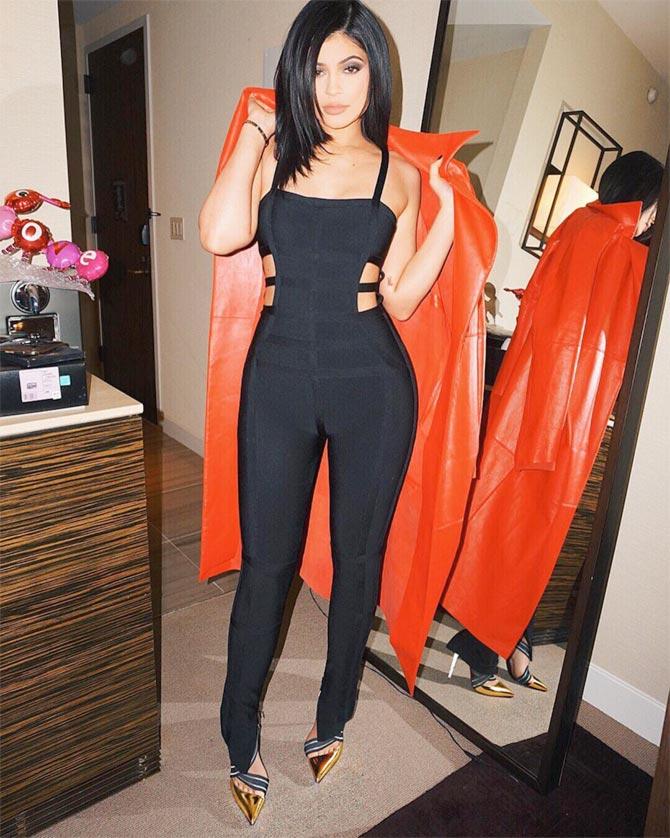 Photograph: Kind Courtesy Kylie Jenner/Instagram
Model-reality TV star Kylie Jenner has reportedly moved on from former boyfriend Tyga and is now dating rapper PartyNextDoor.
The 18-year-old reality star recently is said to be mad about the rapper, whose real name is Jahron Brathwaite, reported Female First.
"Their relationship started quite suddenly but it just feels right. They are mad for each other. She doesn't know why she wasted time with Tyga," a source said.
"Kylie's family found the eight-year age gap with Tyga a bit weird, especially as they got together before she turned 18 last year.
"PartyNextDoor is much better as he's only four years older than her," the source said.
Last week, the Canadian rapper shared a picture on Instagram of his and Kylie's jewel-encrusted watches, with the caption: "Diamond battles with @kyliejenner (sic)."
****
Iran accuses Kim Kardashian of being secret agent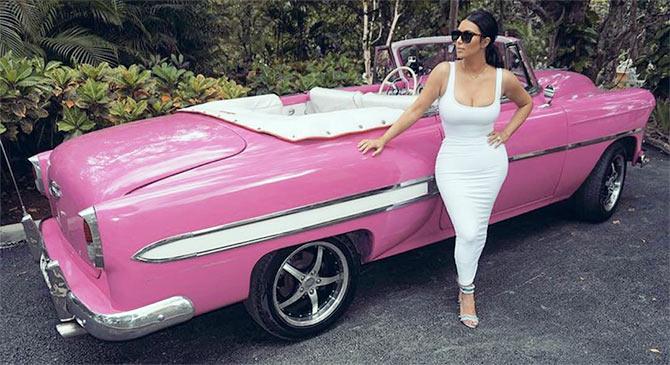 Photograph: Kind Courtesy Kim Kardashian/Instagram
Though she is one of the most popular reality stars, both on TV and social media, according to the Iranian Government, Kim Kardashian is working as a spy on behalf of Instagram.
Government clerics claimed that the 35-year-old reality star uses the social media platform to encourage young people to shun conservative traditions and subvert Islamic values, reports News.com.au.
She is now an enemy to the land, where women are punished severely for not covering up, because of her naked selfie on Instagram.
Officials of the country's Revolutionary Guards Corp, an organisation set up to help protect the country's Islamic traditions and prevent foreign interference, have questioned the real reason for the Keeping Up with the Kardashians star's internet popularity.
According to Iran's moral cops, Instagram boss Kevin Systrom has hired the reality star to target 'young people and women' to lead them astray.
"Ms Kim Kardashian is a popular fashion model so Instagram's CEO tells her, 'Make this (modelling) native'," said Mostafa Alizadeh, a spokesman for the militant group.
****
Did you hear: Olivia Munn is 12-pounds lighter!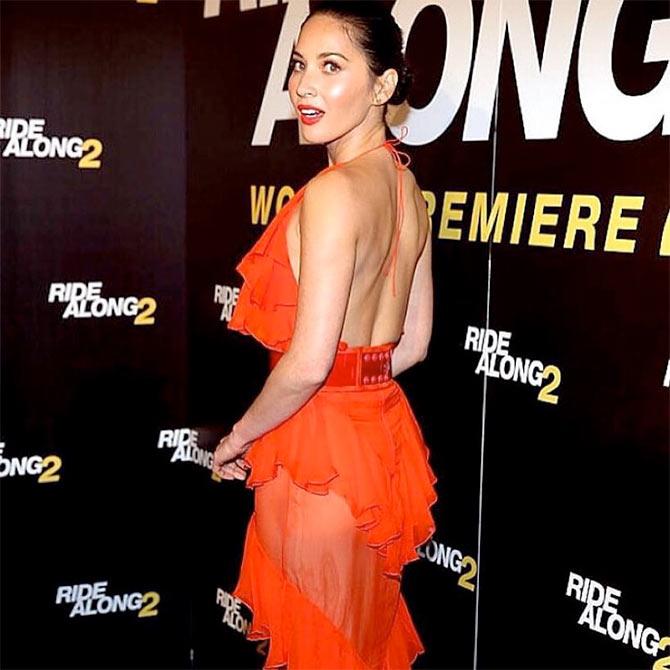 Photograph: Kind Courtesy Olivia Munn/Instagram
Olivia Munn has adopted a healthy diet and fitness regime as she underwent training for her role as mutant superhero Psylocke in the upcoming X-Men: Apocalypse.
The diet is the same programme followed by supermodel Gisele Bundchen and her American footballer husband Tom Brady, reported E!Online.
"When I started on X-Men, I had been training and doing regular personal training and trying to eat in a healthy way," Olivia told Women's Health magazine.
"My intention was to just get as fit and as healthy as I could be, for myself.
"I started working out every single day, and then I also started getting into eating 20-80, where 80 per cent of your diet is fruits and vegetables and 20 per cent is whatever. So, that can be any kind of meats or breads or anything else, but mostly fruits and vegetables."
****
Gisele Bundchen was bullied as a teen?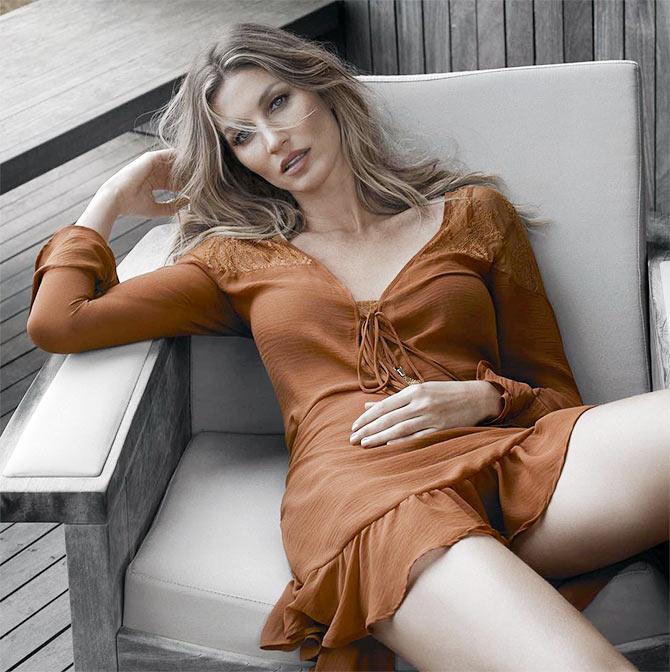 Photograph: Kind Courtesy Gisele Bundchen/Instagram
She may be the highest-paid fashion model in the world, but there was a time when Gisele Bundchen 'used to being bullied.'
In an interview with The New York Times, the 35-year-old model -- whose annual earnings are estimated to be 44 million dollars -- said, "Even before I got into the business, I was used to being bullied because I was always tall and skinny and stuck out."
Gisele added, "She got really red all the time from playing volleyball, red like a pepper. So I thought bullying was just the way life is."
She further said, "In the beginning, you know, everyone told me, 'Your eyes are too small, the nose is too big, you can never be on a magazine cover.' But, you know what? The big nose is coming with a big personality."
This is not the first time Gisele spoke about her bullied childhood.
Last year, she had revealed that her peers used to call her Olive Oyl, named after the cartoon character Popeye's skinny girlfriend.
****
Cara Delevingne dressed up as Spice Girls?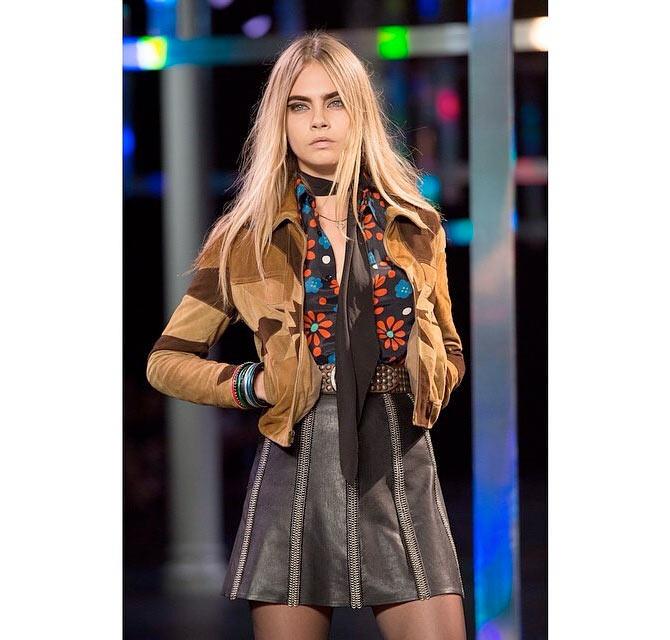 Photograph: Kind Courtesy Cara Delevingne/Instagram
Actress Cara Delevingne has revealed she 'always' used to dress up as the Spice Girls and Spider Man during her younger years.
The 23-year-old model said she 'always wanted' to be someone else as a child and while she would often copy the appearance of Emma Bunton, Mel C and Geri Horner during their heydays, she would never don similar outfits of their fellow band member Victoria Beckham, reported Female First.
"It was the sense of dressing up and feeling really tough. When I was a kid, I always wanted to be other people. I went through different stages: I was a few Spice Girls for a while - first Baby (Emma), then Sporty (Mel), and then Ginger (Geri).
"I was never Posh (Victoria), because she wore little black dresses, and I didn't want to be that kind of girl," she said.
The actress said when she wasn't wearing Union Jack dresses and putting her hair in pigtails, the star was dressing up as her favourite superhero Spider Man.
"Beyond that, I only dreamed of being male superheroes. Spider Man, especially, had a cool costume and cool toys.
"There were not many strong superhero-type women, apart from Wonder Woman... but I didn't want to be a five-year-old running around in, like, a bikini."
***
Selena Gomez has found new love!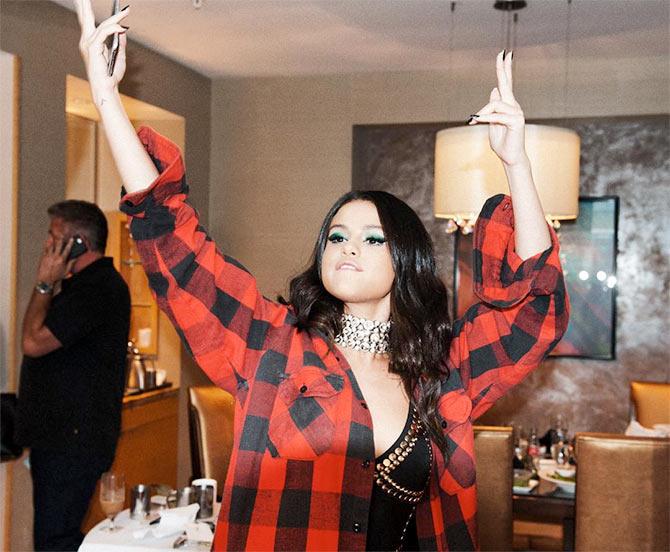 Photograph: Kind Courtesy Selena Gomez/Instagram
Pop star Selena Gomez enjoys pickles whilst backstage on tour and also loves a 'good plate of fried chicken'.
The 23-year-old Good For You hitmaker is currently in the midst of her Revival world tour and is ensuring she stays fit with a 'pretty simple' backstage diet, reported Female First.
"I keep things pretty simple backstage. Plenty of water and pickles. On the tour bus, hot Cheetos and chocolate are staples. I love a good plate of fried chicken," Gomez said.
The singer recently revealed she is 'obsessed' with pickles as it is a regular staple in Texan diets.
"I am obsessed with them. That is my thing and I drink the juice from the jar too. They sell them at gas stations and movie theatres in Texas. I go to the movies and have popcorn and pickles. It's not weird. It is a thing back home that I do."
****
Blake Lively accused of racism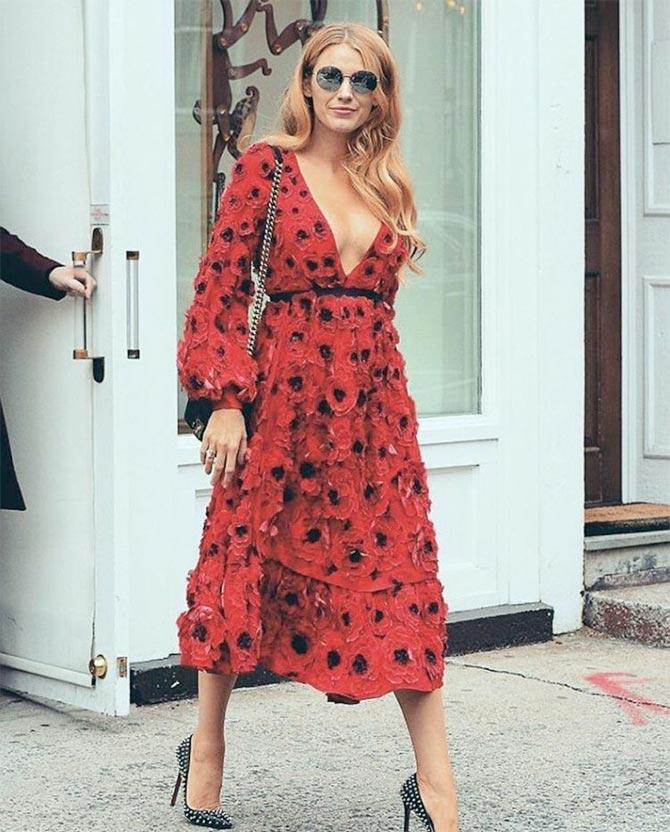 Photograph: Kind Courtesy Blake Lively/Instagram
Blake Lively has been accused of racism and being 'white and privileged' after she posted a controversial caption on Instagram about her body.
The 28-year-old star -- who is pregnant with her second child with husband Ryan Reynolds -- posted a split picture of images taken from the front and back when she was at the premiere of her new movie Cafe Society at Cannes last week.
Quickly, the actress came under fire from commenters who accused her of being privileged, using black women and culture as a 'punchline'.
"Another day, another rich white woman using WOC's (Women of colour) bodies as a punchline and commodity. As if Blake Lively wasn't the worst already," one user wrote on Twitter.
"Unbelievably problematic, using women of colour's bodies as a joke. I guess you just want people to know you're racist and you don't give...." another wrote.
****
A health scare changed Elle Macpherson lifestyle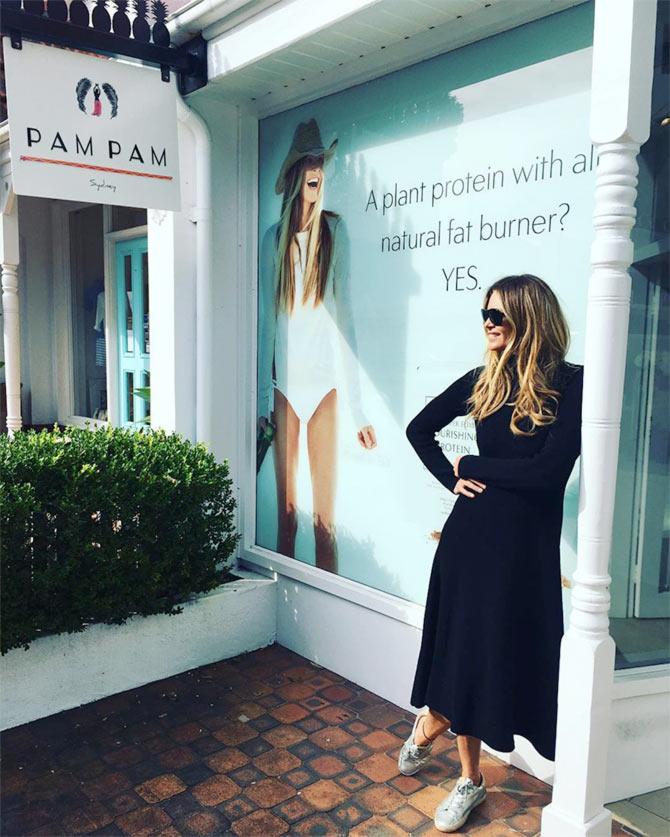 Photograph: Kind Courtesy Elle Macpherson/Instagram
Former supermodel Elle Macpherson says she was prompted to change her lifestyle after she suffered a 'health scare'.
Macpherson, 52, is launching her own food supplement line and says it is inspired by her own experience that made her realise she needed to eat, drink and rest better, reported Female First.
"I had a health scare. In the end it was harmless, but I was very scared. Until then I hadn't understood how long trips, time shifts, stress, sleep loss and unbalanced nutrition could affect my health. I still thought I was living in the 1980s. My body sent me a signal and I changed the way I was living," Macpherson said.
"As I got closer to 50 I realised that to stay healthy you need to do more than slap on the face cream. You need to combat the acidity in your body that causes many illnesses, balance the pH in your body and nourish its internal cells.
"A nutritionist designed an alkaline regime for me. I slept more and drank more water and I added fruit and vegetables to my diet. Several weeks later I felt different," she said.
****
Boy or girl? Candice Swanepoel reveals her baby's gender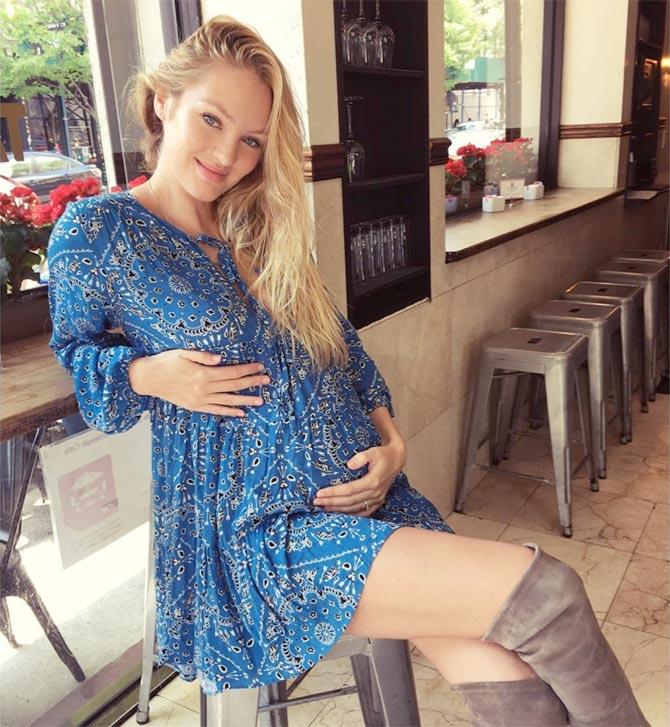 Photograph: Kind Courtesy Candice Swanepoel/Instagram
Supermodel Candice Swanepoel is expecting a little son and can't wait to meet her new arrival in September.
The 27-year-old supermodel has made the announcement on her Instagram page, reported Female First.
The Victoria's Secret beauty uploaded a black-and-white photograph of her burgeoning baby bump alongside the subtle caption, "My Not so little boy (sic)."
The couple's pregnancy news was confirmed back in March when a friend of the pair said they were 'so excited' about their impending arrival and were planning to spend the summer in New York getting ready for their new addition.
Candice and her beau, Hermann Nicoli, got together when she was just 17 years old after they met in Paris and, following nine years of dating, finally got engaged last year.
****
Blac Chyna lashes out at her pregnancy critics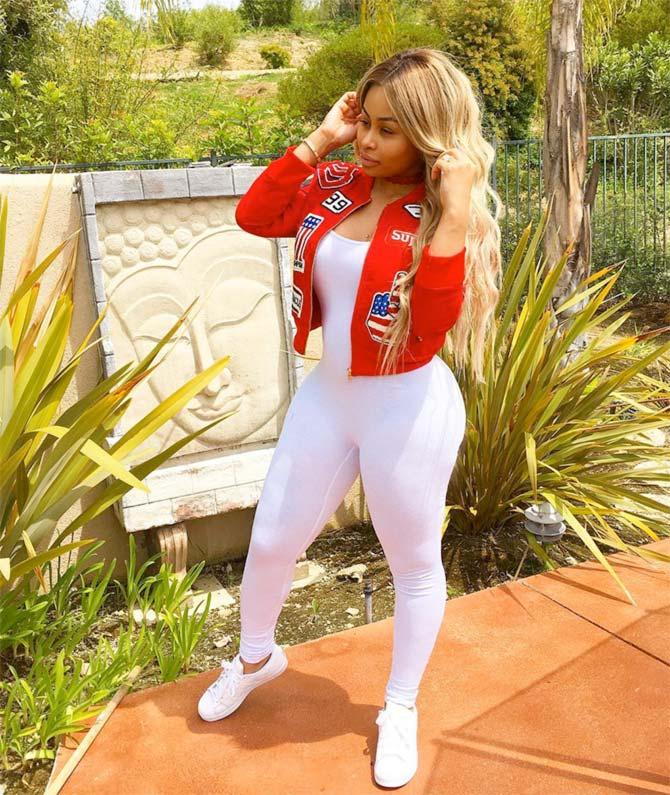 Photograph: Kind Courtesy Blac Chyna/Instagram
Blac Chyna has hit back at haters, who criticized her pregnancy weight gain on Instagram.
The 28-year-old former model who is pregnant with fiance Rob Kardashian's baby, issued a smackdown to body shamers who slammed her growing baby bump in the comments on a photo post on thacelebriteanews account.
"To all you people out here with negative comments and insecure words (obviously because you have nothing else to do but criticize the next) I AM HAVING A BABY!" she wrote.
"Exactly what do you expect to see? If I walked out in makeup and heels everyday to be beautiful to you means I WOULD BE MISERABLE AND UNHAPPY which are two vibes I refuse to transfer to my little one."
However, Rob is a fan of his fiancee's pregnancy curves.
On Tuesday he posted an Instagram photo of Chyna wearing a cut-off top that exposed her baby bump and captioned the snap, "My beautiful babies in Miami."
****
With inputs from agencies