With capes, garara pants and dungarees, three designers are taking khadi to luxurious heights.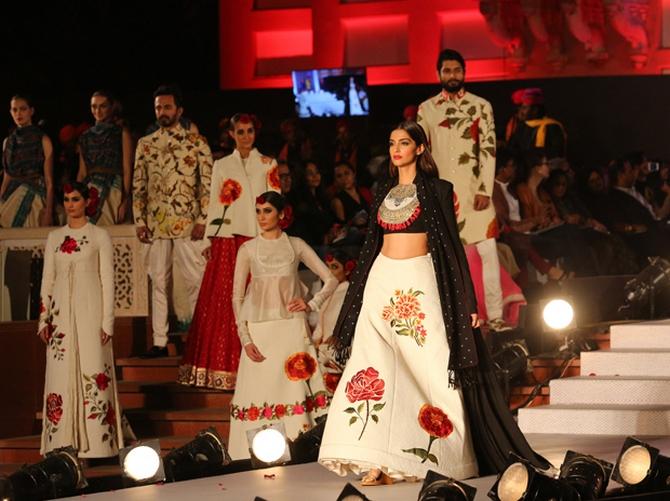 A Rs 1,800 khadi jacket from Khadi Gram Udyog and a Rs 45 pocket square to rev it up.
That's all it took for Sunil Sethi, the chairperson of the Fashion Design Council of India (FDCI), to spark a revolution of sorts and galvanise a chiffon-drenched fashion industry to turn its attention to khadi.
Sethi's style statement had three top designers -- Anamika Khanna, Rajesh Pratap Singh and Rohit Bal -- showcasing their khadi designer wear at 'Huts to High Street', a fashion show organised by FDCI in collaboration with the Gujarat State Khadi and Village Industries Board at the Sardar Vallabhai Patel National Memorial in Ahmedabad.
The fabric, which has come to be looked upon as the attire of the jholawalas and meant to be crafted only into loose kurtas to be worn with Kohlapuris -- is back in fashion.
Singh has created cropped jackets, boyish shorts and dungarees out of what is usually considered too rough a fabric to mould.
"I have been working with khadi for the Arvind Mills project and this time we again used the indigo dyeing techniques," he says.
"The idea was to break free from the shackles of what khadi is perceived as -- an intellectual garment, meant only for the 'thinking few'.
"Khadi is supple, easy, it breathes and what FDCI has done will only take it a step further."
Singh kept the aesthetic and natural rawness of the fabric alive by retaining its ivory-toned hue and only placed a red piping to highlight pockets or robust backs.
Rather than a Bollywood showstopper, he chose five men from the Rabari tribe to wear his patchwork jackets.
Khanna, who showcased a line soaked in the flavours of khadi with her signature capes, used white to offset shimmer, with the Radha-Krishna motifs strewn generously over her elaborate, asymmetrical shirts and dhoti pants.
"It's a misnomer that khadi is not malleable; I used khadi (600 counts) that is smooth and sourced from Bengal.
Khadi needs to be made edgy, cool and for me anything which has its roots in India will always be appealing," says Khanna.
She made 16 pieces for the show and stuck to women's wear — "my forte as I am not equipped with the technical skill to do menswear".
FDCI board member Anju Modi, who supported the cause by turning up in a charcoal black khadi tunic, says, "In all the razzle-dazzle of fashion, khadi is like a lone warrior that has its own voice.
"It is rich and commands a characteristic texture, is handspun and so it is absolutely organic.
"She sources the fabric from Khadi and Village Industries Commission and then adds patterns and motifs, vegetable dye or print to it.
"The beauty of the fabric is that it doesn't get crushed and absorbs colour beautifully," she says.
"What it needs is a design quotient so that it gets the boost it deserves."
Treated deftly, khadi can be alleviated to couture, says designer Renu Tandon who has in the past designed a purely khadi line where she played with the borders keeping the colour spectrum natural.
The fabric's versatility allows it to work in both summer and winter.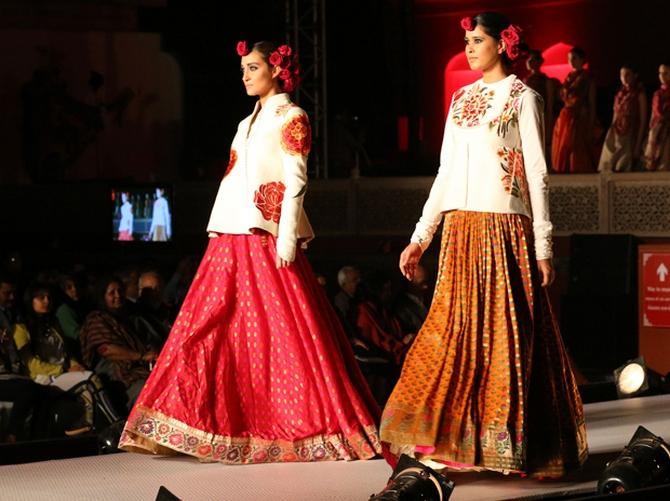 For Sethi, it all started when he invited O Ravi, member secretary of the Gujarat State Khadi & Village Industries Board, to Wills India Fashion Week and explained to him that fashion was moving towards a more serious space.
"I still remember taking Bal's khadi shirts to Selfridges in 2000 and they did exceedingly well," he says.
"This show," says Gujarat Chief Minister Anandiben Patel, "carries forward the vision of Prime Minister Narendra Modi who said 'Ek khadi har ghar (khadi in every house)'. This will also help the poor by giving them employment."
What makes khadi relevant is the historical value it commands as it is "symbolic of the construction of modern India", says designer Abhishek Gupta.
What it needs is a global perspective, he adds. "Luxury products can be made from khadi. We designers just need to push that proverbial envelope."
The khadi creations are available at the personal stores of the designers. Prices begin at Rs 20,000.