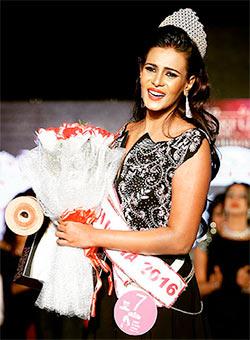 "I never underwent any training to be a model.
"I hate to wear makeup and am very comfortable in my skin."
"I never wore kajal until I took up modelling."
Miss South India and aspiring actor Meera Mitun gets candid about her modelling journey.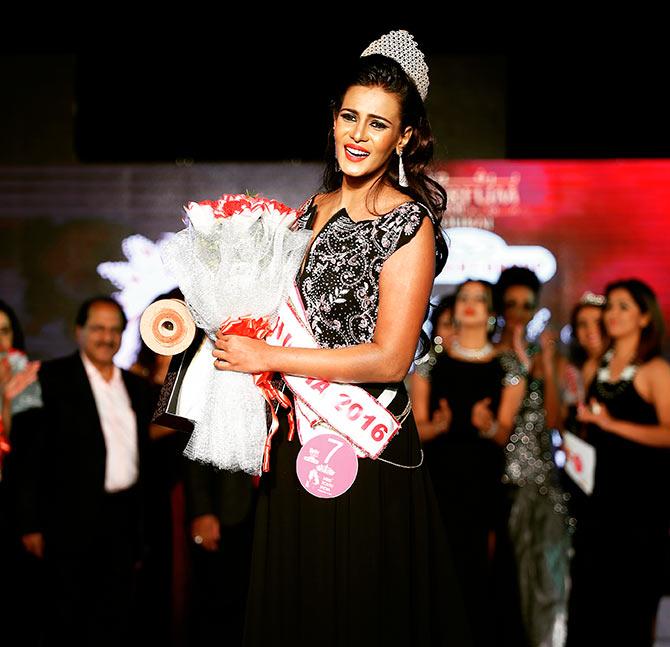 In 2013, when Chennai born Meera Mitun, a biotechnology graduate had gone to watch a movie with a friend, little did she know she'd soon be the face of the city.
"I never aspired to be a model. In fact I was the nerdy types," says the 24 year-old model. An academically bright student, Meera had secured 90 per cent in class X, 92 per cent in class XII and even went on to top her class while pursuing her bachelors and masters in Biotechnology from SRM University.
In 2013, she bumped into choreographer Ganesh Guru outside a movie hall who convinced her to take up her first modelling assignment.
"With no grooming, no godfather to back me up, that's how I landed my first break. I wasn't prepared for it initially and took it up for fun," says the leggy lass, a Kingfisher model who has several titles to her credit including Miss Face of Chennai 2014 and Miss Chennai 2015.
In November 2014, she'd participated in Vijay TV's dance reality show Jodi No 1 where she entered the semi finals and became a household name.
She's even did a cameo in the yet-to-be-released Tamil film Graghanam directed by Elan.
Meera was recently crowned Miss South India 2016 at the zonal rounds of the Miss Queen of India 2016 pageant -- she competed with 18 candidates from five southern states to bag the title.
Meera lives in Chennai with her family -- her father D Mani is a civil engineer and social worker; mother Shyamala is a homemaker. Her brother Thamizhamuthan is pursuing engineering.
In a candid chat, the 5 ft 8 inches tall aspiring actor tells us how she discovered her passion for modelling and how she manages to stay positive despite the competition.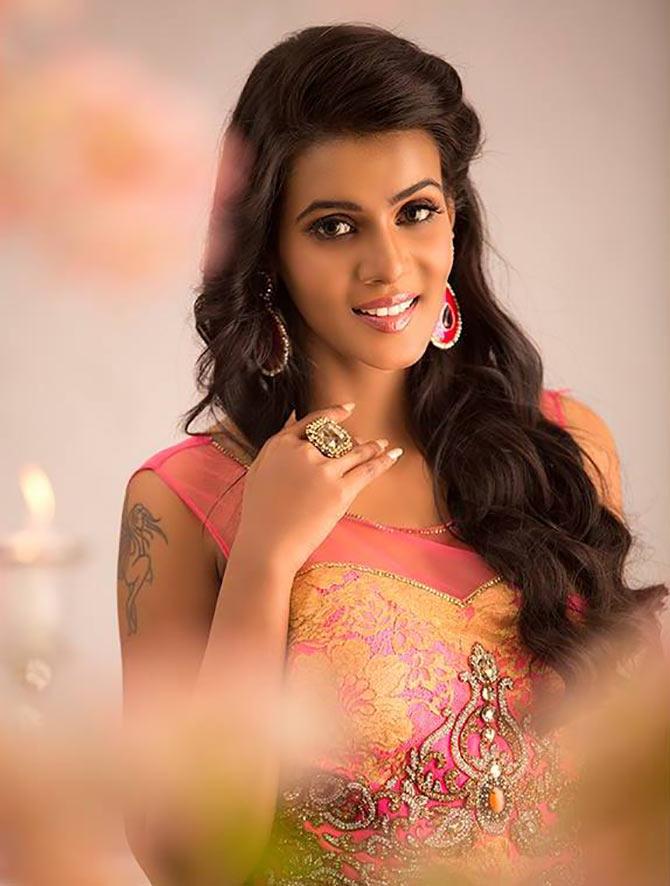 Photograph: Kind courtesy VS Anandakrishna
What inspired you to become a model?
My father was Mr Tamil Nadu and Mr India runner up. But he never encouraged or discussed modelling as a career with me. It was only after I did my first show that I felt I should do it more often.
Tell us about your first assignment…
I had gone to watch a movie with a friend when it seems choreographer Ganesh Guru spotted me crossing the road.
He knew my friend so that's how we got introduced. In our first meeting, Ganesh told me that I looked strikingly tall, had a good physique and should try modelling.
I thought he was joking. He gave me his card and asked me to call him. I forgot about it, but he called me and asked me to meet him.
When we met at a restaurant, he asked me to walk. It wasn't a proper audition, so I wasn't even prepared.
But after I walked, he told me that I was naturally good and should do a show with him.
In October 2013, I did my first show -- for Co Optex, a wedding saree brand. It was attended by a few state ministers. The following day, I was pleasantly surprised to see my ramp photos in the newspapers.
That's how it all started.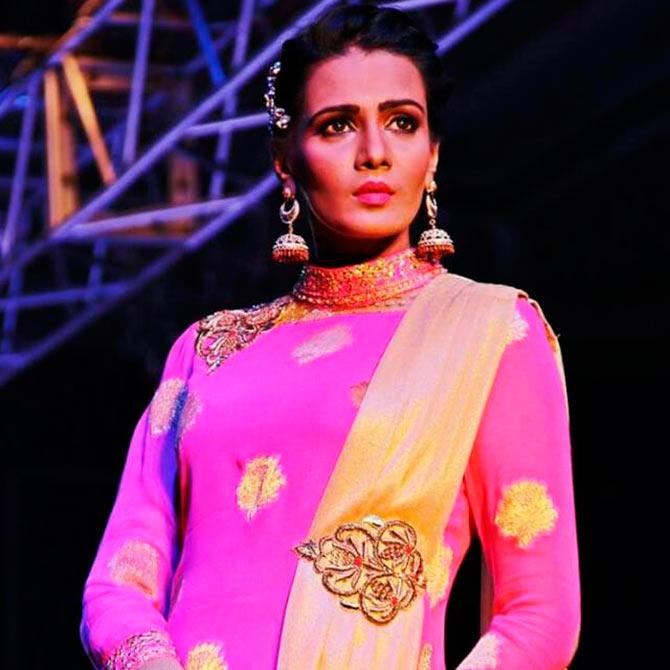 How did you groom yourself?
I never underwent any training to be a model. I hate to wear makeup and am very comfortable in my skin. I don't use expensive products and never really followed anyone or dreamt of being model.
People find it hard to believe me when I tell them that I don't exercise or follow a diet. I eat a lot and have never had any skin problems so far. Perhaps, I am blessed with a good metabolism and genes.
What was your first salary as a model?
The Co-Optex show fetched me Rs 3,000 for two-hours. That was my first paycheck as a model and it felt good.
How did your parents react to your career choice?
My father has always been supportive of my choices. Not that my mother discouraged me but when I did my first few shows, she was happy.
When I told her that I will be travelling to do more shows, she got worried. She never expected me to take it up as a full time career.
Like any concerned parent, she tried to tell me that I should look at it as a hobby and not spoil my future. She'd say, what will happen when you get married? Don't you want a secured job?
It took her some time to realise that I was right about my decision. Now, she is quite happy and I can see that.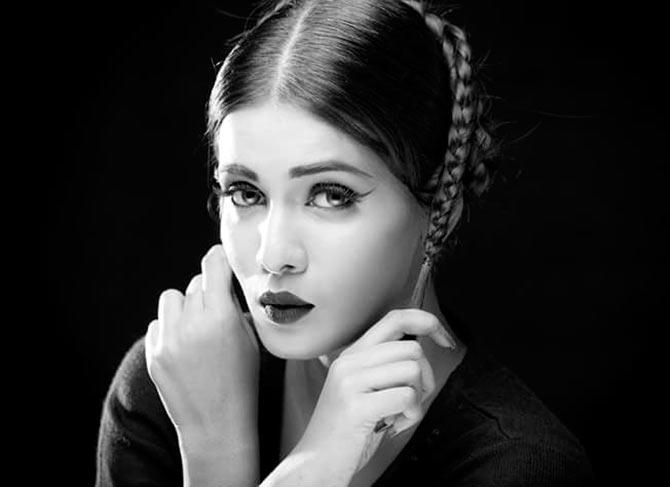 How did Miss South India happen? Please take us through the journey.
After my first show, I participated in a few beauty pageants. I was among the top 6 finalists in May Queen 2014, an international beauty pageant held at Bahrain.
I won Miss Chennai in 2014 and Miss Face of Chennai in 2015. I had also done multiple shows for Kingfisher -- in 2015, I was the only girl from South India to feature as a Kingfisher model, so a lot of newspapers had interviewed me.
When I heard about the Miss South India contest, I wasn't sure of participating in it. I was apprehensive. 'After bagging so many titles, what if I lost?' I thought. But my friends convinced me that I should look at it as a learning curve.
After I signed up, I realised how tough the competition was. All the 18 contestants were confident, talented and beautiful. I would be lying if I said that I wasn't nervous.
In Chennai, where I grew up, you don't find many tall girls. So here, it felt good that I finally found some competition. Unlike in most beauty pageants, we really supported each other to give our best.
There were various rounds where we had to showcase our talent.
In the jury round, we had to explain what we thought of host Steve Harvey's goof up in announcing the Miss Universe 2015 winner. I said Harvey was right in apologising for his unintentional mistake.
Even the make-up artistes were very professional and did their job without any biases. Each contestant was differently talented and it was a huge learning experience for all us.
What was your reaction when your name was announced?
I clearly remember the last few minutes when the winners were announced. The subtitles -- Miss Beautiful Hair, Eyes etc were all given.
Just when I thought I did not stand a chance, my name came -- I was titled Miss Tamil Nadu. I felt happy. I wasn't going home empty handed, I told myself.
Then the time came for Miss South India. I was standing next to the anchor and when my name was announced, I blanked out.
When they congratulated me, I broke into tears. If you see my pictures, I am mostly crying in all of them.
When the judges told that choosing me was a unanimous decision, it was a huge victory for me. Even backstage, the girls told me that I was a true winner and deserved the title.
How are you planning to spend the winning amount on?
Ever since the news is out, my friends have been asking me for a treat. So I will spend a small amount in celebrating with my friends and family.
I intend to use a large part of it to fund the education of at least two deserving kids.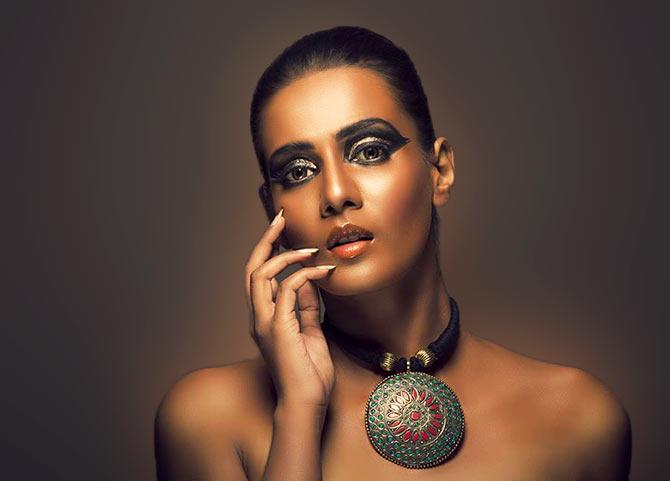 Have you faced any challenging moments in your career?
Frankly speaking, I have not faced many challenges in my journey so far. I have always been directed to the right people in the industry and have got to work with some of the best and most helpful people so far.
When I meet other model friends in the industry and listen to their stories, I feel very fortunate.
What kind of feedback do you get from people when you tell them that you are a model?
Some of my friends still don't believe that I took up modelling so seriously and have come so far.
They know me as a tomboy from school and college. When they see my pictures, some of them tease me that I have become a celebrity. But my friends are chilled out; they give me honest feedback, in fact they are my support system.
How do you stay safe?
I feel every girl has an intuition about what is right and wrong. I follow my intuitions very closely. I don't take up anything unless I am really sure about it.
Would you recommend modelling as a career?
I would recommend modelling, but with a condition. If you want to pursue modelling just for the money, I'd suggest stay out of it.
You have to be really passionate about this profession to survive here. Even after doing so many shows, I feel the adrenaline when the spotlight's on me.
I like the nervousness at the start of the show and the challenge of taking up something new. This energy has to be nurtured every day and it comes only with passion.
Photograph: Kind courtesy Nazeer Adoni
In your opinion, how can a model make a difference to society?
Models can serve a great example to society in many ways. If a popular model leads a cause or takes a positive stand, it will get noticed by common people.
It will get reported by local and national media and the message will spread around.
I strongly believe in the cause of education and social empowerment.
How do you stay fit?
I like to dance. But I don't follow any diet or workout routine. I eat a lot and I don't gym.
I love having brownies; I can have them every day.
How do you de-stress?
Music is my stress buster. I listen to all kinds of music. When I am low, I call up my friends and talk to them; I feel better.
How do you take care of your skin?
I never wore kajal until I took up modelling. In fact it irritates me. I use a normal face wash and to go to bed without any makeup on. I like to be happy and I think that's one way to be pretty.
What have been your greatest life learnings?
From my own experience I have learned that no matter how old you grow, sometimes it's not easy to take independent decisions. People will tell you otherwise. But you have to know the difference between what is right for you and what others think is right for you.
When someone tells you that something you strongly believe in is wrong, you have to work hard to prove them you are right.
Who are your favourite models?
Each one has different qualities and it would be hard to pick one.
A person you admire…
I personally admire Angelina Jolie for her hard work and her confidence.
Your message to our readers
Have your own dream; crave for something new every day.
You have a small life and there is no point cribbing about it. Go ahead and find something to make it beautiful.
What are your future plans?
I will be preparing for Miss Queen of India which is scheduled in April 2016. I also want to pursue acting; I am awaiting a good script.
Photographs: Kind courtesy Meera Mitun