The year 2016 will be all about making a personal style statement with some help from designers.
The country's top designers tell you how to be fashion forward in the New Year.
Going their 'separate' ways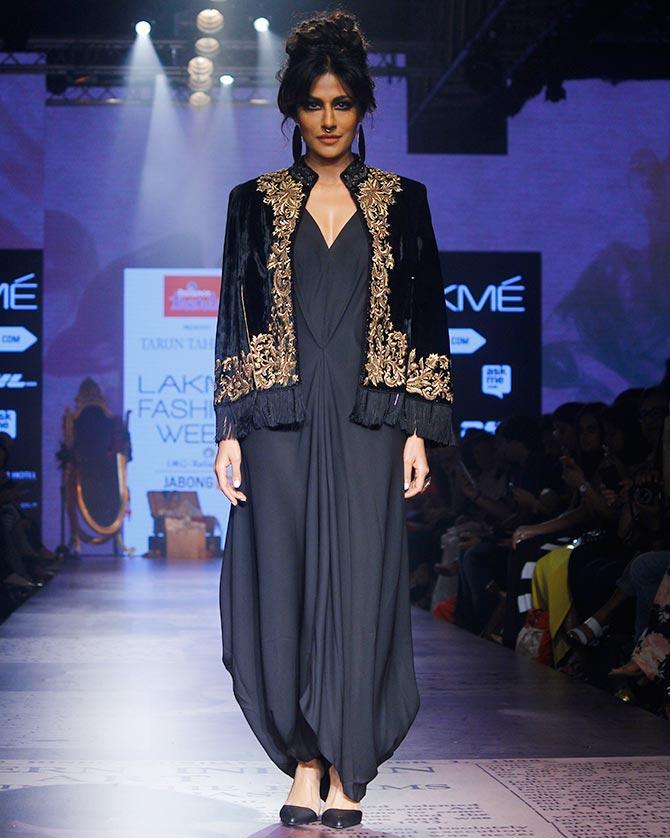 Photograph: Hitesh Harisinghani/Rediff.com
"Easy to wear" and "comfort" will be the fashion buzzwords in 2016.
Keeping that in mind, designers expect "separates" (individual pieces of attire) to become a big trend.
"Separates can be paired with different silhouettes like dhoti pants, lungi skirts, tunics, t-shirts, kurtas and asymmetrical hemlines for fresh and youthful simplicity," says Tarun Tahiliani, who is known for his elaborate drapes and silhouettes.
One separate that stands out, in Tahiliani's opinion, is the gilet.
"Versatile enough to move across continents, the gilet is perfectly at home over pants, a saree or a traditional kurta," he says.
You can hitch up a kurta and wear it with a skirt or palazzos for a western look or with a churidar for an Indian occasion. "I love it for both men and women," says Tahiliani.
Monisha Jaising, known for her reinvention of the desi kurti, rates the jacket as one of the leading trends.
"Along with that, dresses, flares or straight pants will make a perfect style statement in 2016. And so will fringe -- it has been trending for many seasons, but the coming year will see more of fringe on tops, jackets and dresses," she says.
Pops of colour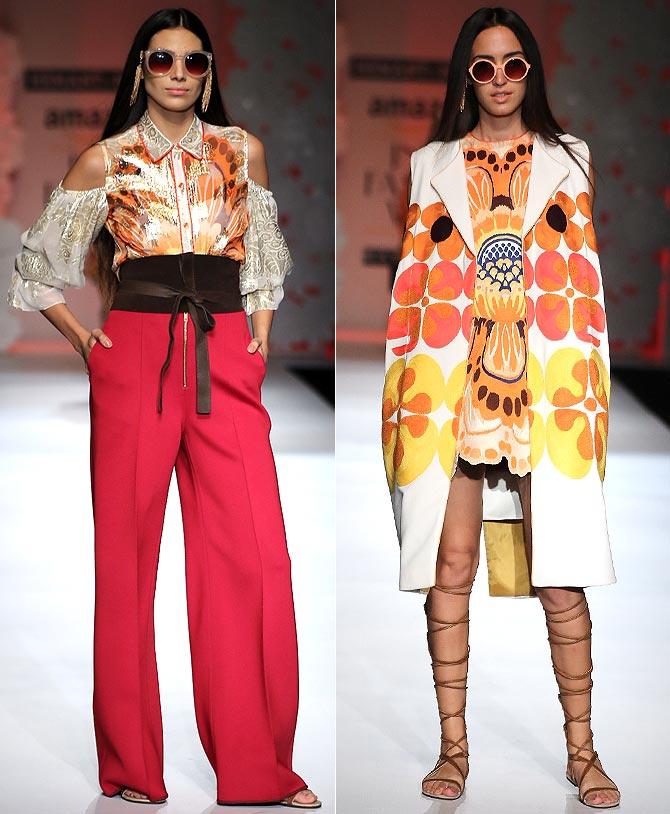 Photograph: Courtesy Amazon India Fashion Week
Bold and bright -- that's the palette theme for the coming year.
Tarun Tahiliani puts the "individual" before the trend and feels that there is no "it" colour; people should only wear what they are confident of carrying off.
However, he does suggest that the palette for Spring Summer 2016, or SS16, will be a burst of colour, ranging from ombres of blues, red pinks and yellows shifting to pastels, whites and ivories. Or, the various hues in the monochromatic spectrum that celebrate the onset of spring.
Bright tones are likely to sparkle in your wardrobe, with pops of orange and yellow shining through.
"Our SS16 collection, 'Summer of '69', has a lot of bright tones and warm hues," says the designer duo of Hemant and Nandita, who are known for embroidered motifs, rich texture treatments and sunny shades.
"We feel that one should celebrate the beautiful colours this year with all the retro pop required for a fun and quirky collection." Jaising, too, feels that colour blocking could be one of the key trends, with solid tones such as lime punch and opal being used.
Handwoven to perfection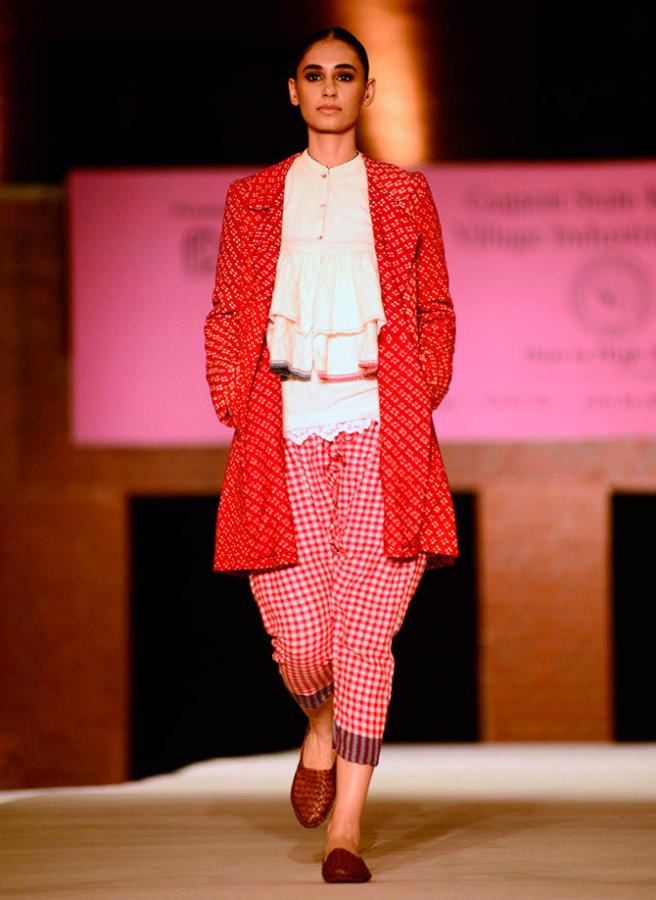 Photograph: Courtesy FDCI
The coming season will be all about sushi voile, georgettes, cotton silks, crepes and cotton jacquards, according to Tahiliani and Hemant and Nandita.
"Handlooms merging with digital prints, garments in light crinkled fabrics with embellished necklines and georgette kurtas with attached drapes are going to work," says Tahiliani.
At Aneeth Arora's brand, Pero, where international aesthetic is interpreted using local materials and skills, handwoven cotton and khadi will be used extensively in 2016.
"You will see handwoven khadi pajama stripes from West Bengal, brocade from Varanasi and crochet, for which we have worked closely with a group of 15 to 20 refugee women from Afghanistan," says Arora.
"The fabrics used are stamped and hand embroidered mulmuls and linens from Bengal, sheer cottons from Chanderi (Madhya Pradesh) and our signature kanni selvedge, which appears on the hems and edges of the garments."
For Jaising, it will be about hand-made lace and nets for summer dresses, halter tops, sheer tops and gowns.
"The 'grandma patchwork' or a mix-and-match of prints and fabrics will also be used extensively," she says.
For shimmer and sparkle, sequin on dresses -- both subtle and dramatic -- will be the in thing.
Keep it loose
Photograph: Courtesy FDCI
This will be the year of the anti-fit. "It's time for comfort clothing," says designer Aneeth Arora.
"People are keeping their look casual with sweatshirts and jumpsuits." Hemant and Nandita concur and add that it's time to go retro with A-line pants or dresses paired with wide belts. "A-line jumpsuits, short dresses and long, straight-fit sleeveless jackets with loose shirt dresses are some of the drool-worthy styles for SS16."
The jumpsuit saree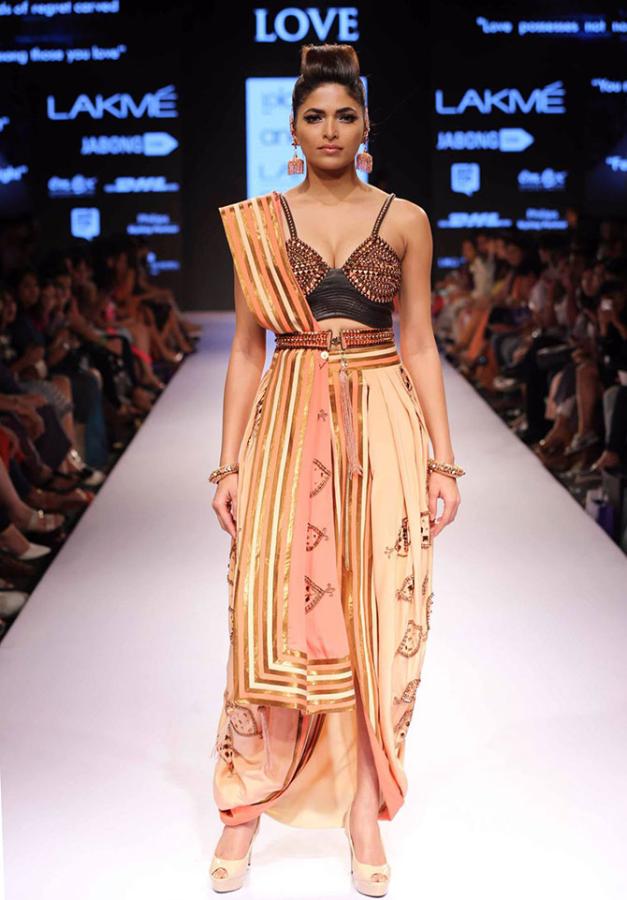 Photograph: FDCI/Facebook
For Tahiliani, there are some new styles that are allowing women to make a strong statement.
His dhoti drape has been a huge hit. It has taken structured draping to a whole new level, enabling men and women to wear silhouettes like never before.
"We also have interesting new drapes in sarees like the dhoti saree, concept saree, cocktail saree and now, the jumpsuit saree, which is for the modern Indian woman who is aware of her traditions, yet has a strong individual style," he says.
Desi reinvention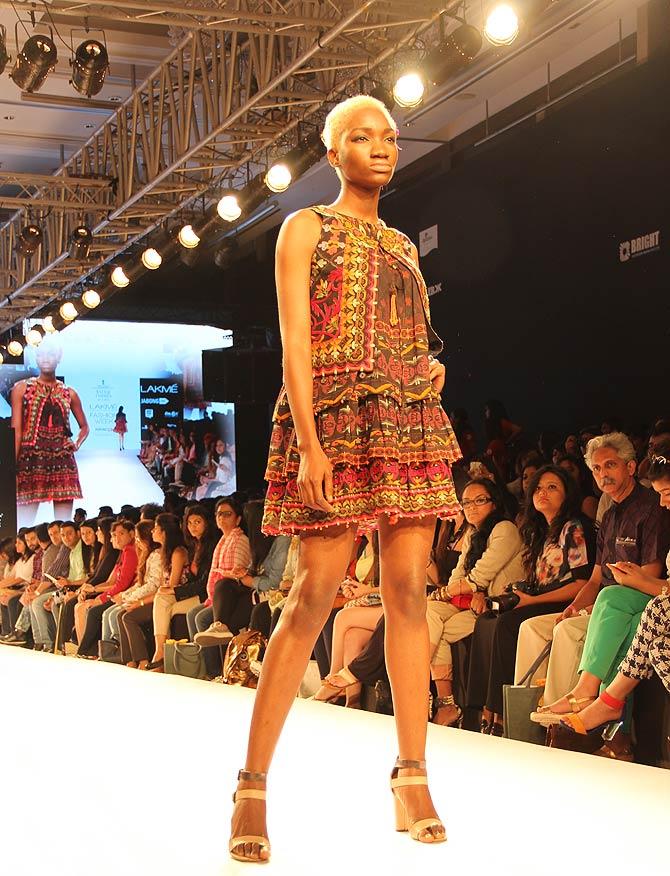 Photograph: Uttam Ghosh/Rediff.com
For Malini Agarwal, founder and blogger-in-chief, MissMalini Media, 2015 set the stage for some incredible developments in Indian fashion.
It saw designers like Rajesh Pratap Singh, Anavila, Abraham & Thakore and Sanjay Garg play with traditional techniques and textiles and present them in a new light.
"So, 2016 will be the year for strong desi reinvention in the way we see and consume Indian embroidery, handicrafts and textile weaves," she says.
Athleisure, which is a new style of designer-wear for athletic workouts, will also evolve further in the coming year.
"It has been a strong fashion influence, and in 2016 we are hoping to see it grow with a stronger edge and fresh innovation -- maybe even with a hint of a boho-chic vibe," says Agarwal.