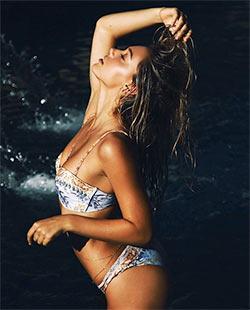 Believe us or not, Alexis Ren is a sheer treat to the eyes.
This young beauty from California has become the new internet celebrity and how.
With over six million followers on her Instagram page, the gorgeous Alexis Ren, 19, according to several websites, including Mirror UK, is being touted as the 'Queen of Instagram'.
Ren is inspired by Victoria's Secret model Gigi Hadid. And her dream is to get featured in the Sports Illustrated Swimsuit magazine.
Presenting 15 pictures that reveal why she's the girl of the moment.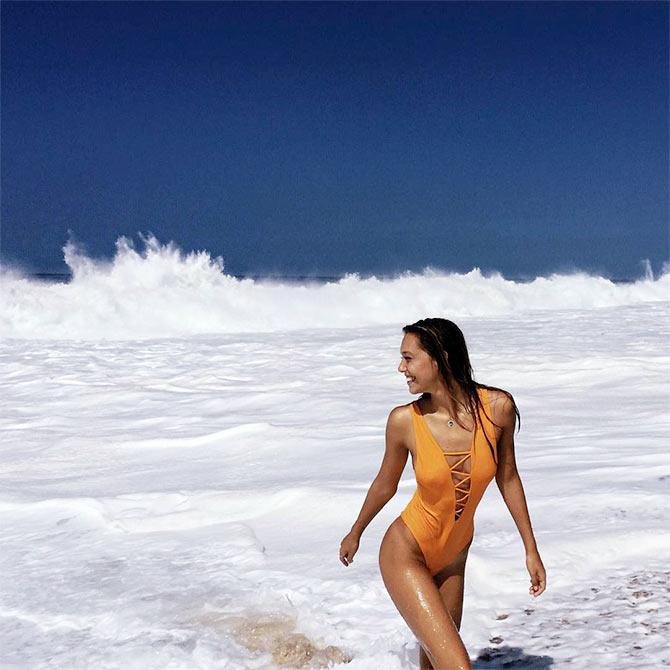 IMAGE: A water baby, Alexis loves to soak in the sea. Her tangerine cut-out swimsuit certainly stands out in the sun. All photographs: Kind courtesy Alexis Ren/Instagram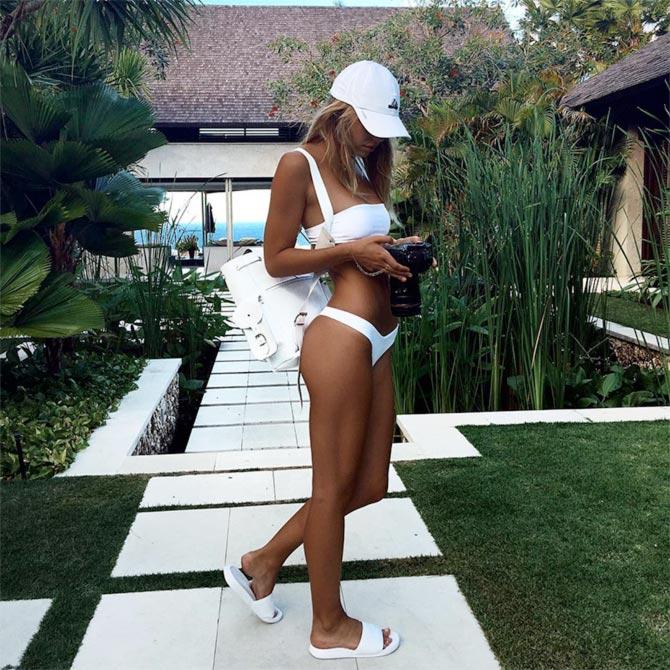 IMAGE: An avid photographer, she can often be found capturing 'golden' moments in her camera.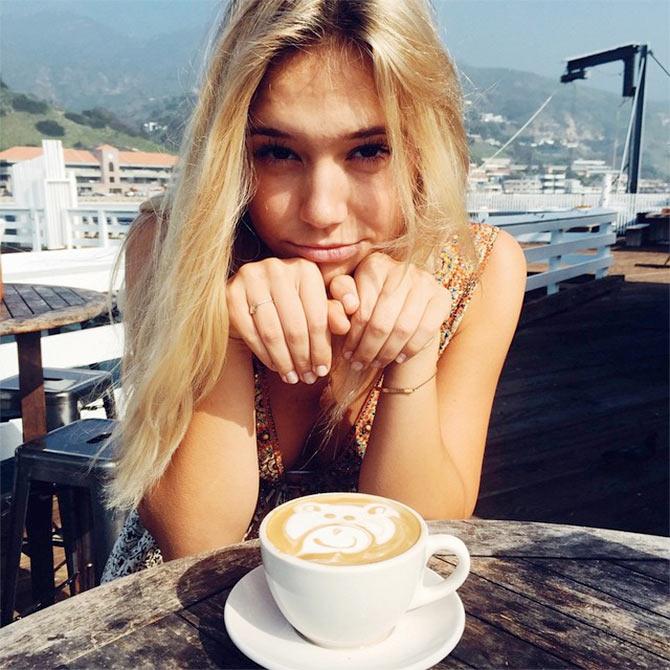 IMAGE: A cup of coffee every morning brings out her cuteness. Don't miss that adorable look on her face.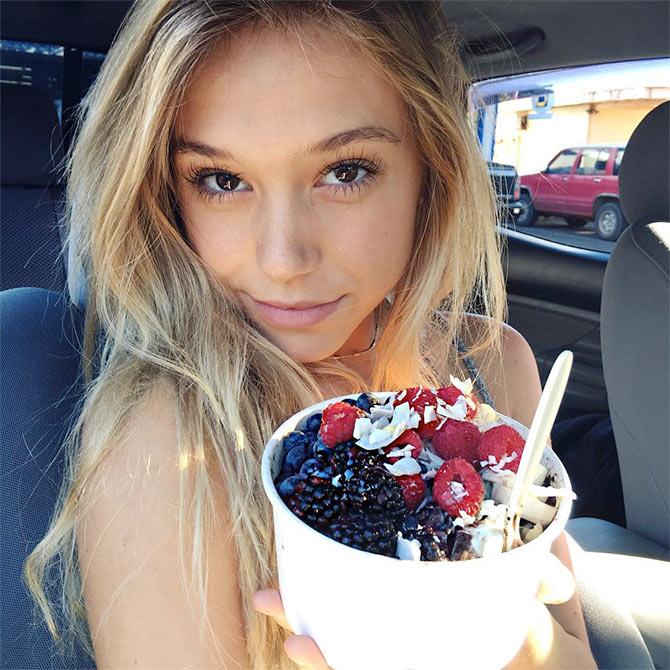 IMAGE: Never skip your breakfast, she seems to be telling here. Her bowl packs in plenty of nutrition and looks inviting.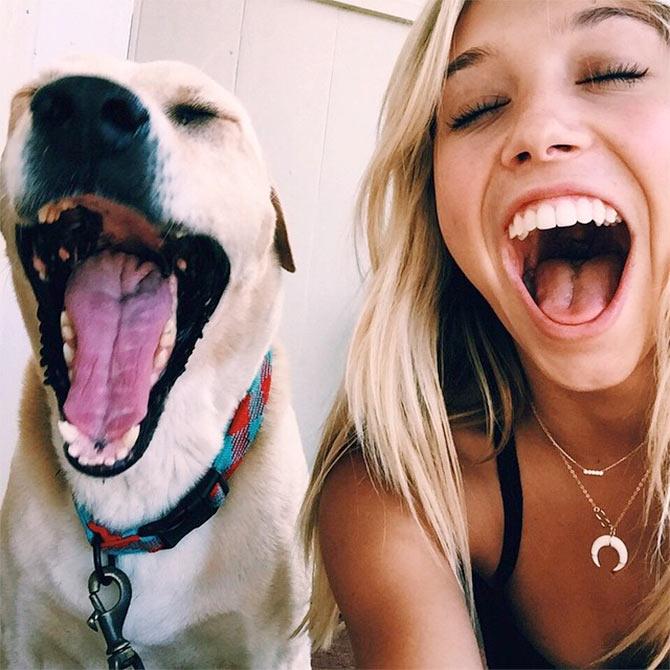 IMAGE: Those who stay together, yawn together. See how Alexis clicks this fun moment with her pet. #Adorable!
IMAGE: She enjoys whiling away time skating

along

the street that runs parallel to the

beach

.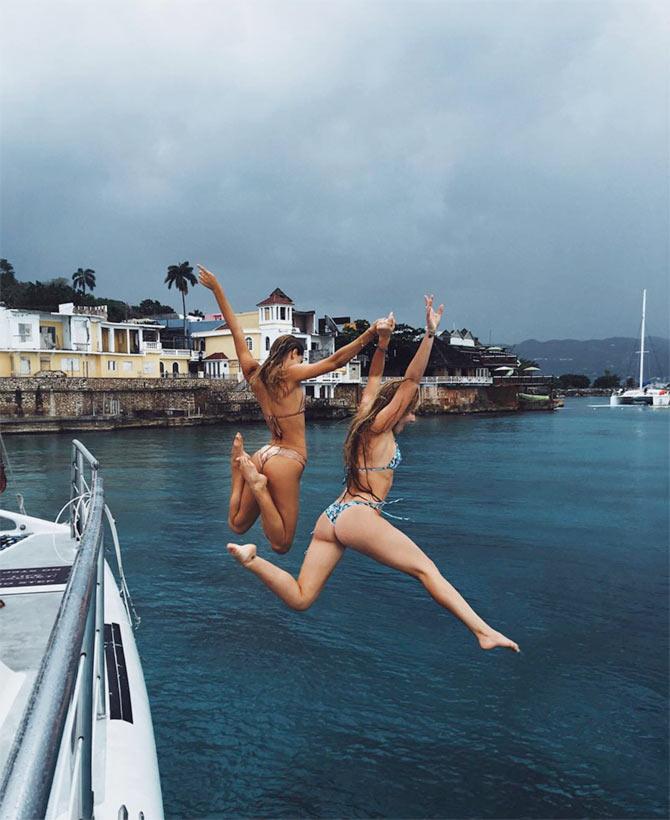 IMAGE: What's life without some excitement! Alexis, left, jumps off a yacht with one of her friends.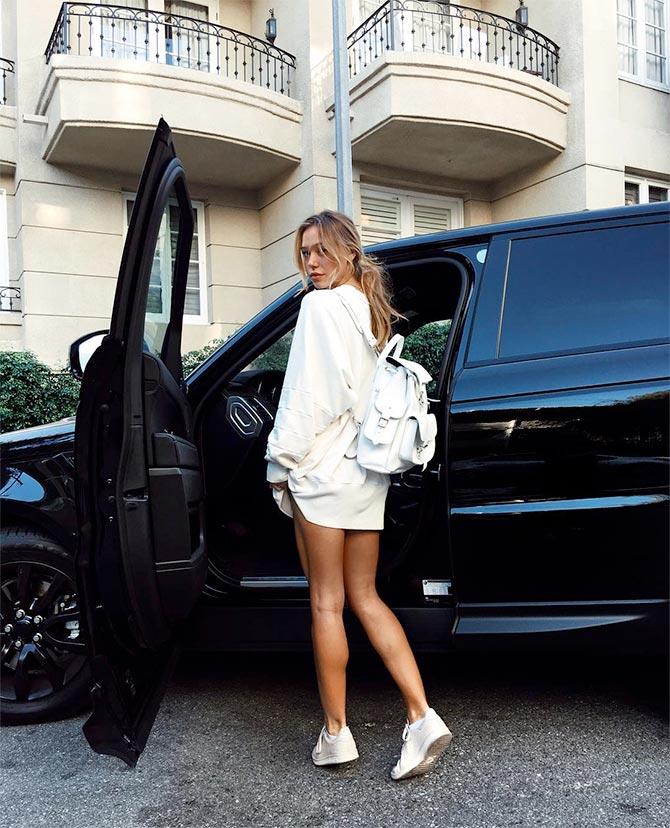 IMAGE: Captioning this picture 'Be my ride or die', aptly shows her keen interest in driving around the city in luxe cars.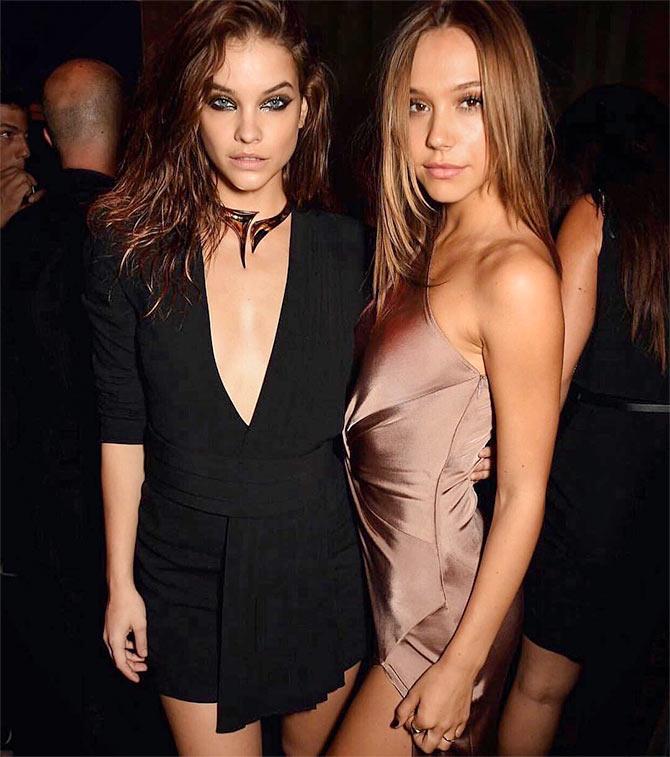 IMAGE: Although a newbie in the world of modelling, Alexis, right, is pretty well-connected. Here she poses with Hungarian model and actor Barbara Palvin.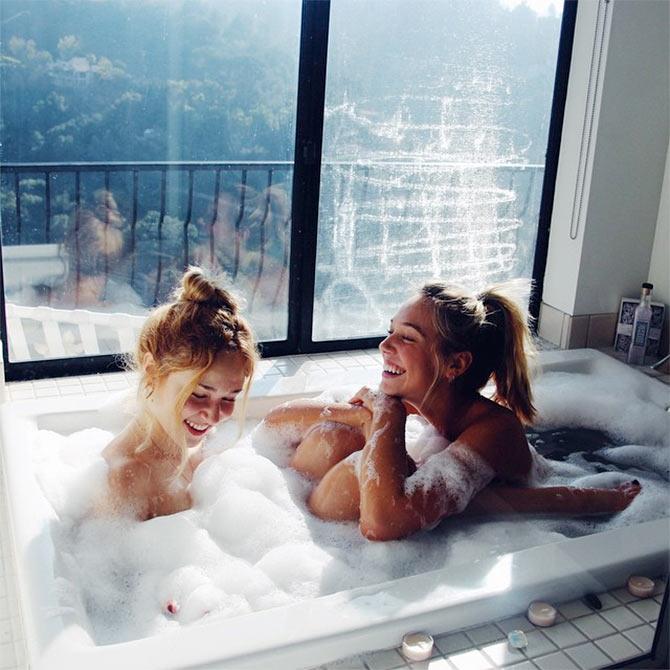 IMAGE: Amidst all the glitz and glam, this young girl never forgets to catch up with her bestie Alexandra Michelle, left, over a bubble bath. #SoCool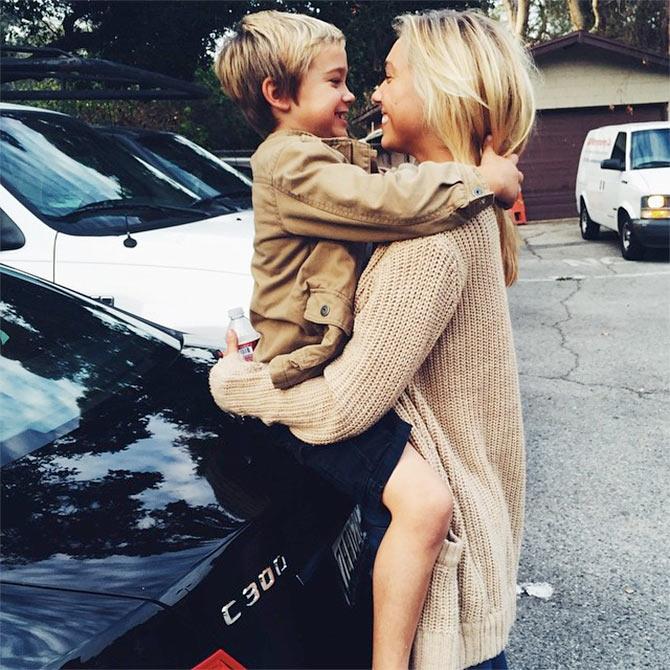 IMAGE: Sharing an adorable bond with her toddler brother, she posted this picture in the memory of her mother. Alexis captioned 'There's no better way to spend this day than at our childhood park with our favourite little monkey. RIP mama we love you'.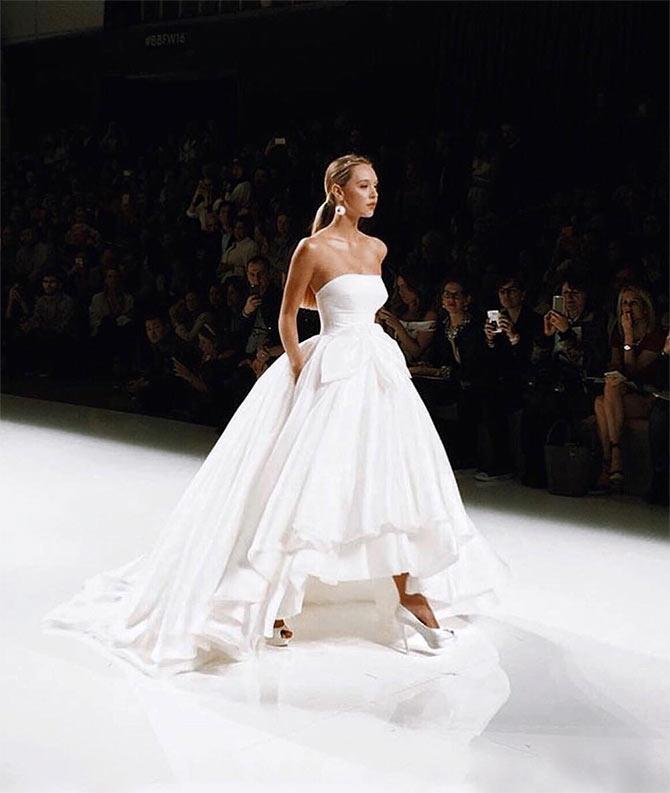 IMAGE: She might be a newcomer, but she already knows how to work her magic on the runway like a pro. Donning a Rosa Clara floor-scraping white gown, she looks nothing less than a princess. #SimplyWOW
IMAGE: Besides the ramp, she has also done several fashion shoots. In the picture above, Alexis models for a lingerie brand in the United States.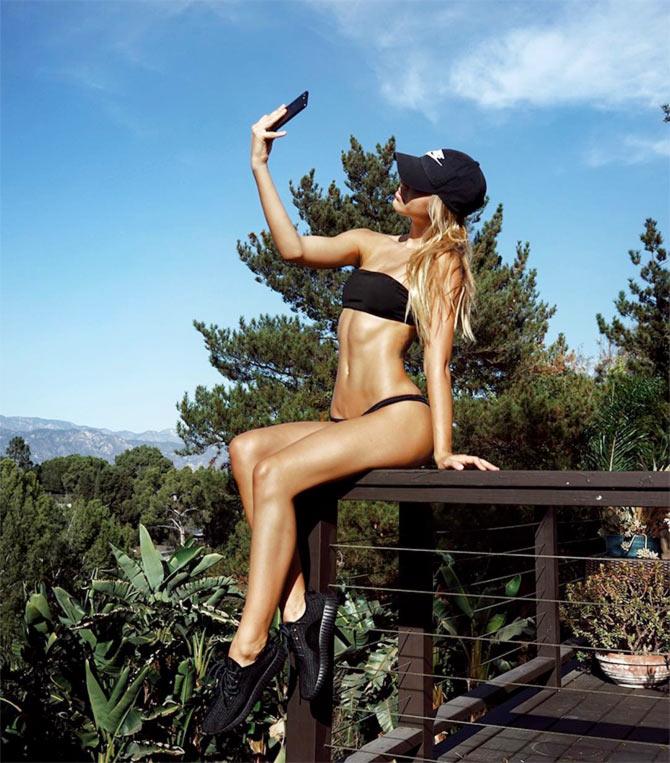 IMAGE: Between all the fun and work, there's always time for a H-A-W-T selfie!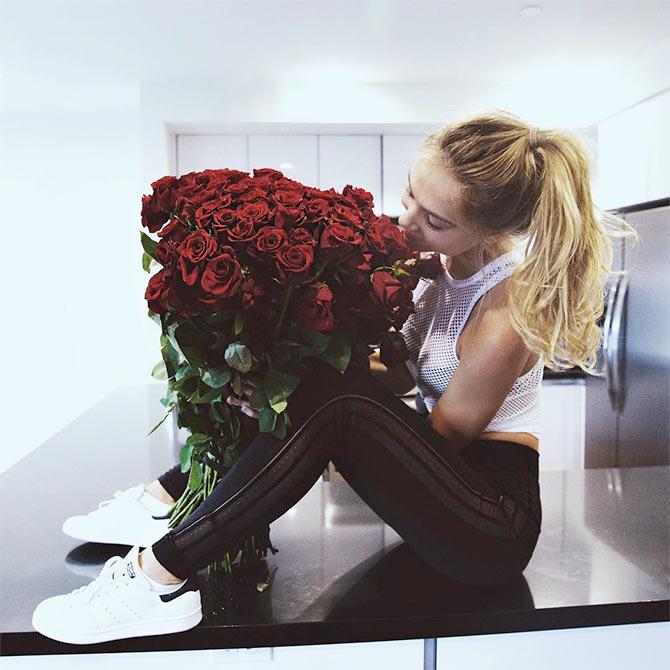 IMAGE: Want to make her day? Send her a bouquet of red roses :)