As the world celebrates International Yoga Day, we bring some of the hottest celebrities who turn to yoga to keep themselves in shape.
Take a look!
Bipasha Basu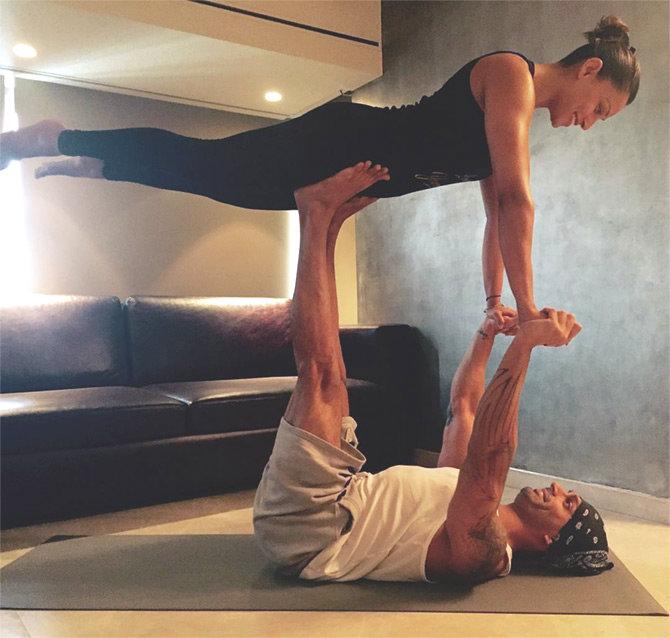 IMAGE: Newly wed couple Bipasha Basu and Karan Singh Grover define cuteness as they give us serious fitness goals. For those who don't know, model turned actor Bipasha is a huge fan of yoga, and post marriage, we caught her doing a bird pose with hubby Karan. Photograph: Kind Courtesy Bipasha Basu/Instagram
Reese Witherspoon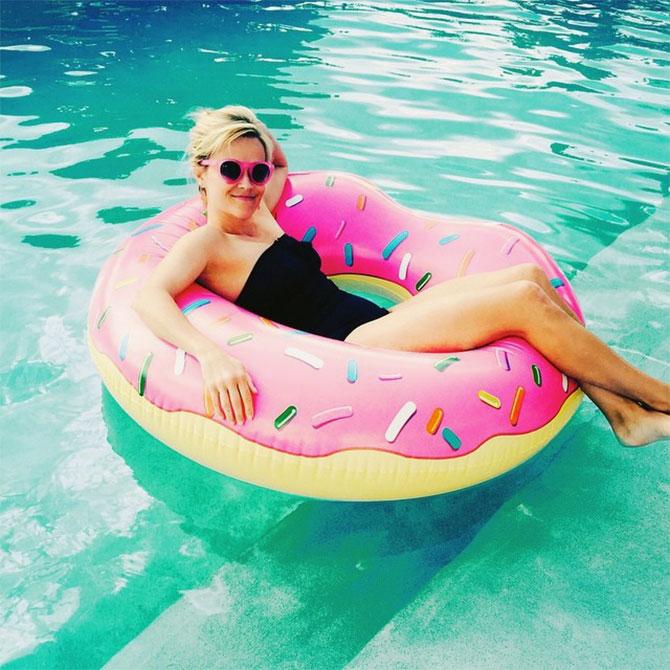 IMAGE:

Curious to know how she manages to look so fab? Reese Witherspoon practices yoga three times a week, for 90 minutes each day. To keep the sessions interesting there is rock, pop and hip-hop music played during the class. Sounds like a lot of fun while doing yoga, doesn't it?

Photograph: Kind Courtesy Reese Witherspoon/Instagram
Miranda Kerr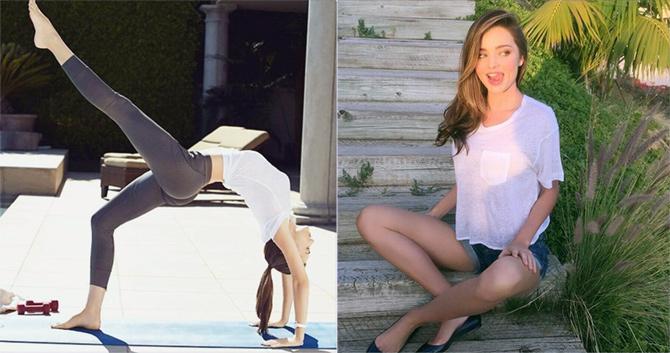 IMAGE: All credit for her slender frame goes to yoga. Miranda Kerr enjoys doing Kundalini, a form of yoga, along with chanting and meditation. Photograph: Kind Courtesy Miranda Kerr/Instagram
Shilpa Shetty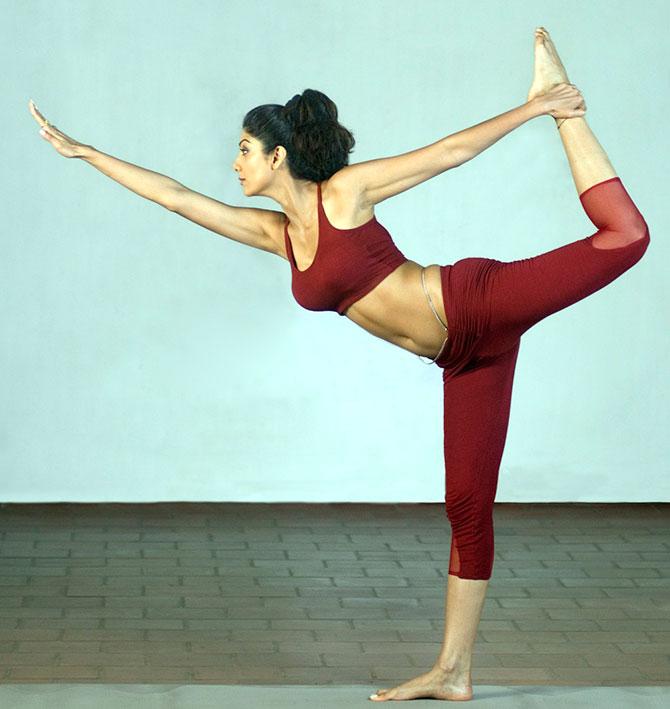 IMAGE: Yoga is a "lifestyle choice" for Shilpa Shetty who has also launched a yoga DVD. Photograph:

Shilpa Shetty performing Natarajasana in her yoga DVD (Image Courtesy: Dale Bhagwagar Media Group)
Malaika Arora Khan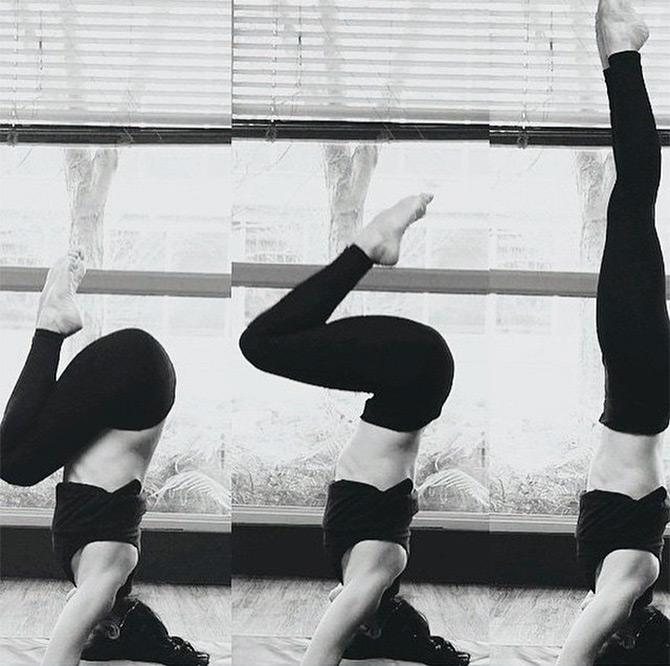 IMAGE: A self-confessed yoga junkie, she practices yoga thrice a week, with functional training and Pilates on the other days. One, two, three and there she goes again! Malaika Arora Khan does a

Sirsasana (head stand) so effortlessly. Oh! How we envy her.

Photograph: Kind Courtesy Malaika Arora Khan/Instagram
Gisele Bundchen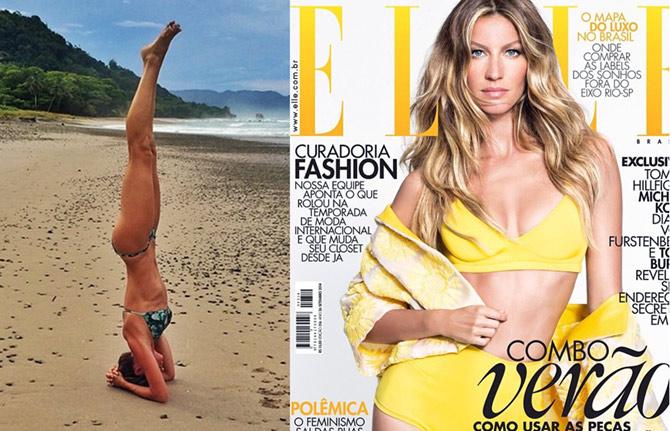 IMAGE: Brazilian supermodel Gisele Bundchen loves yoga and meditation. And has got her children addicted to it too!

Giselle does an hour of Anusara yoga in the mornings, which helps her emotionally and physically. Take a look at the next picture.

Photograph: Kind Courtesy Gisele Bundchen/Instagram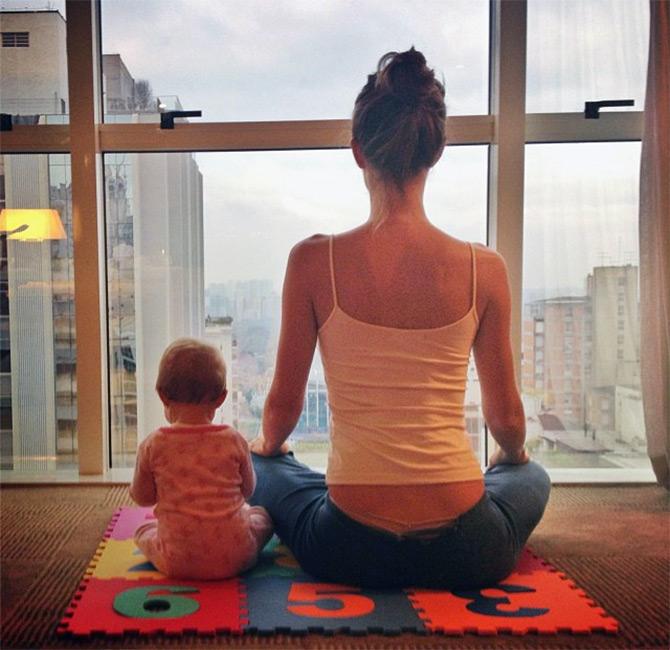 IMAGE: Such an adorable photo of Gisele Bundchen doing yoga with her little one, isn't it? Photograph: Kind Courtesy Gisele Bundchen/Instagram
Candice Swanepoel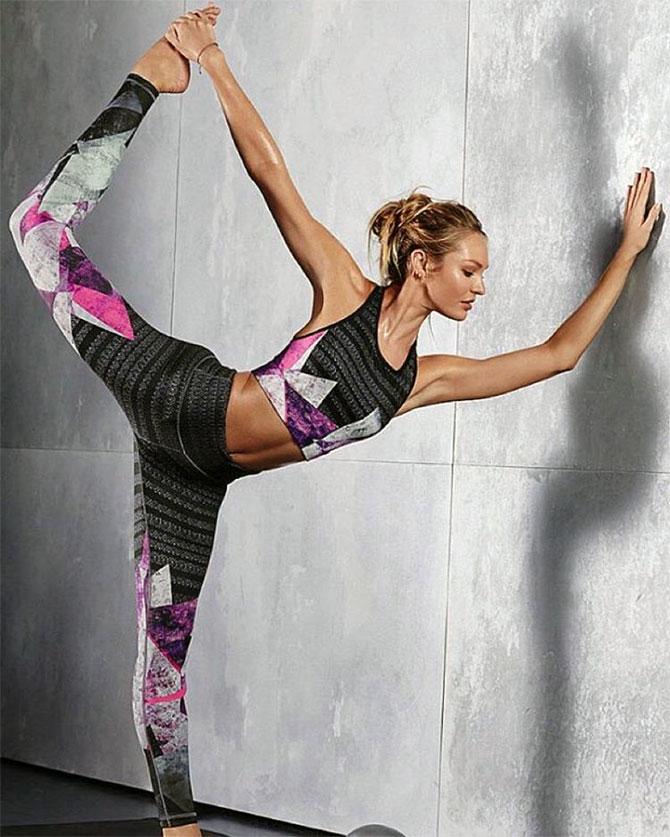 IMAGE: Now that's a stretch we would all love to do! Candice Swanepoel does different types of yoga to stay fit including aerial yoga, isn't that interesting? Photograph: Kind Courtesy

Candice Swanepoel/Instagram



Bar Refaeli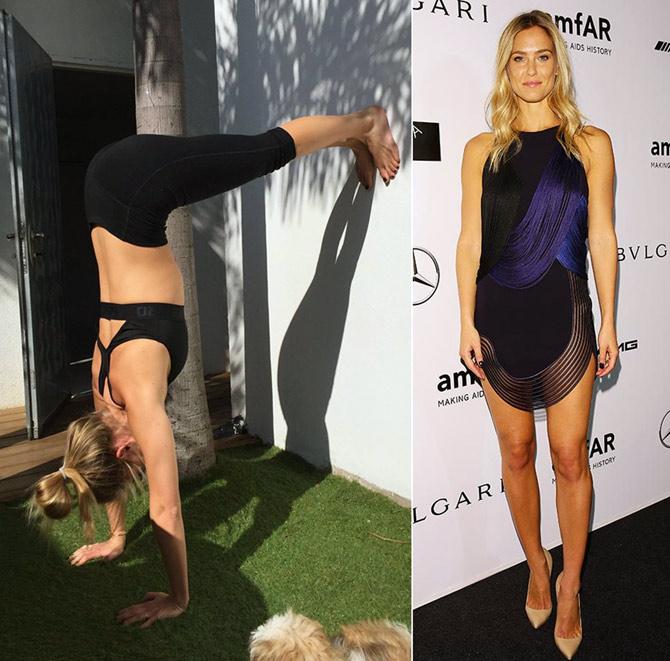 IMAGE: Israeli model Bar Refaeli maintains her bikini bod with regular yoga sessions. This model starts her mornings with stretches and has been promoting various yoga moves on Instagram too. Photograph: Kind Courtesy Bar Refaeli/Instagram
Alessandra Ambrosio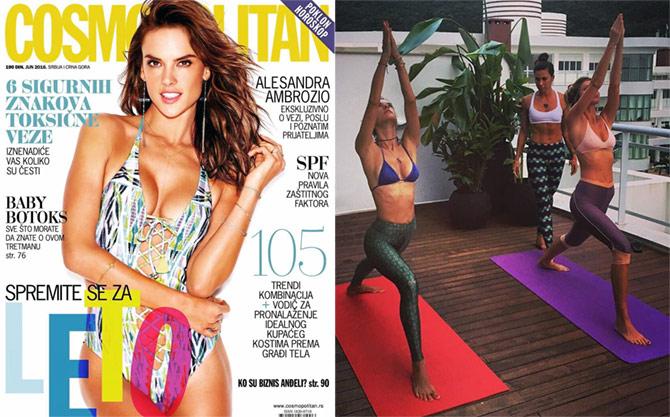 IMAGE: The secret behind Alessandra Ambrosio's gorgeous cover-ready figure is yoga. And the model makes no bones about her love for yoga. She tries to do yoga at least twice a week and has been taking her family to yoga class too! Photograph: Kind Courtesy Alessandra Ambrosio/Instagram
Jennifer Aniston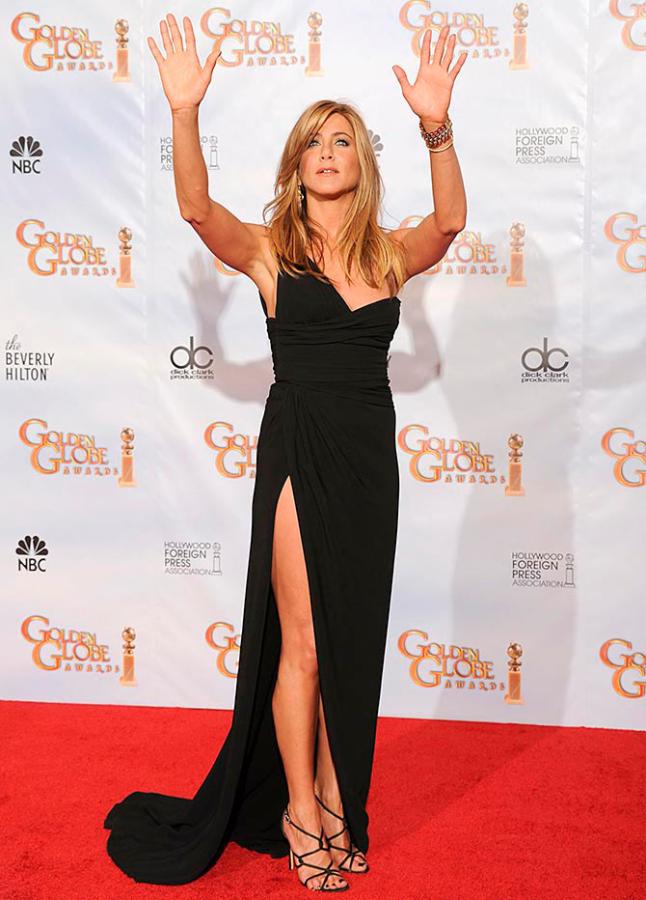 IMAGE: Jennifer Aniston has often confessed that yoga has helped "calm her mind" and "changed her life". She has been doing yoga for years and has also encouraged hubby Justin Theroux to join her. Photograph: Courtesy Kevin Winter/Getty Images
Miley Cyrus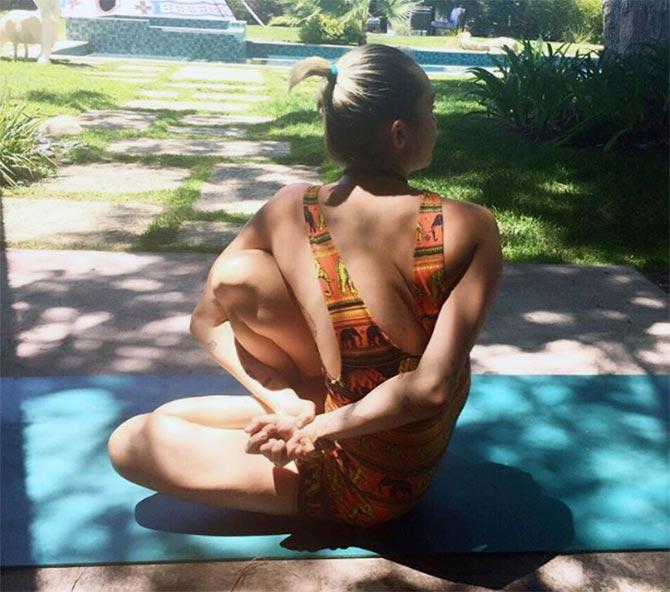 IMAGE:

Singer

Miley Cyrus has s

uch impressive flexibility thanks to yoga. She is an advanced practitioner of yoga and can do poses like Sirsasana (headstand) and Uttanasana (intense forward bending pose) with such ease.

Photograph: Kind Courtesy Miley Cyrus/Instagram
Lindsay Lohan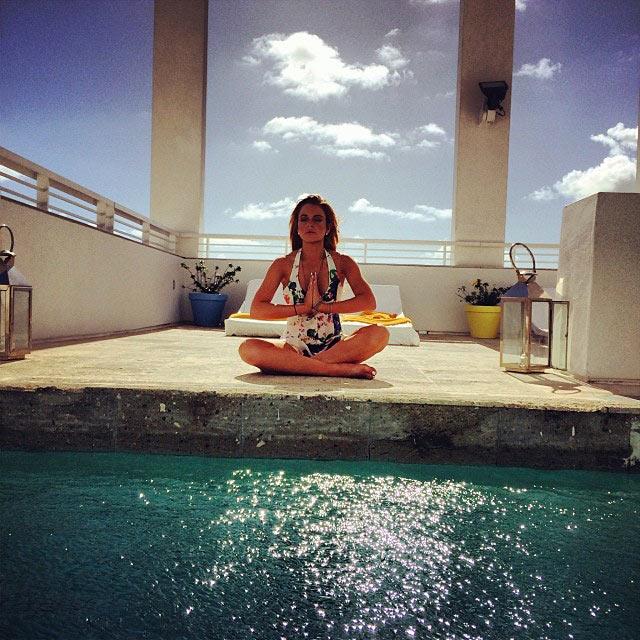 IMAGE: The gorgeous Lindsay Lohan does yoga by the pool. It's 'erotic' yoga -- a combination of pole dancing with pilates and yoga -- that keeps her fit. Photograph: Kind Courtesy Lindsay Lohan/Instagram
Drew Barrymore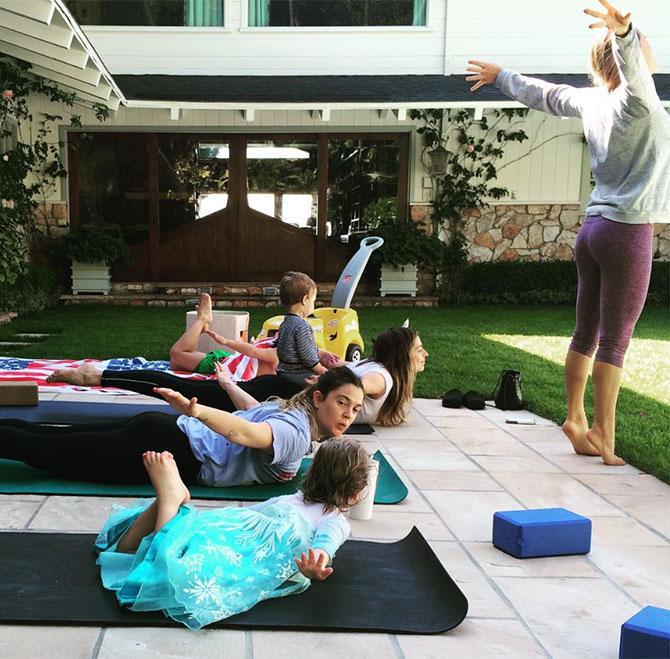 x
IMAGE: "

Princess Elsa came to our mother daughter yoga class. #magicdays #iloveolive," Drew Barrymore captioned this picture of her doing yoga with her little girl.

Photograph: Kind Courtesy Drew Barrymore/Instagram
Ellie Goulding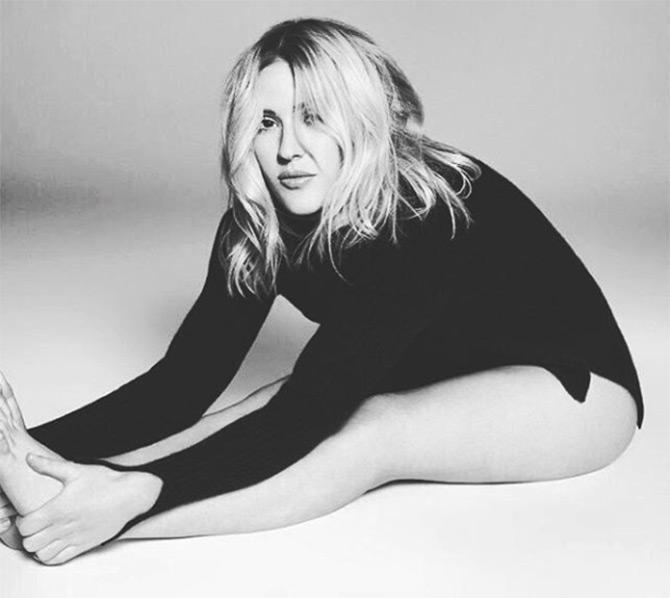 IMAGE: Wonder how easily

singer

Ellie Goulding

can touch her toes? Well, she is addicted to yoga!

Photograph: Kind Courtesy Ellie Goulding/Instagram
Jennifer Lopez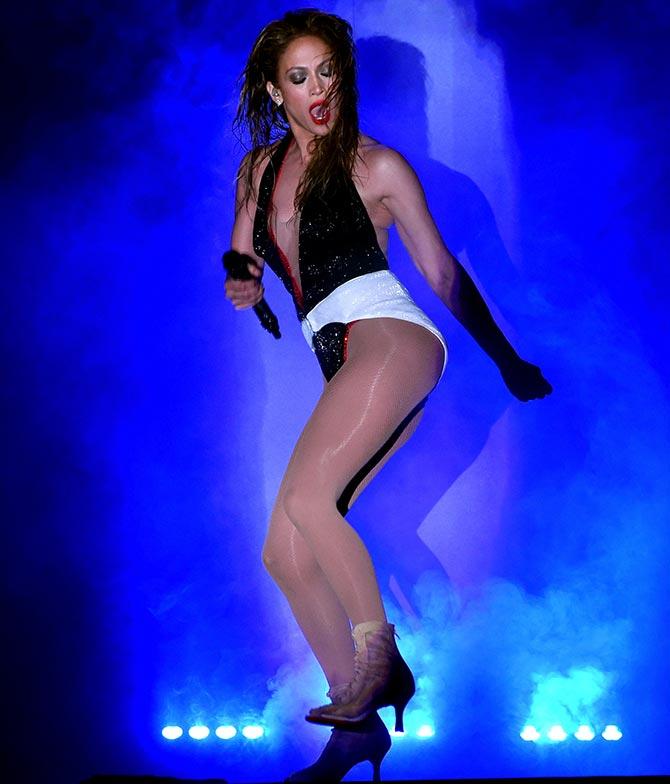 IMAGE: Want a figure like that, then it's time to roll out your yoga mats and get started. Singer Jennifer Lopez is a die-hard yoga fan and credits her figure to many yoga sessions. Photograph:

Kevin Winter/Getty Images
ALSO SEE: Quiz can you identify these yoga poses?