Rediff.com's Rajesh Karkera meets model Arjun Zander, who is now poised for something as big as Milan Fashion Week.
In case you missed it: Meet Kiyara. She could be the next Kendall Jenner!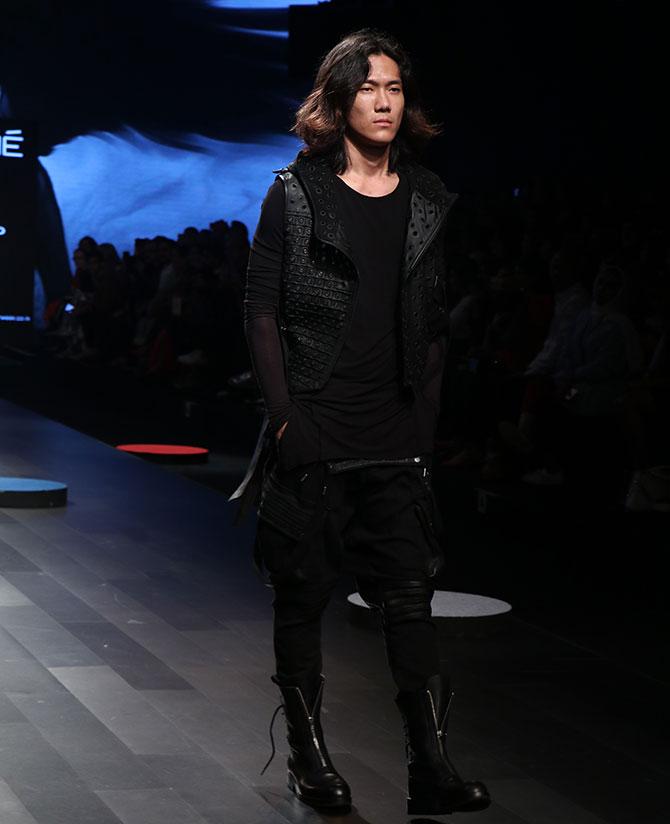 Photograph: Hitesh Harisinghani/Rediff.com
Arjun Zander is from Pokhra in Nepal. But for the last 5 to 6 years he has called India his home.
This is where he found his career as a model.
And the 22 year old, who has been part of the modeling pool at Lakme Fashion Week for some years, is now poised for something bigger.
How do you find Lakme?
Everything has to be perfect at Lakme as there are back-to-back shows. Everyone has to be punctual here. So, we have to finalise everything much in advance.
The rehearsals also are a rush, so we have to go with the flow.
Who is your lifeline in a high pressure situation like a fashion week?
It's a team effort and all who are part of it are lifelines -- even the cleaner who cleans the ramp. Imagine if the ramp is not clean and a model falls because of it? All are equally important.
What made you choose modeling as a career?
When I started, I had no idea about modeling being a career.
In my struggling days of modeling, by luck, one guy introduced me to Deepak Badhwar, who saw great potential in me and introduced me to designer Varun Bahl. He gave me my fist big show at a Raymonds show in 2015.
My career changed from that show. My first big break came because of Varun Bahl show. I am very thankful to all of them.
Did you undergo any training?
No. Life experience is better than anything else.
How do you keep fit?
I don't get time to work out every day so I have to eat right.
I run whenever I get time. Doesn't matter where. I just run. I do cardio exercises myself [without a trainer].
This I think is the easiest way to keep yourself fit. This, one can do anywhere anytime.
Is it difficult for male models to get as much coverage as female models?
Unfortunately, it's true it's difficult to get coverage for male models when compared to female models. And the reason is very simple. Fashion was supposed to be for girls.
It is only recently that you see male pool models at fashion weeks in India.
But trends are changing now; even male models or male artists have a fan base now (smiles).
What are the problems a male model faces?
Love (smiles).
Problems are everywhere. But like my mentor says, 'Why think about problems and waste energy when you can just solve them and create your own path of success?'
Male or female, as models we all face the same problems but once we get the right mentor or someone who gives us positive vibes we start searching for solutions more and become happy.
Speaking of mentors, is there any Indian model who is your icon?
All my model friends are my icons. Everyday we learn something from each other.
Making someone an icon is like limiting yourself. You just want to be like them not better than them.
If you really want to be an inspiration to others, don't make people into icons; it limits your vision.
What's missing in men's fashion in India?
We need more men to come out and start dressing like it's their day.
There is still something in people's minds that stops them from experimenting with different colors or design.
Fashion is not about going west, following European or US trends. We have our own culture and we have our own fashion statement. We just need to feel comfortable in what we wear and we must know how to carry it.
What do you want to see in women's fashion in India?
In India, all women are fashionable. They really dress well be it in a remote village or a high tech city.
What I really want to see is some cool accessories.
Which do you think is India's most fashion conscious city?
I believe all cities have fashion in them. It's just individual preferences. For me, Delhi is for fashion and Mumbai is for Bollywood.
Ramp walks or photo shoots, which gives you a bigger thrill?
When it comes to photo shoots I am very choosy about the team because every photographer can't shoot me.
So far, my best pictures [in my view] have been shot by Jaf Jafri and Olya Milentis. They know my angles, my style.
There are also some young photographer friends who always take my photos and I love it.
But the walk is what makes me feel like a king (smiles)!
What's your dream fashion week then: New York, London, Paris, or Milan [the big four of the fashion world]?
I already have offers for Milan Fashion Week.
I think for me Milan and Paris [are on top of the list]. But we are humans; we want it all (laughs).
If not a model, what would you be?
After some time, when my career as a model is over, I will be a businessman. I will do a business related to fashion.
Zander's style checklist
Photograph: Rajesh Karkera/Rediff.com
What are the must have accessories for men?
I love a good watch as an accessory.
Belts and chains.
At times, I prefer a hat.
Oh! Actually I love bags of It's Me and their dairies. I always keep one with me to write in.
How does on pick the perfect shirt and the perfect pair of trousers?
How comfortable are the trousers or the shirt?
Is it your color?
Are you able to carry it off?
If yes, it's your perfect pick. These three points are very important for me.
Your favorite shopping destinations in india?
I love to shop from good places, but not because you can't find good things in local markets. It's just that I feel more comfortable when I shop in nice places with good atmosphere. And you can get that in designer stores.
Recommended for you: Is she tomorrow's Bollywood star?