From using vegan leather, non-biodegradable plastic and discarded fabric to empowering artisans, designers across the country are moving towards sustainable and ethical fashion practices, writes Avantika Bhuyan.
Heirloom traditions
Grassroot by Anita Dongre seeks to provide steady opportunities and fair wages to India's skilled artisans.
Inspired by the villages that have been a cradle for these crafts for centuries, the outfits are created from handwoven and embroidered fabrics in natural dyes like indigo, madder red and charcoal black.
The colours, too, draw from nature: the blues from the Narmada and the pinks from the Thar sunset.
Age-old techniques, such as the handwoven bhojudi, used by artisans for the past 500 years, are employed. It takes months to create this fabric.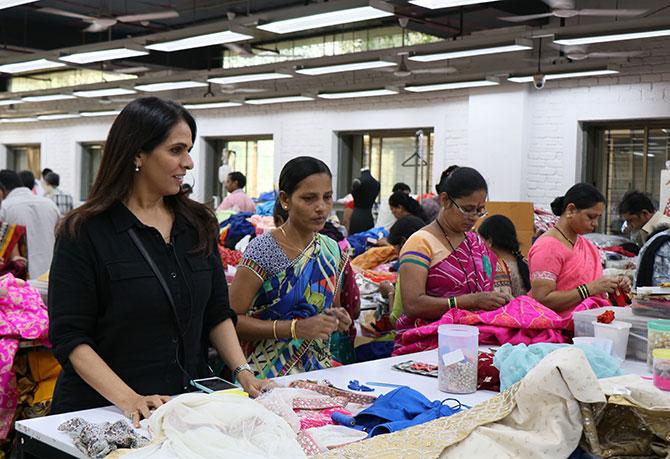 ---
Vegan shoes, anyone?
Kanabis is a one-of-its-kind Peta-approved vegan footwear for women.
According to its founder, Devika Srimal Bapna, canvas - one of the core materials - was historically made from cannabis, hence the brand's name.
High-quality materials such as fabrics, jute, lace, straw and other leather substitutes are used in sneakers, flats, pumps, boots and wedges, keeping compassion for animals as a core value of the business.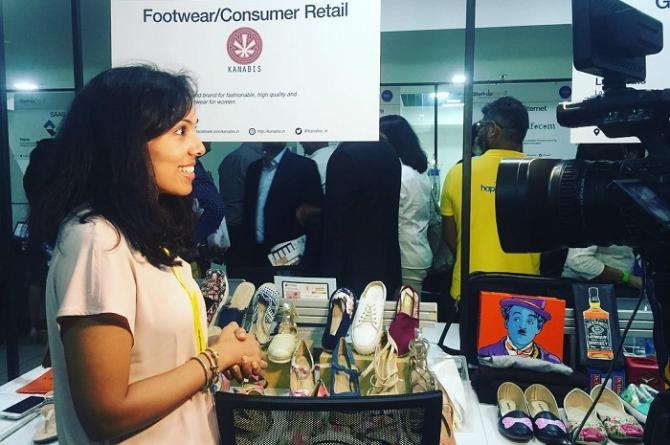 Devika Srimal Bapna of Kanabis.
Photograph: kanabis - Instagram
---
Move to soybean protein
Ritu Kumar has been at the forefront of the handloom revival movement in the country and her latest collection reflects this effort.
Her saris feature weaves in natural soybean protein fibre that has a silky smooth texture. One can see influences of the traditional Shibori resist dyeing technique and tribal prints.
'For a collection to be sustainable, the basics have to be natural, preferably involving processes such as hand spinning or handwork by artisans,' says Kumar.
---
Plastic in your bag
At Urmi, 750 to 800 gm of non-biodegradable plastic waste is used to make a single tote bag, with the straps made of vegan leather.
'We also empower women weavers from insurgent areas in and around Coimbatore. Each is trained by us to create the handwoven bags being retailed today,' says Kavitha Chandran, entrepreneur and revivalist.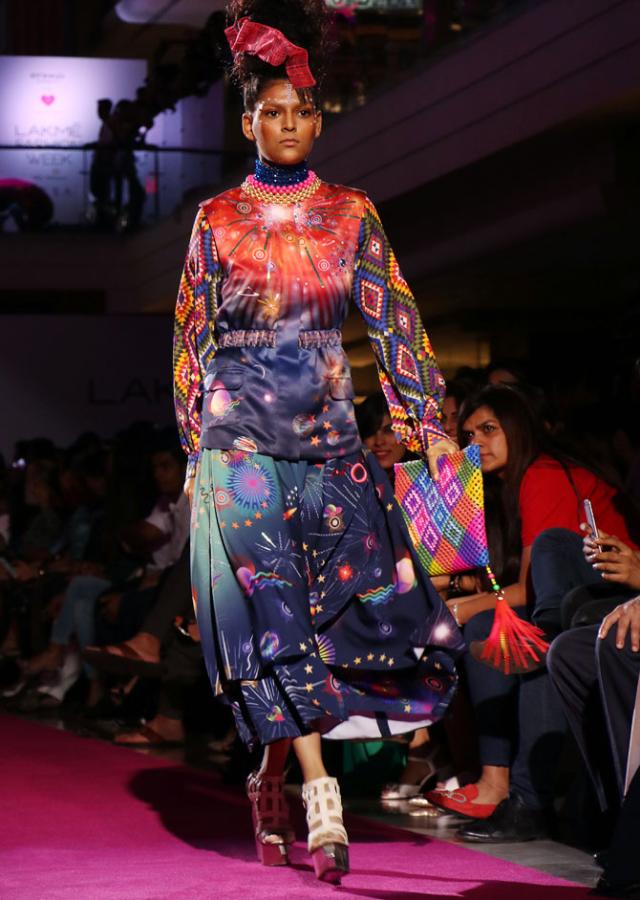 Urmi bags made their Paris Fashion Week debut in 2017 with Manish Arora's Cosmic Love collection.
In case you missed it: Cosmic love in Mumbai
Photograph: Hitesh Harisinghani/Rediff.com.
---
Eco-chic
A unique up-cycling brand, Doodlage, has recently introduced collections in eco-friendly textiles such as organic cotton, corn fabric and banana fabric. However, its main source of fabric is leftover or quality discarded textile from large manufacturers.
'According to estimates last arrived at in 2010, about 40 billion square metres of leftover fabric and scrap is created every year,' says Kriti Tula, the label's co-founder.
To reverse this colossal wastage, Doodlage aims at creating a zero-waste brand using techniques such as zero-waste patterns and patchwork.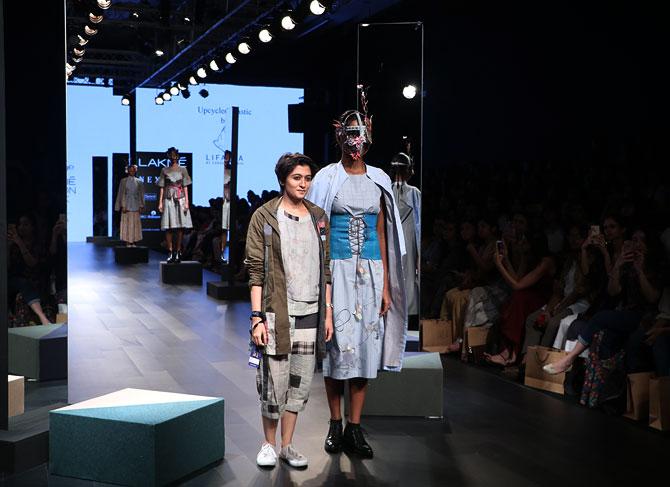 ---
Style and sensibility
Anavila Misra's eponymous label is known not just for exquisite sari drapes, but also for making use of sustainable fabrics like organic cotton, silk and wool that are responsibly sourced, processed and woven with handlooms.