It's not her sister Rhea Kapoor!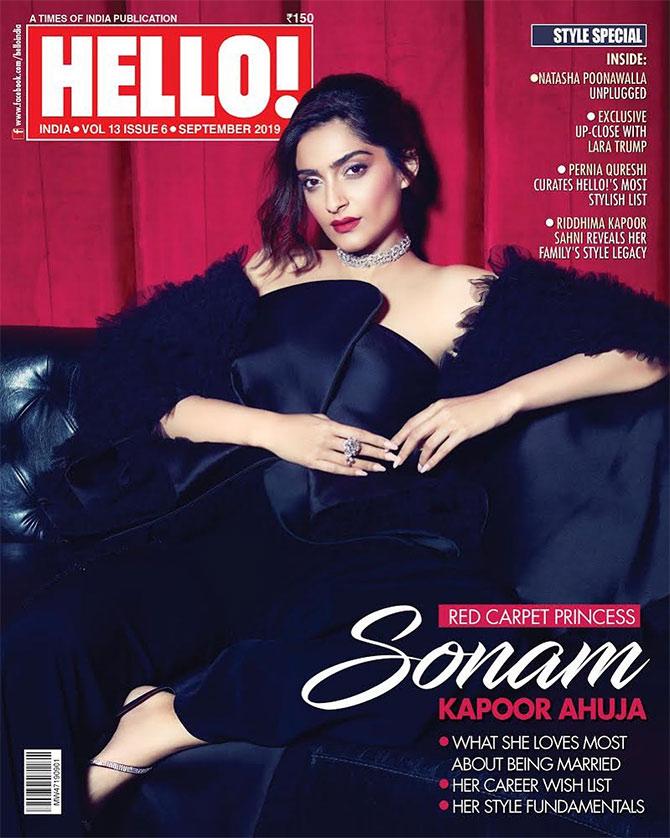 Sonam Kapoor Ahuja cut a classy figure on the cover of Hello! mag's September 2019 issue.
Dressed in a black classic jumpsuit, the actor was all grace and poise.
She completed the look with a ruffled cape from Azzi & Osta, along with a classic diamond choker and a ring from ZOYA.
Keeping her fashion game on, Sonam commanded attention on the cover, which has been styled by Sonam Poladia and photographed by Jatin Kampani.
In an interview with the mag, she has spoken about what she loves the most about being married, her style and career.
'I am basically living between London, Delhi and Dubai, but I have always been travelling, since age 17, so life after marriage hasn't changed that much. Yes, having a home in each city, is stabilising,' she revealed.
Talking about the one who inspires her style statement, Sonam added that she draws inspiration from her mother and aunt.
'My personal style is that of a Gemini. I dress according to my moods and the person who is inhabiting me at that point.'
She added: 'My favourite fashion icons are my mother and masi. My style has evolved with age.
'I look at myself everyday and I know that I love myself. And I feel that every boy and girl should feel that way about themselves.'
Scroll down to take a look at the other pics from the cover shoot.