It has been rumoured that the singer has already spent $53,000 on her maternity style.
Beyonce has taken to Instagram to post her maternity pics and we can't help but notice how much effort is going into planning every look.
Sheer blouses, ripped jeans and fancy handbags and bejeweled shoes...Beyonce's maternity style is pretty stellar and can't go unnoticed!
Presenting some of her rich and stylish pics!
IMAGE: Beyonce announced her pregnancy on Instagram with this photo.
'We would like to share our love and happiness. We have been blessed two times over.
'We are incredibly grateful that our family will be growing by two, and we thank you for your well wishes,' she wrote.

Photograph: Kind courtesy Beyonce/Instagram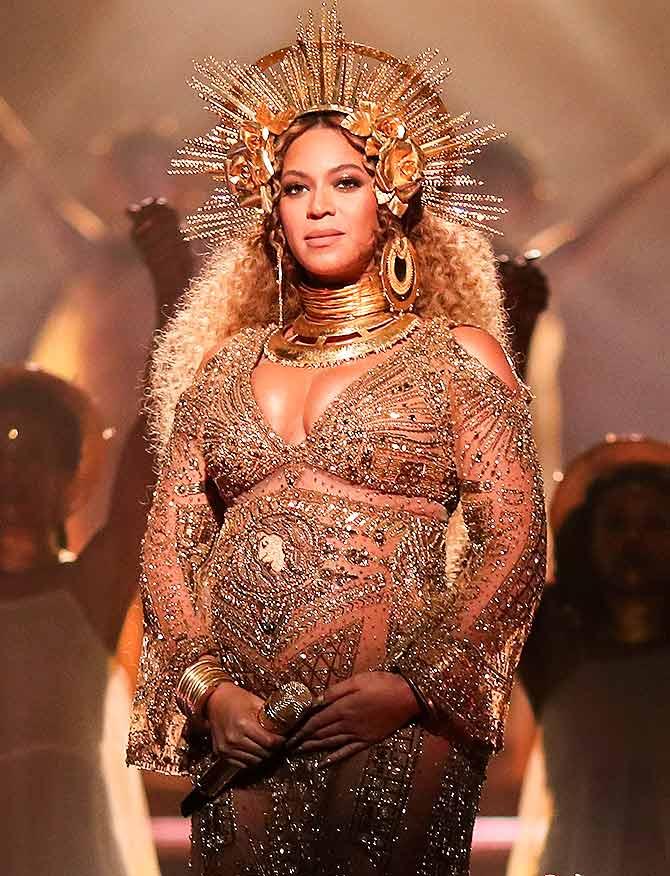 IMAGE: W

hen the singer went on stage during the Grammy Awards and flaunted her baby bump in a skimpy two-piece, people cheered for her.
This shimmering golden gown looked absolutely stunning on the singer, who is expecting twins. She definitely looked proud of the new phase in her life.

Photograph: Christopher Polk/Getty Images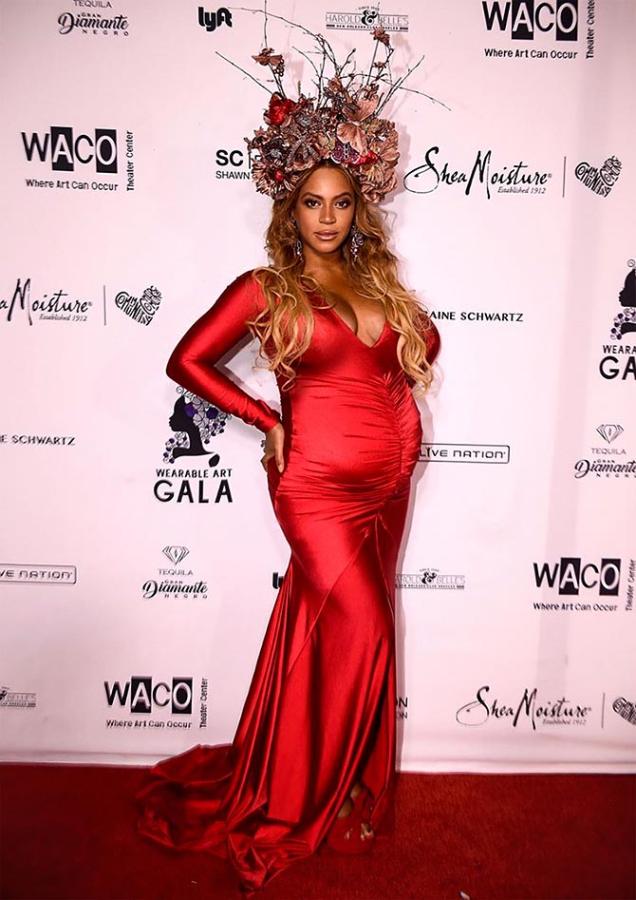 IMAGE: Beyonce painted the the Inaugural Wearable Art Gala in LA red with her insane headpiece and that eye-catching gown. Kudos to her for rocking the maternity style so effortlessly.

Photograph: Kind courtesy Beyonce/Instagram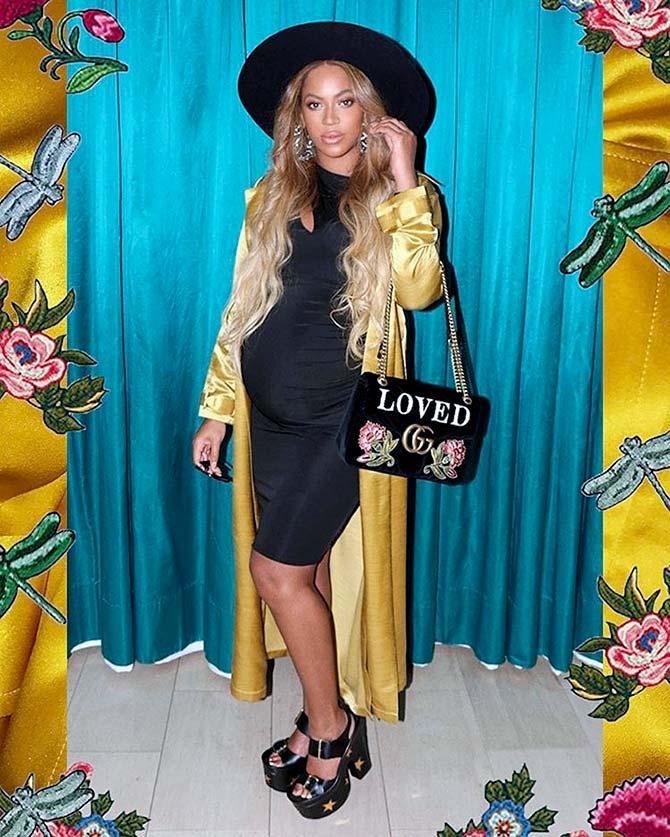 IMAGE: The singer dressed in a LBD with a yellow coat, star-studded platform sandals and a Gucci bag. The bag itself cost her a little under Rs two lakhs.

Photograph: Kind courtesy Beyonce/Instagram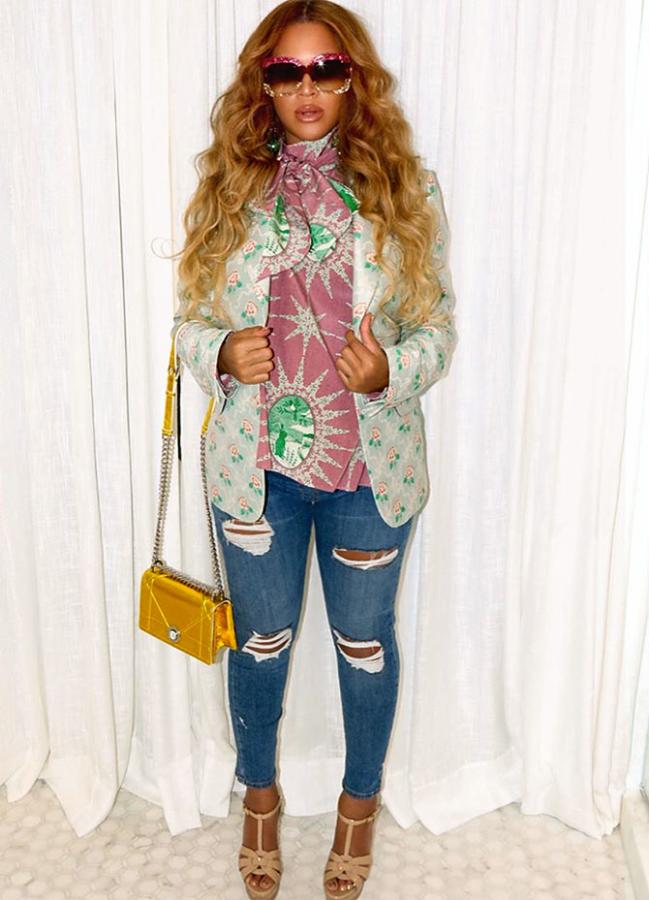 IMAGE: There's nothing called being overdressed for Beyonce.
Here's another of her maternity styles -- printed tie-neck top worn with a floral jacket, ripped denims and those fancy sunglasses.

Photograph: Kind courtesy Beyonce/Instagram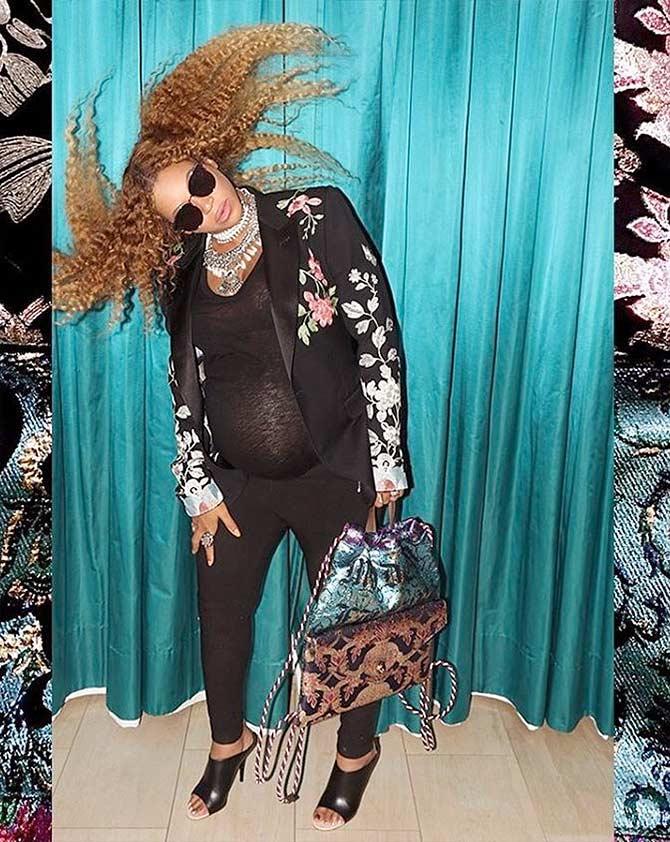 IMAGE: Who said fitting pants are a No-No during your pregnancy, needs to think again. Beyonce's all-black separates may not necessarily look comfortable, but they are stylish.
The Gucci bag and jacket she is wearing reportedly costs $8,115 approx.

Photograph: Kind courtesy Beyonce/Instagram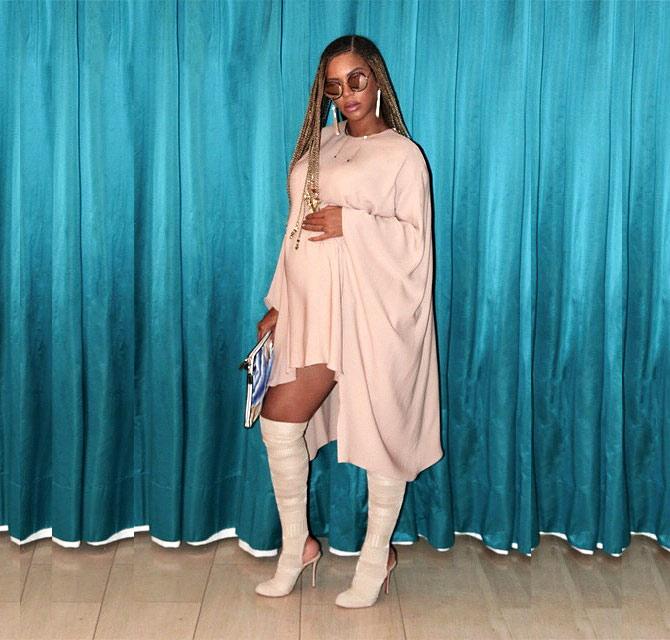 IMAGE: Her latest obsession is nudes. This look is way too cool to handle -- she paired an asymmetrical Valentino dress with knee-length boots and aviators looking like a straight-up rock star.
The overall look including the Balenciaga bag and sunglasses are approximately worth $4,185 (Rs 2,68,258 approx).

Photograph: Kind courtesy Beyonce/Instagram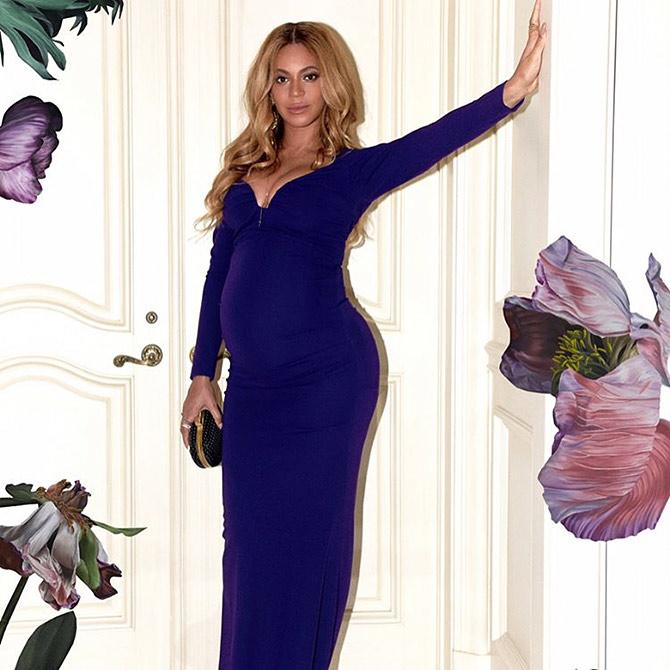 IMAGE: Figure-hugging dresses are SEXY when you're not afraid to flaunt that bump. This is probably the least expensive look at $648 (approx Rs 41,536).

Photograph: Kind courtesy Beyonce/Instagram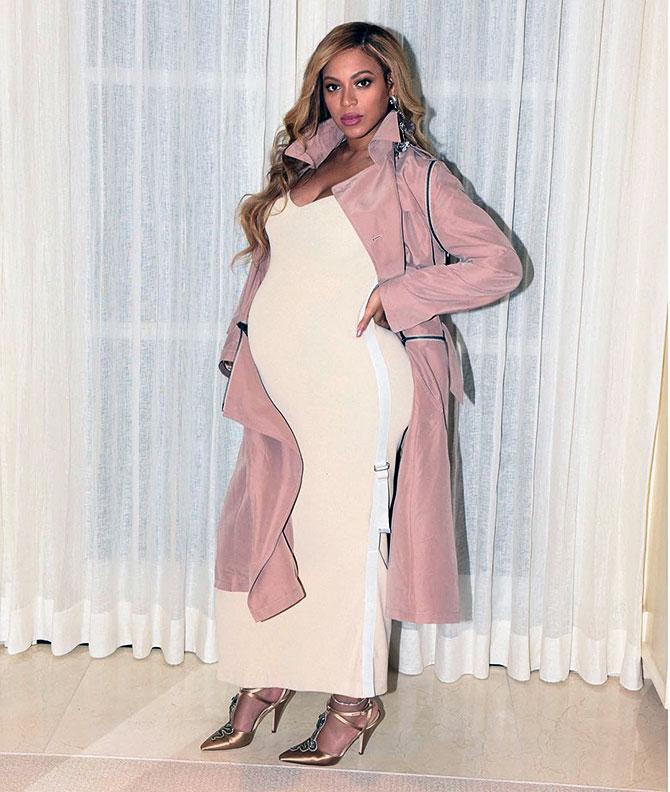 IMAGE: Yet another nude look by Beyonce! She wore the dress like a BOSS. The coat, dress, python box bag and pumps put together cost the singer $8,503. That's around Rs 5,44,936!

Photograph: Kind courtesy Beyonce/Instagram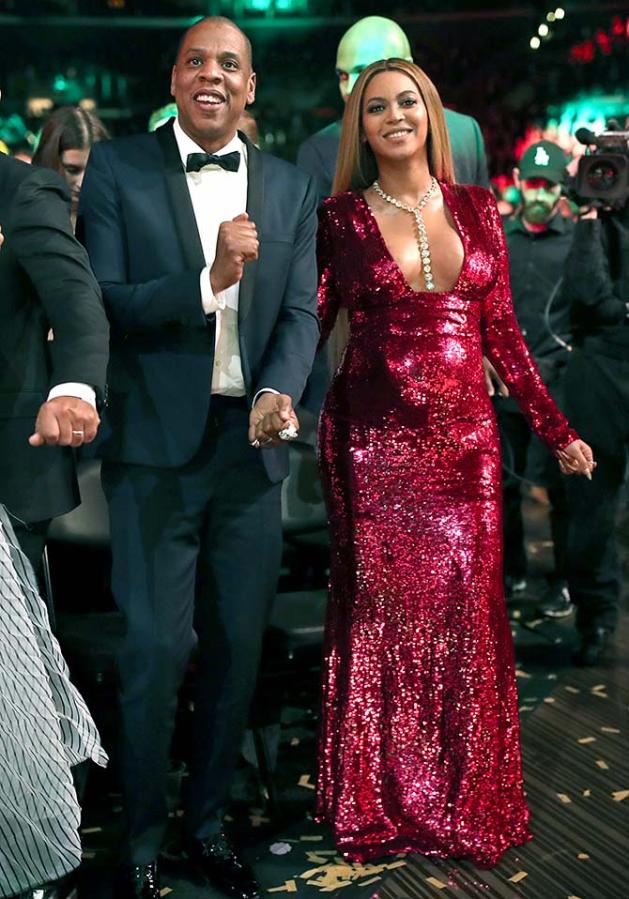 IMAGE: Beyonce with her husband, Jay Z at the 59th Grammy Awards night.
The singer chose a sparkly red form fitting dress with her baby bump in full display. The necklace she wore had over 400 carats of diamonds. Impressive, isn't it!

Photograph:

Christopher Polk/Getty Images