'What we do goes beyond fashion. With us, you are not buying a product, but a philosophy.'
Avantika Bhuyan reports on the flag bearers of the fashion philosophy India desperately needs.
As I speak with Shani Himanshu, founder of the fashion label 11.11/eleven eleven, he is heading to Mumbai international airport. For his "airport look", he is dressed from head to toe in khadi.
"I am wearing a kala cotton khadi denim jacket with my track pants, made from fibre sourced from the dev vruksha. This is organic tree cotton, single spindle-spun, with zero count and dyed beautifully in indigo," he says.
The garment is very contemporary -- I imagine it will look just as chic on the streets of Paris as it exudes comfort and convenience at Mumbai airport. And yet, the character remains distinctively, recognisably Indian.
Himanshu belongs to a new generation of designers who see no contradiction between sustainable fashion practices, age-old textiles and weaves, and contemporary silhouettes. So much so that they have created a design vision that combines them all and to which they are deeply committed.
Thus, you have a relaxed A-line calf-length bandhni dress made in 200-count khadi cotton and dyed in pomegranate.
Or a full-sleeve, knee-length dress in a dark, hand-woven cotton silk jamdani, with pin-tuck detailing.
Or trousers in raw organic denim, made in a factory with a zero-waste policy (scraps of excess fabric are used to make wallets and notebooks).
As Aneeth Arora, founder of the label Pero, puts it: "What we do goes beyond fashion. With us, you are not buying a product, but a philosophy."
A generation ago, designers such as Ritu Kumar, Rajesh Pratap Singh and Abraham & Thakore worked with the ideas of textile revival and a contemporary vocabulary in the couture space.
Now, young designers are working on a completely new definition of prêt -- one that is independent of fashion forecasts and seasonal trends, and stands implacably opposed to the industrialised and the mass-produced.
"Handmade", "natural", "local", "sustainable", "ethical" are keywords around which they base their design practice, thus becoming the leaders of the "slow fashion" movement in India. If they start a concept, they nurture it, letting it grow and evolve with time.
"The idea is to develop a technique and take it to a stage where it has been explored to its fullest. The garment stays in people's wardrobes for the longest time, instead of being discarded after one season," says Arora.
What is the slow fashion movement?
The term was first coined by ecological design consultant Kate Fletcher in 2007, when she declared that slow fashion is not a seasonal trend that comes and goes, like animal prints or sequin embellishments. Instead it is about making a strategic shift in the way fashion work is being structured around a new set of values to cope with the looming environmental crisis. It's about both designer and consumer adopting a newer, more sustainable way of thinking.
Just as "slow food" was marked by a return to terroir, an understanding of roots and process, and taking inspiration from it and our environment.
Internationally, designers have embraced this trend in a big way.
An article by Hayley Phelan, dated October 2017, in The New York Times, states: "Slow has never been so chic," while citing examples of labels such as the AYR, which makes mid-rise jeans from high-quality recycled cotton, which need to be washed using just one cup of water.
Then, there is The Library, a label from a Brooklyn company, Slow Factory, which doesn't just sell ethically produced denim jackets, tunics and dresses, but organises eco-events as well.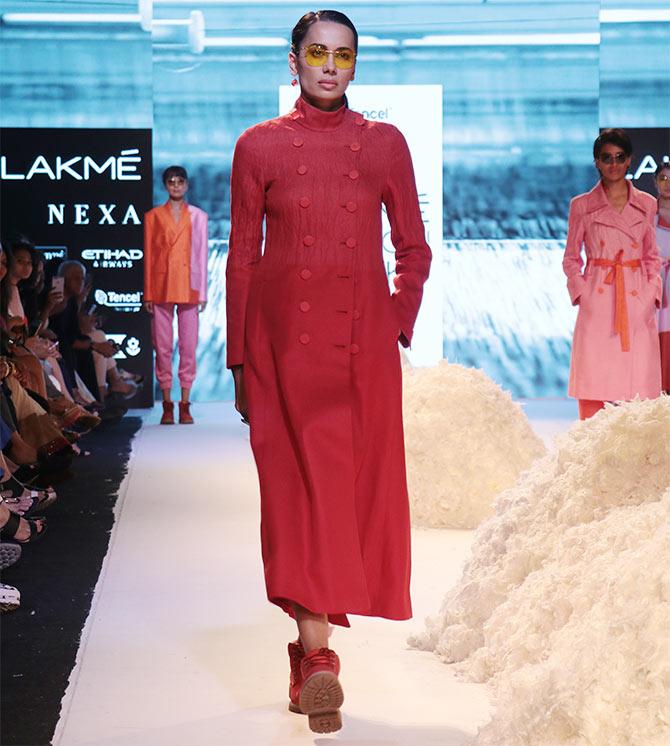 In India, while working under the overarching umbrella of slow fashion, these designers are creating their own expressions of what the term means to them.
To Himanshu and his business partner, Mia Morikawa, it means "seed-to-stitch" and using khadi.
To Santanu Das of Maku, it means creating a language that owes to the craftspeople themselves.
"If a craft has been practised over the past 100 years, it means it has been perfected to the last detail. But what designers at times do is give the craftsmen a foreign visual to be created with this technique. The need is to identify a design language from within theirs," he says.
At Maku, which draws its name from a Bangla word that refers to the shuttle used in the handloom, Das has worked tirelessly with tangail, which was on the verge of extinction.
For the Kolkata-based designer, the weave was an integral part of his childhood, coloured by vivid memories of his mother wearing tangail saris.
"I strongly believe that one's design concepts should be local, and to me tangail represented that. Tangail and jamdani are similar weaves, but the identity of their saris is very different. The former has a sort of subtle sophistication, developed in rural Bengal, which is interesting," says Das.
Today, he experiments with silk and mixed fibres as well, all the while ensuring that everything is natural, hand-dyed and hand-stitched.
A similar philosophy is on display at 11.11/eleven eleven, where the 100 per cent handmade line uses Kala cotton (desi and organic).
"Bandhni is our main thing and we do it over the garment. As it shrinks and expands, it gathers a certain flexibility. Hence, we use the technique to play with the engineering as well," he says.
The bandhini is done by artisans living in different villages across Kutch, the block-printing by artisans from Ajrakhpur, Gujarat. Not only are the dyes 100 per cent natural, the process of dyeing is chemical-free as well. All indigo dyeing is done naturally, in fructose vats in Auroville, Pondicherry.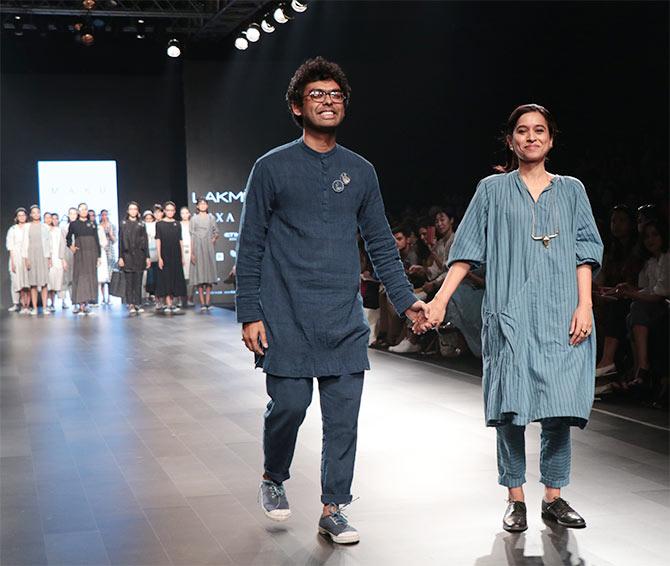 Shani and Morikawa, along with another business partner, Shyam Sukhramani, also run Korra, a jeans label that makes use of natural and recycled materials such as raw denim crafted from organic cotton. Each pair is completed by one craftsman, from start to finish, thus lending a personal touch to the garment.
After all, sustainability is not a one-dimensional concept and doesn't stop with being environment-friendly. It also means that businesses and processes are conducted with inclusive development in mind, by which communities benefit from such works.
"We have been working with craftsmen and textile designers for years, not just for six months or a season. Most of them have been with us from day one," says Arora.
A signature effect of slow fashion garments is a certain minimalism -- a subtle, understated elegance, rather than the highly embellished pieces so beloved of the booming bridalwear fashion market.
Maku garments, for instance, are available only in one colour -- indigo.
Das has been credited with creating 20 shades of the colour. "Today, when we go to a store, we are flooded with choices. And it is these options that make us intolerant. We have moved away from being happy with what we have. Hence, we decided to brand ourselves with only one colour," says Das.
By restricting his palette to indigo, he is prodding his customer to take a closer look at the fabric, its texture, tactility and concept.
A lot of these designers are also creating options for people who might want an alternative to traditional Indian or western trousers for daily wear.
"Such options were not present in the market earlier. If at all, they were highly embellished," says Rina Singh of Eka, who creates garments that are versatile, fluid and classic.
Made with only ethically sourced and natural materials, she draws on the regional crafts belts to work with jamdani, tangail, block printing and jacquard looms. A significant feature of Eka garments is that they are suited to the Indian body type.
"In India, for instance, there is no uniform 'small' size. Hence, I have created in-between body sizes," she says.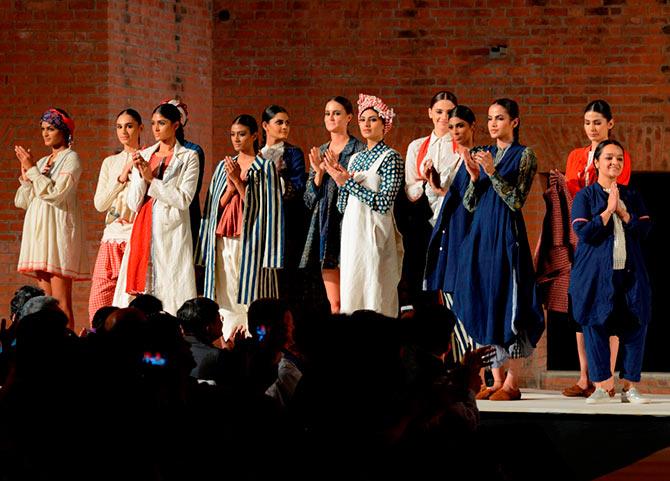 In some ways, these designers have created a unique ecosystem for themselves, one that is a subset of art and design.
As Das says, art can't only exist within the four walls of a gallery. According to him, it has a larger role to play — one of changing existing mindsets and behaviour patterns.
This in turn prompts them to push the limits of their craft by seeking collaborations with fellow artistes from across disciplines as well.
For instance, for their shows, 11.11/eleven eleven has worked often with jazz musician Stefan Kaye.
"For one show, Mia worked with Stefan to create instruments using utensils and created sounds out of them," says Himanshu.
For another show, he worked with architect-museum designer, Sachin Sachar, for the space design.
"The moment you collaborate with professionals across disciplines, you add a layer to yourself. It helps us look beyond the fashion weeks," says Arora, who has worked with Fiona Caulfield for her "Made in India" shopping guides, which feature hand-woven and naturally-dyed khadi covers.
This association with art spills onto their customer profile as well, with artists, writers and scholars from across the world, typically in the age group of 28 to 40-plus, being their clientele.
One of Eka's earliest customers was writer Arundhati Roy.
Artist Dayanita Singh loves Maku.
"These are clothes that are an expression of 'you'. They are suited for those who have lived well and have evolved over the years," says Eka's Rina Singh.
Das concurs: "They identify their connection with the brand's overall philosophy. They have already had their thing with fashion and want something quiet, which reflects them."
It is for this reason that, besides retailing out of spaces in the metros, these designers also have a presence in bohemian hubs such as Goa and Jaipur. And, with the average price ranging from ₹5,000 to ₹30,000, one could call these affordable luxury.
When it's a philosophy rather than a mere piece of clothing, then conventional platforms of viewing, such as ramp shows, don't suffice.
While, the designers do make an appearance at fashion weeks -- "it is important to create awareness around a philosophy as individualistic as theirs through wider outreach," as Rina Singh says -- they also like to create alternative viewing platforms.
For instance, Singh shows Eka's creations at international trade shows and curated exhibitions such as Nayaab at Apparao Galleries and has commissioned art work at the Devi Art Foundation. 11.11/eleven eleven does trunk shows in different cities.
Instagram is a widely used tool to showcase the process behind the creation.
Das also likes atelier exhibitions, which start with a talk show and culminate in a dialogue between creator and customers.
Arora, too, encourages her customers to visit her studio, where people can acquaint themselves with her archives as well. "It allows them to see that we do everything we can with a textile," she says.
Call it fashion or a deeply committed political stance. Whatever your choice, there's no doubting that it looks great -- and you can actually wear it. Even if you're not a Size Zero.