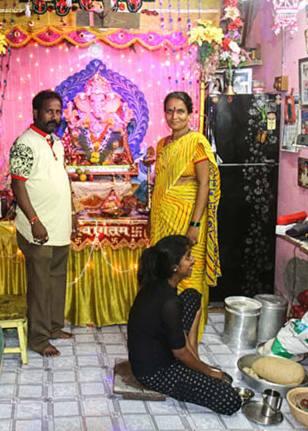 For these less privileged Mumbaikars, Bappa means happiness.
They live in the slums and foothpaths of a lesser known Mumbai and lead a hand-to-mouth existence. But that hasn't stopped them from celebrating Ganeshotsav.
Rediff.com's Satish Bodas visits the homes of these devotees who believe that Bappa is for all.
Take a look.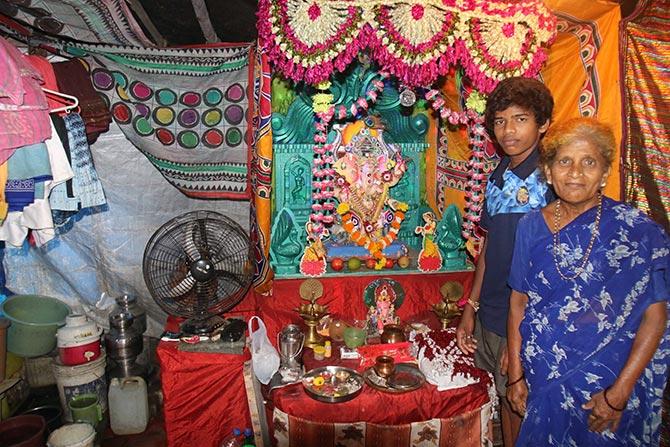 IMAGE: Maya Dattaram Haldankar and her son Gaurav Dattaram Haldankar live in a jhopadpatti (slum) near Sewri.
The father, who worked in a private firm, expired in April 2016.
The Haldankars have been bringing home the Ganpati since 15 years now.
Gaurav, a class 9 student washes vehicles during his free time earning approximately Rs 3000 a month. He used to work at a murti-making pandal from where he bought this murti for Rs 101. The decorations and related preparations cost the duo between Rs 2000 to 3000.
Both son and mother jointly draw a monthly income of Rs 6000 to 7000.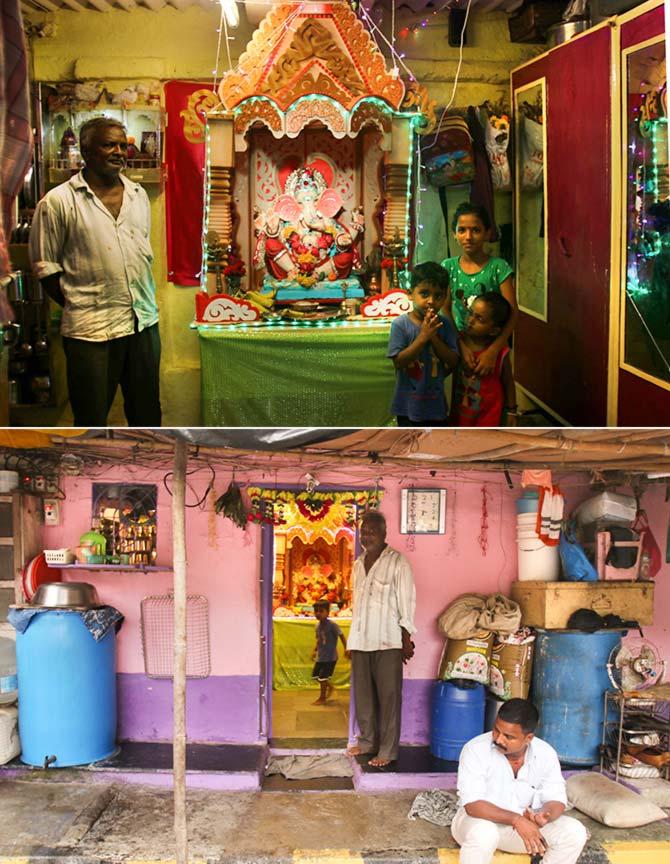 IMAGE: Notice the yellow and black border outside the entrance? This house is built on a footpath in Dawri Nagar, Wadala. Meet Prakash Raghunath Salunkhe (in striped shirt), aged 59 who lives in the house along with five others.
The Salunkhes have been bringing home the Ganpati since 1980.
Salunkhe is a daily wage worker and earns approx Rs 10,000 per month.
He has used the decorations from last year and the murti, garlands, fruits and sweets cost him between Rs 2300 to Rs 2500.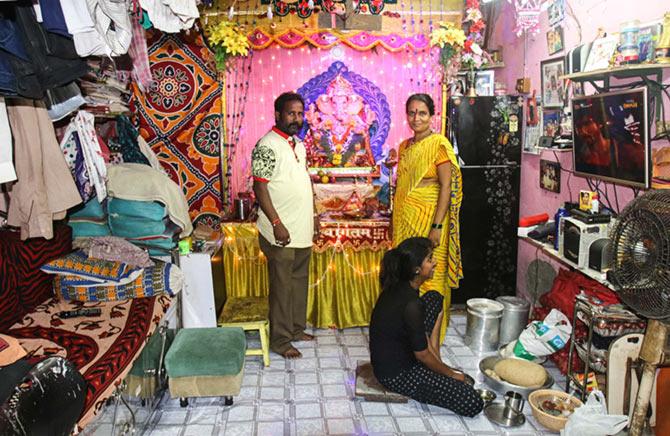 IMAGE: Vinayak Bhimsen Pednekar, 44, lives in a chawl at GD Ambekar Marg, Wadala.
Pednekar works in a private company and draws a monthly income of Rs 8000 to Rs 10,000.
He has three daughters -- all of whom help make tiffins for office goers.
Fifty years ago, Pednekar's father started the ritual of bringing the idol home and Vinayak is happy to follow suit.
The murti cost him Rs 4000, and he has been using the same decoration (cardboard and lighting) since 3 years.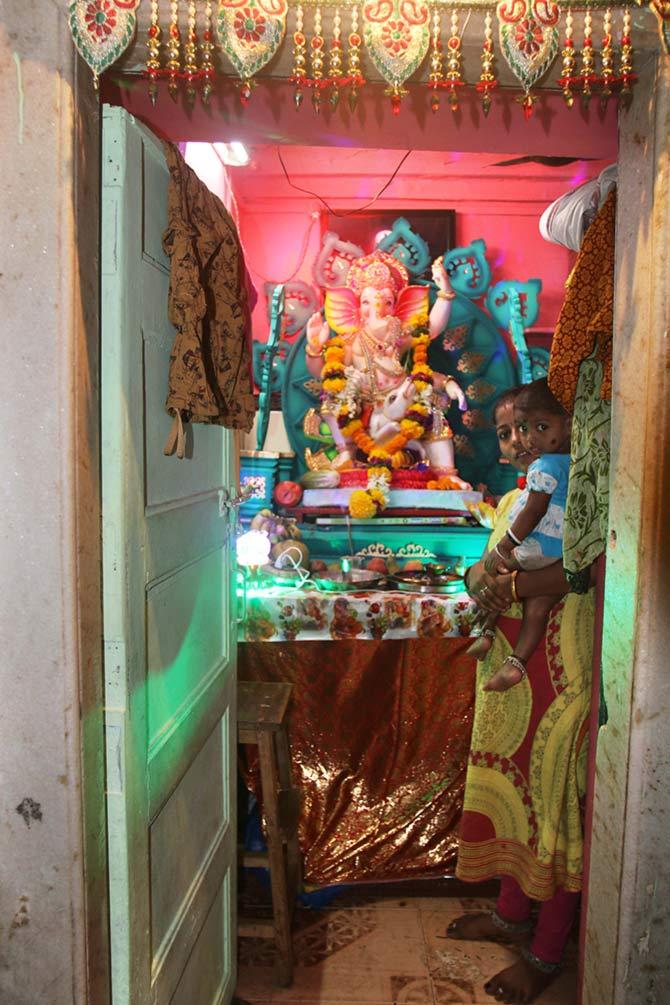 IMAGE: Gangaram Jadhav lives in a slum at Dr SS Rao Road, Parel. He has six daughters, one of whom (pictured here) welcomed me in.
The family has been celebrating the festival since 40 years now.
The daughters help the father run a small eatery opposite KEM Hospital. The girls cook roti, rice and sabzi which is sold at an affordable price to families of patients at the hospital. Collectively, they earn a monthly income of Rs 12,000 to 13,000 approximately.
The daughter confessed that the family of eight lead a frugal life, as their father is diabetic and the cost of medicines is high.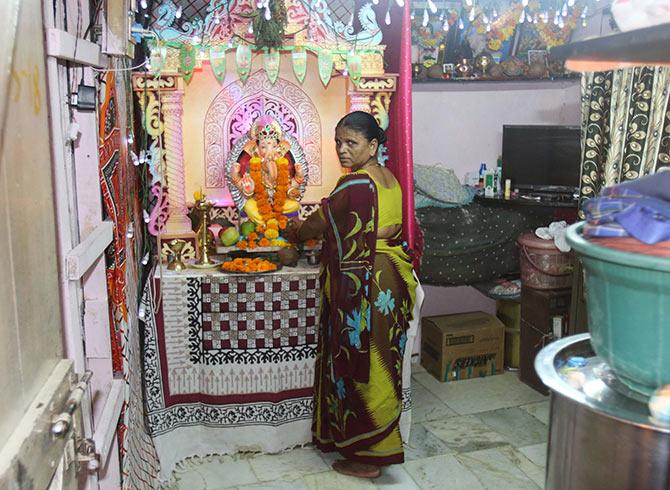 IMAGE: Asha Manohar Narvankar, 55 and her 27-yr-old son live in a slum near Elphinstone Road in Mumbai.
The mother-son duo have been bringing home the elephant God since 35 years now.
Asha is a homemaker and is dependent on her son who works in a private company for a monthly salary of Rs 7000. The cost of the murti is Rs 5000.
Despite their adversities, Asha believes in continuing the family tradition of celebrating the festival every year.