Rediff.com's Ashish Narsale examines the impressive gadgets at jaw-dropping prices.
The LG Signature Series, which features premium products built with minimalistic designs and high-end technology, has arrived in India.
The South Korean technology conglomerate showcased four devices -- all of which support WiFi connectivity and can be controlled by the smartThinQ app installed on your smart phone -- at its Mumbai launch this month.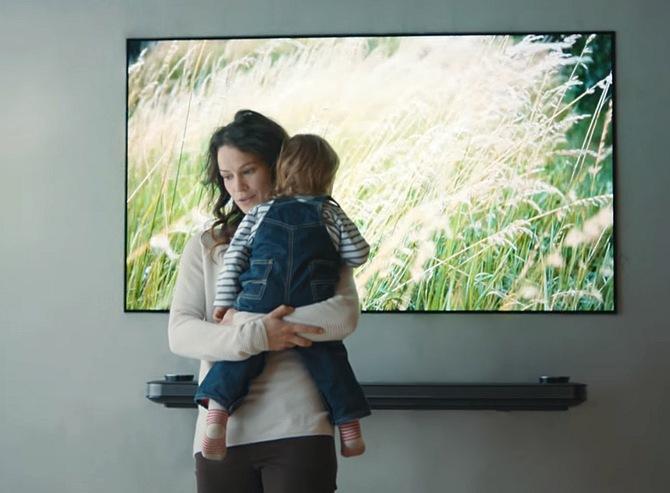 Photograph: Courtesy lg.com
LG OLED TV
LG OLED TV or the wallpaper TV has two models in its Signature Series
The first model comes in two variants: a 77-inch LG-OLED77W7T and 66-inch LG-OLED65W7T.
Both variants are similar in specs, except the dimension. The 77-inch TV is just 5.96 mm thick and the 66-inch one is 3.85 mm in thickness.
In the Wallpaper series, LG uses an Organic Light Emitting Diode (OLED) display. Each pixel in OLED display is self illuminating, thus not requiring backlighting to illuminate the screen like in cases of LED TVs. This help makes the display thinner than an LED display.
To achieve a thinner profile for the TV, LG has a flexible OLED display panel without the chassis or the back cover on which TVs are usually mounted.
Being flexible, the TV is only wall mountable; it cannot be placed on a stand. All the electronics are placed in a media box that doubles up as a sound bar with up-firing speakers that come bundled with the TV. The sound bar is connected to the display via a flat cable.
The sound bar supports Dolby Atmos and also has other media input and output ports. The Dolby Atmos technology gives a theatre-like virtual surround sound experience without the need for having to install additional speakers.
The sound bar is not wall mountable and it needs a shelf to find place for itself.
Other than 4k and HDR10, the TV supports Dolby Vision and active HDR by LG for video. The high dynamic range (HDR) and Dolby Vision are technologies that bring true to life picture quality by adding colour accuracy and better contrast ratio to the picture.
This Smart TV runs on LG's own webOS 3.0.
The other 77-inch model OLED77G6T, which comes with almost the same features, has an OLED panel fused to a glass giving it a unique look.
The sound is delivered through a sound bar designed by Harman Kardon, which also acts as a stand when placed on a flat surface and folds back when wall mounted.
All this design and technology cost ₹12,99,990 for the 65-inch TV, a whopping ₹29,99,990 for the 77-inch wallpaper TV, and ₹19,99,990 for the 77-inch glass back OLED77G6T TV.
You can still enjoy the same experience by spending less if you are willing to sacrifice a few premium features like the Dolby Atmos and flexible 77-inch screen for a 65-inch OLED65B6T (₹3,79,900) or OLED65E6T (with 3D for ₹5,44,900) -- both of these having Dolby Vision and sound designed by Harman Kardon.
Have you checked out the LG OLED E7?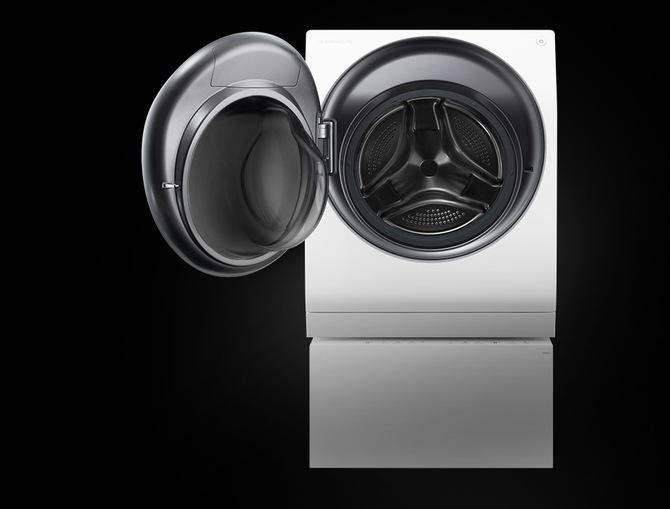 Photograph: Courtesy lg.com
LG Signature TWINWash
The TWINWash smart washing machine comes with a 12 kg front loaded main wash and a 2 kg top load for miniscule washing.
The main wash comes with options like hot and cold water, steam and heat pump drying system.
This smart washing machine can be owned for ₹3,40,000.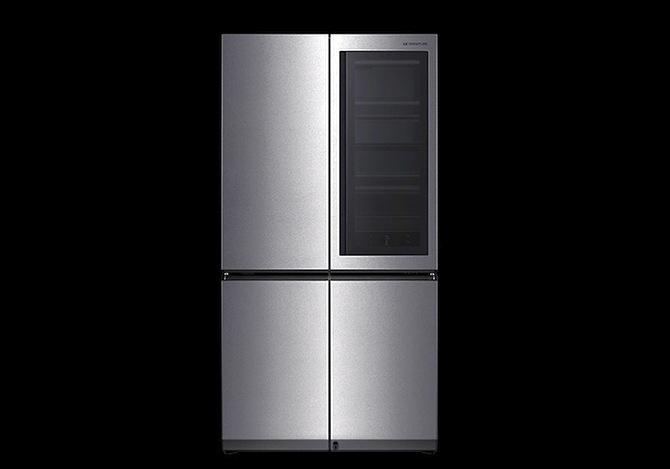 Photograph: Courtesy lg.com
LG Signature 984 Litre Refrigerator
This is a four-door refrigerator with one door made of glass -- or what LG calls the InstaView -- where you can view the inner contents of the fridge without opening the refrigerator.
The InstaView glass door has a knock gesture system, where the light glows inside the refrigerator when you knock on the glass.
The refrigerator even has an automatic door opening system; if both your hands are engaged, you can open the door just by stepping on the light projected on the floor.
This smart refrigerator can be bought for ₹6,17,990.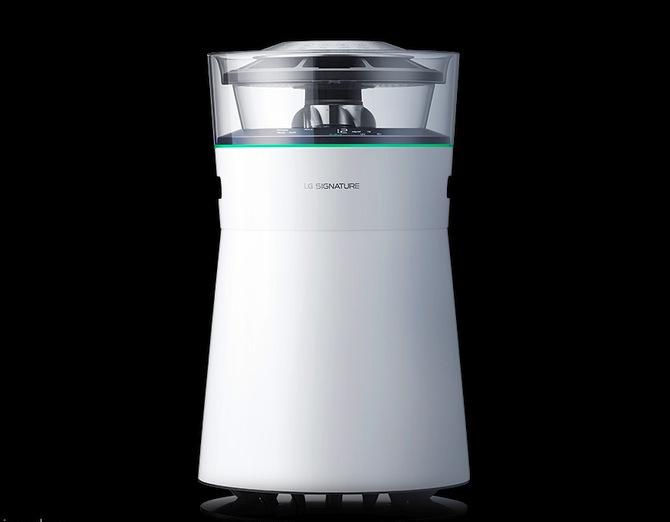 Photograph: Courtesy lg.com
LG Signature Air Purifier
The air purifier has Particulate Matter (PM), odour and humidity sensors. All for a steep ₹1,31,880!
Verdict
This series is directed towards the richer masses, but this is likely to be short lived.
With the advent of Internet of Things (IoT) and Artificial Intelligence (AI) all big brands are focusing on building smart devices powered by the internet and AI. And as more players enter the market, prices of such devices are destined to come down.