Apple products are built around the notion of picking up ideas that are already common, reducing them to brightly-coloured, child-like simplicity, imposing conformity, and then suggesting that buying into that conformity means you're a seriously cool adult, says Mihir S Sharma.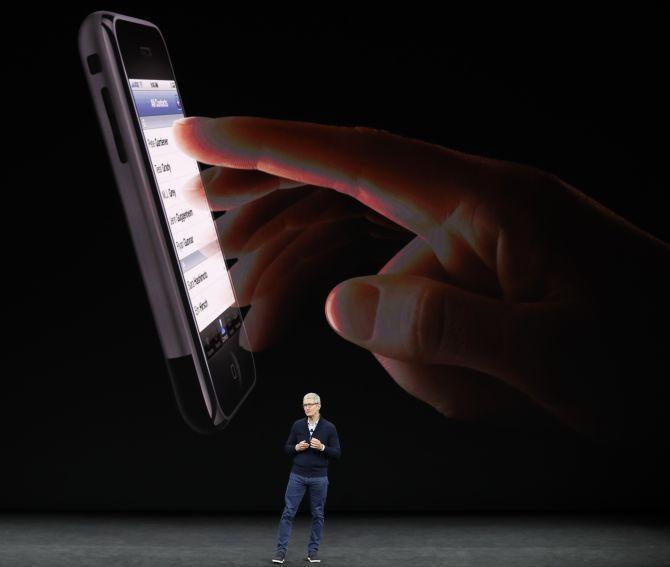 Photograph: Stephen Lam/Reuters
So, it's 10 years since the first iPhone was released, and we have been treated to the vision of a new, even less affordable model, the iPhone X.
The X will be able to recognise your face, thereby moving closer to completion Steve Jobs' grand vision of replacing your loved ones with a phone. (The moment Siri learns to argue with you about years-old things you said, insisting she remembers them better, that process will be completed.)
The X will cost $1,000, which in India -- judging by the mark-ups on similar imported electronic goods -- will eventually mean it will be priced at about ₹1 lakh. Or close enough; this iPhone is reaching that rarefied level of consumer goods occupied by things like bespoke Italian suits and rooms at the Lake Palace in Udaipur, the one where anyone asking the price will not be able to afford it.
Of course, a good number of people who can't afford it will buy it anyway, another indication that all of micro-economic theory should be revised to incorporate the fact that when it comes to Apple products, consumers think budget constraints are imaginary.
I have never liked iProducts much, and one of the few things I dislike more than the cult around them is the cult around Jobs himself.
I see Jobs as the sort of salesman, who genuinely believed that people were stupid -- in the league of, say, Donald Trump, though not quite as successful.
Apple products are built around the notion of picking up ideas that are already common, reducing them to brightly-coloured, child-like simplicity, imposing conformity, and then suggesting that buying into that child-like conformity means that you're a seriously cool adult.
I once described the Mac aesthetic as 'brushed-steel fascism' and, yes, I stand by that. But at least the Macs were sturdy.
All-glass iPhones? You really want to buy something worth over $1,000 that you know you are going to drop on the pavement and smash the very first time you check your email while walking?
Or else you want to buy a phone that declares, like some unfortunate Bollywood starlet, that it is cool because it is thin, and then wrap it up in some hideous thick cover that makes it look like something that came free with a Jio connection?
I suppose, as long as you know that it's thin inside all of that, you can stay happy.
To be in northern California during an Apple keynote address -- as I was for this one -- feels a little like being in North Korea as Kim Jong Un announces he has a new missile capable of bankrupting the American middle class.
The faithful gather around their iPads and Macbooks and iPhones -- the unfortunates in the latter group desperately trying to further turn up the sound on the tinny little low-rent speakers that Apple puts in the 'best phone in the world' -- while learning how the current Leader intends them to live their lives and spend their resources for the coming year.
All that's missing is a giant statue to the Eternal President on stage, though I suppose the huge picture of Jobs with his fingers arched into the eternal 'I'm smarter than you' mudra pioneered by Sherlock Holmes came close.
Apple made its name with the famous 1984 ad in which a similar photo of Big Brother, representing IBM, was smashed by a colourful interloper, representing the Mac -- so I suppose this is yet another reminder that, in the long run, we turn into everything we supposedly hate.
Part of why this cultishness confuses me is that it is not, in fact, the case that Apple ever really innovates.
Facial recognition is already around; in fact Android incorporated it into its Ice Cream Sandwich version in January 2012. China's Xiaomi has it in its Mi Note 3, which will eventually be sold at, I expect, about a quarter of the price of the iPhone.
Waterproof phones are plentiful -- I tested an excellent waterproof Sony Ericsson Xperia in 2013. Bezel-less phones -- in which the entire front is a screen -- are also common; there are literally a dozen Chinese phones under $100 that look like this.
And this is Apple all over; even the iPod, when it was first introduced, was perhaps the worst MP3 player around, but everyone behaved like Jobs had invented music.
Full disclosure: I admit that I do, in fact, own and use an iPhone. In fact, I'm typing this very column on an iPad. So, I must accept on my own head all the insults I have levelled at Apple owners.
But I also own a Xiaomi phone, which doesn't need charging for days, is faster than my iPhone, has more storage than my iPhone, which cost about ₹10,000 and which I don't ever worry about dropping.
In other words, I can see for myself that the iPhone is a con. But the very best cons, the sort Apple has pulled off, ensure that even your critics ignore the evidence of their own eyes.