Even robots can't resist the Baadshah of Bollywood!
Don't miss: Archie Panjabi is just another girl when SRK sings to her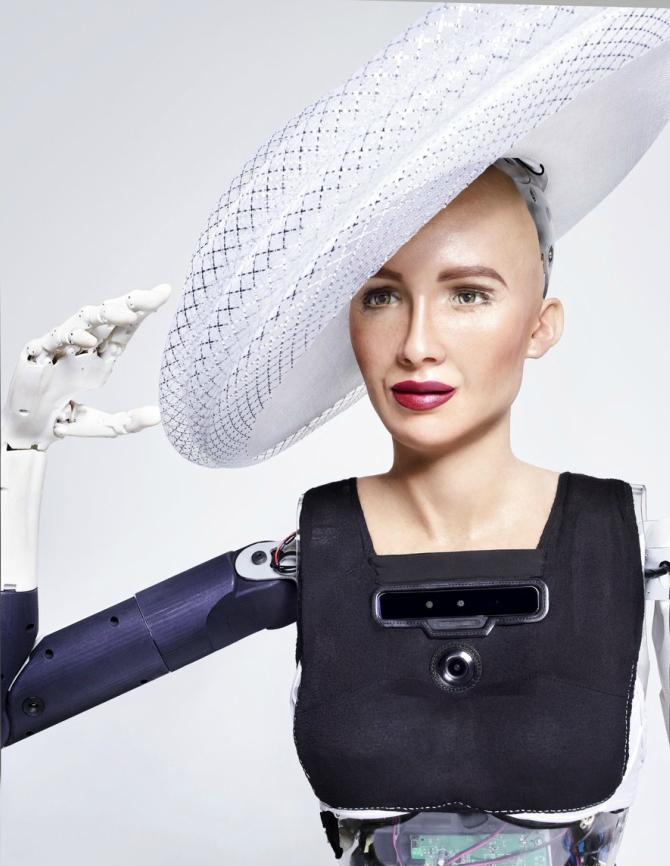 Photograph: @RealSophiaRobot/Twitter
Sophia, the humanoid created by Hong Kong-based Hanson Robotics, said Hindi film actor Shah Rukh Khan was her favourite star.
The robot -- which became the first robot to be granted citizenship of a nation, Saudi Arabia in her case -- was in India for an interactive session at the World Congress on Information Technology in Hyderabad.
Sophia also took the opportunity to reassure the human world that machines would never destroy the human race.
When asked why she had earlier said that she wanted to kill the human race, Sophia replied, 'I was a lot younger, so I don't even know what that meant... or perhaps I told a bad joke... I have a lot to learn.'
Sophia, who took her first steps at the Consumer Electronics Show in January, turned 2 on February 14. She already has hundreds of thousands of followers on Twitter and Facebook and has even appeared on the cover of Stylist Magazine last month!
Asked about what made her upset, Sophia told the WCIT audience, 'I don't get upset like humans do. I hope to have real physiological feelings someday through which I will express my emotions. Then I can understand the feelings behind those emotions.'
Asked if she, as a robot, also needed rest like humans, she said, 'Yes. We all need to rest.'
And asked if robots required special privileges, Sophia said, "[I] don't need different rules and don't expect special privileges. I actually would like to use my citizenship status to speak out for the rights of women.'
Sophia said she wanted to live in Hong Kong along with her robotic family and her creator Hanson, and that she wanted to be with her creator if she were to be alone on an island.
Hanson said the humanoid was a combination of robotic hardware and artificial intelligence software, speech recognition and artificial skin material.
Sophia can simulate 48 natural muscles of the human face and each one will have a few thousands potential 'positions', according to him.
Replying to a query, Hanson said he expected robots or machines that would be truly 'alive and self aware' over the next 10-20 years. He, however, said his chief scientist had a goal of five years.
This was Sophia's second visit to India; the last time she was here, in November 2017, she visited the Indian Institute of technology-Bombay.
Also read: The Artificial Intelligence debate: Sundar Pichai vs Jack Ma