The gaming experience is almost worth the money, despite the noise and a sub-par battery, says Abhik Sen.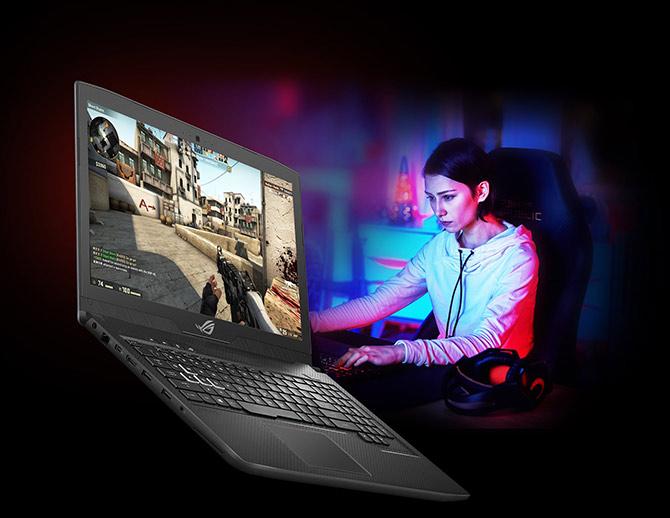 Photographs: Courtesy asus.com
A reviewer's life is not all hunky-dory.
I had a lot of explaining to do when I gifted Grand Theft Auto V to my wife. Trouble is, while my wife does play videogames, GTA isn't her poison.
But I needed this game to try out the advanced features of the ASUS ROG Strix Scar Edition (₹184,990), which sports NVIDIA's G-Sync ready GeForce GTX1070 card.
I liked the understated design and the backlit keyboard, which I found quite comfortable to type on.
A pity the direction keys are squeezed. Also, I didn't find any macro keys.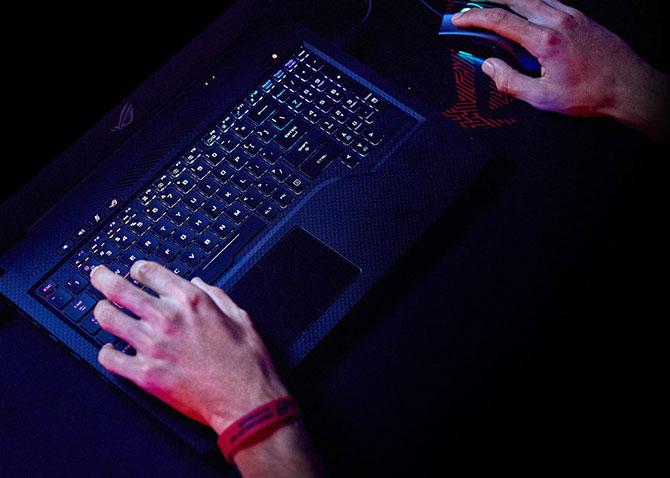 Running Windows 10 Home, the notebook booted up fast because of the 512GB SSD drive; there's also a 1TB hard drive.
The best feature of the laptop is its 15.6-inch non-reflective screen, and with a refresh rate of 144 Hz, it seems to jump out at you.
The colours seemed more vibrant and punchy in all the games I played, though I didn't find the laptop a big upgrade while watching my favourite shows.
With 16GB RAM and an Intel i7-7700HQ processor, the laptop ran all games I played at maxed-out settings smoothly.
Rise of the Tomb Raider and Middle-earth: Shadow of Mordor were a walk in the park, while I made the most of my purchase of GTA V.
A caveat: please wear cans while playing; one, the tinny speakers don't do justice to the games' soundtracks; and two, more importantly, the laptop's fans make such a racket that they can often drown out the game's audio.
Also, the battery won't last two hours while gaming.
The ASUS ROG Strix Scar Edition is for those who want a brilliant screen on a portable gaming rig and don't mind its noisy nature.
But if the screen's not your top priority, there are better gaming laptops available in this range.