Xiaomi's latest smartphone Mi4 surely can give Apple's iPhones serious competition, says Shruti Puri, and could dent sales of iPhone 6 and iPhone 6 Plus that helped Apple post fantastic quarterly numbers recently.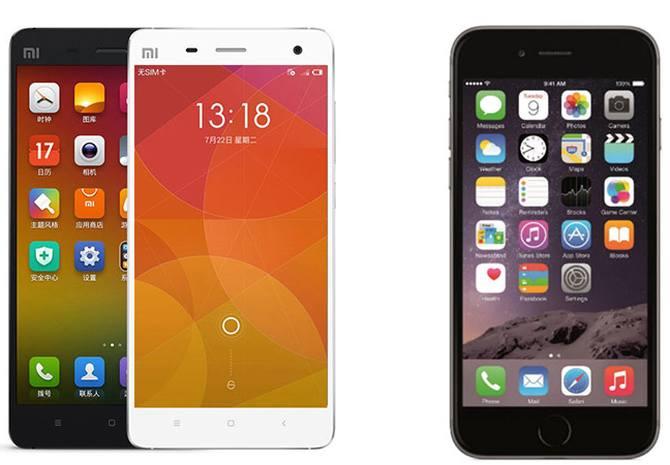 For those who don't know much about Xiaomi Mi4, here are some facts that makes this Chinese phone the "iPhone killer".
1. Not just "iPhone killer", Xiaomi Mi4 will be "Samsung killer" too
A lot has been said about how Xiaomi Mi4 will become the iPhone killer but so far Xiaomi is responsible for Samsung's drop in sales as the Chinese firm has taken a big chunk from Samsung's market share. Compared to Samsung Galaxy S5 that features some serious specs like a 5.1-inch display running on a 432ppi pixel density, Xiaomi Mi4 offers a 5-inch display with 441ppi pixel density.
They again manage to overtake Samsung in the battery section with 3,080mAh power backup compared to 2,800mAh battery of Samsung Galaxy S5. This has been an alarming sign for Samsung. So we know the device is well on its way to take on Apple, since they have competed well against their arch rival Samsung.
2. Far more economical
The word Xiaomi means "Little Rice" in Chinese and although the company has been "little" when it comes to pricing its gadgets it has been big when it comes to delivering specs and performance.
Xiaomi Mi4 is almost one third the price of Apple's iPhone 6 but delivers better numbers, at least on paper.
Xiaomi Mi4 is priced at around Rs 20,000 whereas Apple iPhone 6 is available for Rs 61,500 for the 64GB variant.
3. Bigger and sharper display
The 5-inch display of Xiaomi Mi4 compared to the 4.7-inch of Apple iPhone 6 has a pixel density of 441ppi whereas the latter has a lower 326ppi. One can argue that Apple can deliver better image quality but a 441ppi pixel density is no joke and will blow away any competition.
4. Bigger and long lasting battery life
There is a stark difference in the battery section of the two smartphones as well with Apple iPhone 6 running on a standard lithium-polymer battery of 1,810mAh compared to 3,080mAh battery of Xiaomi Mi4. Thus you get increased talk time, music play time and standby time.
5. Open source Android vs iOS
This has been a debate for ages now but Xiaomi Mi4's open source Android KitKat 4.4.3 operating system is more soothing for consumers of the developing economy as compared to Apple iPhone 6's iOS 8 that demands comparatively higher price and lesser experience in terms of familiarity.
Also the flexibility and massive availability of apps and games provides Android users a lot to cheer about.
6. Flexibility
Apple products are not the most versatile ones in the market and their incompatibility with Android devices via options like Bluetooth is certainly a strong reason for users to not buy Apple devices.
On the other side, Android platform of Xiaomi Mi4 is compatible with any gadget, cars or even wearable devices for years to come.
7. Powerful hardware
Apple has always been playing catch up games with most Android devices when it comes to specs. So far the company has managed to keep its market share respectable but one wonders with Xiaomi upping-the-ante, how long can Apple keep up with its proprietary iOS platform.
Apple iPhone 6 runs on a dual-core processor which is a section that Apple has failed to enhance upon in the last few years while Xiaomi Mi4 comes loaded with a quad-core processor from Snapdragon 801 making it lightening quick.
Apple has also stayed with 1GB RAM for a long time now which sometimes is a handicap for enhanced pace for overall functionality but Xiaomi Mi4 comes with a meaty 3GB RAM that handles multitasking easily.
8. Better selfie camera
Xiaomi Mi4 has an 8MP selfie camera that hugely overlaps the 1.2MP FaceTime secondary camera of Apple iPhone 6. The primary camera of Apple iPhone 6 sports 8MP, which is better than the 13MP primary camera of Xiaomi Mi4 but overall Xiaomi's camera section is very impressive.
9. Design
Aesthetics can always be an arguable subject and the current Apple iPhone 6 has not received universal thumbs up for its design. Xiaomi Mi4 looks compact and sharp in appearance and has so far clicked well with the users.
10. Limited stock
Xiaomi devices always have limited stocks and Xiaomi Mi4 could also follow the same path, which is yet another effective way to make sure your profits are high. The company saves a lot in this process by producing a limited stock based on demand.
Users have to book or reserve their purchase and then receive the order. If the stock runs out then one has to wait for the next lot. Although this has been a source of annoyance for lot of users, the move, so far, has managed to lure in more audiences for Xiaomi.
This is not to say that Apple does not have demand as people line up at stores days before its release for buying their gadgets.