The Oppo F7 is almost an identical twin of Vivo V9, except for the processor and the rear design of the phone.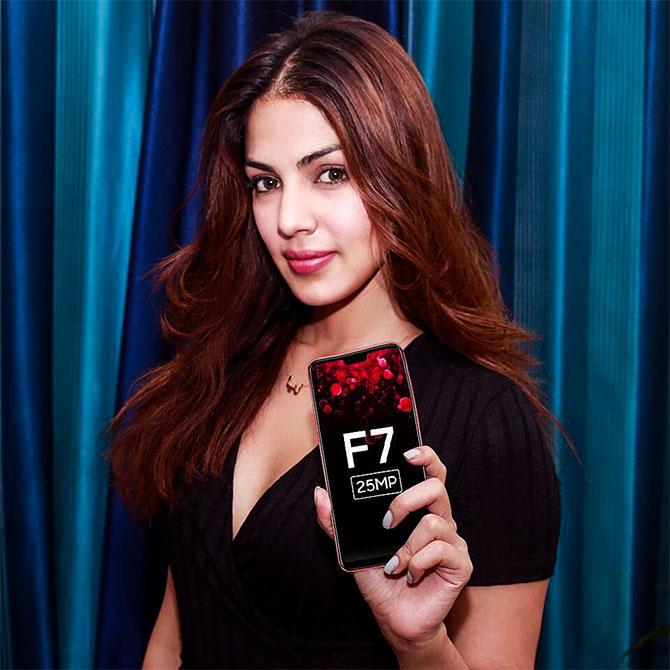 Photograph: Kind courtesy Rhea Chakraborty/Instagram
The Vivo V9 launched a week ago, finds its sibling in Oppo F7.
So, what's new in the Oppo F7?
Quick Look
How does Oppo fare in comparison to Vivo V9?
Oppo F7 comes with one camera short compared to Vivo's dual camera setup on the rear.
Oppo follows the 19:9 aspect ratio design language with a residual notch on top for earpiece, front camera and sensor.
The display is IPS TFT panel with resolution of 2280 x 1080 and measures 6.23 inches.
The phone comes with ColorOS 5.0 based Android Oreo 8.0.
Oppo F7 is a selfie-centric phone just like its predecessor Vivo F5.
The front camera 25 MP, f/2.0 is backed by AI (Artificial Intelligence), the AI Beauty Technology 2.0 and HDR.
It uses Artificial Intelligence to beautify your face when you click a photo.
The AI scans 296 points on the face to get the precision.
The AI can even identify your gender to processes the beautification accordingly.
The front camera supports vivid mode, which separates you from the background and processes background with vivid colours.
The camera supports AR (Augmented Reality) stickers, same as the SnapChat app.
All the interaction with the camera is stored and understood using AI learning. It remembers your choice and settings and in future, will help organise your photos accordingly.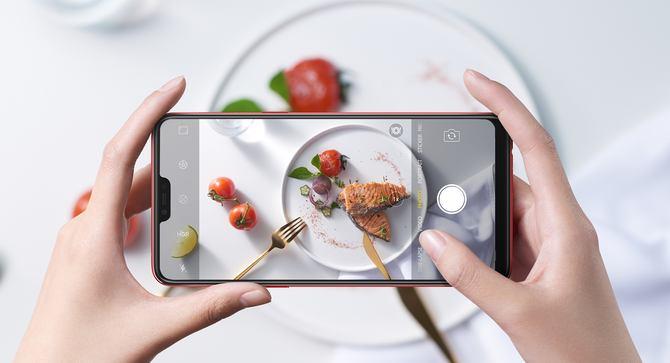 Photograph: Courtesy oppo.com
The rear 16 MP, f/1.8 also implements AI for scene and object recognition.
It can recognise 16 scenes and object to adjust the camera setting to optimal in order to take the best picture.
Sadly, there is no dual camera setup, but the portrait mode is made possible using AI.
All the processing and AI is done by MediaTek's Octa-core, 2.0 GHz, Helio P60 processor which has a dedicated APU (AI Processing Unit) and ARM Mali-G72 MP3 GPU (Graphics Processing Unit) clocked at 800MHz.
The phone will be available in two variants as 4GB RAM /64 ROM and 6GB RAM /128 & ROM priced at ₹ 21,990 and ₹ 26,990 respectively.
The phone comes with a dedicated memory card slot, which can support up to 256 GB to store all you media.
It comes with 3,400 mAh battery embedded, but misses the quick charge option.
It still supports micro USB 2.0 as data and charging port.
For audio, you can use your old favorite headsets with 3.5 mm audio jack.
The phone will be available in red, diamond black, silver and red, diamond black for 128 GB colours.
The Oppo F7 comes across as an affordable 19:9 aspect ratio phone with AI camera when compared to Apple's iPhone X.
It looks expensive with respect to hardware on offer, but wait until we get a hold of it and tell you more.
Keep watching this space.