By comparing seven important features of both the smartphones, Mohnish Borah finds out that the new Xiaomi Redmi Note 3 has some serious features to give Lenovo K4 Note a stiff competition in the Rs 12,000 price range.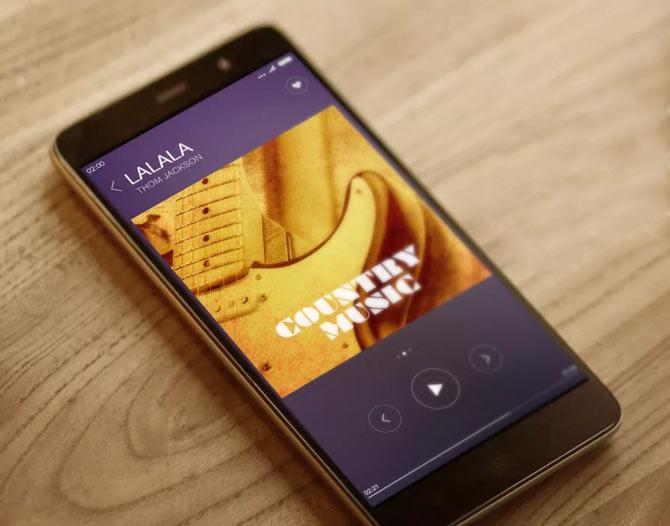 Touted as the world's second largest consumer of mobile products, India is witnessing some exciting smartphone launches every month. It is one of the best times to pick a quality smartphone in the Rs 10,000 or Rs 15,000 price range or even less. Though after reviewing, I believe this is a better range keeping the quality of features and production cost.
Can we expect a quality smartphone in Rs 5,000-10,000 range? Can we?
Xiaomi Redmi Note 3 seems to be the answer. Priced at Rs 9,999 for 16GB and Rs 11,999 for 32GB version, Redmi Note 3 will give Lenovo K4 a tough fight in this price range. It does not outsmart the other phones completely but Redmi Note 3 has some serious features which do not feature in this price range.
What are they? Let's check them out.
Gaming experience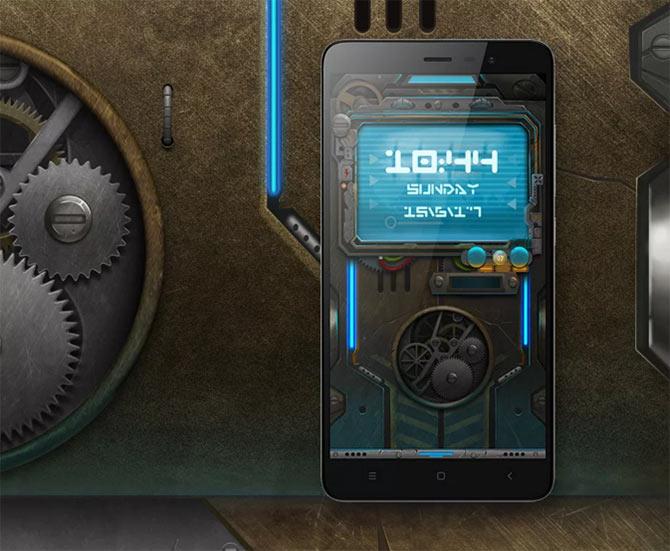 Almost every phone in this price segment (under Rs 12,000) loses fizz when you try to play games for a longer duration. Lenovo K4 Note loses steam when you play for longer durations. Here, Redmi Note 3 is really a clear winner. You will definitely enjoy a seamless gaming experience with no -- or fewer -- lags. It is really a plus point keeping in mind that other phone in this price range compromise with the gaming experience to maintain their margins.
Display quality during outdoors
If you get a call while catching a bus during day time, Redmi Note 3 provides better display quality. The display is clearer and icons are rendered correctly if we compare it with Lenovo K4 Note. However, if you are checking it right under the sunlight, you may find difficulty in tracing the icons or messages; however, it is still better than K4 Note
Battery
Users will find Redmi Note 3 better because of its large 4050 mAH battery size if we compare it to K4 Note (3300 mAh). With this battery size, it is expected to last for 2.5-3 days if we compare it with K4 note (1.5-2 days).
Another bad news for K4 Note is that Note 3 supports quick charge also through a quick charge adapter.
Premium metallic finish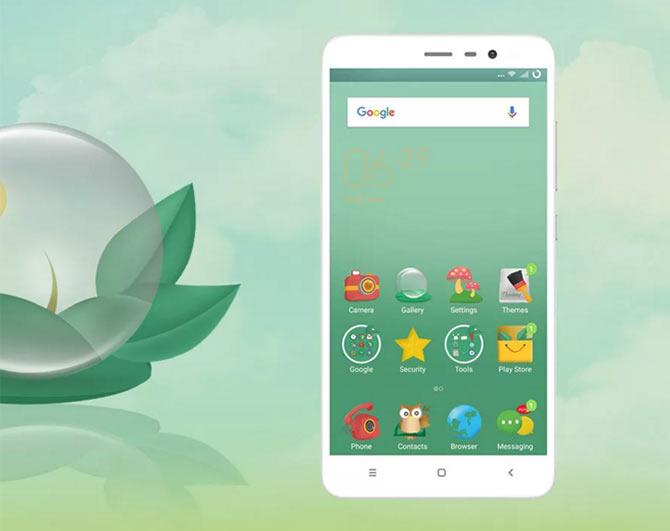 Redmi Note 3 does not look like a cheap device. It has a premium metallic finish to boost its design features. K4 Note features a plastic body which means the design quality is not premium. The flip side of Redmi Note 3 is that it is shipped with a non-removable battery; however, it is a common feature now among premium and other smartphones with metallic finishing.
Finger print scanner
You will be able to open your phone with just one tap on Redmi Note 3 using the fingerprint scanner. It is quicker than Lenovo K4 Note.
Performance
Redmi Note 3 is 22 per cent faster than K4 Note (if we compare their processors). This means better user experience and smooth opening of videos and picture gallery without any interruptions. Lenovo users have complained that their phones tend to get slower and lags appear while opening menus.
Redmi Note 3 wins the race however Lenovo K4 Note has some strong points too…
K4 Note supports Gorilla Glass 3 to protect your phone from scratches.
K4 Note comes with a Virtual Reality headset (at an additional cost of Rs 1,299). As K4 Note is equipped with Dolby Atmos and TheatreMax technology, it scores high on multimedia and entertainment value.
Quick comparison table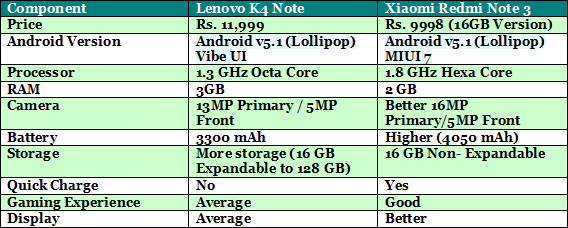 Verdict
So after comparing both the phones very closely, I want to give a little edge to Redmi Note 3 but K4 Note is still not far behind especially if you want to turn on your VR headset and hear Kohli scream loud while winning a match for India.