Samsung Galaxy M30 is a good-looking phone with a good screen, battery and camera, says Veer Arjun Singh.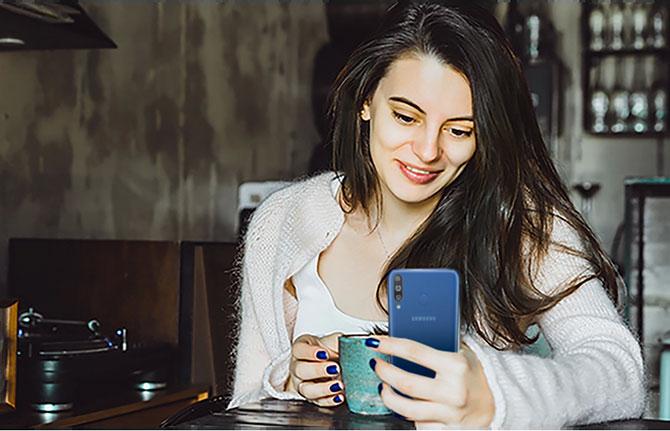 The Samsung Galaxy M30 is beautifully packaged.
A tall screen with a waterdrop notch for the front camera, triple cameras at the back and a slim profile.
It's a well-disguised budget phone.
And that's precisely why it's not for everyone.
Design (3.5/5)
It's easy to be enamoured of the M30.
Its face is 90 per cent screen.
Turn it around and you will see the back in a blue and black gradient finish.
Triple cameras and a flash are neatly stacked in a column on the left.
Its oval fingerprint scanner, however, feels a notch higher.
The M30's body is plastic, unlike its closest competitor, the Redmi Note 7 Pro, which has a glass sandwich design.
But the good news is that the M30's plastic back seems sturdier than glass, does not hold fingerprints and is not easily scratched.
It won't feel solid in hand, but it's worth the trade-off.
Performance (3/5)
The 6.4-inch Super AMOLED screen is the M30's greatest asset.
Because almost all phones in this price range use an LCD screen.
The display is just dazzling.
At the default settings, the screen is bright with high saturation and the colours almost pop out.
Watching videos even in bright surroundings is an immersive experience.
It's got good viewing angles, too.
Never mind the content, with a display like this, it's easy to get hooked.
The phone also has a massive 5,000 mAh battery to power the indulgence.
The 15W fast charger fills it up in a little over two hours.
I watched videos for over an hour, used Google Maps for the same duration, listened to music for a couple of hours and surfed the internet throughout.
The phone worked like a charm for two full days and my alarm rang the third morning at 4 per cent battery.
It was all hunky-dory till I downloaded top-end games.
I had noticed that the 1.8 GHz octa-core Exynos 7904 chipset with 4GB RAM was slow to respond a few times.
It even locks and unlocks slower.
Playing PUBG at the suggested medium graphics settings turned out to be an unpleasant experience.
The phone could also not handle toggling between demanding apps like Facebook, YouTube and Google Maps without throwing lags.
But at least taking pictures was fun.
The 16-megapixel selfie camera has a lot of AI working for it.
The pictures are not particularly natural, but the brightness and sharp autofocus make for a pretty package.
The rear 15-megapixel camera with a 5-megapixel depth sensor and a wide-angle lens covers daily life from all possible angles.
But the colours get washed out with flash and low-light photos are grainy.
But for what it costs, the M30 is one of the better ones.
Overall (3/5)
My mother loved the Samsung Galaxy M30.
She used it for Facebook, WhatsApp and to record songs on a Karaoke-app called Smule.
So did my brother, who used it for basic social media, video-calling and binge-watching stuff.
The gamer in me didn't, neither did my madly multi-tasking self.
At Rs 14,990, Samsung Galaxy M30 is a good-looking phone with a good screen, battery and camera.
It's meant for a little bit of everything, but not a lot of it.